https://firstlook.org/theintercept/2014/03/31/nsa-worlds-blows-top-secret-program/
NSA Blows Its Own Top Secret Program in Order to Propagandize
Over the last 40 years, the U.S. government has relied on extreme fear-mongering to demonize transparency. In sum, every time an unwanted whistleblower steps forward, we are treated to the same messaging:
You're all going to die because of these leakers and the journalists who publish their disclosures!
Lest you think that's hyperbole, consider
this headline from last week
based on an interview with outgoing NSA chief Keith Alexander:
The NSA engages in this fear-mongering not only publicly but also privately. As part of its efforts to persuade news organizations not to publish newsworthy stories from Snowden materials, its representatives constantly say the same thing: If you publish what we're doing, it will endanger lives, including NSA personnel, by making people angry about what we're doing in their countries and want to attack us.
But whenever it suits the agency to do so–meaning when it wants to propagandize on its own behalf–the NSA casually discloses even its most top secret activities in the very countries where such retaliation is most likely. Anonymous ex-officials
boasted to the Washington Post last July
in detail about the role the agency plays in helping kill people by drones. The
Post
dutifully headlined its story: "NSA Growth Fueled by Need to Target Terrorists."
And now, Keith Alexander's long-time deputy just fed one of the most pro-NSA reporters in the country, the
Los Angeles Times
' Ken Dilanian, some extraordinarily sensitive, top secret information about NSA activities in Iraq, which the
Times
published in
an article that reads exactly like an NSA commercial
:
FT. MEADE, Md. — In nearly nine years as head of the nation's largest intelligence agency, Gen. Keith Alexander presided over a vast expansion of digital spying, acquiring information in a volume his predecessors would have found unimaginable.

In Iraq, for example, the National Security Agency went from intercepting only about half of enemy signals and taking hours to process them to being able to collect, sort and make available every Iraqi email, text message and phone-location signal in real time, said John "Chris" Inglis, who recently retired as the NSA's top civilian.

The overhaul, which Alexander ordered shortly after taking leadership of the agency in August 2005, enabled U.S. ground commanders to find out when an insurgent leader had turned on his cellphone, where he was and whom he was calling.

"Absolutely invaluable," retired Gen. David H. Petraeus, the former U.S. commander in Iraq, said in an interview as he described the NSA's efforts, which led to the dismantling of networks devoted to burying roadside bombs.

John "Chris" Inglis just revealed to the world that the NSA was–is?–intercepting

every single

email, text message, and phone-location signal in real time for the entire country of Iraq. Obviously, the fact that the NSA has this capability, and used it, is Top Secret. What authority did Chris Inglis have to disclose this? Should a Department of Justice leak investigation be commenced?

The Post

, last July,

described Alexander's "collect-it-all" mission in Iraq

which then morphed into his approach on U.S. soil ("For NSA chief, terrorist threat drives passion to 'collect it all,' observers say"), but did not confirm the full-scale collection capabilities the NSA had actually developed.

What makes this morning's disclosure most remarkable is what happened with last week's

Washington Post report

on the MYSTIC program, which, said the

Post

, provides "comprehensive metadata access and content" for entire countries where it is used. The agency "has built a surveillance system capable of recording '100 percent' of a foreign country's telephone calls, enabling the agency to rewind and review conversations as long as a month after they take place," reported the

Post.

The program, noted the Post, has been in use in one country since 2011, and "planning documents two years later anticipated similar operations elsewhere." Specifically, the fiscal year 2013 intelligence budget identified "five more countries" in which the agency planned to implement the system.

The

Post

did not report the names of any of those five countries, nor did it name the one where MYSTIC is already operational. Instead, "at the request of U.S. officials, the

Washington Pos

t is withholding details that could be used to identify the country where the system is being employed or other countries where its use was envisioned." The paper posted

a short excerpt

from the budget document's discussion of MYSTIC but withheld and redacted the passages that revealed the names of these countries.

A primary argument NSA typically makes in such cases is that disclosure would endanger the lives of NSA personnel by inviting retaliation from people in those countries who might become angry when learning that their calls are being intercepted en masse. From the Post article: "NSA spokeswoman Vanee Vines, in an e-mailed statement, said that 'continuous and selective reporting of specific techniques and tools used for legitimate U.S. foreign intelligence activities is highly detrimental to the national security of the United States and of our allies, and places at risk those we are sworn to protect.'"

Leave aside how corrupted this rationale is: It would mean that no bad acts of the U.S. government should ever be reported, lest those disclosures make people angry and want to attack government agents. Indeed, that is the

rationale that the Obama administration used

to protect evidence of Bush-era torture from disclosure (to disclose torture photos, Obama said, "would be to further inflame anti-American opinion and to put our troops in greater danger").

What is so extraordinary is that the NSA–at exactly the same time it is telling news organizations that disclosing its collect-it-all activities will endanger its personnel–runs to its favorite L.A. Times reporter and does exactly that, for no reason other than to make itself look good and to justify these activities. ("'Absolutely invaluable,' retired Gen. David H. Petraeus, the former U.S. commander in Iraq, said.")

This demonstrates how brazenly the NSA manipulates and exploits the consultation process in which media outlets are forced (mostly by legal considerations) to engage prior to publication of Top Secret documents: They'll claim with no evidence that a story they don't want published will "endanger lives," but then go and disclose something even more sensitive if they think doing so scores them a propaganda coup. It also highlights how cynical and frivolous are their claims that whistleblowers and journalists Endanger National Security™ by reporting incriminating information about their activities which they have hidden, given how

casually

and

frequently they disclose Top Secret information

for no reason other than to advance their own PR interests. It's the dynamic whereby the same administration that has prosecuted more leakers than all prior administrations combined freely leaks classified information to

make Obama look tough

or to

help produce a pre-election hagiography film

.

Thus, writes the L.A. Times:

Thanks to Edward Snowden, a former NSA contractor, the world came to know many of the agency's most carefully guarded secrets.

Actually, in this case, the NSA's "most carefully guarded secrets" were spilled thanks to Chris Inglis and the paper's own Ken Dilanian. But because the purpose was to serve the NSA's interests and to propagandize the public, none of the people who pretend to object to leaks–when they shine light on the bad acts of the most powerful officials–will utter a peep of protest. That's because, as always, secrecy designations and condemnations of leaks are about shielding those officials from scrutiny and embarrassment, not any legitimate considerations of national security or any of the other ostensible purposes.
http://www.theguardian.com/world/2014/apr/01/nsa-surveillance-loophole-americans-data
NSA performed warrantless searches on Americans' calls and emails – Clapper
NSA used 'back door' to search Americans' communications
Director of national intelligence confirms use of new legal rule
Data collected under 'Prism' and 'Upstream' programs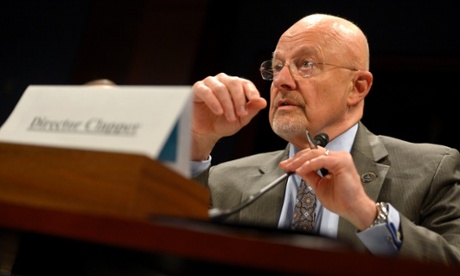 US intelligence chiefs have confirmed that the National Security Agency has used a "back door" in surveillance law to perform warrantless searches on Americans' communications.
The NSA's collection programs are ostensibly targeted at foreigners, but in August
the Guardian revealed
a secret rule change allowing NSA analysts to search for Americans' details within the databases.
Now, in a letter to Senator Ron Wyden, an Oregon Democrat on the intelligence committee, the director of national intelligence, James Clapper, has confirmed the use of this legal authority to search for data related to "US persons".
"There have been queries, using US person identifiers, of communications lawfully acquired to obtain foreign intelligence targeting non-US persons reasonably believed to be located outside the United States," Clapper wrote in the letter, which has been obtained by the Guardian.
"These queries were performed pursuant to minimization procedures approved by the Fisa court and consistent with the statute and the fourth amendment."
Many of the NSA's most controversial programs collect information under the law affected by the so-called loophole. These include Prism, which allows the agency to collect data from Google, Apple, Facebook, Yahoo and other tech companies, and the agency's Upstream program – a huge network of internet cable taps.
Clapper did not say how many warrantless searches had been performed by the NSA. It was not the first time the searches had been confirmed: after the Snowden leaks, the office of the director of national intelligence declassified documents that discussed the rule change. But Clapper's letter drew greater attention to the issue.
Confirmation that the NSA has searched for Americans' communications in its phone call and email databases complicates President Barack Obama's initial defenses of the broad surveillance in June.
"When it comes to telephone calls, nobody is listening to your telephone calls. That's not what this program's about," Obama
said
. "As was indicated, what the intelligence community is doing is looking at phone numbers and durations of calls. They are not looking at people's names, and they're not looking at content."
Obama was referring specifically to the bulk collection of US phone records, but his answer misleadingly suggested that the NSA could not examine Americans' phone calls and emails.
At a recent hearing of the Privacy and Civil Liberties Oversight Board, administration lawyers defended their latitude to perform such searches. The board is scheduled to deliver a report on the legal authority under which the communications are collected, Section 702 of the Foreign Intelligence Surveillance Act (Fisa), passed in 2008.
Wyden and Colorado Democrat Mark Udall failed in 2012 to persuade their fellow Senate intelligence committee members to prevent such warrantless searches during the re-authorisation of the 2008 Fisa Amendments Act, which wrote Section 702 into law.
Dianne Feinstein, the California Democrat who chairs the committee, defended the practice, and argued that it did not violate the act's "reverse targeting" prohibition on using NSA's vast powers to collect content on Americans.
"With respect to analysing the information lawfully collected under Section 702, however, the intelligence community provided several examples in which it might have a legitimate foreign intelligence need to conduct queries in order to analyze data already in its possession," Feinstein
said
in June 2012.
"The Department of Justice and the intelligence community reaffirmed that any queries made of Section 702 data will be conducted in strict compliance with applicable guidelines and procedures, and do not provide a means to circumvent the general requirement to obtain a court order before targeting a US person under Fisa."
Clapper referred to that debate in his letter to Wyden, which came in response to the senator's request in January for a public answer on whether the NSA had in fact conducted such searches.
"As you know, when Congress reauthorized Section 702, the proposal to restrict such queries was specifically raised and ultimately not adopted," Clapper wrote.
Much of the NSA's bulk data collection is covered by section 702 of the Fisa Amendments Act. This allows for the collection of communications – content and metadata alike – without individual warrants, so long as there is a reasonable belief the communications are both foreign and overseas.
The communications of Americans in direct contact with foreign targets can also be collected without a warrant, and the intelligence agencies acknowledge that purely domestic communications can also be inadvertently swept into its databases. That process is known as "incidental collection".

Initially, NSA rules on such data prevented the databases being searched for any details relating to "US persons" – that is, citizens or residents of the US. However, in October 2011 the Fisa court approved new procedures which allowed the agency to search for US person data, a revelation contained in documents revealed by Snowden.

The ruling appears to give the agency free access to search for information relating to US people within its vast databases, though not to specifically collect information against US citizens in the first place. However, until the DNI's disclosure to Wyden, it was not clear whether the NSA had ever actually used these powers.
On Tuesday, Wyden and Udall said the NSA's warrantless searches of Americans' emails and phone calls "should be concerning to all."
"This is unacceptable. It raises serious constitutional questions, and poses a real threat to the privacy rights of law-abiding Americans. If a government agency thinks that a particular American is engaged in terrorism or espionage, the fourth amendment requires that the government secure a warrant or emergency authorisation before monitoring his or her communications. This fact should be beyond dispute," the two senators said in a joint statement.
They continued: "Today's admission by the Director of National Intelligence is further proof that meaningful surveillance reform must include closing the back-door searches loophole and requiring the intelligence community to show probable cause before deliberately searching through data collected under section 702 to find the communications of individual Americans."
• This article was amended on 1 April to correct the month in 2012 when the 2008 Fisa Amendments Act was reauthorsied. It was further amended on 2 April to make it clear that in August 2013, the US government declassified documents that first confirmed the searches of US persons' data under Section 702 of Fisa.