02 April 2014
| last updated at 04:25PM
http://www.nst.com.my/latest/font-color-red-mh370-tragedy-font-submarine-joins-hunt-1.544943
MH370 Tragedy:

Submarine joins hunt
PERTH: The protracted search for missing Flight MH370 was boosted by the arrival of a British submarine in the Indian Ocean ahead of a visit to Australia by Malaysian Prime Minister Datuk Seri Najib Razak
The personal jet of Oscar-winning New Zealand movie director Peter Jackson is also now reportedly being used in the multinational hunt for the plane that vanished on March 8 with 239 people on board.
Despite extensive scouring of remote Indian Ocean waters by planes and ships southwest of Perth where Malaysia believes the plane went down, nothing has been found so far that would indicate a crash site.
"No significant developments to report," the Australian Maritime Safety Authority tweeted after 10 planes returned from flying sorties on Tuesday evening in a now familiar update on drawing a blank.
But in a boost to the search effort, Britain's Royal Navy said submarine HMS Tireless has arrived in the area and "with her advanced underwater search capability will be able to contribute to the attempts to locate the missing plane".
While planes, ships and helicopters have all been deployed, it is the first submarine to be drafted in.
Britain's HMS Echo is also due in the search zone shortly to assist Australia's Ocean Shield naval vessel, which is fitted with a US-supplied "black box" detector and is expected to arrive on Friday.
The battery-powered signal from the black box — which records flight data and cockpit voice communications that could indicate what happened to the plane — usually lasts only about 30 days, with time fast running out to find it.
Australia has warned against expectations of quick success in the difficult task of recovering the black box from the deep and vast seas.
Retired Australian air chief marshal Angus Houston, who is heading a new coordination centre in Perth, reiterated Wednesday that the odds were stacked against them.
"The reality is it's the most complex and challenging search and recovery operation I've ever seen," he told national radio.
"If we don't find anything on the surface, we'll have to think about what we do next."
Najib is due in Perth on this evening to tour the air base being used as a staging post and meet with his Australian counterpart Tony Abbott, as well as Houston.
Despite this, Houston said: "The cooperation with Malaysia has been first class." In an effort to appease angry relatives, a closed-door briefing is scheduled for Wednesday in Kuala Lumpur with families of those who were on board the plane to hear from technical experts from Malaysia, China and Australia.
On Tuesday, Malaysia Airlines finally revealed the full radio communications with the pilots of the missing flight, but the routine exchanges shed no light on the mystery.
The previously unreleased conversations between MH370's pilots and air traffic controllers had been the subject of much speculation as suspicions have focused on whether one or both of the pilots deliberately diverted the plane.
But they revealed nothing about what happened aboard the ill-fated jet.
"There is no indication of anything abnormal in the transcript," a Malaysian government statement said of the 43 separate transmissions over nearly 54 minutes, which were thick with air-traffic and navigational jargon.
Malaysia's authoritarian government — which muzzles its own pliant mainstream press — revealed it was compiling a dossier of "false" media reports over the crisis and would consider filing lawsuits.
Transport and Defence Minister Datuk Seri Hishammuddin Hussein said on his Twitter feed that the country's attorney general had been instructed to "compile evidence and advise" on possible legal action --AFP
http://www.theguardian.com/world/2014/apr/02/mh370-malaysia-police-chief-missing-malaysia-airlines-plane-mystery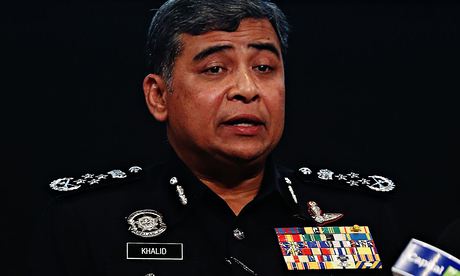 The investigation into Malaysia Airlines' flight 370's disappearance may never find the true cause, the country's police chief warned on Wednesday.
Khalid Abu Bakar said the case "may go on and on and on" and urged people to be patient as he briefed reporters in Kuala Lumpur.
Investigators believe the Beijing-bound flight was diverted deliberately by someone on board not long after taking off from the Malaysian capital early on 8 March. But with no wreckage from the Boeing 777 yet detected, despite a massive international hunt in the southern Indian Ocean, they have few clues to help them determine who caused the diversion and whether it was malicious.
"At the end of the investigations, we may not even know the real cause. We may not even know the reason for this incident," said Khalid.
He added that officers had conducted more than 170 interviews with relatives of the pilots and 10 other crew members. The investigation is still focused on four possible areas – hijacking, sabotage and personal or psychological problems of those on board – but so far, checks on the crew members and passengers have raised no red flags.
"We must be very thorough and we need all the time … you cannot hurry us," the inspector general said. "We have to clear every little thing."
He said police were also investigating the cargo and even the food served on the plane to eliminate possible sabotage. Airline rules require pilots and co-pilots to eat different meals in case of food poisoning.
Relatives of the 227 passengers, particularly the many Chinese citizens, have criticised the handling of the search and investigation, and confusing or contradictory statements by Malaysian authorities.
Najib Razak, the Malaysian prime minister, is due to arrive in Australia on Wednesday afternoon to meet Tony Abbott, the country's prime minister, and see the headquarters for the Indian Ocean search for himself. Nine ships and nine aircraft are scouring a vast area roughly 930 miles west of Perth.
Abbott told Perth Radio 6iX that the case was "one of the great mysteries of our time".
He added: "It's a terrible tragedy. There are 239 devastated families. We owe it to the world, we owe it to those families to do whatever we reasonably can do get to the bottom of this."
Three more ships – two Australian and one Malaysian – are on their way to the search zone. The British submarine HMS Tireless arrived in the Indian Ocean on Tuesday night to help with the search for flight MH370 and its black box recorder. Royal Navy survey ship HMS Echo will also begin search efforts on Wednesday.
With the hunt now in its fourth week, there may only be a few days left before the electronic beacons that help searchers track the flight data and cockpit voice recorders run out of power.
Retired Air Chief Marshal Angus Houston, who heads the team co-ordinating operations, told ABC Radio: "The reality is it's the most complex and challenging search and recovery operation I've ever seen," he said.
"If we don't find anything on the surface, we'll have to think about what we do next, because clearly it's vitally important for the families, it's vitally important for the governments involved that we find this airplane."
While the new search area enjoys calmer weather than the previous Indian Ocean zone, further off the Australian coast, broken clouds, fog and thunderstorms are likely to hamper crews on Wednesday, Houston's team said.
Wednesday, 02 April 2014 12:52
What do you mean by flight MH370 'ENDED' in the ocean, Pakatan asks Najib to CLARIFY
Pakatan Rakyat leaders have urged the government to explain what it actually meant when Prime Minister Najib Abdul Razak said that the MH370 flight "ended in the southern Indian Ocean" in a late press conference on Mar 24.
DAP supremo Lim Kit Siang said it was clearly a "mistake" by Najib to make such an announcement and then have acting Transport Minister Hishamuddin Hussein assert that Najib never said that the plane crashed.
Lim questioned Najib's move to register a special motion to express sympathy for the families of those on board the ill-fated flight the following day in Parliament, after many national newspapers had paid tribute to the plane with the assumption that the plane had "crashed".
"He could have said there are indications or possibilities. What he said was not conclusive at all," he said during a press conference at Parliament today. - Mkini
Wednesday, 02 April 2014 06:27
M'sia draws up 'ENEMIES LIST' in bid to stop criticism against its mishandling of MH370 tragedy
A BRITISH nuclear submarine is set to join the search for missing Malaysia Airlines flight MH370.
Malaysia's Defence and acting Transport Minister Hishammuddin Hussein revealed the news via Twitter, saying he had just received word from the UK's secretary of state for Defence, Philip Hammond, that HMS Tireless will join in the search effort.
The Ministry of Defence said the Trafalgar class submarine had arrived in the southern Indian Ocean and would soon be joined by the survey vessel HMS Echo.
Both ships carry advanced underwater search capabilities which will be applied in the search for the ultrasonic 'pings' being emitted by the missing aircraft's black box flight recorders.
It may prove to be one of the last missions for HMS Tireless, which had originally been scheduled to be scrapped in 2013.
The nuclear-powered submarine was launched in 1984. It carries a crew of 130 and 18 officers.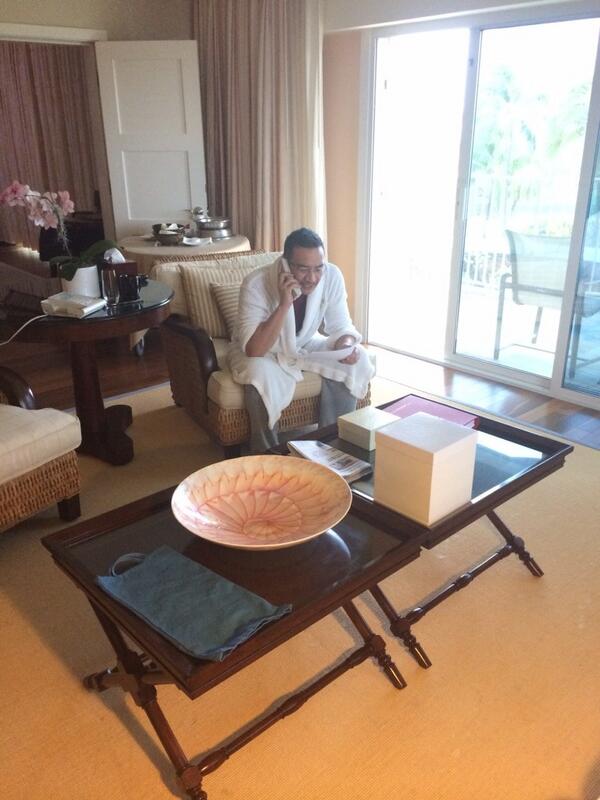 The Australian-operated support vessels Ocean Shield and Seahorse Standard have both vanished from ship tracking services as they steam to the search area.
The bright red Ocean Shield was purchased as part of an emergency program to replace the failed Landing Platform (Dock) vessels HMAS Kanimbla and Manoora. These ships, bought second-hand off the United States Navy, were discovered to be in a far worse structural condition than anticipated and were deemed unsafe for operations.
Seahorse Standard has been contracted by the Australian Defence Force for this search mission.
Both have been tasked with carrying towed sensors intended to find missing Malaysia Airlines Flight MH370's black box flight recorders.
The unarmed Ocean Shield is not part of the Royal Australian Navy. It has instead been given the designation "Australian Defence Vessel" instead of "Her Majesty's Australian Ship (HMAS)".
Its purpose is to assist in disaster relief and defence logistics operations.
Seahorse Standard, which is under lease and has not been given any form of military designation, departed for the search area yesterday.
Ocean Shield is expected to reach the search zone on Friday. Seahorse Standard is likely to arrive shortly after.
China's government has been less secretive about the movements of its unarmed survey vessel Xue Long. The ship has been observable since it entered the search early last week. It is currently returning to Chinese waters.
Combat vessels are not tracked by civilian maritime movements services.
The several naval vessels China has committed to the search remain unseen. HMAS Success and HMAS Toowoomba are also not visible on the ship-location websites.
The two Australian support vessels will join the flotilla of three other Australian vessels and more than six Chinese ships in the search zone.
The Malaysian frigate KD Lekiu is also en route.
Civil service ... Ocean Shield docked at naval base HMAS Stirling while being fitted with an autonomous underwater vehicle (AUV) and towed pinger locator to aid in the search for missing Malaysia Airlines Flight MH370. Picture: Rob Griffith
Source:

AP
HOUSTON TAKES ON THE CHALLENGE
Head of the Joint Agency Coordination Centre, Air Chief Marshal Angus Houston has stressed the search for MH370 is one of a kind, but he isn't putting a timeframe on how long it will continue.
"I can't think of a set of circumstances in a search and rescue or a search and recovery as demanding and as complex as this," he told ABC Radio from Perth this morning.
"The reality is it's the most complex and challenging search and recovery operation now that I've ever seen," he said.
"We have to keep searching and searching with vigour."
He said it was vital to find debris on the surface of the ocean, to then narrow the search underwater.
Air Chief Marshall Houston claimed there isn't a "precise" aircraft location for six hours before the plane went down somewhere.
"So we have a very large search area which has to be scoured by aircraft and ships," he added.
He said the use of visual search techniques take a long time and have been hindered by the weather.
"There is nothing more demanding than trying to find things in a sea with lots of white caps."
But he refused to put a time on how long the search effort will continue.
"Clearly it's vitally important for the families, it's vitally important for the governments involved that we find this."
"I'm just pointing out it won't be easy."
He praised the "truly impressive" work of those conducting the search.
As Malaysian Prime Minister Najib Razak arrives in Perth today, Air Chief Marshall Houston argued cooperation with the country has been "absolutely first class".
Task master ... Retired Australian air chief marshall Angus Houston speaks about the missing Malaysia Airlines flight MH370 at a press conference yesterday. Picture: Greg Wood
Source:

Getty Images
This morning Malaysia revealed it would gather "false'' media reports over the crisis and consider filing lawsuits.
Mr Hishammuddin said on his Twitter feed the country's attorney general had been instructed to "compile evidence and advise'' on possible legal action.
Earlier in the day he was quoted by the Malay Mail newspaper as saying: "We have been compiling all the false reports since day one. When the time is right, the government should sue them.''
The MH370 saga and resulting world attention has put Malaysia's long-ruling authoritarian government — which muzzles its own pliant mainstream press — in the unaccustomed position of having to answer tough questions from reporters.
The potential lawsuits emerged as Malaysian officials released the official transcript of the last conversation between the cockpit of flight MH370 and air traffic controllers before it vanished.
However, Mr Hishammuddin said the transcript showed nothing awry before the pilot or copilot delivered the final words: "Good night, Malaysian three seven zero."
Australian and International Pilots Association president Nathan Safe agreed tonight the transcript appeared "completely benign".
"There is absolutely nothing in the transcript that even hints at being unusual to me," he said.
"It all looks normal to me. The whole 'goodnight' part is totally innocuous. I've said it a hundred times myself.
"Not even 1 per cent of its contents would raise suspicion for me."
The search is ongoing in the southern Indian Ocean with a number of countries, including Australia, still involved in trying to locate where MH370 ended up.
Malaysia's Prime Minister Najib Razak will visit Perth today to see the rescue efforts himself and thank international crews involved in the hunt for the missing plane.
Still searching ... Kazuhiko Morisawa looks out of a window of a Japan Coast Guard Gulfstream aircraft during the search for wreckage and debris of missing Malaysia Airlines Flight MH370 in the southern Indian Ocean.
Source:

AFP
Mr Hishammuddin, who has run the government's near-daily briefings on the situation, was also forced to deny various anonymously-sourced reports revealing details of Malaysia's investigation into the March 8 disappearance of MH370 with 239 people aboard.
He took particular aim on Monday against British tabloid the Daily Mail, which at the weekend quoted a "source close to the family'' of pilot Zaharie Ahmad Shah as saying police had learned he was emotionally unstable before the flight amid alleged marital trouble.
"I can confirm to you that the information did not come from the police and you should ask Daily Mail how they get the information,'' Mr Hishammuddin said tersely when asked about the report.
In a Facebook comment reported by local media, Zaharie's daughter Aishah Zaharie accused the Daily Mail of "making up'' the report.
The Daily Mail also reported earlier that Zaharie was said to be a fanatical supporter of Malaysia's political opposition. Friends and acquaintances have denied that.
Suspicions have fallen on Zaharie, 53, and his copilot Fariq Abdul Hamid after Malaysian officials said the plane was believed to have been deliberately diverted by someone with flying knowledge. But nothing has emerged to suggest either had any motive to go rogue.
The ruling Barisan Nasional coalition — in power since independence in 1957 — has a poor record of transparency, routinely sweeping corruption scandals and other embarrassments under the rug.
Malaysia's independent web-based news organisations are largely unfettered due to a promise by the government in the 1990s not to censor the internet, but their reporters say they are routinely harassed or blocked from government press briefings.
Power of prayer ... Buddhist monks offer prayers for the passengers aboard the missing Malaysia Airlines Flight MH370 at a Buddhist temple in Kuala Lumpur, Malaysia.
Source:

AP
Wednesday, 02 April 2014 06:43
M'SIA BREAKS UNDER STRESS: Minister now lashes out at Boeing, Rolls-Royce as MH370 search remains FRUITLESS
In a
sign of the huge strain in hunting for Malaysia Airlines flight MH370, Datuk Seri Hishammuddin Hussein has expressed frustration at the failure of international agencies, and the makers of the missing Boeing 777 and its engines, to explain what went wrong.
The acting Transport Minister suggested to Chinese television channel CCTV that it was unfair for Malaysia Airlines to be singled out for criticism in the way they communicated to the families of the missing 227 passengers and 12 crew.
"MAS will have to do a better job in engaging those families.
"But just putting MAS on the witness stand [is not enough] - we also need to bear in mind what is the role and the responsibility of Rolls Royce, of Boeing, of all these expert agencies. Where is their voice?," Hishammuddin said in an interview carried by CCTV yesterday.
The video clip (see below) of the interview was uploaded to CCTV's YouTube video sharing account yesterday.
Flight MH370 was carrying 239 people from Kuala Lumpur to Beijing early March 8 when it lost contact with air traffic control within an hour of its six-hour flight. It has not been found yet.
Hishammuddin also questioned why the airline sent out a text message in English last week stating there were no survivors but said other agencies will also have to provide answers to the plane's mysterious disappearance.
"It is easy to target people. I'm not defending MAS. They will have to answer about the SMS and how they translate things and how they engage with the families.
"But at the same time I want to see the international agencies also stand out there, because we paid millions of dollars to buy the aeroplanes, fly the engines, pay for their expertise. And now those technology is being questioned by the world," he said in the interview.
Both Boeing and Rolls-Royce, which supplied the engines for the twin-jet, have not made any public statements about the lost aircraft although it is understood that they are cooperating with US air safety investigators.
The Wall Street Journal reported last week that American officials and others said Boeing was upset that it took about three hours – much longer than would be typical – for Malaysian authorities to inform company representatives the jet hadn't been heard from.
Boeing's team remains "quite frustrated and doesn't trust the process", according to one person familiar with the company's views.
Hishammuddin also said in the CCTV interview that Malaysia was still looking at a criminal motive for the plane's disappearance due to either terrorism, hijacking, or a crew member with a personal or psychological problem.
He said in a statement today that both the international investigations team and Malaysia were still in agreement that MH370's movements were consistent with deliberate action by someone aboard.
"Up until the point at which it left military primary radar coverage, MH370's movement were consistent with deliberate action by someone on the plane," the minister said.
http://beforeitsnews.com/conspiracy-theories/2014/04/mh370-diego-garcia-calls-for-empty-cargo-ship-for-travel-and-relocation-moving-bodies-2461392.html
OK, this is pretty creepy. Normally, Diego Garcia calling for an empty container ship
to move ammo, or whatever, wouldn't be too alarming.
But notice the classification of the request.
I did some time in the Navy. The wording of the classification makes it sound like they will be transporting
Interesting to note, the Ocean Shield, a cargo ship, left port the 31st, the date of the request.
Ocean Shield tracking goes dark.
Edit to add: The TBD (To Be Determined) status on most of the details suggests this contract was done in haste.