http://www.guardian.co.uk/world/julian-borger-global-security-blog/2013/feb/26/iran-nuclear-talks-kazakhstan-almaty
http://www.aljazeera.com/news/middleeast/2013/02/201322762913285669.html
Iran nuclear talks end without breakthrough
Six world powers conclude talks on Tehran's nuclear programme in Almaty, but agree to meet in Istanbul next month.
Last Modified:

27 Feb 2013 11:38
Easing sanctions in exchange for Iranian concessions on its nuclear programme were on the table in Almaty [Reuters]
World powers and Iran have ended their two-day meeting on Tehran's nuclear programme in the Kazakh city of Almaty without breakthrough, a Western official said.

Saeed Jalili, Iran's chief nuclear negotiator said on Wednesday all sides agreed to meet in the same city on April 5-6 after first gathering their nuclear experts for consultations in Istanbul in March.


Saeed Jalili, Iran's chief nuclear negotiator said on Wednesday all sides agreed to meet in the same city on April 5-6 after first gathering their nuclear experts for consultations in Istanbul in March.


Iran's chief nuclear negotiator speaks to Al Jazeera

The six powers - France, Germany, the United States, China Russia and Britain - offered at the talks to lift some sanctions if Iran scaled back nuclear activity that the West fears could be used to build a bomb.
Tehran, which denies seeking nuclear weapons, did not agree to do so and the sides did not appear any closer to an agreement to resolve a decade-old dispute that could lead to another war in the Middle East if diplomacy fails.
But Iran said the talks were a positive step in which the six powers tried to "get closer to our viewpoint".
The proposals had been discussed in various forms at three previous meetings in the past year.
"Some of the points raised in their [the world powers'] response were more realistic comparing to what they said in the past," Jalili said.

"It was agreed to convene an expert level meeting in Istanbul on March 18, which would be followed by the 5+1 meeting with Iran on April 5-6 in Almaty."

The talks have brought together Iran and five permanent members of the UN Security Council as well as Germany - known as P5+1.

The first day of gruelling negotiations in a luxury Almaty hotel concluded on Tuesday.

Catherine Ashton, European Union foreign policy chief who led the talks on behalf of the six powers, said: "I hope the Iranian side is looking positively on the proposal we put forward."

"We have to see what happens next."


Ease sanctions

However, as the talks were under way, Iran reportedly activated a heavy water production plant in Arak. Heavy water is needed to operate a nuclear reactor that can produce plutonium, which could then be used to make a bomb.
On the table is an offer for the five Security Council members and Germany to ease sanctions on Iran's gold and precious metals trade while simultaneously lifting some restrictions on the Islamic republic's banking operations.
The measures are meant to introduce goodwill in Tehran while encouraging it to stop enriching uranium to 20 percent - a level seen as being within striking distance of military capabilities.
The powers also want Iran to shut the Fordo plant where such high-grade material is produced and to ship out the existing stock it does not need for established medical purposes.

In-depth coverage of a growing regional debate

Iran counters that its rights to enrich uranium - entrusted to every nation but stripped from Iran due to its failure to co-operate with nuclear inspectors - must be respected before negotiations can proceed any further.
Tehran has also stipulated that it would only consider giving up enrichment to 20 per cent if all forms of sanctions against it were lifted - a condition Washington rejects.
John Kerry, the US secretary of state, countered on a visit to Berlin on Tuesday that he hoped "Iran itself will make its choice to move down the path of a diplomatic solution".

and......
Iran nuclear talks in Kazakhstan go into second day
Iranian negotiators in Almaty are presented with upgraded offer in return for curbs on uranium enrichment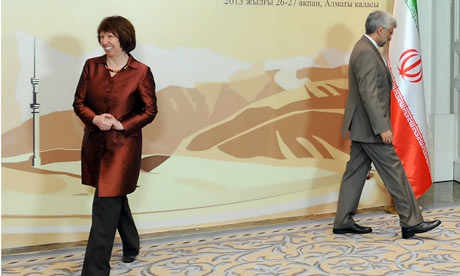 After a break of eight months, nuclear talks between
Iran
and six world powers got going again today, this time in a hotel in Almaty,
Kazakhstan
. They started late, after the Iranians asked for time to pray in the morning, and opened with a plenary sessions with top diplomats from Iran, US, UK, France, Germany, Russia and China.
In that meeting, the EU head of foreign policy, Cathy Ashton, acting as a convener of the six-nation negotiating group, handed the Iranians the latest offer from the international community in return for Iran accepting curbs on its nuclear programme. It has not been confirmed whether the offer included a reported relaxation of new restrictions on Iran's trade in gold and precious metals. European diplomats have described the offer as a 'confidence-building measure', rather than any kind of grand bargain, and said more details would be forthcoming in the next few hours.
The Iranians took the offer away to study, and presumably relay back to Tehran. Laura Rozen of Al-Monitor, who is in Almaty,
spoke to an Iranian official
who appeared tentatively positive and said that: "Both sides agree on which part to solve right now" as a first step - an apparent reference to Iran's production of 20%-enriched uranium, the main proliferation concern.
However, the official suggested Iran was not being offered enough for what Iran is being asked to do: to stop 20% production, ship the existing stockpile out of the country and close down the underground enrichment plant at Fordow.
At least this sounds like a negotiation, rather than a dialogue of the deaf like the
previous meeting in Moscow last June
. The official who talked to Laura suggested the favoured outcome would be more meetings on a technical level, which could at least keep dialogue going, and the can duly kicked down the road, until the Iranian presidential elections in June, in which Saeed Jalili, the head of Tehran's delegation in Almaty, is being touted as a possible candidate.
The talks are wrapping up for the day in freezing Kazakhstan (which claims to be the birthplace of the apple, tulip, and even more controversially, trousers) after a few bilateral meetings, in which the British, Germans and Russians reportedly had private words with the Iranian delegation. So far, not a disaster.
http://www.telegraph.co.uk/news/worldnews/middleeast/iran/9896389/Irans-Plan-B-for-a-nuclear-bomb.html
Iran's 'Plan B' for a nuclear bomb
Iran is developing a second path to a nuclear weapons capability by operating a plant that could produce plutonium, satellite images show for the first time.
The Telegraph can disclose details of activity at a heavily-guarded Iranian facility from which international inspectors have been barred for 18 months.
The images, taken earlier this month, show that Iran has activated the Arak heavy-water production plant.
Heavy water is needed to operate a nuclear reactor that can produce plutonium, which could then be used to make a bomb.
The images show signs of activity at the Arak plant, including a cloud of steam that indicates heavy-water production.
Inspectors from the International Atomic Energy Agency have been unable to visit the facility since August 2011 and Iran has refused repeated requests for information about the site, which is 150 miles south-west of the capital, Tehran.
Western governments and the IAEA have held information about activity at Arak for some time.
But today's exclusive images are the first to put evidence of that activity into the public domain.
The details of Iran's plutonium programme emerged as the world's leading nations resumed talks with Tehran aimed at allaying fears over the country's nuclear ambitions.
The new images also show details of the Fordow complex, which is concealed hundreds of feet beneath a mountain near the holy city of Qom. At talks in Kazakhstan yesterday, world leaders offered to relax sanctions on Iran in exchange for concessions over Fordow, which is heavily protected from aerial attack.
Iran insists that its nuclear facilities are for peaceful use, but Western governments fear that Tehran is seeking a nuclear weapon – or at least the ability to build one.
The striking image of steam over the Arak heavy-water complex is a vivid demonstration that the regime has more than one pathway to a potential nuclear weapon.
Previously, international talks on Iran's nuclear programme have focused on the Islamic Republic's attempts to enrich uranium at plants including Fordow.
But the new images of Arak highlight the progress Iran has made on facilities that could allow it to produce plutonium, potentially giving the country a second option in developing a nuclear weapon.
An Iranian bomb would allow the regime to
dissuade any Western challenge and extend its influence in the Middle East.
Israel fears that a nuclear-armed Iran would pose a mortal threat and encourage more attacks on its territory by Hizbollah militants.
Western intelligence agencies have made covert attempts to set back the
Iranian nuclear programme through sabotage. Some Israeli politicians want to go further and destroy Iran's nuclear plants from the air before the country can build a bomb.
Other images of the area around Arak show that numerous anti-aircraft missile and artillery sites protect the plant, more than are deployed around any other known nuclear site in the country.
The missile defences are most heavily concentrated to the west of the plant, which would be the most direct line of approach for any aircraft delivering a long-range strike from Israel.
The Arak complex has two parts: the heavy-water plant and a nuclear reactor.
Unlike the heavy-water plant, the reactor has been opened to examination by inspectors from the IAEA. During a visit earlier this month, the inspectors noted that cooling and "moderator circuit" pipes at the reactor were "almost complete".
Iran has told the IAEA that it will begin operating the reactor at Arak in the first three months of 2014.
The country still lacks the technology to reprocess plutonium and use it for a weapon.
But North Korea has successfully developed that technology, and some analysts speculate that Iran could do the same.
Mark Fitzpatrick, a former US State Department official at the International Institute for Strategic Studies, suggested that Arak could be part of a process that might trigger Western strikes on Iran.
One option for the Iranian regime would be to acquire the necessary reprocessing technology from North Korea, he said.
"By then, the option of a military strike on an operating reactor would present enormous complications because of the radiation that would be spread," he explained.
"Some think Israel's red line for military action is before Arak comes online."
Amid growing concerns about the Iranian nuclear programme, The Daily Telegraph commissioned today's images from commercial satellite operators. The Arak image was recorded on Feb 9.
The IAEA, which is responsible for inspecting Iran's nuclear sites, says that its inspectors are forced to rely on similar satellite images to monitor Arak.
The Telegraph's images were analysed by Stuart Ray of McKenzie Intelligence Services, a consultancy firm.
He said: "The steam indicates that the heavy-water plant is operational and the extent of the air defence emplacements around the site make it suspicious."
Based on its own analysis of satellite images, the IAEA has reached a similar conclusion. In a report distributed to its board last week, the agency reported "ongoing construction" at the Arak site and active heavy water production.
According to the Institute for Science and International Security, a US think tank, if the heavy-water plant reaches full capacity, it would produce about 20lb of plutonium a year.
That could be enough for two nuclear warheads if the plutonium was
reprocessed.
http://www.debka.com/article/22791/Assad-Pulls-Ahead-in-Syrian-War-Putin-Khamenei-Are-Co-Victors
( Syria and Iran are intertwined.... )
Assad Pulls Ahead in Syrian War. Putin, Khamenei Are Co-Victors
DEBKAfile
Video
February 26, 2013, 3:42 AM (GMT+02:00)
March 5 has been set as the date for peace talks to open in Moscow between the Syrian opposition and the Assad regime,

DEBKA

file

reveals here exclusively. Opposition leader Moaz al-Khatib is waiting to meet the Assad regime's representative, possibly Foreign Minister Walid al-Moallem, in the Russian capital by the end of February to set up the talks. Bashar Assad has taken his resignation off the agenda and insists on reserving the option to run again for president in 2014. He is backed in this by President Vladimir Putin. And even the Syrian opposition appears to have tacitly bowed to this precondition – an admission that the rebel movement has reached its limit and Assad's genocidal, no-holds-barred tactics have paid off. With all their acclaimed victories, rebel forces know that their desperate bid to conquer Damascus was repulsed by the Syrian army's superior fire power and heavy armor. They were thrown back from the heart of Aleppo, Syria's largest city. And they failed to gain control of Assad's chemical arsenal. Ferocious fighting failed to bring the big Syrian Air Force bases into rebel hands. Now, most of the fighting opposition to the Assad regime is ready to negotiate terms for a ceasefire as the opening gambit for a political settlement. They face their enemy standing firm as the unvanquished ruler of Syria and commander-in-chief of its armed forces at the cost of Syria 80-100,000 Syrian lives and a ravaged country. In so doing, Assad has cemented the Tehran-Damascus-Hizballah alliance. Ayatollah Ali Khamenei's's sphere of influence now stretches from the Persian Gulf up to the Mediterranean – his reward for the billion dollars worth of aid per month he poured into buttressing Assad. His other ally, Hassan Nasrallah, whose Hizballah operatives fought shoulder to shoulder with Syrian troops, emerges as the strongman of Lebanon. Russian President Vladimir Putin, Assad's staunch backer in diplomacy, arms and moral support, congratulates himself for picking the winning side in Syria's civil war and, moreover, frustrating US and NATO designs to remove the Syrian ruler from power. Those are the winners. And the losers are the United States, the Gulf emirates and Saudi Arabia, Israel and Turkey. Barack Obama's vision of a democratic, liberal "Arab Spring" has collapsed. Al Qaeda is a ubiquitous presence as transitional governments struggle to their feet – or not - in Tunisia, Libya and Egypt. Israel finds a tighter than ever Syrian-Hizballah-Iranian noose closing around its borders as Tehran's nuclear weapons program marches on. Turkey gambled heavily on bringing about Assad's overthrow as the key to its bid for regional power– and missed.
and....
http://news.antiwar.com/2013/02/25/obama-to-inform-netanyahu-of-plans-for-summer-iran-war/
Will Urge Israel to 'Sit Tight' And Let US Start War
by Jason Ditz, February 25, 2013
President Obama will reportedly inform Israel of this decision during his upcoming visit next month, and will ask Netanyahu to "sit tight" and stop talking up the war for a few months until the US can get it off the ground unilaterally.
http://beforeitsnews.com/iran/2013/02/radiation-leaking-from-irans-nuke-explosion-islamic-regime-fears-poisonous-fallout-clouds-could-hit-cities-2436182.html
Reza Kahlili / WND
Radiation is leaking from Iran's nuclear facility at Fordow, which suffered devastating explosions on Jan. 21, WND has learned, and the regime has ordered millions of antidote iodine pills from Russia and Ukraine amid fears the radioactivity will spread.
Many of the personnel, who arrived after the explosion to assist with the cleanup at the site, have been taken to a military hospital suffering from headache, nausea and vomiting, according to a source in the security forces protecting Fordow.
A special team of nuclear experts was ordered to the site days ago, the source said, and detected high levels of radiation.
Fordow fuel enrichment plant - DigitalGlobe image on day of reported explosion, Jan. 21, 2013
The number of confirmed dead from the explosions has risen to 76, said the source, who provided exclusively to WND the names of 14 Iranian scientists and one North Korean who died in the blasts.
Security forces have arrested 17 high-ranking officers, including majors and colonels, over the incident and summarily executed Maj. Ali Montazernia, a member of the security forces in charge at Fordow.
The Islamic regime has put up a wall of silence surrounding the explosions, but with the possibility of radioactive fallout creating grave health and environmental disasters in the nearby holy city of Qom and other surrounding cities, it may not be able to maintain the secret, the source suggested.
WND reported exclusively on
Jan. 24
that explosions rocked Iran's nuclear facility at Fordow on Jan. 21, with updates on
Jan. 27
,
29
,
30
,
31
, and
Feb. 3
,
6
,
13
and
23
. The blasts at first trapped 219 workers, including 16 North Koreans: 14 technicians and two military attaches.
Iran denied the incident, and its official news agency, IRNA,
in a report
, called WND a "mouthpiece of the CIA" and Reza Kahlili a CIA agent whose reporting was mere propaganda by the West. Regime media have also attacked Hamidreza Zakeri, a former officer of Iran's Ministry of Intelligence, now living in Europe, who has provided information on the Fordow explosion and other valuable insights into the regime's illicit nuclear activities.
and.....
http://www.wnd.com/2013/02/official-docs-iaea-media-lied-about-nuke-plant-blast/
The International Atomic Energy Agency's latest report on Iran's nuclear program, released two days ago, reveals the organization made its last physical inspection of the Fordow nuclear facility over a month prior to deadly explosions that WND reported had occurred there on Jan. 21.
IAEA had refused to confirm or deny whether there was an explosion, but in statements to the media, implied that WND's reporting was inaccurate and not reflected in what the agency's own inspectors had observed.
Reported Reuters on Jan. 29: "IAEA inspectors regularly visit Iranian nuclear sites, including the one at Fordow, and the U.N. agency suggested in its comment that they had been at the facility after the reports of an explosion there.
"We understand that Iran has denied that there has been an incident at Fordow. This is consistent with our observations," IAEA spokeswoman Gill Tudor said in an emailed statement in response to a question …"
With release of Thursday's report showing IAEA made its last physical inspection of Fordow between Nov. 17 and Dec. 3 of last year, it is now evident that Tudor's statement was not based on observations made onsite.
WND reported exclusively on
Jan. 24
that explosions rocked Iran's nuclear facility at Fordow on Jan. 21, with updates on
Jan. 27
,
29
,
30
,
31
, and
Feb. 3
,
6
and
13
.
The blasts at first trapped 219 workers, including 16 North Koreans. Iran denied the story, and within days after its denial both Reuters and Associated Press carried stories quoting IAEA to the effect that its inspectors had been at the site after the reported explosion and that IAEA backed Tehran's denial. Other media, following Reuters' and AP's lead, published the same conclusion.
On Jan. 29, the same day Reuters reported Tudor's statement, AP ran a similar story:
"The U.N. nuclear agency is dismissing reports of a major explosion at Iran's fortified underground nuclear facility.
"International Atomic Energy Agency spokeswoman Gill Tudor told the Associated Press on Tuesday that Iran's denial of 'an incident' at the Fordow uranium-enrichment plant is 'consistent with our observations.' [...]
"A diplomat familiar with the issue told the AP that the IAEA's information came directly from IAEA inspectors at Fordow."
According to the latest IAEA report, no physical inspections of the Fordow site have been conducted since Dec. 3. Furthermore, IAEA has neither onsite inspectors nor monitoring cameras stationed at the Fordow facility.
Prior to this week's IAEA report, WND had asked Tudor to comment on WND's reporting and to confirm whether inspectors had been onsite after Jan. 21.
"The agency does not evaluate matters in Iran other than those directly relating to its nuclear verification work, so although we're aware of these media reports, we are not in a position either to confirm or deny them," Tudor said in an email to WND.
"That said," she continued, "I'm sure you are aware that agency inspectors regularly visit Iranian nuclear facilities under the IAEA's safeguards agreement with that country. (More information on IAEA's safeguards mandate and activities in Iran can be found
here
.)
"We understand Iran has denied that there has been an incident at Fordow, and this is consistent with our observations," Tudor said.
However, in a follow-up inquiry by WND to verify IAEA had inspected the site after the reported explosions, Tudor refused to answer.
"I'm very sorry, but I can't go into any further details on ongoing safeguards work, which is conducted with a high level of confidentiality," she replied.
Official IAEA reports on Iran's nuclear facilities show regular visits at Natanz, but not at Fordow. There, IAEA must obtain permission from its Iranian counterparts for an arranged and escorted visit.
Even the regime's Fars News Agency in a Feb. 21 story, reflecting the new IAEA report, noted claims the Fordow facility was still up and running came directly from Iran itself when it filed the required Design Information Questionnaire with IAEA.
With it now known IAEA conducted no physical inspection at Fordow in at least seven weeks prior to the Jan. 21 explosions reported by WND, the impression left by media that no incident occurred at Iran's most valuable nuclear site is seen to rest solely on IAEA echoing Tehran's denials and falsely suggesting onsite verification.