Hurriyet ......
Iran nuclear talks set for next week in Vienna: Iran Foreign Ministry
Iran's President Hassan Rouhani prepares to depart after the end of a press conference on the sidelines of the 69th United Nations General Assembly in New York Sept. 23. REUTERS Photo
Iran and major powers are set to hold multilateral and bilateral nuclear talks in the coming days in Vienna, Iran's Foreign Ministry said on Oct. 8.
The discussions, between
Iran
and the five permanent members of the U.N. Security Council plus Germany, are aimed at settling a more than decade long dispute over Tehran's nuclear work.
"I think that we will have bilateral and multilateral talks before the end of the next week in Vienna," ministry spokeswoman Marzieh Afkham said when asked when
Iran
and its negotiating partners, a grouping known as the P5+1, would next meet.
Afkham, speaking at a news conference carried live on state television, did not say how long the talks would last but said without elaborating that there had been slow progress so far.
Senior Iranian officials have said that
Iran
was likely to hold bilateral talks with the United States in Vienna and then hold a full session with the six world powers in November. They have given no dates for the talks.
Iran rejects Western allegations that it is seeking nuclear weapons capability. It says its nuclear programme is aimed solely at peaceful purposes.
The two sides missed a self-imposed July 20 deadline for a comprehensive nuclear deal, making the new deadline Nov. 24.
There was no immediate comment from the office of
European Union
foreign policy chief Catherine Ashton, who coordinates talks with
Iran
on behalf of the six world powers.
Iranian President Hassan Rouhani said that there was "consensus between
Iran
and P5+1 on fundamental issues and differences are over fine details", the official IRNA news agency reported late on Oct. 7
"There's no dispute over whether reactors should be built in Arak or if
Iran
should enjoy enrichment technology or about Fordow or the end of so-called (nuclear) military activities. Differences are mainly over details and quantities," he said.
Iran has refused to close down an underground uranium enrichment plant at Fordow and a planned heavy-water reactor at Arak with the potential to yield plutonium.
EU Insists They're Going to Keep Trying to Sanction Them
by Jason Ditz, October 07, 2014
After the deadline for appeal to a July ruling lapsed, the General Court of the European Union has once again ordered that the block immediately lift all sanctions on the National Iranian Tanker Company (NITC).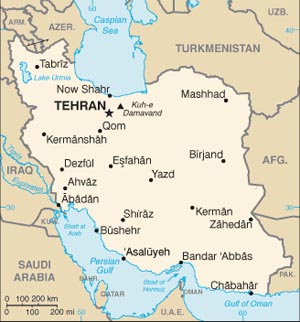 NITC is the largest oil tanker company in Iran, and
successfully challenged EU sanctions
on the grounds that they are a private company owned by a privately-run pension company, not a state-run entity covered by sanctions on the Iranian government.
The court gave the EU 90 days to appeal, which they
insisted they planned
on doing, but which they never actually did. Despite this, EU officials insist they will continue to try to find ways to keep NITC on the blacklist.
Doing so seems like it's going to be difficult, however, with the company having already decisively won their court challenge. The missing of the appeal deadline does not appear to have been an oversight, either, but rather a reflection of the lack of any basis to appeal.
http://enenews.com/nytimes-enormous-orange-flash-reported-suspected-nuclear-site-mysterious-explosion-rocks-one-worlds-largest-cities-govt-monitoring-situation-closely-photo
Wall St. Journal
, Oct 6, 2014: U.S. officials said Monday that they are closely monitoring developments at or near a military complex outside Tehran… officials have long been concerned that Iran's Parchin military complex played a role in what they charge was the government's effort to develop nuclear weapons. .. "We are aware of reports of an explosion at or near the Parchin military facility in Iran," said [National Security Council spokeswoman] Bernadette Meehan… The NSC [said] officials "are monitoring the situation closely."
New York Times
, Oct 6, 2014: A mysterious explosion at or near an important military complex rocked the Iranian capital on Sunday, lighting up the skies over the city. Iranian official sources denied the explosion had taken place at the complex… the enormous orange flash that illuminated Tehran… clearly came from that direction, several witnesses said. Officials at Iran's Defense Industries Organization [confirmed] "an ordinary fire" caused by "chemical reactions"… Witnesses [said] all trees in a hundred-yard radius of two villages… had been burned… [IAEA] Inspectors… were given access to Parchin in 2005, but they have since been refused follow-up inspections. The agency is still seeking access to the site, where it suspects Iran of having conducted high-explosive experiments related to nuclear weapon research…
USA Today
, Oct 6, 2014:
Blast kills 2 at suspected Iranian nuclear site
… Sahamnews described the incident as an explosion near Parchin that shattered windows 9 miles away… [IAEA] has sought access to the Parchin military complex… since it was provided documents that described alleged nuclear detonator tests at the site… investigators described "a large explosive containment vessel" at the site… according to a confidential report obtained by [AP]…
The Atlantic
, Oct 6, 2014: The timing and location… should raise more than a few questions… late last month, Israel accused Iran of conducting nuclear implosion tests at [Parchin]… Miraculously enough, on Monday, reports broke about an incident that took place at or near the Parchin site… It's widely believed that the United States and Israel have engaged in a heavy regimen of sabotage against the suspected Iranian nuclear program including… computer viruses, the assassination of nuclear scientists, and a series of mysterious explosions… This development comes just hours before Iran and the [IAEA] were reportedly set to meet in Tehran… If the episode in Iran is some kind of sub-rosa attack, the timing couldn't be better.