Yeah...... FIRE
http://www.aljazeera.com/news/africa/2014/07/taliban-torches-hundreds-kabul-oil-trucks-201475131638243927.html
An assault by militants at a large parking lot on the outskirts of Afghan capital, Kabul, Friday night left at least 200 fuel tankers incinerated. The Taliban said the privately-owned tankers were targeted because they supply foreign troops.
"The number of tankers on fire is not yet clear, but based on preliminary reports from police around 200 tankers have been burned," Reuters cited the Afghan Interior Ministry as saying.
AP, meanwhile, reported that 400 tankers had been burned out.
Taliban fighters fired four RPG rockets at a logistics compound in the Paghman district of the capital, said Hashmat Stanekzai, a spokesman for the Kabul police, confirming that the number of burned-out vehicles could reach 400.
Police are still investigating the case and though no casualties have yet to be reported "we fear the worst," Stanekzai said, adding that fire had continued for a long time.
Other sources said the insurgents also planted magnetic bombs to set the tankers on fire.
"It was a magnetic bomb that caused the fuel tankers to catch fire," said Gul Aghan Hashimi, criminal investigations director of the Kabul police, AFP reported.
The attackers were in uniforms so the Afghan security forces and drivers were confused and could not understand what was going on.
"If it was the Taliban or other people, they were dressed in uniform we couldn't understand what was happening. They were shooting towards the drivers and also they were setting tankers on fire, any of the drivers who wanted to turn on their truck, [the attackers] would target them," fuel tanker driver Juma Gul told AP.
In a statement early Saturday to the media, Taliban spokesman Zabihullah Mujahid claimed responsibility for the attack.
"Our brave Mujahideen fighters in a special tactic have set ablaze hundreds of fuel tankers in the west of Kabul, which were supplying fuel and food for foreign forces," he said.
Taliban fighters have been
attacking convoys
bringing supplies for NATO-led forces in landlocked Afghanistan for years now, but tankers have recently become their primary target.
The previous attack on fuel tankers took place June 19, when an attack of Taliban suicide bombers on a convoy of fuel trucks at the Pakistan border triggered a firefight between police guards and Islamist insurgents, resulting in
37 fuel trucks
being burned.
ISAF troops, the US-led international contingent in Afghanistan, get most of their fuel supplies via the Pakistani port of Karachi.
The ISAF supply route via Pakistan has never been secure, because of the Taliban's activities there and because the authorities in Islamabad and
locals
have more than once blocked the route because of the
drone war
the US government is waging against the Islamists in the country, and also because of
friendly fire
incidents involving the US Air Force.
In June, the US military finally closed its
key transit center
at the Manas airport near Bishkek in Kyrgyzstan. During the 12 1/2 years of the Afghan military campaign the facility remained the primary air supply hub for the ISAF's contingent in the war zone.
In 2012, Russia
allowed NATO
to use not only ground, but also aerial, routes for the transit of weapons and military hardware to and from Afghanistan.
Now that the
tensions
between Moscow and Washington over the unfolding civil war in Ukraine are higher than ever, the US military has to consider the
challenge
of transporting millions of pieces of military assets out of Afghanistan when all possible exit routes – including through Russia – are blocked.
Taliban Sets 400 'NATO-Supplying' Oil Tankers Ablaze In Afghanistan
With the "Islamic State" grabbing all the headlines, it appears the Taliban have had enough.
As Reuters reports
,
Taliban insurgents set fire on Saturday to about 400 oil tanker trucks supplying fuel for NATO forces in an attack just outside the Afghan capital Kabul
, police said. It was unclear how the fire was started. Some Afghan media reported that insurgents had fired rockets at the tankers late on Friday. The attack precedes Monday's
preliminary announcement of Afghanistan's presidential election winner
- in which both sides have accused the other of mass fraud.
The Taliban had vowed to disrupt the process
.
And the aftermath...
Television footage showed black smoke billowing above the site of the attack, with the charred wreckage of dozens of trucks scattered around a vast parking space.




The Taliban claimed responsibility for the attack, saying the trucks carried fuel intended for U.S.-led NATO forces.




It was unclear how the fire was started. Some Afghan media reported that insurgents had fired rockets at the tankers late on Friday. There were no immediate reports of casualties.
Stunning video of the blaze...
Ah, democracy! More boots on the ground needed back in Afghanistan ?
On the subject of democracy , elections ......
http://www.theguardian.com/world/2014/jul/06/afghanistan-facebook-ban-rejected-election-tension
Afghanistan rejects Facebook ban as election tensions rise
Online exchanges between Ashraf Ghani and Abdullah Abdullah supporters over alleged fraud threaten to spill over into violence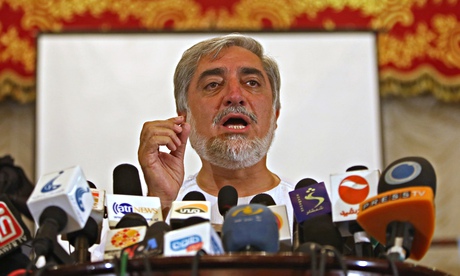 The Afghan government has rejected a proposal to ban Facebook during an ongoing deadlock over the presidential election, despite fears that social media postings have fanned ethnic hatred.
The dispute between candidates Ashraf Ghani and Abdullah Abdullah over alleged fraud in the 14 June election has triggered bitter online exchanges between rival supporters that have threatened to spill over into violence.
Ghani attracts much of his support from the Pashtun tribes of the south and east, while Abdullah's loyalists are Tajiks and other northern Afghan groups – echoing the ethnic divisions of the bloody 1992-96 civil war.
"The national security council discussed banning of Facebook in their meeting today," Fayeq Wahedi, the deputy presidential spokesman, told AFP on Sunday.
"There are people on Facebook who spread hatred and cause damage to national unity, but after talks the council decided not to ban Facebook."
Internet
use has soared in
Afghanistan
in recent years, and supporters of both sides have been posting hostile messages and photographs since the fraud allegations erupted.
Two weeks ago, the United Nations issued a warning that the internet activity could spark civil unrest.
"There has been a disturbing tone in some social media platforms, and we urge supporters … to refrain from inflammatory statements, hate speech or statements which promote divisive ethnic mobilisation," the UN mission chief, Jan Kubis, said.
He added that some postings were "rhetoric that brings back memories of tragic, fratricidal, factional conflicts in the 1990s that cost the lives of tens of thousands of civilians".
Abdullah has vowed to reject the result of the election, which is due on Monday, alleging he is the victim of "industrial-scale" fraud and calling for a thorough audit of ballot papers.
But Ghani claims he won fairly by at least 1m votes and said the result must be released on schedule after previous delays.
The dispute has thrown Afghanistan's first democratic transfer of power into turmoil as US-led troops withdraw after 13 years of fighting the Taliban insurgents and with aid money to the country set to fall in coming years.




http://www.theguardian.com/world/feedarticle/11428697
Afghan candidates spar over release of results
RAHIM FAIEZ
Associated Press= KABUL, Afghanistan (AP) — Afghanistan's election crisis deepened Sunday as the two presidential candidates sparred over the release of preliminary results and calls mounted for a broader investigation of suspect ballots amid allegations of massive fraud.
The impasse has threatened to undermine what the U.S. and its allies had hoped would be the country's first democratic transfer of authority after President Hamid Karzai agreed to step down after two terms as legally required.
Western officials were looking for a smooth transition to show progress ahead of the withdrawal of U.S. and allied combat troops by the end of this year. Whoever wins will inherit an impoverished country mired in insurgency and facing high unemployment and declining foreign aid.
Both candidates have promised to sign a security pact with the Obama administration that would allow nearly 10,000 American forces to remain in the country in a training capacity and to conduct counterterrorism operations. A disruption in the announcement of election results could mean another delay in finalizing that agreement, which was rebuffed by Karzai.
Abdullah Abdullah, who garnered the most votes in the first round of voting on April 5 but failed to get the majority needed to win outright, has boycotted the electoral institutions after alleging widespread ballot box stuffing and other efforts to rig the June 14 runoff vote against him. His rival Ashraf Ghani Ahmadzai. Ahmadzai, a former finance minister and World Bank official, also filed complaints of irregularities in the balloting but has insisted that the agreed-upon counting process be respected and said any further delays in releasing results would be unacceptable.
Preliminary results had been due on Wednesday, but the Independent Election Commission postponed them for five days saying it needed to audit votes from nearly 2,000 of 23,000 polling stations nationwide. Commission chairman Ahmad Yousuf Nouristani said Sunday that the announcement would be made Monday as planned, although a time had yet to be announced.
Abdullah said Sunday that he would not accept any results until all fraudulent votes were invalidated. He also demanded a more extensive investigation into suspicious ballots, including cases where more than 93 percent of the ballots in a single box were for a single candidate.
"What we are asking for is . an audit and after the completion of the audit before the announcement of the preliminary results should be made," he said Sunday at a news conference.
"There is no doubt that fraud has happened, massive fraud has happened," he said. "After all suspicious areas are audited, we will accept the election results, but not before that."
The European Union's election monitoring team in Kabul also has called for a broader investigation into fraud allegations, including highly improbable votes for a single candidate in polling stations or unlikely discrepancies between votes cast by women and men.
Diplomats and other international officials have long said they anticipated irregularities and the determining factor would be whether the vote rigging was sufficient to affect the overall outcome. The 2009 re-election of Karzai was marred by widespread ballot box stuffing and proxy voting, leading Abdullah, who was runner-up at the time, to refuse to participate in the runoff.
The Taliban threatened a campaign of violence to disrupting the Western-backed process, but millions of voters still went to the polls and the balloting was relatively smooth despite a series of high-profile attacks
According to the election commission's official timetable, final results on July 22. Karzai has set Aug. 2 as the date for the new president to be inaugurated.
Ahmadzai said more delays would be "unacceptable" and would "create serious doubts and mistrust of the people about the election process."
"The announcement of preliminary results cannot be postponed further," he said Saturday at a news conference.
Both campaign teams, meanwhile, were holding technical and political talks in a bid to resolve the crisis, although both candidates have ruled out a deal on a coalition government.
U.S. Sen. Carl Levin, who met with both candidates during a visit to Kabul, said he had been assured a consensus was emerging that would allow the release of partial results on Monday but also provide for a more comprehensive audit of contested votes before a final announcement is made.
"I am confident that they're going to agree on the details of that audit. Both want it. Both need it," the Michigan Democrat told reporters. Levin, the chairman of the Senate Armed Services Committee, warned that the level of continued aid from war-weary Americans was at stake.
"It is essential that these candidates find a process, agree on a process, live by a process that resolves this presidential race because if that falls apart then I think it's going to be very difficult to maintain the economic support," he said.