http://www.businessinsider.com/gif-flop-fred-brazil-world-cup-croatia-2014-6
It didn't take long for the first major controversy of the World Cup as Brazil took a 2-1 lead over Croatia late in the opening match when Fred appeared to flop in the penalty area, drawing a penalty.
There was definitely contact on the play with the Croatian defender placing his hand on Fred's shoulder, but the Brazilian clearly embellished the contact..
Fred was even holding his hands out looking for a call even before he hit the ground.
ESPN
The Croatian players were furious, surrounding the referee after the call.
ESPN
Neymar was able to convert the penalty even though the Croatian goalie was able to get his hands on the ball and Brazil had a 2-1 lead.
http://rt.com/news/165580-police-clashes-brazil-worldcup/
Tear gas, stun grenades: Brazilian police disperse protesters hours before WC opener
Published time: June 12, 2014 15:47
Edited time: June 12, 2014 17:43
Brazilian police have used teargas and stun grenades in San Paolo clashing with about 200 protesters angry with the govt overspending on the 2014 FIFA World Cup. This occurred hours before the tournament's opening game to be held in the city.
There were also reports of rubber bullets that were used against peaceful protesters who were trying to cut off a key venue leading to the Arena Corinthians stadium – the location of the first game of the Cup between hosting Brazil and Croatia.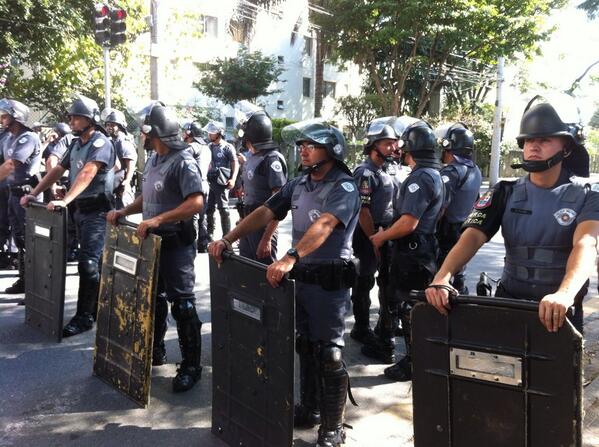 Many Brazilians are angry with the government spending over the $11.3 billion on hosting the World Cup while the country has been experiencing economic problems.
The Brazilian government has also been criticized for the frequent delays during the construction of the Arena Corinthians stadium that will host the World Cup games. Not only was the $525 million facility delivered six months late, but $150 million was spent over budget. The Thursday opening game will be the first ever to be played in the stadium which is a rude violation of FIFA's normal protocol for World Cup games.

President Dilma Rousseff has dismissed complaints about the heavy spending and delays saying that the people should be in high spirits giving more support for their home team.

"What I'm seeing more and more is the welcome given to the teams and the happiness of the Brazilian people with our team," she said in a speech on Wednesday.