Afghanistan......
Ordered Ballot Boxes Stuffed Before Run-Off Vote
by Jason Ditz, June 22, 2014
Audio tapes released by Afghan presidential candidate Abdullah Abdullah's team
appear to reveal a conversation in which
top Afghan election official Zia ul-Haq Amarkhail ordered ballot boxes stuffed in favor of Abdullah's rival Ashraf Ghani.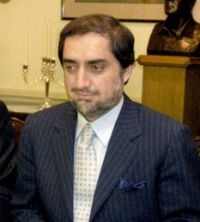 Though the tapes have yet to be independently authenticated, they detail Amarkhail ordering ballot stuffing and advising regional election officials to replace workers seen as pro-Abdullah with members of ethnicities that leaned toward Ghani.
Abdullah has been complaining to the Independent Election Commission (IEC) about the allegations for a week now, urging them to halt vote counts until the allegations of ballot stuffing are first probed.
Abdullah won handily in the first round of voting, just shy of the absolute majority needed to avoid a run-off. That, along with endorsements from two major opposition candidates now out of the race had many assuming he was virtually president-elect at this point, though Ghani's close ties to outgoing President Karzai and the reluctance of Pashtun voters to vote for Abdullah, who is only half-Pashtun, appear to be making that majority tricky indeed to come up with.
Pakistan.......
Clashes erupt as Qadri returns to Pakistan
Tahir-ul-Qadri's flight diverted from Islamabad to Lahore as hundreds of his supporters fight pitch battles with police.
Qadri has been calling for a revolution against the government [EPA]
A plane carrying anti-government Pakistani leader Tahir-ul-Qadri has been diverted from the capital Islamabad as hundreds of his supporters clashed with police outside an airport.

Qadri, who has been calling for a revolution against a government he accuses of corruption and incompetence, was due to arrive in the city from London, via Dubai, early on Monday morning.

After clashes between supporters of Qadri's Pakistan Awami Tehreek (PAT) party and police, who had thrown up a cordon around the airport to stop his supporters from meeting him, the plane was diverted to Lahore.

Police fired tear gas and party activists attacked them with stones and bricks, footage from the scene showed.

The violence comes after at least seven PAT activists were killed in a confrontation with police outside the party's headquarters in Lahore last week.

"If Dr Qadri is arrested at the airport or his flight is diverted we will stage a sit-in in the country and it will mean an immediate end of PML-N regime," Shahid Mursaleen, a spokesperson for Qadri, said before he left London.

Qadri, a Canada-based cleric, is a former parliamentarian, but his party has never been a potent electoral force.

He returned to political prominence in December 2012, when he led a "long march" of thousands to Islamabad, unsuccessfully calling for the toppling of the then PPP-led government, months before a general election.

Security concerns

On Sunday, authorities imposed restrictions on gatherings of more than five people and the display of weapons in the Islamabad and Rawalpindi area.

They also suspended mobile phone services in the capital for several hours, citing security concerns.

Chaudhry Nisar Ali Khan, the interior minister, said that the government would not allow any protest marches in Islamabad because they may pose a security threat.

Security has been tight across the country, and especially in the capital, since June 15, when Pakistan launched a military operation against the Tehreek-e-Taliban Pakistan and its allies in the tribal area of North Waziristan.

That operation was launched in response to a breakdown in government-TTP talks, and a brazen attack by Uzbek and TTP fighters on Karachi airport this month.
The military says it has killed more than 240 Taliban and other fighters since the operation began. The Taliban has warned it will launch retaliatory strikes.

Iraq......
tweets.....
#

Iraq
Reports: 30
#

Maliki
-SWAT forces fled from
#

Baiji
refinery after emptied safes in Finance Department
http://rudaw.net/english/kurdistan/23062014
Barzani Sends Strongest Signal for Kurdish Independence from Iraq
By
RUDAW
29 minutes ago
Kurdistan Region President Massoud Barzani speaking to CNN.
ERBIL, Kurdistan Region – The president of Iraq's autonomous Kurdistan Region signaled Monday that the country's Kurds are ready to seek independence, as Sunni insurgents gained greater ground and Iraq slid toward civil war.

"It is the time now for the Kurdistan people to determine their future, and the decision of the people is what we are going to uphold," Barzani said in an interview with CNN's Christiane Amapour, the strongest statements he has made regarding independence.

"During the last 10 years we did everything in our ability, we made every effort and we showed political stability in order to build a new democratic Iraq, but unfortunately the experience has not been successful they way that it should have," he said.

"That's why I believe that after the recent events in Iraq it has been proven that the Kurdish people should seize the opportunity now," he pointed out.

Iraq's northern Kurdistan Region, comprising the three northern Kurdish provinces of Erbil, Sulaimani and Duhok, has been autonomous for more than 20 years. It has an estimated population of five million, and its own government, parliament, constitution and army.

Independence has been a perennial Kurdish aspiration.

In less than a fortnight when they began their blitz, insurgents that include the radical Sunni Islamic State of Iraq and Syria (ISIS) have captured several key cities and are closing in on Baghdad, where they want to topple the Shiite-led government.

The rebel blitzkrieg began with the capture of Iraq's second-largest city, Mosul, by the rebels. Its collapse started a dominoes-fall of cities and territory that has the rebels in control of Iraq's vast central Sunni territories, from the Syrian border to Jordan.

Iraq's army largely collapsed when the rebels began their onslaught on Mosul.

The Kurdistan Regional Government (KRG), which has had serious issues with the Shiite Prime Minister Nouri al-Maliki, moved in its Peshmerga forces into Kurdish territories outside its official borders that were abandoned by Iraqi forces.

The Peshmerga have been in control of just about all of the Kurdish territories that they claim, including Kirkuk, the prize oil city that the Kurds see as the capital of their future state.
http://vineyardsaker.blogspot.com/2014/06/june-23rd-iraq-sitrep-by-mindfriedo.html
MONDAY, JUNE 23, 2014
June 23rd IRAQ SITREP by Mindfriedo
20th June: Putin confirmed Russia's complete support for the efforts of the Iraqi government to speedily liberate the territory of the republic from terrorists.

20th June: Thirty Shia militiamen are killed in Muqdadiyah, a town north east of Baghdad. The town lies on the main approach to Baqouba in Diyala province. The militants attacking the town were repulsed.

22nd June: The leader of Iran, Ayatollah Khamenei, has opposed any US intervention in Iraq: "The US is displeased with the current process of election with the people's high turnout and election of people's choices because the US intends to dominate Iraq and bring to power those who OBEY it."

22ndJune: An advisor to Moqtada As Sadr claims that any US "advisors" sent to Iraq will be seen as occupiers and legitimate targets.

23rd June: Secretary of State of the United States, John Kerry, meets with politicians in Baghdad. Maliki tells him that the current crisis: "represents a threat not only to Iraq but to regional and international peace," not to mention oil prices.

23rd June: Kuwait denies the withdrawal of its ambassador from Iraq.

23rd: The fate of Tal Afar is not clear. All indications are that its airport and the city itself have fallen to the rebels. However, the spokesman for Iraqi Army
Qassim Atta claims that the army is still fighting for control of the town.
23rd June: Daash has sent an ultimatum to the residents of Sinjar district to hand over Abu Walid, the Iraqi Major General who was spearheading resistance in Tal Afar before his forces withdrew. The Major General had withdrawn along with his coterie of bodyguards.

23rd June: Tribal leaders from both Shia and Sunni tribes from Tal Afar have sent a delegation to Erbil. They are asking the Kurdish authorities to include Tal Afar in Iraqi Kurdistan.

23rd June: Hugh Evans, the British Council in Iraqi Kurdistan, has allegedly stated that "he hopes to see the Republic of Kurdistan soon." This was during celebrations organized to celebrate the Queen's Birthday. He also asked Kurdish authorities to work with the authorities in Baghdad, praised the Kurds for taking in refugees from other parts, and highlighted his government's aid of 8 million USD.

23rd June: Clashes have now broken out in Salahuddin province between Daash fighters and those loyal to the Islamic Army. The clashes were over allegiance that Daash was insisting on from all groups fighting with/under it. Five militants are reported killed.

23rd June: The head of the Al-Abeed tribe in Iraq, Sheikh Anwar al-Assi, has refused to pay allegiance to Dassh. His home was attacked, property looted and life threatened. He has been shifted to Sulaymaniyah by the governor of Kirkuk.

23rd June: Iraqis in Australia have attended a rally denouncing Daash and its appeal. Abu Yahya ash Shami, the Daash militant from Australia had stated in his video appeal "Hello my brothers in Australia. This is the message I want to send to you. From a Muslim brother's heart to another brother's heart. Look and see and wake up and understand why this happening. Wake up. Wake up and be part of this effort." Australia has decided to deport any citizen having relations with Daash.

23rd: Baiji refinery is still under government control. However, it has fewer than 300 security personnel defending it. Siege by militants is ongoing.

23rd: Dash has taken 57 families hostage in the north east of Baiji. The families, consisting of women, children, and the elderly were fleeing Al Alam sub district for the town of Hawija. Daash has warned the Al Alam district to surrender or it will execute the hostages and dump them in the Tigris River.

23rd June: Iraqi officials tried to convince John Kerry for the need of targeted airstrikes. John Kerry remained concerned about "civilian casualties." Who says the United States does not have a sense of humor? Or honor?

23rd June: The spokesman for the Iraqi Army, Qassem Atta, has stated that the Iraqi army withdrew from the Western cities of Rawa and Anah as a tactical withdrawal.

23rd June: Certain sections of Sunni society in Syria are worried that Daash's gains in Iraq will intensify fighting in Syria. They know the kind of "freedom" that awaits the civilians of Mosul.

23rd June: The UK has made more than 40 Daash related arrests in the first three months of 2014. The former director of MI6, Richard Barrett, has warned the UK authorities that they face an "impossible task" of tracking Daash related subjects of the Queen.

23rd June: Mourners gather in their thousands in Al Jouf, Saudi Arabia to bury the Saudi student stabbed to death in the UK.

23rd June: The Israeli Ai Force carries out attacks on Syrian positions in the Golan Heights.
The next major confrontation that faces the government in Baghdad is Haditha. Government troops are protecting the town and the dam that is of strategic importance. But, it lies in the Sunni heartland. So far the rebels are proving to be more tenacious and motivated than the government.
So far it seems that each side is consolidating its hold. Most of Sunni Iraq is now in Rebel hands, and most of South and East Iraq with the Shia headed government. The North East is with the Kurds, the only force that has so far held off the rebels. Any struggle to take back the Sunni areas will be long drawn out and, if Syria is an example, very destructive. A Sunni advance on the South and East seems unlikely to succeed.

Further Reading:
Al Jazeera.....





Kerry in Baghdad to discuss Iraq crisis
US secretary of state due to meet Shia prime minister, Nouri al-Maliki, and top Sunni and Kurdish leaders.
Last updated:

23 Jun 2014 07:20
John Kerry has arrived in Baghdad to discuss the crisis in Iraq with top leaders, as Sunni fighters continued to make gains against government forces in the north of the country.

The US secretary of state is due to meet the Shia prime minister, Nouri al-Maliki on Monday, and Sunni and Kurdish leaders on his visit.
A state department spokesman said Kerry would "discuss US actions under way to assist Iraq as it confronts this threat and urge Iraqi leaders to move forward as quickly as possible with its government formation process to form a government that represents the interests of Iraqis".
Kerry said on Sunday that the US would not pick or choose who rules Baghdad. He said, however, Washington had noted the dissatisfaction among Kurds, Sunnis and some Shia with Maliki's leadership and emphasised that the US wanted Iraqis to "find a leadership that was prepared to be inclusive and share power".
The US government has ruled out sending ground troops to aid the Iraqi government against its fight with the Islamic State of Iraq and its Sunni allies, but has kept an option open to use air power. It has moved a carrier strike group and troops transports into the Gulf area.
The visit comes as Sunni fighters led by the ISIL have expanded their offensive in Iraq, capturing more territory from the government.
ISIL, was reported on Sunday to have taken the towns of Qaim, Rawah and Anah in Anbar province. Qaim, located on the border with Syria, hosts a key crossing between the two countries.
Fighters also claim to be in full control of the northern city of Baiji, which hosts Iraq's biggest oil refinery, though the military denies the rebels control the refinery itself.
The Associated Press news agency, citing Iraqi miltary officials, reported that Sunni fighters captured two border crossings, the Turaibil crossing with Jordan and the al-Walid crossing with Syria, on Sunday.




Anti War....





Locals Prepare for the Worst as Rebels Advance
by Jason Ditz, June 22, 2014
Recent gains by ISIS suggest they are almost finished shoring up control of the Anbar Province and nearby regions, and are getting closer to their threatened invasion of Baghdad. The locals are expecting the worst.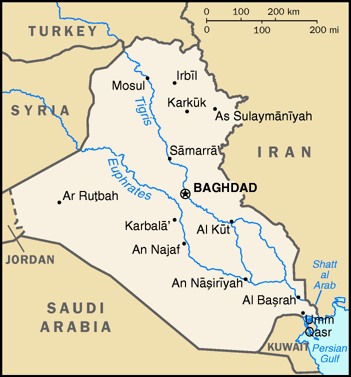 In Shi'ite areas of the capital, the markets are busy, with locals buying up food and other necessities in
anticipation of a long, bloody siege
.
The busiest businesses are the arms dealers, however, which since Grand Ayatollah Ali Sistani's call to arms
have seen soaring
sales to Shi'ites planning to join various militias aiming to resist ISIS.
Local Sunnis feel themselves in an even worse position, who see
growing violence
in the anti-ISIS backlash aimed primarily at them. For the Sunnis in Baghdad, it isn't clear which is worse: a bloody ISIS takeover or a victory for Shi'ite militias that will quickly move on to purging the rest of them.
Secessionist Ambitions Have Many Hoping to Sit the Fight Out
by Jason Ditz, June 22, 2014
As the Islamic State of Iraq and Syria (ISIS) carves up much of Iraq and the Shi'ite government moves to muster what defense it can of their capital of Baghdad, the
wild card remains
the Kurdistan Regional Government (KRG) and their Peshmerga paramilitary.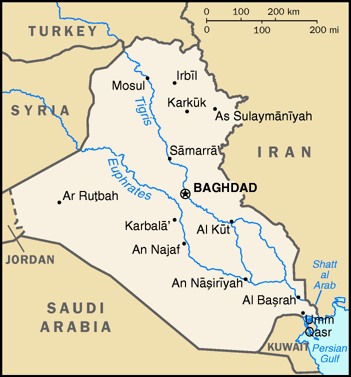 Though the Maliki government seemed to assume Peshmerga aid was imminent, it's not any easy choice for many, in no small part because Maliki's reign has fueled tensions between the central government and the KRG.
Even beyond that, many in the KRG have made no bones about their ambition to eventually secede and declare independence from Iraq, and the ISIS war seems to be the most ideal pretext imaginable for that.
The Peshmerga has seized parts of Iraq that have fallen out of central government hands, which could either be their "defense" of Iraq or a hasty landgrab on their way out the door. The faction seems interested in making which unclear though.
The surprising effectiveness of ISIS may also play a role in the Peshmerga being reluctant to go on the offensive against them, as fighters lost in trying to save central government territory could well be needed to defend the KRG's own lands from ISIS, which now spans much of their border.
Ultimately, the KRG's decision may be made for them if ISIS makes a serious push against their territory, but in the interim, it seems likely that they will remain largely on the sidelines, shoring up their own defenses, and preparing for a post-Iraq future that could be fast approaching.
http://www.middleeasteye.net/news/iraqi-kurdish-pm-former-iraqi-pm-call-maliki-step-down/1223015016
The current prime minister of Iraqi Kurdistan and a former Iraqi prime minister call on Maliki to resign as militants take more towns
The prime minister of the Kurdish Regional Government in Iraq's north on Sunday called for Iraqi Prime Minister Nouri al-Maliki to resign for the sake of Iraq's well-being in the future.
"Al-Maliki should resign because problems will continue to build up across the country as long as he serves as the prime minister," said Nechirvan Barzani on a program aired on American NBC channel on Sunday.
Barzani's comments were echoed by former Iraqi Prime Minister Iyad Allawi, current leader of the Iraqi National Accord party, who also called on Maliki to step down.
"We demand the formation of a national unity government so that we can protect our country from other possible dangers," he told a press conference on Sunday.
Maliki has been facing wordwide criticism as the armed insurgents led by the militant group Islamic State of Iraq and the Levant (ISIL) has expanded its reach since 10 June when it seized Iraq's second-largest city Mosul.
On Saturday, the militants
took the border town of Al Qaim
near Syria effectively clearing the way for fighters and weapons to move more easily between the two countries.
Then on Sunday, the Iraqi army retreated from three towns - Rawah, Anah and Rutba - in the western province of Anbar, ceding them to ISIL fighters.
At a press conference on Sunday, Maliki's top military spokesman, General Qassim Atta,
said the army's retreat
was a tactical procedure to reinforce troops in other areas.
In the months leading up to ISIL's offensive, the country had seen a marked increase in sectarian violence
between Sunni and Shi'a Muslims.
"We warned the central government against ISIL attacks six months ago and urged Maliki to take measures, especially for Mosul, but he dismissed our suggestions," Barzani said.
He warned that the country would fall into chaos if political leaders could not find political solutions to the crisis.
Tensions between Kurdistan and the central government in Iraq have been rising
since 2012 when KRG officials
started to make the claim - one which has continued until now - that the region's share of the national budget was being reduced.
Pressure increased further in May when Erbil, after building an independent pipeline with Turkey last December, started exporting oil to the Turkish port of Ceyhan. Baghdad took legal action in response, with the Iraqi Ministry of Oil filing for arbitration against Turkey and the state-owned pipeline operator.
Now, after leasing two tankers, the Kurds are
apparently selling oil to Israel
following failed attempts to sell to Morocco and other countries who insisted on mainting solidarity with Iraq, Haaretz reported on Sunday.
Syria.......
Blames Syria for Attack in Golan Heights
by Jason Ditz, June 22, 2014
Israeli officials were quick to blame Syria's military for an
attack
in the Israeli-occupied Golan Heights, when an attack on a car killed a 15-year-old Israeli. The Israeli Air Force is
now launching multiple air strikes
across Syria.
Israeli military officials insisted the Golan attack was an "intentional" attack, and that they believe Syria's military fired an antitank missile at the teenager's car for no apparent reason.
The region along the Israeli frontier is virtually constantly contested between Syria's military and various rebel factions, many of whom have been receiving US antitank missiles recently in an attempt to turn the tide of the ongoing Syrian Civil War.
Israel's air strikes don't appear to be border-specific, but are hitting military targets across the region, including the nation's military headquarters. Though the casualties are not yet clear, strikes that significantly degrade the Syrian military could inadvertently aid not only the US-backed rebels but also ISIS, the largest rebel faction, which has taken over much of the country's east.


Russia Today....
Israel strikes 9 military targets in Syria
Published time: June 22, 2014 23:42
Edited time: June 23, 2014 00:48
Nine Syrian military targets have been hit by Israeli jets and guided missiles, the IDF says, claiming it was a decisive response to a series of cross-border shootings to protect the citizens of Israel.
The strikes on targets in Golan Heights were carried out shortly after midnight, Haaretz reports citing an IDF official, who called it a direct response to Sunday's deadly incident when an anti-tank projectile fired from Syrian territory struck near the border fence on the Israeli occupied Golan Heights.
"The shooting [on Sunday] was a very serious act of provocation, and a continuation of a series of attacks carried out over the past several months against IDF forces throughout the border region, and in this area specifically," the statement reads.
A military command headquarters reportedly was among the targets hit in Syria.
Earlier on Sunday, in response to the killing of Israeli teen Mohammed Karaka, IDF artillery pounded military outposts on Syrian territory, with speculations about possible strikes against other targets.
The killed teenager was an Arab citizen of Israel, accompanying his father, a Defense Ministry civilian contractor, to the Golan, the ministry said, uncertain whether the boy was 15 or 13 years old. The father and two more people we injured in the incident.
It was not clear who exactly fired the anti-tank missile that hit the Israeli border from an area contested by the Syrian army and the rebels.
Relations between Syria and Israel have been tense since the civil war erupted in the country more than three years ago.
Ripped by internal warring factions, numerous cross-border shooting and shelling have become a common occurrence in the Israeli controlled Golan Heights, which Tel Aviv secured following the Yom Kippur War of 1973.
IDF aerial retaliatory strikes were reported in January 2013, when Israeli planes allegedly struck deep within Syrian territory, reportedly targeting anti-aircraft weaponry outside Damascus.
Israeli warplanes also
struck
a Syrian air-defense base near the port city of Latakia in October 2013, as confirmed by US officials, with some experts speculating that the target was missile equipment that may have been transferred to Lebanese Hezbollah.
In May 2013, Syrian media reported "Israeli airstrikes" targeting military positions in Damascus, following bombing in Rif Dimashq governorate. In July 2013, RT reported that Israel used a Turkish military base to launch one of its recent airstrikes against Syria from the sea, a week after July 5 depot attack in Latakia.
Anti War....
Seized Humvees Show Up in Battles Near Turkish Border
by Jason Ditz, June 22, 2014
The Islamic State of Iraq and Syria (ISIS) has been expanding in Iraq recently, and is now looking back and its northwestern front, the Aleppo Province of Syria, where they are seeking more gains along the Turkish border.
They have some help too. ISIS fighters seized a number of US-made armored Humvees in and around Mosul, and have ferried them all the way to their Syrian frontier, where they are
involved in battles with rival rebels
in Azaz.
Azaz is one of several key border crossings into Turkey that have been contested by many rebel factions, and while it has recently been dominated by the Islamic Front, it seems that the armored vehicles and other high-end equipment looted from Iraq could make the difference for ISIS.
Syrian rebel factions have been keen on border crossings as valuable targets allowing them to smuggle weapons in, and command cuts of other factions' smuggling there.
ISIS now has control of all but one Syria-Iraq crossing, as well as control of the only Iraq-Jordan crossing. If they secure more Syria-Turkey crossings it will give them even more influence across the region.


Al Arabiya......
Syria hands over last of declared chemical weapons
Staff Writer, Al Arabiya News
Monday, 23 June 2014
Syria has handed over the last of acknowledged stockpile of chemical weapons, said the international team of weapons experts tasked with overseeing the elimination of Syria's chemical weapons on Monday.
"The Joint Mission welcomes the removal of the remaining 7.2 per cent of chemical weapons material from the Syrian Arab Republic. With this last movement, the total of declared chemical weapons materials destroyed or removed from Syria has reached 100%," the mission said in a statement obtained by Al Arabiya.
"In addition to the completion of the removal operation, the Syrian Arab Republic has destroyed all declared production, mixing and filling equipment and munitions, as well as many buildings associated with its declared chemical weapons program," the statement added.
Sigrid Kaag, special coordinator of the Organization for the Prohibition of Chemical Weapons (OPCW), told Al Arabiya bureau chief in New York Talal al-Haj: "I think we've accomplished a very important part of the mission."
She said 100 percent of declared chemical weapons was either removed or destroyed.
"That is a major milestone. The job is not yet done and as you also see from the forthcoming letter by the secretary general there are areas of work ongoing on the assessment of Syria's initial declaration as well as work in preparation of a decision by OPCW on the methodology of destruction, she added."
Play the above video to watch the full interview with Sigrid Kaag
"But we have achieved major milestone under unprecedented conditions and very tight timeframes despite deadlines that had been missed," Kaag added.
The final 7.2 percent of the 1,300-ton stockpile, which included mustard gas and raw materials for making sarin nerve gas, have been loaded onto Danish and Norwegian ships in the Syrian port of Latakia, said Ahmet Uzumcu, the director general of the Organization for the Prohibition of Chemical Weapons, The Associated Press reported.
The statement by the Joint Mission said that a new "chapter in the elimination process now begins." The stockpile is expected to be transported to various facilities where it will be destroyed.
Kaag told Al Arabiya's sister channel Al Hadath: "The destruction of the chemical weapons aboard the U.S. vessel Cape Ray is estimated to take approximately 60 days. I am sure there is a variation in implementation, but hat is a rough estimate."
Speaking at a press conference in The Hague, however, Uzumcu acknowledged that it is still possible Syria has avoided declaring some part of its arsenal, the Associated Press reported.
"I can't say ... that Syria doesn't have any chemical weapons anymore," he said. However, he added that is true of any country that his organization cooperates with, and Syria's declared arsenal was close to estimates made by external security analysts and experts.
Syria's government agreed to surrender its arsenal last fall when the U.S. threatened punitive missile strikes after a chemical attack on a rebel-held suburb of Damascus believed to have killed more than a thousand people.
The Syrian Foreign Ministry said in a statement Monday it had eliminated the chemicals despite difficult security circumstances caused by its ongoing civil war.
It credited the "firm political will of Syrian President Bashar Assad and the initiative of the Russian President Vladimir Putin" to give up the arsenal under the supervision of the U.N. Security Council.
"This significant achievement is further evidence that Syria adheres to its international commitments," the Syrian statement said.