MONDAY, JUNE 23, 2014
June 23rd IRAQ SITREP by Mindfriedo
20th June: Putin confirmed Russia's complete support for the efforts of the Iraqi government to speedily liberate the territory of the republic from terrorists.
20th June: Thirty Shia militiamen are killed in Muqdadiyah, a town north east of Baghdad. The town lies on the main approach to Baqouba in Diyala province. The militants attacking the town were repulsed.
22nd June: The leader of Iran, Ayatollah Khamenei, has opposed any US intervention in Iraq: "The US is displeased with the current process of election with the people's high turnout and election of people's choices because the US intends to dominate Iraq and bring to power those who OBEY it."
22ndJune: An advisor to Moqtada As Sadr claims that any US "advisors" sent to Iraq will be seen as occupiers and legitimate targets.
23rd June: Secretary of State of the United States, John Kerry, meets with politicians in Baghdad. Maliki tells him that the current crisis: "represents a threat not only to Iraq but to regional and international peace," not to mention oil prices.
23rd June: Kuwait denies the withdrawal of its ambassador from Iraq.
23rd: The fate of Tal Afar is not clear. All indications are that its airport and the city itself have fallen to the rebels. However, the spokesman for Iraqi Army Qassim Atta claims that the army is still fighting for control of the town.
23rd June: Daash has sent an ultimatum to the residents of Sinjar district to hand over Abu Walid, the Iraqi Major General who was spearheading resistance in Tal Afar before his forces withdrew. The Major General had withdrawn along with his coterie of bodyguards.
23rd June: Tribal leaders from both Shia and Sunni tribes from Tal Afar have sent a delegation to Erbil. They are asking the Kurdish authorities to include Tal Afar in Iraqi Kurdistan.
23rd June: Hugh Evans, the British Council in Iraqi Kurdistan, has allegedly stated that "he hopes to see the Republic of Kurdistan soon." This was during celebrations organized to celebrate the Queen's Birthday. He also asked Kurdish authorities to work with the authorities in Baghdad, praised the Kurds for taking in refugees from other parts, and highlighted his government's aid of 8 million USD.
23rd June: Clashes have now broken out in Salahuddin province between Daash fighters and those loyal to the Islamic Army. The clashes were over allegiance that Daash was insisting on from all groups fighting with/under it. Five militants are reported killed.
23rd June: The head of the Al-Abeed tribe in Iraq, Sheikh Anwar al-Assi, has refused to pay allegiance to Dassh. His home was attacked, property looted and life threatened. He has been shifted to Sulaymaniyah by the governor of Kirkuk.
23rd June: Iraqis in Australia have attended a rally denouncing Daash and its appeal. Abu Yahya ash Shami, the Daash militant from Australia had stated in his video appeal "Hello my brothers in Australia. This is the message I want to send to you. From a Muslim brother's heart to another brother's heart. Look and see and wake up and understand why this happening. Wake up. Wake up and be part of this effort." Australia has decided to deport any citizen having relations with Daash.
23rd: Baiji refinery is still under government control. However, it has fewer than 300 security personnel defending it. Siege by militants is ongoing.
23rd: Dash has taken 57 families hostage in the north east of Baiji. The families, consisting of women, children, and the elderly were fleeing Al Alam sub district for the town of Hawija. Daash has warned the Al Alam district to surrender or it will execute the hostages and dump them in the Tigris River.
23rd June: Iraqi officials tried to convince John Kerry for the need of targeted airstrikes. John Kerry remained concerned about "civilian casualties." Who says the United States does not have a sense of humor? Or honor?
23rd June: The spokesman for the Iraqi Army, Qassem Atta, has stated that the Iraqi army withdrew from the Western cities of Rawa and Anah as a tactical withdrawal.
23rd June: Certain sections of Sunni society in Syria are worried that Daash's gains in Iraq will intensify fighting in Syria. They know the kind of "freedom" that awaits the civilians of Mosul.
23rd June: The UK has made more than 40 Daash related arrests in the first three months of 2014. The former director of MI6, Richard Barrett, has warned the UK authorities that they face an "impossible task" of tracking Daash related subjects of the Queen.
23rd June: Mourners gather in their thousands in Al Jouf, Saudi Arabia to bury the Saudi student stabbed to death in the UK.
23rd June: The Israeli Ai Force carries out attacks on Syrian positions in the Golan Heights.
The next major confrontation that faces the government in Baghdad is Haditha. Government troops are protecting the town and the dam that is of strategic importance. But, it lies in the Sunni heartland. So far the rebels are proving to be more tenacious and motivated than the government.
So far it seems that each side is consolidating its hold. Most of Sunni Iraq is now in Rebel hands, and most of South and East Iraq with the Shia headed government. The North East is with the Kurds, the only force that has so far held off the rebels. Any struggle to take back the Sunni areas will be long drawn out and, if Syria is an example, very destructive. A Sunni advance on the South and East seems unlikely to succeed.

Further Reading:
Robert Fisk in US slang "ripping" the Americans and Saudis a new one:
http://www.independent.co.uk/voices/comment/if-history-and-petropolitics-teach-us-anything-its-that-the-collapse-of-iraq-shouldnt-come-as-surprise-9555097.html
On Iranian and Kurdish cooperation in the past. And the price the Kurds paid:
http://en.wikipedia.org/wiki/Operation_Mersad
Russia Today....
ISIS retakes strategic city of Tal Afar, airport as Sunni militants' Iraq offensive spreads
Published time: June 23, 2014 17:33
Edited time: June 24, 2014 02:24
Radical Sunni militants have retaken control over the northern city of Tal Afar and an airport as major offensive by the al-Qaeda-inspired group enters a second week. Hundreds of Iraqi soldiers have been killed as militants expand their control.
"The town of Tal Afar and the airport... are completely under the control of the militants," a local official told AFP on condition of anonymity.
Witnesses have also confirmed that the Islamic State in Iraq and the Levant (ISIS, or ISIL) militants were in control, saying that security forces had departed the town, which is located along a strategic corridor to Syria, the news agency reported.
"Even if we withdrew from Tal Afar or any other area, this does not mean that it is a defeat,"Lieutenant General Qassem Atta, the security spokesman for PM Nouri al-Maliki, said in a televised address.
Atta confirmed that security forces are still fighting in the Tal Afar area, which is home to mostly ethnic Shiite and Sunni Turkmen.
"Hundreds" of Iraqi soldiers have been killed by Sunni Arab militants since June 9, when the Sunni militants fighting to make an Islamic state in Iraq, started its offensive, the security spokesman said.
On June 18 militants already seized control over Tal Afar. That capture of the city of 200,000 residents came after Sunni militants took Iraq's second-largest city, Mosul, and Saddam Hussein's hometown of Tikrit.
The Iraqi government has not provided a concrete figure for casualties yet.
On Monday, jihadists also attacked an Iraqi convoy transporting detainees in the Hashimiyah area of Babil province, south of Baghdad. Sixty-nine prisoners were killed as well as one policeman and eight gunmen. The latter died in clashes that erupted during the attack. A police captain and a doctor could not immediately clarify details of the detainees' deaths.
The attack on the convoy came a week after a similar assault that took the lives of at least 44 prisoners killed during a militant assault on a prison in the city of Baquba.
It remains unclear who was responsible for the Baquba killings. Atta, Al-Maliki's security spokesman, blamed the attack on insurgents while other officials say security forces were behind the killing as the prisoners tried to escape.
The ongoing offensive by the ISIS is aimed at achieving total dominance in Iraq by radical Sunni militants. On June 22, jihadists
captured
three new towns and two border crossings, one with Jordan and one with Syria.
As Sunni militants advanced in western Iraq, US Secretary of State John Kerry arrived in Baghdad for a surprise visit Monday. He met with Iraqi leaders and "to convey" the US's"commitment to help Iraq." Kerry held talks with al-Maliki, with Iraq's foreign minister as well as Shiite and Sunni leaders.
"The key today was to get from each of the government leaders clarity with respect to the road forward in terms of government formation," Kerry said.
The US's help for Iraqi forces to defeat ISIS will be "intense and sustained," Kerry said.
"If Iraq's leaders take the necessary steps to bring the country together, it will be effective," Kerry added. "It will allow Iraqi security forces to confront ISIS/ISIL more effectively and in a way that respects Iraq's sovereignty while also respecting America's and the region's vital interests."
Earlier President Obama offered up to 300 additional
American military
personnel to come to Iraq and help coordinate the fight.
Last week,
F-18s
started surveillance flights over Iraq as Washington authorized a "manned and unmanned" observation mission.
Anti War.....
ISIS Say Advance on Baghdad Will Continue
by Jason Ditz, June 23, 2014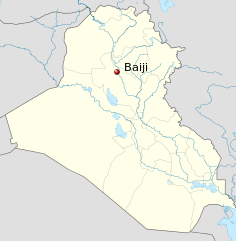 The Baiji facility has been offline for days now, as the workers fled the fighting, which has led to gasoline rationing across much of Iraq as supplies are difficult to come by.
ISIS says they don't intend to keep the refinery under their direct control, but will hand it over to tribal leaders in the area to run. It will be a key to providing ISIS-controlled territory with fuel.
Instead, the ISIS spokesman said the rebels will continue southward along the highway, continuing their advance on the Iraqi capital of Baghdad. Iraq has been scrambling to prepare for a defense of Baghdad, though they continue to suffer defeats at the hands of ISIS elsewhere, losing much important territory.
Maliki Aides Say Iraq Can't Afford a Change Now
by Jason Ditz, June 23, 2014
Everybody from the US to the Kurds to the Sunni insurgency, and even Shi'ite religious leader Grand Ayatollah Ali Sistani
agree
that Prime Minister Nouri al-Maliki needs to step down for there to be any sort of serious attempt to salvage Iraq as a plural society.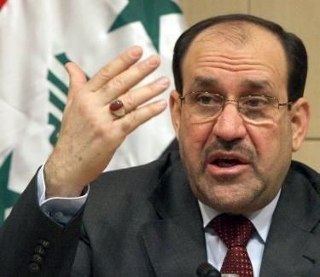 Everybody is on board, except for Maliki himself, and he and what political allies he has left are looking to make a fight of it, with longtime aide Sami Askari insisting the current turmoil should ensure Maliki's continued survival and that "
Iraq cannot afford a leadership change now
."
How he hopes to sustain power is unclear though, as even his own State of Law Party is reportedly having conversations with other factions about joining a new coalition government without Maliki in the top spot.
Perhaps the only thing working in Maliki's favor at this point is how few really high-profile possible replacements there are, with the choices so few that even the notorious Ahmed Chalabi, the architect of the disastrous US occupation, is considered among the front-runners.
Government Blames ISIS Crossfire
by Jason Ditz, June 23, 2014
Iraqi police last week were bragging about the
execution of 44 Sunni prisoners
in Baqubah, shooting dead the "suspects" when ISIS was reportedly near the city.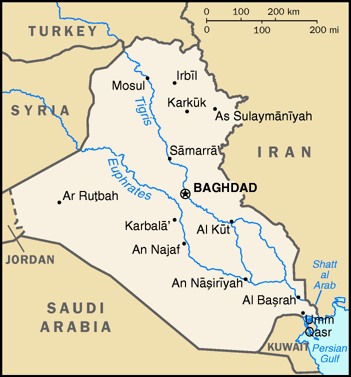 Today, another
70 Sunni prisoners were killed
near Hillah, being transported south for "security reasons." Their deaths are eerily similar, coming after the convoy came under gunfire, and
local police say that the
escorts decided to execute them because they didn't trust the Iraqi courts to handle the cases.
The official story is that they were
all killed in the "crossfire"
with ISIS, though since only a handful of police were even wounded it is hard to imagine every single prisoner got killed in a reportedly brief clash.
The growing number of mysterious Sunni deaths in custody only adds to the double-standard of the Maliki government, which
late last week freed a number of Shi'ite prisoners
, including many who were sentenced to life imprisonment, to join militias, and seem to be killing Sunni detainees, even those held without charges, on any pretext.
Security Forces Accused Again of Killing Prisoners; Over 300 killed Across Iraq
Continues to Press for 'Inclusive' Government
by Jason Ditz, June 23, 2014
While the Pentagon is still trying to secure the legal cover to ensure that their troops will be above the law, Secretary of State John Kerry is assuring Iraq that US intervention in their country will be "
intense and sustained
."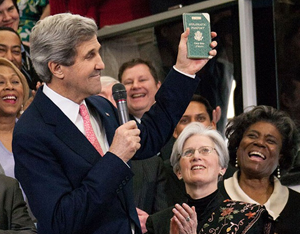 Kerry, who met with Prime Minister Nouri al-Maliki today, said he also pressed him on the question of forming a
new "inclusive" government
with Sunni Arabs and Kurds sharing power.
Kerry insisted Maliki had committed to begin the process of forming a new government by July 1, though it seems unlikely that any government led by Maliki will even be possible at this point, let alone a consensus one.
While Kerry downplayed that during his visit, the US last week was pressing Maliki to resign in favor of another Shi'ite ruler, with many indications that old friend-to-the-occupation Ahmed Chalabi might be among the US-favored choices.
Kerry's pledged intervention did not include any specifics, beyond the 300 "military advisers" already pledged by President Obama last week.
Not Legal, But Maliki's Promises Good Enough for US
by Jason Ditz, June 23, 2014
It's well short of the actual legal immunity the Pentagon wanted before sending troops back into Iraq, but President Obama has
backed off such demands today
, insisting the personal assurances of Prime Minister Nouri al-Maliki are
good enough
.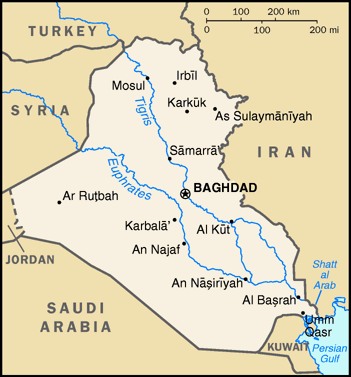 The lack of a
legal immunity deal
was the whole reason US troops ended the occupation of Iraq in the first place, and only Iraq's parliament can legally guarantee immunity from prosecution.
Back in 2011 parliament wouldn't give it, and now is likely no different. But with the administration eager to escalate their involvement, a personal promise from Maliki is suddenly all they're insisting.
Since Maliki is the acting Interior Minister and therefore controls the national police, it might seem acceptable for now, but with Maliki likely on his way out (at the US behest) there's no guarantee the next interior minister will cooperate, let alone local and provincial police who are being told by their unpopular PM to ignore Iraqi law.
http://www.dw.de/the-mahdi-army-turbans-kalashnikovs-and-plans-to-slaughter/a-17728487
IRAQ
The Mahdi Army: Turbans, Kalashnikovs and plans to 'slaughter'
A notorious Shiite militia is preparing to march on its rapidly-advancing ISIS enemy. In the past, the Mahdi Army was known for death squads, arbitrary shootings, kidnappings and bombings.
Bedecked in black training suits or flowing robes and turbans, they resemble Iraq's own army as they marched by the thousands through Sadr City over the weekend (22.06.2014). Sadr City's two million largely Shiite citizens make it Baghdad's largest district. They were ready to stand up to the terrorists, they cried. Everywhere, they could be heard: "We will slaughter them!"
Armed with rifles, pistols, grenades and Molotov cocktails, their first target is Samarra, where they plan to confront the largely Sunni militia Islamist State in Iraq and Syria (ISIS) and to protect their holy, Shiite mosque. The latter is proving a key point of contention.
Shia Islam's highest authority, Grand Ayatollah Ali Al-Sistani, again called upon the militants to join the fight against an enemy which threatens not only holy sites, but the unity of Iraq. Shiites now stand at the ready.
The city they will march on has already experienced a nightmare. Samarra's spiraling minaret is known the world over, its al-Askari Mosque, a Shia treasure. Just 110 kilometers (68 miles) north of Baghdad, the majority of its 160,000 citizens are Sunnis. For Shiites, however, it's an incomparable spiritual center. A 2006 bomb attack on the golden cupola of the al-Askari Mosque led to inter-denominational war: Thousands of Sunnis and Shiites lost their lives.
Fears are high that similar events might now transpire. ISIS has been using the main road that leads from Mosul to Baghdad for its forward march. Lying along that road is Saddam Hussein's home town of Tikrit, the Beiji refinery and Samarra.
After Mosul and Tikrit fell two weeks ago, the fighting turned to the Beiji refinery, which supplies the entire city of Baghdad with electricity and fuel.
The tactical situation is unclear: Both sides proclaim victory again and again, all while the refinery remains shut down.
Throughout the country, ISIS fighters are also
said to have taken control
of Baquba, the capital of the Diyala province northeast of Baghdad, as well as the Syrian border crossings of Al-Qaim and Al-Walid and the Jordanian crossing of Turaibil.
Some claim, however, that the Al-Qaim crossing was overrun not by ISIS but by members of a local tribe. Yet the Anbar province containing Al-Qaim had by January largely fallen to the ISIS, with Al-Qaim refugees fleeing to camps on the outskirts of Baghdad.
The situation is equally as murky in the Diyala province, where violent ethnic clashes occurred in from 2006 to 2008. Diyala is sometimes referred to as "Little Iraq," since each of the country's ethnic groups is represented there and competes with the others for power and influence.
Yet the Shiite parades in Sadr over the weekend mark the rebirth of an era - one many had long considered overcome. Shiite leader Muqtada al-Sadr's Mahdi Army, a militia founded in 2013 to fight US occupation forces, has been given new life. According to its own figures, the Mahdi Army boasts half a million members.
The Jaish al-Mahdi, as the group is known in Arabic, was notorious, feared in Baghdad as instrumental in the escalation of bloody clashes between Sunnis and Shiites that ultimately led to civil war. Death squads often carried out arbitrary shootings; hostages were held in Sadr City until the group's conditions were met. Ransoms were not the goal, but rather the release of prisoners or withdrawal of US troops. Analogous to the Sunni terrorist organization, al Qaeda, Jaish al-Mahdi committed thousands of bombings, detonated roadside explosives and fired mortar shells toward the Green Zone, where the US and the Iraqi government had their administrations.
What distinguished the group from al Qaeda is the Shiite rejection of suicide bombings - something of a trademark for Sunni al Qaeda.
After three years of bloody civil war, Muqtada al-Sadr disbanded his army in 2008 and called upon them to lay down their arms. That happened due to the intervention in Najaf of Grand Ayatollah al-Sistani, who offered prospects to the young Shiite rebels - Moqtada al-Sadr was not yet 40 years old - for participation in the Iraqi political process; ultimately, they stopped fighting.
In the last cabinet, six "Sadrist" ministers, as they came to be known, were represented. In parliament, 40 Sadrist deputies held seats. Their votes helped deliver a second term to Iraqi Prime Minister Nouri al-Maliki.
Yet both Grand Ayatollah al-Sistani and Muqtada al-Sadr have now
fallen out with Maliki
, the latter calling him the "new dictator" of Iraq.
Does the revival of the Mahdi Army, then, represent Maliki's salvation? Or does Muqtada al-Sadr have something else in mind?
Regardless, if the Shiite militia intends to fight the ISIS, it does not bode well for many of Baghdad's citizens: Shiites and Sunnis alike are fearful of a looming confrontation that could escalate beyond control.
#

Iraq
Reports: 30
#

Maliki
-SWAT forces fled from
#

Baiji
refinery after emptied safes in Finance Department
Al Jazeera.....
Kerry in Baghdad to discuss Iraq crisis
US secretary of state due to meet Shia prime minister, Nouri al-Maliki, and top Sunni and Kurdish leaders.
Last updated:

23 Jun 2014 07:20
John Kerry has arrived in Baghdad to discuss the crisis in Iraq with top leaders, as Sunni fighters continued to make gains against government forces in the north of the country.

The US secretary of state is due to meet the Shia prime minister, Nouri al-Maliki on Monday, and Sunni and Kurdish leaders on his visit.
A state department spokesman said Kerry would "discuss US actions under way to assist Iraq as it confronts this threat and urge Iraqi leaders to move forward as quickly as possible with its government formation process to form a government that represents the interests of Iraqis".
Kerry said on Sunday that the US would not pick or choose who rules Baghdad. He said, however, Washington had noted the dissatisfaction among Kurds, Sunnis and some Shia with Maliki's leadership and emphasised that the US wanted Iraqis to "find a leadership that was prepared to be inclusive and share power".
The US government has ruled out sending ground troops to aid the Iraqi government against its fight with the Islamic State of Iraq and its Sunni allies, but has kept an option open to use air power. It has moved a carrier strike group and troops transports into the Gulf area.
The visit comes as Sunni fighters led by the ISIL have expanded their offensive in Iraq, capturing more territory from the government.
ISIL, was reported on Sunday to have taken the towns of Qaim, Rawah and Anah in Anbar province. Qaim, located on the border with Syria, hosts a key crossing between the two countries.
Fighters also claim to be in full control of the northern city of Baiji, which hosts Iraq's biggest oil refinery, though the military denies the rebels control the refinery itself.
The Associated Press news agency, citing Iraqi miltary officials, reported that Sunni fighters captured two border crossings, the Turaibil crossing with Jordan and the al-Walid crossing with Syria, on Sunday.




Anti War....




Locals Prepare for the Worst as Rebels Advance
by Jason Ditz, June 22, 2014
Recent gains by ISIS suggest they are almost finished shoring up control of the Anbar Province and nearby regions, and are getting closer to their threatened invasion of Baghdad. The locals are expecting the worst.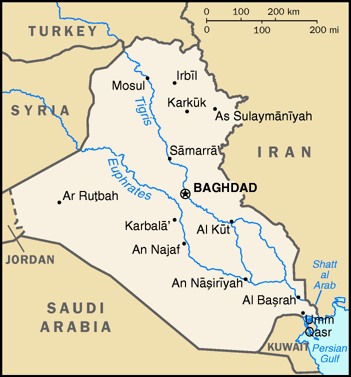 In Shi'ite areas of the capital, the markets are busy, with locals buying up food and other necessities in
anticipation of a long, bloody siege
.
The busiest businesses are the arms dealers, however, which since Grand Ayatollah Ali Sistani's call to arms
have seen soaring
sales to Shi'ites planning to join various militias aiming to resist ISIS.
Local Sunnis feel themselves in an even worse position, who see
growing violence
in the anti-ISIS backlash aimed primarily at them. For the Sunnis in Baghdad, it isn't clear which is worse: a bloody ISIS takeover or a victory for Shi'ite militias that will quickly move on to purging the rest of them.
Secessionist Ambitions Have Many Hoping to Sit the Fight Out
by Jason Ditz, June 22, 2014
As the Islamic State of Iraq and Syria (ISIS) carves up much of Iraq and the Shi'ite government moves to muster what defense it can of their capital of Baghdad, the
wild card remains
the Kurdistan Regional Government (KRG) and their Peshmerga paramilitary.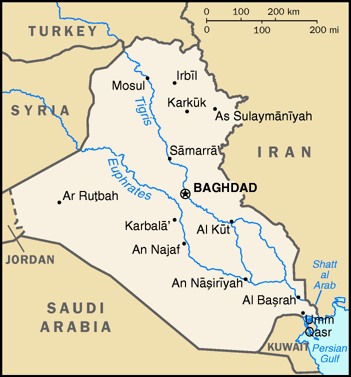 Though the Maliki government seemed to assume Peshmerga aid was imminent, it's not any easy choice for many, in no small part because Maliki's reign has fueled tensions between the central government and the KRG.
Even beyond that, many in the KRG have made no bones about their ambition to eventually secede and declare independence from Iraq, and the ISIS war seems to be the most ideal pretext imaginable for that.
The Peshmerga has seized parts of Iraq that have fallen out of central government hands, which could either be their "defense" of Iraq or a hasty landgrab on their way out the door. The faction seems interested in making which unclear though.
The surprising effectiveness of ISIS may also play a role in the Peshmerga being reluctant to go on the offensive against them, as fighters lost in trying to save central government territory could well be needed to defend the KRG's own lands from ISIS, which now spans much of their border.
Ultimately, the KRG's decision may be made for them if ISIS makes a serious push against their territory, but in the interim, it seems likely that they will remain largely on the sidelines, shoring up their own defenses, and preparing for a post-Iraq future that could be fast approaching.
http://www.middleeasteye.net/news/iraqi-kurdish-pm-former-iraqi-pm-call-maliki-step-down/1223015016
The current prime minister of Iraqi Kurdistan and a former Iraqi prime minister call on Maliki to resign as militants take more towns
The prime minister of the Kurdish Regional Government in Iraq's north on Sunday called for Iraqi Prime Minister Nouri al-Maliki to resign for the sake of Iraq's well-being in the future.
"Al-Maliki should resign because problems will continue to build up across the country as long as he serves as the prime minister," said Nechirvan Barzani on a program aired on American NBC channel on Sunday.
Barzani's comments were echoed by former Iraqi Prime Minister Iyad Allawi, current leader of the Iraqi National Accord party, who also called on Maliki to step down.
"We demand the formation of a national unity government so that we can protect our country from other possible dangers," he told a press conference on Sunday.
Maliki has been facing wordwide criticism as the armed insurgents led by the militant group Islamic State of Iraq and the Levant (ISIL) has expanded its reach since 10 June when it seized Iraq's second-largest city Mosul.
On Saturday, the militants
took the border town of Al Qaim
near Syria effectively clearing the way for fighters and weapons to move more easily between the two countries.
Then on Sunday, the Iraqi army retreated from three towns - Rawah, Anah and Rutba - in the western province of Anbar, ceding them to ISIL fighters.
At a press conference on Sunday, Maliki's top military spokesman, General Qassim Atta,
said the army's retreat
was a tactical procedure to reinforce troops in other areas.
In the months leading up to ISIL's offensive, the country had seen a marked increase in sectarian violence
between Sunni and Shi'a Muslims.
"We warned the central government against ISIL attacks six months ago and urged Maliki to take measures, especially for Mosul, but he dismissed our suggestions," Barzani said.
He warned that the country would fall into chaos if political leaders could not find political solutions to the crisis.
Tensions between Kurdistan and the central government in Iraq have been rising
since 2012 when KRG officials
started to make the claim - one which has continued until now - that the region's share of the national budget was being reduced.
Pressure increased further in May when Erbil, after building an independent pipeline with Turkey last December, started exporting oil to the Turkish port of Ceyhan. Baghdad took legal action in response, with the Iraqi Ministry of Oil filing for arbitration against Turkey and the state-owned pipeline operator.
Now, after leasing two tankers, the Kurds are
apparently selling oil to Israel
following failed attempts to sell to Morocco and other countries who insisted on mainting solidarity with Iraq, Haaretz reported on Sunday.