http://www.zerohedge.com/news/2014-04-29/putin-questions-us-motivation-over-sanctions-reconsiders-western-company-energy-deal
Putin Questions US Motivation Over Sanctions; Reconsiders Western Company Energy Deals
Submitted by Tyler Durden on 04/29/2014 15:23 -0400
Having been quiet all day, Vladimir Putin chose just before 330 on a Tuesday to respond to US and EU sanctions:
*PUTIN: U.S., EU SEEKING TO BLAME RUSSIA FOR UKRAINE CRISIS
*PUTIN SAYS HE CAN'T UNDERSTAND MOTIVATION FOR SANCTIONS
*PUTIN SAYS NO CAUSE-EFFECT BEHIND SANCTIONS
And while he said he sees no need for counter-sanctions currently, he did warn that Russia may reconsider participation of Western companies in energy projects if sanctions continue.
Earlier in the day, Lavrov explained...
U.S. and European Union sanctions against Russia for its role in the Ukraine crisis defy " all common sense," visiting Russian Foreign Minister Serguei Lavrov said here Tuesday.
Furthermore,
Russia has accused the United States and NATO of what it called "provocative" statements as the crisis in Ukraine unfolds alongside a NATO military build-up in eastern Europe.
But Putin goes on to note,
*PUTIN: FURTHER MAY RISK WESTERN COS' ENERGY PROJECTS
*PUTIN: RUSSIA HAS NO MILITARY OR SPECIAL FORCES IN UKRAINE
http://www.zerohedge.com/news/2014-04-29/isolated-russia-makes-friends-hold-military-drill-china-strikes-multi-billion-deals-
Isolated Russia Makes Friends: To Hold Military Drill With China; Strikes Multi-Billion Deals Qatar And Iran
Submitted by Tyler Durden on 04/29/2014 13:24 -0400
The G-8 may be no more as the G-7 throws every possible case of harsh language known to man at the Kremlin, which obstinately refuses to back down, while re-escalating sanctions against a Russia which merely has done what the US does every single time its national interest abroad is threatened, but one thing is becoming ever clearer: while the west isolates Russia with ever stricter measures, Russia has decided to make some new friends.
China and Russia will hold a "maritime cooperation-2014" drill in East China Sea at end-May, Voice of Russia reports on its Chinese-language website yesterday.




China and Russia will conduct reconnaissance in the area within 3 days to prepare for the drill, the report says, citing an unidentified representative from Russian navy.




Earlier, the Russian military delegation of the Russian Navy, led by Viktor Karamazov Couchepi, arrived in Shanghai. Naval officials and representatives of the General Command of the Pacific Fleet met the Russian military delegation.
Iran and Russia are negotiating a power deal worth up to $10 billion in the face of increasing US financial alienation. The construction of new thermal and hydroelectric plants and a transmission network are in the works. Iran's Energy Minister Hamid Chitchian met his Russian counterpart Aleksandr Novak in Tehran on Sunday in order to discuss the potential power deals, according to Iran's Mehr news agency.




"[Expansion of] Iran-Russia relations are not only to the benefit of the two nations, but also are beneficial to entire region," Iranian President, Hassan Rouhani, stated in a meeting with Novak in Tehran on Sunday, reported Iran's FARS news agency.




Plans include the construction of hydroelectric and thermal generating plants and a new transmission network. The possibility of Russia exporting 500 megawatts of electricity to Iran is also on the cards, said Mehr.




The strengthening of economic ties between the two countries is of heightened significance given both economic sanctions on Iran, imposed with the aim of encouraging Iran to cut its uranium stockpiles, and new economic sanctions on Russian officials imposed on Monday.




On Sunday, Chitchian reportedly stressed "the need for further expansion of economic ties between Tehran and Moscow, particularly in the energy and commerce spheres," stated Mehr.




Moscow has additionally been discussing the trade of 500,000 barrels a day of Iranian oil for Russian goods with Tehran. The protracted deal, first reported at the beginning of April could be worth as much as $20 billion, and has rattled Washington because it could bring Iran's crude exports above one million barrels a day - the threshold agreed upon in the nuclear deal between the P5+1 powers - US, Britain, France, China, Russia and Germany – and Iran.
The governments of Bahrain and Russia have signed a deal to cooperate on investments, at a time when U.S. and European governments are imposing economic sanctions on Russia over the crisis in Ukraine.




Bahrain is a U.S. diplomatic ally in the Gulf, and its decision suggests Western sanctions may not deter other countries from continuing to expand business ties with Russia.




In a statement on Tuesday, the Russian Direct Investment Fund (RDIF) said it had signed a memorandum of understanding with Bahraini sovereign wealth fund Mumtalakat to identify and work together on investment opportunities in their countries. Mumtalakat chief executive Mahmood al-Kooheji will join the RDIF's international advisory board, helping to formulate its strategic direction, the statement added.




The Bahraini fund is one of the smaller sovereign funds in the Gulf, with $7.1 billion of assets as of last September. The RDIF is a $10 billion fund created by Russia's government to make equity investments, mainly in the Russian economy.

If nothing else, at least it shows just how seriously the rest of the world (away from those G-7 members who are as insolvent as the US of course) is taking US sanctions and threats of retaliation. Meanwhile, back in the US, rigged stocks hit intraday highs on what we would otherwise call BTFWWWIIID... if only there was a D.
Meanwhile back in the East Regions of Ukraine.......
http://www.zerohedge.com/news/2014-04-29/time-more-costs-pro-russian-forces-storm-luhansk-police-buildings-live-feed
Time For More Costs? Pro-Russian Forces Storm Luhansk Police Buildings - Live Feed
Submitted by Tyler Durden on 04/29/2014 12:38 -0400
One of East Ukraine's largest cities, Luhansk, has seen its police headquarters over-run by pro-Russian activists (with machine guns and greande launchers evident):
*GUNSHOTS HEARD AS POLICE BUILDING STORMED IN LUHANSK: IFX
*PRO-RUSSIAN PROTESTERS STORM LUHANSK POLICE BUILDINGS: IFX
In the immediate aftermath, the police chief has resigned over the separatist demands but as France24 reports,Ukraine's president has slammed police 'inaction' and 'criminal treachery' as rebels stormed state buildings. The demonstrators chanted "Referendum Russia" and raised a Russian flag over the building after the takeover.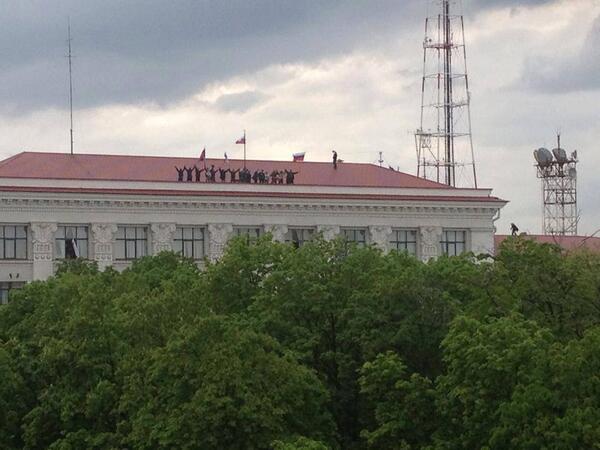 As The BBC reports,
Pro-Russia activists have stormed several official buildings in the eastern Ukrainian city of Luhansk.




They seized the regional government's headquarters and the prosecutor's office. Armed men later attacked the main police station.




Interim President Olexander Turchynov criticised local police for their "inaction" and "criminal treachery".
Itar Tass.......
April 30, 0:53
UTC+4
At the time of reporting, there was no information about any injuries
KIEV, April 29 /ITAR-TASS/. A mass brawl between members of the so-called 'Maidan self-defense' and activists of the Patrioty Ukrainy right-wing organization broke out late night Tuesday on the Maidan (notorious Independence Square) in downtown Kiev, as follows from the footage aired by Ukrainian television.
Eyewitnesses said the nationalists with flaring torches gathered by the building of the Kiev town hall and then started moving in a column towards the Maidan. The column was stopped by the self-defense force near the barricades in front of the Central Post Office.
Several automobile tires were put on fire and passage along Kreshchatik Avenue towards the Maidan turned out blocked for some time.
The passers-by were asked to use a pedestrian under-walkway.
At the time of reporting, there was no information about any injuries.