http://america.aljazeera.com/articles/2014/2/17/thai-farmers-putpressureonpmoverricepayments.html
Thai farmers surround PM's office, demand rice payments
Government rice-buying program, plagued by corruption allegations, has racked up losses of $4.4 billion
Topics:
Hundreds of angry Thai farmers breached razor-wire barricades outside the prime minister's temporary office on Monday to protest the government's delayed payments for last year's rice crops.
Government officials said payments were delayed because anti-government protests triggered parliament's dissolution in December. The finance minister said the government would issue payments starting Monday, through a state-owned bank.
The farmers' protest is one of the latest headaches for Yingluck, who has been forced to work at the temporary office since late last year after protesters surrounded her office in central Bangkok, demanding her resignation.
The demonstrators, who have protested for three months, mostly draw their support from the urban middle and upper class, and people in the south loyal to the opposition Democrat Party. They want Yingluck's elected government to make way for an interim, appointed government to implement what they say are necessary reforms to fight corruption.
The farmers used a truck to knock down razor wire, then shoved the guarding soldiers and attempted to surround the office compound in Bangkok's northern outskirts. They demanded that Yingluck meet them in person to answer when and if they will be paid, as the payments are several months overdue.
"We want the prime minister to come down to talk to us," Rawee Rungreuang, a farmer representative, told reporters outside the Office of the Permanent Secretary for Defense. "We have sympathized with the government for four months now. It's time for an answer."
Caretaker Finance Minister Kittiratt Na-Ranong said the government has paid $2 billion and owes $3.39 billion to the farmers. He said the government will start paying the rest of the money through the state-owned agricultural bank.
"Considering the (bank's) capacity in handling daily payments, it is expected that all payments will be made within six to eight weeks," Kittiratt told reporters at a news conference.
The farmers had previously
blocked main highways
in several parts of the country, and came to the capital this month to demand their payments.
Rice is Thailand's staple grain and one of its main exports. In hopes of boosting rice prices and increasing rural incomes, the government bought harvests from farmers at about twice the price prevailing in global markets. The program backfired when the Commerce Ministry had difficulties selling the grain overseas, as rival exporters such as Vietnam undercut it.
The populist program also became a target of the anti-government protesters, who claim they have hundreds of thousands of dollars to help the farmers sue the Yingluck administration.
The country's anti-corruption body is already investigating allegations that Yingluck, who is head of the national rice committee, was negligent in her role overseeing the program.
Labor Minister Chalerm Yubumrung said the Government House, where the prime minister works, will reopen this week, prompting resistance from the protesters who marched to surround the office and put up a small cement wall to seal some of its entrances.
At least 10 people have been killed and more than 600 injured in Thailand's three-month-old political conflict.
Thailand protesters besiege temporary government HQ
Hundreds of protesting rice farmers breach perimeter of military compound used by Yingluck Shinawatra's mobile government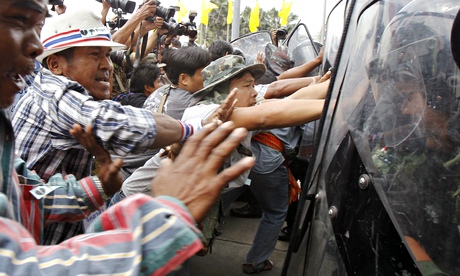 Thai opposition demonstrators have surrounded government offices – including a compound used as a temporary headquarters by the prime minister, Yingluck Shinawatra – in defiance of authorities who have vowed to reclaim key state buildings.
Hundreds of protesting rice farmers breached the perimeter of the defence ministry compound in a Bangkok suburb guarded by security forces. It was not immediately clear if Yingluck was inside.
The farmers, who have not been paid for crops pledged into a controversial state subsidy scheme, promised to stay until they could speak with Yingluck, but said they would not raid the compound. "We will spend the night here. We will stay until we can talk to the prime minister. But we will not raid the building," farmers' leader Rawee Rungroeng told AFP.
Also on Monday, thousands of demonstrators – among them a hardcore group known as the Student and People Network to Reform
Thailand
– rallied near Government House. Some poured buckets of cement on to a sandbag wall in front of a gate, an AFP photographer said, while others manned tyre barricades nearby.
The government is attempting to reclaim several official buildings after more than three months of rallies seeking to topple Yingluck's administration and curb the political domination of her family.
The prime minister has been unable to use the government's headquarters in Bangkok for about two months, and has instead held meetings in various locations across the capital.
Protesters have taunted her for overseeing a mobile government, which they are hoping to upend – despite a recent general election – through a combination of street action and pressure through Thailand's notoriously interventionist courts.
On Friday, authorities apparently shifted tactics after months in which the demonstrators have often appeared to be more in control of the city than the officials. Riot police swept through barricades around Government House, meeting only token resistance. But only hours later, protesters had returned and rebuilt their barricades unopposed.
Speaking on Monday as demonstrators massed around the building and reinforced roadblocks, the protest's leader vowed to thwart efforts to re-establish the area as the seat of government. "Yingluck will never have a chance to work at the Government House again," Suthep Thaugsuban said from a stage, before helping to mix cement to build a makeshift wall.
The demonstrators want Yingluck to step down in favour of an unelected "People's Council" to carry out reforms to tackle corruption and alleged vote-buying before new elections are held.