Post Office joins other federal agencies stockpiling over two billion rounds of ammo
Kit Daniels
Infowars.com
February 5, 2014
The U.S. Postal Service is currently seeking companies that can provide "assorted small arms ammunition" in the near future.
On Jan. 31, the USPS Supplies and Services Purchasing Office posted a notice on the
Federal Business Opportunities website
asking contractors to register with USPS as potential ammunition suppliers for a variety of cartridges.
"The United States Postal Service intends to solicit proposals for assorted small arms ammunition," the notice reads, which also mentioned a deadline of Feb. 10.
The Post Office published the notice just two days after Sen. Rand Paul (R-Ky.) announced his proposal to remove a federal gun ban that prevents lawful concealed carry holders from carrying handguns inside post offices across the country.
Ironically the Postal Service isn't the first non-law enforcement agency seeking firearms and ammunition.
The Education Dept. has spent over $80,000 so far on Glock pistols and over $17,000 on Remington shotguns.
Back in July, the National Oceanic and Atmospheric Administration also purchased
72,000 rounds of .40 Smith & Wesson
, following a 2012 purchase for 46,000 rounds of .40 S&W jacketed hollow point by the National Weather Service.
NOAA spokesperson Scott Smullen responded to concerns over the weather service purchase by stating that it was meant for the NOAA Fisheries Office of Law Enforcement for its bi-annual "target qualifications and training."
That seems excessive considering that JHP ammunition is typically several times more expensive than practice rounds, which can usually be found in equivalent power loadings and thus offer similar recoil characteristics as duty rounds.
Including mass purchases by the Dept. of Homeland Security, non-military federal agencies combined have purchased an estimated amount of
over two billion rounds of ammunition
in the past two years.
It would take a Lockheed Martin C-5 Galaxy, one of the largest cargo aircraft in the world, two trips to haul that many magazines.
The Feds have also spent millions on riot control measures in addition to the ammo acquisitions.
While the government gears up for civil unrest and stockpiles ammo without limit, private gun owners on the other hand are finding ammunition shelves empty at gun stores across America,
including shortages of once-common cartridges
such as .22 Long Rifle.
http://www.washingtonpost.com/business/technology/new-surveillance-technology-can-track-everyone-in-an-area-for-several-hours-at-a-time/2014/02/05/82f1556e-876f-11e3-a5bd-844629433ba3_print.html
New surveillance technology can track everyone in an area for several hours at a time
DAYTON, Ohio — Shooter and victim were just a pair of pixels, dark specks on a gray streetscape. Hair color, bullet wounds, even the weapon were not visible in the series of pictures taken from an airplane flying two miles above.
But what the images revealed — to a degree impossible just a few years ago — was location, mapped over time. Second by second, they showed a gang assembling, blocking off access points, sending the shooter to meet his target and taking flight after the body hit the pavement. When the report reached police, it included a picture of the blue stucco building into which the killer ultimately retreated, at last beyond the view of the powerful camera overhead.
"I've witnessed 34 of these," said Ross McNutt, the genial president of Persistent Surveillance Systems, which collected the images of the killing in Ciudad Juárez, Mexico, from a specially outfitted Cessna. "It's like opening up a murder mystery in the middle, and you need to figure out what happened before and after."
As Americans have grown increasingly comfortable with traditional surveillance cameras, a new, far more powerful generation is being quietly deployed that can track every vehicle and person across an area the size of a small city, for several hours at a time. Although these cameras can't read license plates or see faces, they provide such a wealth of data that police, businesses and even private individuals can use them to help identify people and track their movements.
Already, the cameras have been flown above major public events such as the Ohio political rally where Sen. John McCain (R-Ariz.) named Sarah Palin as his running mate in 2008, McNutt said.
They've been flown above Baltimore; Philadelphia; Compton, Calif.; and Dayton in demonstrations for police. They've also been used for traffic impact studies, for security at NASCAR races and at the request of a Mexican politician, who commissioned the flights over Ciudad Juárez.
Defense contractors are developing similar technology for the military, but its potential for civilian use is raising novel civil liberties concerns. In Dayton, where Persistent Surveillance Systems is based, city officials balked last year when police considered paying for 200 hours of flights, in part because of privacy complaints.
"There are an infinite number of surveillance technologies that would help solve crimes
. . .
but there are reasons that we don't do those things, or shouldn't be doing those things," said Joel Pruce, a University of Dayton postdoctoral fellow in human rights who opposed the plan. "You know where there's a lot less crime? There's a lot less crime in China."
The Supreme Court generally has given wide latitude to police using aerial surveillance as long as the photography captures images visible to the naked eye.
McNutt, a retired Air Force officer who once helped design a similar system for the skies above Fallujah, a battleground city in Iraq, hopes to win over officials in Dayton and elsewhere by convincing them that cameras mounted on fixed-wing aircraft can provide far more useful intelligence than police helicopters do, for less money.
A single camera mounted atop the Washington Monument, McNutt boasts, could deter crime all around the Mall. He said regular flights over the most dangerous parts of Washington — combined with publicity about how much police could see — would make a significant dent in the number of burglaries, robberies and murders. His 192-megapixel cameras would spot as many as 50 crimes per six-hour flight, he estimated, providing police with a continuous stream of images covering more than a third of the city.
"We watch 25 square miles, so you see lots of crimes," he said. "And by the way, after people commit crimes, they drive like idiots."
What McNutt is trying to sell is not merely the latest techno-wizardry for police. He envisions such steep drops in crime that they will bring substantial side effects, including rising property values, better schools, increased development and, eventually, lower incarceration rates as the reality of long-term overhead surveillance deters those tempted to commit crimes.
Dayton Police Chief Richard Biehl, a supporter of McNutt's efforts, has proposed inviting the public to visit the operations center to get a glimpse of the technology in action.
"I want them to be worried that we're watching," Biehl said. "I want them to be worried that they never know when we're overhead."
Technology in action
McNutt, a suburban father of four with a doctorate from the Massachusetts Institute of Technology, is not deaf to concerns about his company's ambitions. Unlike many of the giant defense contractors that are eagerly repurposing wartime surveillance technology for domestic use, he sought advice from the American Civil Liberties Union in writing a privacy policy.
It has rules on how long data can be kept, when images can be accessed and by whom. Police are supposed to begin looking at the pictures only after a crime has been reported. Fishing expeditions are prohibited.
The technology has inherent limitations as well. From the airborne cameras, each person appears as a single pixel indistinguishable from any other person. What people are doing — even whether they are clothed or not — is impossible to see. As technology improves the cameras, McNutt said he intends to increase their range, not the precision of the imagery, so that larger areas can be monitored.
The notion that McNutt and his roughly 40 employees are peeping Toms clearly rankles. The company made a PowerPoint presentation for the ACLU that includes pictures taken to assist the response to Hurricane Sandy and the severe Iowa floods last summer. The section is titled: "Good People Doing Good Things."
"We get a little frustrated when people get so worried about us seeing them in their backyard," McNutt said in his operation center, where the walls are adorned with 120-inch monitors, each showing a different grainy urban scene collected from above. "We can't even see what they are doing in their backyard. And, by the way, we don't care."
Yet in a world of increasingly pervasive surveillance, location and identity are becoming all but inextricable. One quickly leads to the other for those with the right tools.
During one of the company's demonstration flights over Dayton in 2012, police got reports of an attempted robbery at a bookstore and shots fired at a Subway sandwich shop. The cameras revealed a single car moving between the two locations.
By reviewing the images frame by frame, analysts were able to help police piece together a larger story: A man had left a residential neighborhood at midday and attempted to rob the bookstore, but fled when somebody hit an alarm. Then he drove to Subway, where the owner pulled a gun and chased him off. His next stop was a Family Dollar Store, where the man paused for several minutes. He soon returned home, after a short stop at a gas station where a video camera captured an image of his face.
A few hours later, after the surveillance flight ended, the Family Dollar Store was robbed. Police used the detailed map of the man's movements, along with other evidence from the crime scenes, to arrest him for all three crimes.
On another occasion, Dayton police got a report of a burglary in progress. The aerial cameras spotted a white truck driving away from the scene. Police stopped the driver before he got home and found the stolen goods in the back of the truck. A witness identified him soon afterward.
Privacy concerns
In addition to normal cameras, the planes can carry infrared sensors that permit analysts to track people, vehicles or wildlife at night — even through foliage and into some structures, such as tents.
Courts have put stricter limits on technology that can see things not visible to the naked eye, ruling that they can amount to unconstitutional searches when conducted without a warrant. But the lines remain fuzzy as courts struggle to apply old precedents — from a single overflight carrying an officer equipped with nothing stronger than a telephoto lens, for example — to the rapidly advancing technology.
"If you turn your country into a totalitarian surveillance state, there's always some wrongdoing you can prevent," said Jay Stanley, a privacy expert with the American Civil Liberties Union. "The balance struck in our Constitution tilts toward liberty, and I think we should keep that value."
Police and private businesses have invested heavily in video surveillance since the Sept. 11, 2001, attacks. Although academics debate whether these cameras create significantly lower crime rates, an overwhelming majority of Americans support them. A
Washington Post poll
in November found that only 14 percent of those surveyed wanted fewer cameras in public spaces.
But the latest camera systems raise new issues because of their ability to watch vast areas for long periods of time — something even military-grade aerial cameras have struggled to do well.
The military's most advanced experimental research lab is developing a system that uses hundreds of cellphone cameras to watch 36-square-mile areas. McNutt offers his system — which uses 12 commercially available Canon cameras mounted in an array — as an effective alternative that's cheap enough for local police departments to afford. He typically charges between $1,500 and $2,000 per hour for his services, including flight time, operation of the command center and the time that analysts spend assisting investigations.
Dayton police were enticed by McNutt's offer to fly 200 hours over the city for a home-town discount price of $120,000. The city, with about 140,000 people, saw its police force dwindle from more than 400 officers to about 350 in recent years, and there is little hope of reinforcements.
"We're not going to get those officers back," Biehl, the police chief, said. "We have had to use technology as force multipliers."
Still, the proposed contract, coming during Dayton's campaign season and amid a wave of revelations about National Security Agency surveillance, sparked resistance. Biehl is looking for a chance to revive the matter. But the new mayor, Nan Whaley, has reservations, both because of the cost and the potential loss of privacy.
"Since 2001, we haven't had really healthy conversations about personal liberty. It's starting to bloom about a decade too late," Whaley said. "I think the conversation needs to continue."
To that end, the mayor has another idea: She's encouraging the businesses that own Dayton's tallest buildings to mount rooftop surveillance cameras capable of continuously monitoring the downtown and nearby neighborhoods. Whaley hopes the businesses would provide the video feeds to the police.
McNutt, it turns out, has cameras for those situations, too, capable of spotting individual people from seven miles away.
Infowars.com
February 5, 2014
Do you enjoy making children cry? Do you like taking naps on the job or half-hour bathroom breaks? Or are you simply tired of jobs that require you to be respectful to the public?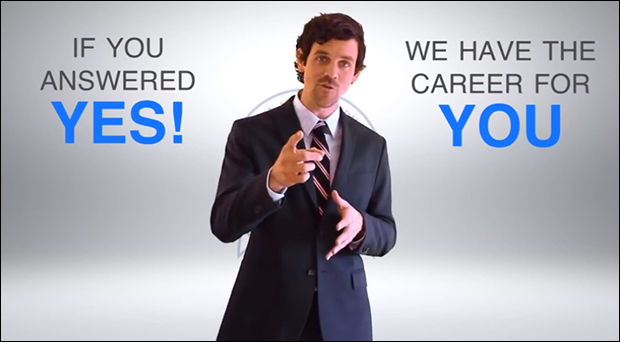 Well, the TSA has an exciting, new career opportunity for you!
All the entries for the "We Will Resist TSA & NSA Tyranny" 10K Film Contest contest are in. Showcased videos are selected for general interest and their selection does not imply that they are finalists or have met all the contest requirements.
Keep checking out Infowars.com for more contest videos! All of the views expressed in the films are not necessarily endorsed by Infowars.