Ukraine........
2/19/14.....
Ukraine Government-Opposition Truce Announced
Submitted by Tyler Durden on 02/19/2014 16:17 -0500
With the Hryvnia at near-record lows (9.08 to the USD) and 3-month bill yields at 42%, we get a glimmer of good news from Ukraine:
*UKRAINE

PROTEST CAMP WON'T BE STORMED TONIGHT

, OPPOSITION SAYS
*UKRAINE GOVT, OPPOSITION AGREE ON

TRUCE

, YANUKOVYCH SAYS
*UKRAINE TALKS AIMED AT STOPPING BLOODSHED, YANUKOVYCH SAYS
Though sadly we have seen this before...
The meeting was attended by Head of the Presidential Administration of Ukraine Andriy Kliuyev, First Deputy Head of the Presidential Administration of Ukraine Andriy Portnov, Acting Minister of Justice Olena Lukash and leaders of opposition parties Arseniy Yatsenyuk, Vitali Klitschko, Oleh Tiahnybok.
Following the meeting, the parties declared:
Truce
Beginning of negotiations aimed at cessation of bloodshed and stabilization of the situation in the country for the sake of civil peace.
President Obama Warns Ukraine Against "Crossing The Line"
Submitted by Tyler Durden on 02/19/2014 14:16 -0500
The US is adding its $0.02 to the international condemnation of the actions under way in Ukraine - desparate to re-write Victoria Nuland's narrative of "f##k the EUR" and political manipulation. President Obama, having not learned his lesson the last time he drew a red line, has come out swinging...
OBAMA:`THERE WILL BE CONSEQUENCES IF PEOPLE STEP OVER THE LINE'
OBAMA SAYS U.S. CONDEMNS UKRAINE VIOLENCE IN `STRONGEST TERMS'
OBAMA:MILITARY SHOULDN'T ACT WHERE CIVILIANS CAN RESOLVE ISSUES
Of course, it's unclear if open military action against civilians is 'crossing the line' but we await Putin's response.
The Obama administration is considering sanctions against Ukraine, possibly in concert with European allies, saying the threat of penalties may push the government in Kiev to halt the deadly violence there.




"All of us are deeply disturbed," Secretary of State John Kerry said during a brief appearance in Paris with his French counterpart. "We are talking about the possibility of sanctions or other steps with our friends in Europe and elsewhere in order to try to create the environment for compromise."




Mr. Kerry and other U.S. officials didn't detail what those sanctions might entail, but the administration in the past has held out the threat of individual sanctions, typically steps that freeze assets and limit travel.




The threat from the U.S. comes after violent clashes in Kiev this week have claimed the lives of at least 25 people and as the Obama administration and its European counterparts try to get a handle on the situation.




Ukrainian President Viktor Yanukovych has blamed opposition leaders for the violence, while opposition leaders said the government was responsible.




Ben Rhodes, a deputy National Security Adviser to President Barack Obama, said the administration hopes the threat of sanctions will quell some of the violence. "We have made it clear we would consider taking action against individuals who are responsible for acts of violence within Ukraine," he said while traveling with Mr. Obama to Mexico. Mr. Obama is headed to Mexico, among other reasons, to discuss trade.
Submitted by Tyler Durden on 02/19/2014 - 11:14
Just as we warned earlier, the stealing of the weapons cache and labeling of the break-away region as having undertaken "terrorist acts" has led to the military getting involved:
*UKRAINE ARMY GIVEN POWER TO CHECK CIVILIAN VEHICLES
*UKRAINE ARMY GIVEN POWER TO USE WEAPONS ON UKRAINIANS: MINISTRY
Under the "anti-terrorist" operation, Ukraine is a close to civil war as it has been so far. As Martin Armstrong concludes: "there is no peaceful resolution" no matter how many sanctions and condemnations the West makes.
2/18/14......
Fierce clashes in Kiev as new wave of unrest grips Ukraine
Published time: February 18, 2014 15:03
Edited time: February 18, 2014 22:22
Rioters and police in central Kiev are exchanging smoke and stun grenades, as a fresh wave of violence is gripping the Ukrainian capital. While the rioters have no clear demands, the opposition keeps pushing for the president's resignation.
Wednesday, February 19
00:33 GMT:
Ukraine's President Viktor Yanukovich and opposition leaders were unable to reach an agreement, RIA Novosti quoted UDAR party leader Vitaly Klitschko as saying.
00:07 GMT:
A refectory in St. Michael's Cathedral in Kiev has been turned into a hospital, according to journalist and Ukrainian MP Andriy Schevchenko.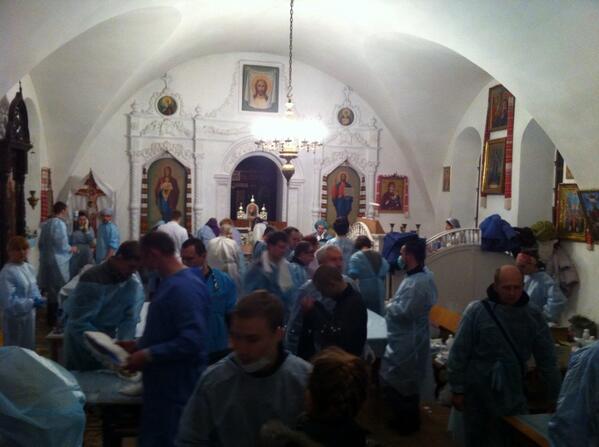 This Is How Ukrainian Protesters Attack An Armored Personnel Carrier
Submitted by Tyler Durden on 02/18/2014 16:13 -0500
Watch as sparks fly between a Ukrainian military APC, possibly the same one
we revealed earlier
, as it gets into some blazingly close encounters with the Kiev protesters. It is unclear who won however it is quite clear that at this point the proxy war in Ukraine between Russia/Gazprom and the European Union/US State Dept/Saudi/Qatar can be upgraded to "hot."
And the death and injury toll, which is rising by the hour:
6 policemen dead
6 protestors dead
Police HQ in Ternopli on fire
Police HQ in Lviv occupied
More than 150 injuries
Finally this:
KLITSCHKO ARRIVES AT YANUKOVYCH'S OFFICE FOR TALKS: REUTERS
In short: things have spiraled out of control, and the only possible outcome is another new all time high in the Spoos overnight.
Ukraine Slide Accelerates: AG Office Seized, Criminal Files Being Set On Fire; US To Hold Government Responsible
Submitted by Tyler Durden on 02/18/2014 18:23 -0500
It's getting form bad to worse in the Ukraine: either martial law will be announced any time soon or the proxy civil war becomes a real one. On the bright side, there is something to be said about having a nation's criminal cases all in paper format: once there is a revolution, everyone's slate gets wiped clean...