Syria....
​Schism in EU? Intelligence co-operate with Syria amid political freeze
Published time: January 15, 2014 12:16
Edited time: January 15, 2014 16:29
European security officials are working together with the Syrian government to deal with the threat of European jihadists currently honing their battle skills in Syria. Damascus says there is a schism between politicians and security people in the West.
Intelligence agents from several European countries, including the UK, Germany, France and Spain, traveled to Damascus to speak with Syrian officials on the looming problem of European radicals fighting the war in Syria, the Wall Street Journal reported on Tuesday.
The meetings started at least in mid-summer last year, the newspaper said citing anonymous European and Middle-Eastern sources. Their prime contact in the Syrian government was Ali Mamlouk, a special security adviser to President Bashar Assad.
The agents sought to share information on at least 1,200 European jihadists, who traveled to Syria and joined Islamist opposition groups trying to topple the Assad government. They cross-checked the names of suspected militants against the information possessed by Damascus intelligence services, wishing to learn whether those fighters are still alive, their whereabouts and which factions they were fighting for.
Syrian Deputy Foreign Minister Faisal Mekdad confirmed that such security contacts are indeed taking place, but would not provide details.
"Yes, there are many countries who are approaching us," he told BBC.
"Of course some are waiting for Geneva," he said in a reference to the upcoming peace conference in Switzerland. "Some are saying we are exploring the possibilities, some are saying we want to co-operate on security measures because those terrorists they are sending from Western Europe into Turkey, into Syria, have become a real threat to them."
"When these countries ask us for security cooperation, then it seems to me there is a schism between the political and security leaderships," Mekdad observed.
The co-operation with Damascus was also confirmed by Spaniards.
"Yes, there have been exchanges of information," a spokesman for the deputy minister for Spanish internal security told WSJ. "Spain has consistently expressed its concern about the dangers posed by these terrorists."
Western governments had no official diplomatic ties with Syria since early 2012, when they closed their embassies in Damascus. Some Western leaders stated that there is no place in Syria for President Assad and that he must step down for the conflict to be resolved.
But apparently for security professionals the threat of Al-Qaeda-affiliated terrorists coming back to Europe from Syria carrying the experience they received in the battlefield is too imminent to consider the political fallout.
It comes as opposition factions in Syria continue infighting, as an alliance of the West-backed Free Syrian Army, the Al-Qaeda-linked Al-Nusra Front and some other groups is fighting against the Iraq-rooted Al-Qaeda group Islamic State of Iraq and Sham, or ISIS.
The West-backed opposition hopes to get a stronger position ahead of the Geneva II peace conference, which will gather on January 22.
"The regime did a good job of portraying the opposition as radicals or extremists. But now we are fighting Al-Qaeda. The regime isn't," said Aiad Qudsi, the deputy prime minister for the opposition's interim government.
Damascus is coming to the meeting with confidence bolstered by its recent territorial gains at home and the relatively smooth implementation of the chemical weapons disarmament.
At the same time the Turkey-based political opposition remains splintered and is yet to clearly confirm its participation in the conference despite international pressure to do so.
Some in the opposition fear that Western governments may go from cooperating with Syria on security issues to completely abandoning the demand for Assad to step down, which remains one of the key opposition goals for the conference.
Days of Clashes Have Ended With AQI Back in Control
by Jason Ditz, January 14, 2014
Al-Qaeda in Iraq (AQI) is quickly recovering the most important of its lost territorial possessions in northern Syria, and after days of bloody fighting is
back in full control
of the provincial capital of Raqqa.
Raqqa is the jewel of AQI's territory, and the militants have set up their own state in the province. Other rebels briefly took control of parts of the capital but after days of fighting and
mass executions
they have it again.
The overall death toll of the fighting is unclear, but where AQI has captured rivals they've executed them by the hundreds, and the tolls are believed to be considerable.
Fighting between rebel factions seems far from over, but the loss of Raqqa back to AQI suggests that their opponents have lost whatever momentum they once had, and al-Qaeda is on their way to dominating the rebellion once more.
'War Within a War' Could Give AQI Pretext to Attack
by Jason Ditz, January 13, 2014
Al-Qaeda in Iraq (AQI) doesn't really need an excuse to attack Kurdish villages, and has
hit them off and on
in recent months in the Aleppo Province, mostly revenge for having been ousted from the nation's northeast by Kurdish militias.
But the Aleppo Kurds say that with the outbreak of a "war within a war" between AQI And other rebel factions, territory grabs are becoming even more common and that's
making them a target
.
Some Kurdish dominated villages have sought support from the anti-AQI rebel factions, but many warn that those offers of support come at a cost, and are giving AQI an excuse to hit those villages first.
The rebel infighting started in the northwest, with factions taking AQI's less secure possessions in Idlib and Latakia, but now spans most of the rebel-held north, with Aleppo the site of some of the bloodiest clashes.
Iraq.....
http://www.zerohedge.com/news/2014-01-14/middle-east-explained-one-minute
The Middle East Explained - In One Minute
Submitted by Tyler Durden on 01/14/2014 18:24 -0500
With Islamic extremists raising their ominous-looking flags over Falluja and Ramadi again, it's not looking too good in Iraq (or the rest of the Middle East). Sure, Mark Firoe notes, Iraqi government forces may take back some territory they lost, but it's never a good sign when you have to shell your own country to maintain order. Confused at the proxy-wars, terrorists, statists, and just who the US is friends with? Have no fear, the following brief clip will explain it all...
'Awakening' Fighters to Receive 'Unlimited' Funding
by Jason Ditz, January 13, 2014
After years of undermining the group on allegations of disloyalty, Iraqi Prime Minister Nouri al-Maliki has today
revealed plans to revive
the Sunni "Awakening" fighter militias.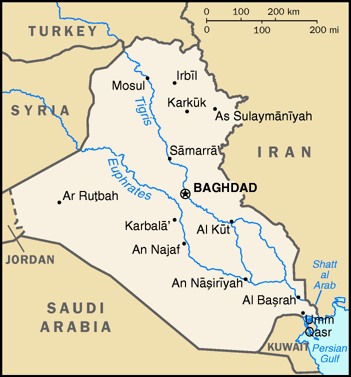 The Awakening fighters got their start as US subsidized militias designed to fight against al-Qaeda in Iraq (AQI) during the occupation. At the time, the Maliki government often argued that its leadership was filled with AQI fighters just looking to get an extra paycheck.
The government authorized a bill to double the checks for Awakening fighters a few months ago, though since most had been arrested as "terrorists" there weren't many left. With
AQI revitalized they appear to be rethinking
that strategy.
Maliki says there will be "no limit" to the number of recruits they'll accept, and all funding will be made under emergency military funding outside of the national budget.
With militias already fighting AQI there may be plenty of takers in Anbar, but the long-term sectarian tensions in Iraq remain unresolved, and Maliki's preference to toss the "terrorist" label on any Sunni who gets to powerful is likely to set the stage for another troubled period for the Awakening.
Iran.......
http://www.lobelog.com/flaws-in-the-kirk-menendez-iran-sanctions-wag-the-dog-bill/
Flaws in the Kirk-Menendez Iran Sanctions (Wag the Dog) Bill
Ed Levine
, an arms control specialist who worked for both Republican and Democratic senators for 20 years on the Intelligence Committee and another ten on the Foreign Relations Committee, has written a
detailed and devastating analysis of S. 1881
, the
Kirk-Menendez bill,
for the Center for Arms Control and Non-Proliferation on whose advisory board he currently serves. We have reproduced it below, but it makes clear that, contrary to claims by the bill's Democratic co-sponsors, the Iran Nuclear Weapon Free Act of 2013 is designed to torpedo the Nov. 24 "first step" nuclear agreement between Iran and the P5+1. Passage of the bill, Levine concludes, would "leave the United States closer to a Hobson's choice between going to war with Iran and accepting Iran as an eventual nuclear weapons state."
Indeed, it's quite clear from
Sen. Mark Kirk's
reaction
(as well as those of other Republicans, including
that
of House Majority Leader
Eric Cantor
) to the implementation accord between the P5+1 that the entire purpose of the bill is to derail the Nov. 24 agreement, as opposed to acting as a "diplomatic insurance policy" to ensure that its terms are fulfilled, as
Sen. Menendez
argued
last week in the
Washington Post
. Indeed, Senate Republicans, all but two of whom have co-sponsored the bill, are clearly doing the bidding of AIPAC and Israeli Prime Minister Bibi Netanyahu in trying to subvert the Nov. 24 agreement, while the 16 Democratic senators who have signed as co-sponsors have insisted that the bill is intended to support that accord. One would think the very partisan difference in the understanding of the intent of the bill would lead some of these 16 Democrats to reconsider their support. That may well be beginning to happen anyway as a result of Sunday's successful conclusion of the implementation accord, as pointed out in
this report
by Reuters. But the difference in intent will probably make it easier for the White House to keep the majority of Democrats from breaking ranks.
As of now, the bill has 59 co-sponsors, but the magic number is 67 — a veto-proof majority. While Senate staffers close to AIPAC claimed anonymously last week that they had that many, and at least ten more, committed "yes" votes if the bill came to the floor, the combination of Sunday's implementation agreement and the clarity of purpose shown by Kirk and Cantor in their reactions to the accord probably diminishes the chances of their reaching that goal. Moreover, unless they get at least half a dozen more Democrats to co-sponsor, Majority Leader Harry Reid is considered unlikely to schedule a vote and almost certainly not before the Presidents' Day recess in mid-February in any case. And if even a few current Democratic co-sponsors decide to drop their support, the bill may never see the light of day. (AIPAC's annual Policy Conference here in Washington is March 2-4.)
This is Levine's analysis:
S.1881, the "Nuclear Weapon Free Iran Act of 2013," will undercut President Obama's efforts to obtain a comprehensive solution to Iran's nuclear activities. To the extent that it removes the diplomatic option, moreover, it will leave the United States closer to a Hobson's choice between going to war with Iran and accepting Iran as an eventual nuclear weapons state.

Supporters of the bill, which was introduced on December 19 by Senators Menendez (D-NJ) and Kirk (R-IL), claim that enactment of it would not impede the E3+3 (AKA the P5+1) negotiations with Iran, but the text of Title III of the bill manifestly contradicts such claims. Specifically:

Section 301(a)(2)(I) requires the President to certify, in order to suspend application of the new sanctions, that "Iran has not conducted any tests for ballistic missiles with a range exceeding 500 kilometers." While this objective may be consistent with a UN Security Council resolution, it moves the goalposts by making the new sanctions contingent not just on Iran's nuclear activities, but also on its missile programs. This paragraph also does not specify a time period (although the requirement in section 301(a)(1) for a certification every 30 days might imply one), so Iran's past missile tests beyond 500 km might make it impossible for the President ever to make this certification.
Section 301(a)(2)(H) requires the President also to certify that "Iran has not directly, or through a proxy, supported, financed, planned, or otherwise carried out an act of terrorism against the United States or United States persons or property anywhere in the world." Once again, there is no time period specified, so Iran's past support of terrorism might make it impossible for the President ever to make this certification. Even if a time period were clear, however, this language would mean that if, say, Hezbollah were to explode a bomb outside a U.S. firm's office in Beirut, the sanctions would go into effect (because Iran gives financial and other support to Hezbollah) even if Iran's nuclear activities and negotiations were completely in good faith. So, once again, the goalposts are being moved.
Section 301(a)(2)(F) requires the President to certify that the United States seeks an agreement "that will dismantle Iran's illicit nuclear infrastructure." But while Iran may agree in the end to dismantle some of its nuclear infrastructure, there is no realistic chance that it will dismantle all of its uranium enrichment capability. In order for the President to make this certification, therefore, he will have to argue either that "you didn't say all of Iran's illicit nuclear infrastructure" (although that is clearly the bill's intent) or that "if the negotiators agree to allow some level of nuclear enrichment in Iran, then the facilities are no longer illicit" (which begins to sound like statements by Richard Nixon or the Queen of Hearts).
Section 301(a)(3), regarding a suspension of sanctions beyond 180 days, adds the requirement that an agreement be imminent under which "Iran will…dismantle its illicit nuclear infrastructure…and other capabilities critical to the production of nuclear weapons." This raises the same concerns as does the paragraph just noted, plus the new question of what those "other capabilities" might be. At a minimum, such ill-defined requirements invite future partisan attacks on the President.
Section 301(a)(4) reimposes previously suspended sanctions if the President does not make the required certifications. This paragraph applies not only to the sanctions mandated by this bill, but also to "[a]ny sanctions deferred, waived, or otherwise suspended by the President pursuant to the Joint Plan of Action or any agreement to implement the Joint Plan of Action." Thus, it moves the goalposts even for the modest sanctions relief that the United States is currently providing to Iran. To the extent that the currently-provided sanctions relief relates to sanctions imposed pursuant to the President's own powers, moreover, section 301(a)(4) may run afoul of the separation of powers under the United States Constitution.
Section 301(b) allows the President to suspend the bill's sanctions annually after a final agreement is reached with Iran, but only if a resolution of disapproval of the agreement is not enacted pursuant to section 301(c). The primary effect of this insertion of Congress into the negotiating process will be to cast doubt upon the ability of the United States to implement any agreement that the E3+3 reaches with Iran. The provision is also unnecessary, as most of the sanctions relief that would be sought in a final agreement would require statutory changes anyway.
Section 301(b)(1) imposes a certification requirement to suspend the bill's new sanctions after a final agreement with Iran has been reached, even if a resolution of disapproval has been defeated. This certification requirement imposes maximalist demands upon the E3+3 negotiators. Paragraph (A) requires that the agreement include dismantlement of Iran's "enrichment and reprocessing capabilities and facilities, the heavy water reactor and production plant at Arak, and any nuclear weapon components and technology." How one dismantles technology is left to the imagination. Paragraph (B) requires that Iran come "into compliance with all United Nations Security Council resolutions related to Iran's nuclear program," which would require its suspension, at least, of all uranium enrichment. In all likelihood, however, the complete suspension of enrichment either will be impossible to achieve through diplomacy or will be achieved only for a short time before Iran is permitted to resume an agreed level of enrichment of an agreed quantity of uranium under international verification. Paragraph (C) requires that all the IAEA's issues regarding past or present Iranian nuclear activities be resolved – an objective that the United States and its allies surely share, but that may prove difficult to achieve even if the other objectives are realized. Paragraph (D) requires "continuous, around the clock, on-site inspection…of all suspect facilities in Iran," which would likely be inordinately expensive and unnecessary, and might also impose safety hazards.

Taken as a whole, these requirements, however desirable in theory, build a bridge too far for the E3+3 to reach. If they are enacted, all parties to the negotiations will interpret them as barring the United States from implementing the sanctions relief proposed in any feasible agreement. Rather than buttressing the U.S. position in the negotiations, therefore, they will bring an end to those negotiations. Worse yet, they will create large fissures in the E3+3 coalition that has imposed international sanctions on Iran. Thus, even though the bill purports to support sanctions, it may well result in the collapse of many of them.

It is in that context that one should read the sense of Congress, in section 2(b)(5) of the bill, that if Israel is compelled to take military action against Iran's nuclear weapon program, the United States should provide "military support" to Israel. While such support could be limited to intelligence and arms sales, there would be great pressure for the United States to take a more active military role. So this bill, by its many steps to close the window for diplomacy with Iran, could end the international sanctions regime and lead either to a nuclear-armed Iran or to a war in which U.S. armed forces might well be active participants.
Dubai Calls for End to Iran Sanctions, Says no Nuclear Threat
(By Juan Cole)
Sheikh Mohammed al-Maktoum of Dubai has called in a BBC interview for an end to economic sanctions on Iran if the civilian character of their nuclear enrichment program can be proved. He pointed out that the sanctions also inflict economic pain on the United Arab Emirates, a major financial center attempting to recover from the 2008 global crash.
The Iranian leader replied, he said, "how many Palestinians would I kill?" in a hypothetical nuclear exchange between Iran and Israel. Moreover, he said, the US and the Europeans would nuke Iranian cities in reprisal attacks.
Sheikh al-Maktoum said he asked former Iranian president Mahmoud Ahmadinejad about the possibility of an Iranian atomic bomb. The Iranian leader replied, he said, "how many Palestinians would I kill?" in a hypothetical nuclear exchange between Iran and Israel. Moreover, he said, the US and the Europeans would nuke Iranian cities in reprisal attacks.
The views of Ahmadinejad reported by Sheikh Maktoum are consistent with his public pronouncements, as well. Contrary to what American politicians and even press organs have frequently alleged, no Iranian leader has said that Iran wants nuclear weapons and all have disavowed them. Ayatollah Ali Khamenei, the supreme leader and religious guide, has repeatedly affirmed that making, stockpiling and using nuclear weapons is forbidden in Islamic law because WMDs indiscriminately kill large numbers of non-combatants. In the medieval Islamic law of just war, fighters must avoid killing women, children and male non-combatants.
The Iranian allegation to Sheikh Mohammed al-Maktoum that nuclear weapons are useless as offensive weapons is correct, and this principle is recognized in Security Studies.
Sheikh Mohammed's eagerness to see sanctions lifted is of course somewhat self-interested. Dubai banks have been accused of money laundering of Iranian funds, and very much would like to serve as a banking interface between Iran and the international community. Billions of dollars would be at stake in the short run, and trillions in the long run.
Here is the BBC interview:
Threats Aim to Preempt Senate Sanctions
by Jason Ditz, January 13, 2014
In comments that appear aimed at preempting Senate attempts to impose sanctions and kill the Iran talks, the White House played up the idea of the talks failing on their own,
and US "action" that would follow
.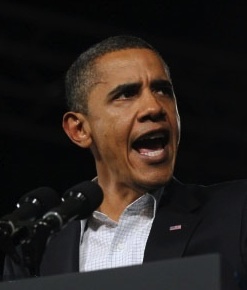 "We are in position to reverse any interim agreement and put in place additional pressure," Obama insisted, saying that he was preparing measures for if the talks end without a successful deal.
With most of the hawks championing the new sanctions doing so explicitly to kill the talks, the idea that the talks will probably just fail on their own seems to be aimed at convincing them that no action is necessary to sabotage the process.
Administration officials also expressed "concern" about the Russian government's own plans to relax sanctions during the interim agreement, saying that the deal could trigger US sanctions against Russia and violated the interim deal, even though there were clearly no restrictions on sanction easing in the pact.
Afghanistan.......
​Afghanistan accuses US of killing woman, 7 children in airstrike
Published time: January 15, 2014 21:20
Afghan President Hamid Karzai has strongly condemned the US airstrike that killed 7 children and a woman in central Afghanistan on Tuesday night, emphasizing that American troops once again acted against all mutual agreements between the states.
"As a result of bombardment by American forces last night... in Siahgird district of Parwan province, one woman and seven children were martyred and one civilian injured," a statement from Karzai's office said as cited by AFP.
The issue of civilian causalities has been very sensitive in relations between the US and Afghanistan. The two countries are currently in a dispute over a security agreement that would see American troop presence remain after the withdrawal of the main US forces scheduled for December. The Obama administration has argued that if the US does not leave behind at least 8,000 troops the Taliban movement might gain momentum.
"The Afghan government has been asking for a complete end to operations in Afghan villages for years, but American forces acting against all mutual agreements... have once again bombarded a residential area and killed civilians," Karzai stressed in a statement following the airstrike.
Earlier reports by NATO's International Security Assistance Force (ISAF) indicated that at least two civilians were killed in Siahgird district after an "enemy force engaged Afghan and coalition forces" and ISAF had to call in "defensive air support to suppress the enemy fire."
At least 10 insurgents and one ISAF soldier were also killed in the fighting, NATO added. According to a Taliban spokesman cited by AFP, 12 Afghan soldiers were killed during the attack in Siahgird, the largest district of Parwan province located about 50 km north of Kabul.
This event is "directly tied" to what is in dispute between the Afghan government and the US government, Robert Naiman, policy director at Just Foreign Policy rights organization told RT.
"The Afghan government doesn't want the US to engage unilaterally in military operations and particularly wants an end to all night raids. This event is an example of why the Afghan government is so adamant about this, and events like this make it less likely that the US and the Afghan governments will be able to reach an agreement," Naiman said.
The Obama Administration has been ratcheting up the pressure for Karzai to sign the agreement. The Afghan president in the meantime is adamant to delay the signing saying that whatever comes out of this agreement should be determined after presidential elections in April.
"If it's not nailed down before the elections, this is going to be key issue in the election, which would be great, because then the Afghan people can decide what they want," Naiman said. "People can vote for the candidate that has the position that they agree with. So if you believe in democracy in Afghanistan you should be delighted that the agreement be delayed until after the election."
Swimming Against the Tide in Afghanistan: Why the US Troops Don't Need to Stay
John Glaser, January 13, 2014
The bottom line when it comes to Afghanistan is that the U.S. has failed in virtually every one of its objectives. This year, 2014, is the year the Obama administration will describe as the year America's longest war ended, even as the administration
scrambles
to reach an agreement with Kabul on
keeping thousands of U.S. troops
and Special Operations Forces there for another decade.
It's important for Washington to frame the continued U.S. occupation of Afghanistan as the end of the war, because the alternative is to admit that America
lost this war
. The corrupt Kabul government cannot function or sustain itself without foreign assistance. The U.S. troops that Obama wants to keep in Afghanistan are to be tasked with training the Afghan military, an objective that has failed up to now. And the Taliban insurgency is alive and well, with many experts predicting a civil war or a break-up of the country into Taliban, tribal, and Kabul-controlled fiefdoms.
The weakness of the Kabul government and the remaining Taliban presence, however, is not an argument for continuing the war in earnest. Afghanistan's instability may contribute to regional insecurity, but is not a direct threat to Americans. But beyond that, the U.S. could easily mitigate the problem with a change in its diplomatic posture, as opposed to military means (which have proven ineffective after 12 years at war).
First, the elephant in the room is Pakistan. Bruce Reidel, writing at
The Daily Beast
, argues that al-Qaeda and associated forces could make a comeback in Afghanistan after the U.S. draws down and the reason for this is Pakistan.
"Pakistan will continue to be the principal supporter and patron of the Afghan Taliban, the enemy that we have been fighting for so long," Reidel writes. "Pakistan provides the Taliban with safe haven and sanctuary to train and recruit its fighters and protects its leaders, including
Mullah Omar.
The Pakistani intelligence service, ISI, helps train and fund the Taliban."
This should ring some alarm bells. Throughout the entire U.S. war in Afghanistan, the Pakistani government has been supporting the insurgents who are fighting U.S. forces. This is more surprising when one realizes that, since 2009, the U.S. has given Pakistan about
$9.4 billion in aid
, with another $1.2 billion planned for 2014. Cutting off that aid might help in, you know, not directly contributing to the very insurgency we're supposed to have crushed.
The other shift in diplomatic posture has to do with Afghanistan's other neighbor, Iran. People forget that the U.S. cooperated with Iran in the aftermath of 9/11 to oust our mutual enemy, the Taliban, from power in Afghanistan. Such cooperation could again be realized if Washington's mindless obsession with Iran being a regional bogeyman is put aside in favor of true detente.
According to Martha Brill Olcott
at the Carnegie Endowment for International Peace, "an improved U.S.-Iranian relationship would yield many other dividends to U.S. foreign policy goals, not the least of which is that it would make the regional solution to Afghanistan's economic recovery that Washington yearns for a much more realizable goal."
From a purely realpolitik perspetive, there have been clear overlaps in U.S.-Iranian interests vis-a-vis Afghanistan that have been completely ignored in favor of a U.S. policy that categorizes Iran as an evil-doer out to destroy Israel and America. Meanwhile, tens of billions of U.S. dollars continued to flow to Pakistan, whose interests have been diametrically opposed to Washington's vis-a-vis the jihadist militants.
Sigh. Lesson learned: If Washington can choose between, on the one hand, shifts diplomacy that can make its goals easier to attain, and on the other hand, endless war with no chance of success…it chooses the latter. All signs are that this will continue to be the case. Instead of cutting aid to the Taliban-supporting Pakistanis, instead of letting Iran take the lead in maintaining a Kabul government opposed to jihadists, Washington looks like it will to continue to support Pakistan, continue isolate Iran, and continue to fight an unwinnable nation-building war in Afghanistan.
---