http://www.businessinsider.com/the-text-of-rajoys-text-message-to-guindos-2012-6
( Who in his right mind provided the text message to El Mundo ? Had to be either Rajoy or Guindos , right ? )
Before The Bailout Talks, The Spanish Prime Minister Sent A Stunning Text Message To His Finance Minister
According to
El Mundo
, Spanish PM Mariano Rajoy sent a stunning text message to FinMin Guindos prior to the bailout negotiations.
Translation: We're a major power, not some random IMF-case banana Republic.
The followup message (according to
Google
translate) "
if you
want to force
the redemption of
Spain
will
prepare
500,000 billion
euros
and another
700,000 for
Italy
, which
will have to be
rescued
after us
."
Bottom line: hold out for something good. We are powerful, and if they don't give in, the whole thing will go down. It will cost Europe 500 billion if Spain goes bust, and then another 700 billion if Italy goes bust.
No wonder Der Spiegel
, which represents the German point of view, has an article blasting Spanish blackmail.

and.....
http://www.zerohedge.com/news/rajoy-de-guindos-spain-not-uganda
Rajoy To de Guindos: "Spain Is Not Uganda"
Submitted by Tyler Durden on 06/10/2012 18:19 -0400
Yesterday, following the Spanish bailout, we finally concluded that contrary to
endless politician
lies,
Spain is Greece
. However, in keeping with the insolvent Eurozone's favorite Hegelian dialectic of
definition by exclusion
, it appears that Spain's leaders have been forced to aim lower. Literally. As in all the way in Africa. Because according to
El Mundo
's front page article, the text message that PM Rajoy sent from somewhere deep in Euro2012 to de Guindos, is essentially this: "
España no es Uganda
." This needs no translation. It also means that the people of Uganda should be happy. Very happy.
Obviously this move should not come as a surprise to anyone. Recall that it was
two weeks ago
that Nigeria decided to cut its European exposure. Last we checked, it still held on to Ugandan risk.
Sadly, not even The Onion could have come up with a story quite as David Lynchian.
http://www.telegraph.co.uk/finance/financialcrisis/9323115/Debt-crisis-Bailout-could-backfire-on-Spain.html
( When might Spain even see the money becoming an issue . Recall the ESM is yet to be ratified with questions arising whether Germany will ratify the ESM anytime soon. Moreover , if the EFSF is used , Parliament votes in the EMU may be required . )
Prime minister Mario Rajoy today hailed the deal with Brussels as a "victory" for Spain and the eurozone, but analysts said it was unlikely to convince financial markets for long. Mr Rajoy's claims that Spain's public finances would not be impacted were disputed, even though the details of the deal have not been released.
"A bail-out is a bail-out, Spain, sorry," said Steen Jakobsen chief economist of Saxo Bank, arguing that the liability for cost will be added to Spain's public debt, even indirectly.
Open Europe, the London-based think tank, said if Spanish banks take up Brussels' offer of €100bn in loans, Spain's public debt would grow by around 10pc.
"If this is a victory - finally dealing with a glaring problem after four years - then we don't want to see a defeat," said Raoul Ruparel of Open Europe. "Spanish debt to GDP could be about to jump by 10pc in the near future and given its current path this could put Spain over 90pc debt to GDP, the level beyond which sustainability becomes questionable, much sooner than had been anticipated. This will require adjustments in its reform programme and lead to increasing market pressure."
Spanish officials said the loan would cost 3pc a year rather than the 6pc-plus that it is costing Spain to borrow on the bond markets.
and....
http://www.zerohedge.com/news/german-opposition-threatens-scuttle-esm-and-spanish-bailout-ratification
German Opposition Threatens To Scuttle ESM, And Spanish Bailout, Ratification
Submitted by Tyler Durden on 06/10/2012 13:39 -0400
Gradually, the
key open items
from yesterday's Spanish bailout are getting some closure. First, we learned that Ireland, as speculated,
will demand a comparable retroactive bailout
renegotiation, an act which also puts the Greek elections a week from today in play. Then, we got definitive confirmation that the Spanish loan, coming at ~3% or half Spanish GGBs, is a priming loan,
subordinating existing creditors
. Finally, we learn that the ESM - the bailout mechanism at the heart of all current and future European bailout plans, and which still has not been ratified by Germany, is in danger of being scuttled by none other than the German opposition. The reason? According to a
Reuters report
, "A [Spiegel] report that German Chancellor Angela Merkel is not serious about implementing a European financial transaction tax
threatens to undermine an initial deal struck last week with the opposition over the EU's planned fiscal pact
... The Social Democrats (SPD) and Greens are insisting on a plan for a transaction tax and measures to boost growth."
It now appears, Merkel has been posturing on the issue which the opposition holds quite dear. However, she needs the opposition on her side to pass not only the fiscal pact but the ESM ratification, without which the entire Spanish bailout collapses: "She wants to push the pact through parliament in the next few weeks together with a bill on the new European Stability Mechanism (ESM) bailout fund which Spain may use, but needs the opposition to get the required two thirds majority." All this ignores what Die Welt reported earlier today, that "Spanish banks should come under special supervision" according to Volker Kauder, parliamentary leader of Merkel's CDU, something which the Spain public would violently oppose. In other words: hold off on popping the Spanish bailout champagne...
It would be a major embarrassment if Germany, which as euro zone paymaster dictates much of its crisis response, missed its deadline for ratification on July 1 when the ESM is due to take effect.

Finance Minister Wolfgang Schaeuble tried to pressure the SPD and Greens.




"It would be completely irresponsible not to ratify the fiscal treaty," said Schaueble on ARD television, adding he doubted a European financial transaction tax would be introduced in this legislative term which runs until next year's elections.




He said on Saturday that Spain's decision to request aid made it even more important to quickly ratify the fiscal pact and ESM. Its greater flexibility makes the ESM preferable to the European Financial Stability Facility (EFSF) to use for Spain.

The fact is that now that Germany has pre-committed to an ESM-funded rescue, the German opposition suddenly finds itself with absolutely all the leverage. It knows very well that without its support, the ESM, the Spanish Bailout, and implicitly, the EMU itself, crumbles. Can you spell nuisance value again?

In the meantime, it seems that even if the ESM vote passes, the European banking sector will be crippled for years to come, as the gating issue is now the same transaction tax that the US and UK had been rejecting for years:

The magazine report triggered an angry response from the SPD and Greens.




"Ronald Pofalla's comments are a blow to the fiscal pact talks," said senior SPD member Thomas Oppermann, adding they sowed doubts as to whether the coalition really wanted a deal.




"We need an irreversible commitment to introduce a financial transaction tax. There will be no formulaic compromises with the SPD," he said.

In essence, a lose-lose for Europe's insolvent banks, as being forced to pay even more tax will sap already negative profits even more.

But the bigger issue for now, of course, is whether the fiscal pact, and thus the ESM, can even get the required votes.

SPD leaders stressed at the weekend that its support for the fiscal pact was not yet a done deal.




"Agreement with the federal states is still needed and the government has delivered little on growth and fighting youth unemployment," SPD parliamentary party leader Frank-Walter Steinmeier told the Frankfurter Allgemeine Sonntagszeitung.




"There must be movement on this in the coming days."




On Monday, Schaeuble will discuss the fiscal pact with ministers from Germany's 16 federal states and parliamentary leaders from all parties will also hold talks.

At the end of the day, what really matters is popular opinion, and needless to say, it is not supportive of what just happened.

Highlighting the domestic pressure she is under to take a tough line with struggling euro zone members, an Emnid poll for Bild am Sonntag newspaper showed 66 percent of Germans are opposed to supporting Spanish banks with German money.

Stated otherwise, an unwind of the existing bailout framework is only one general election away, when am upstart party takes advantage of the popular anger at the Spanish bank bailout, and proceeds to undo years of Merkelian pro-Euro policies.
and.......
http://globaleconomicanalysis.blogspot.com/2012/06/rajoy-proclaims-victory-says-its-not.html
Mariano Rajoy, the embattled Spanish prime minister, has defended the eurozone's €100bn bailout for Spanish banks as a victory for European credibility.

He repeated Spanish assertions that the EU aid was different from the full bailout programmes previously provided to Greece, Ireland and Portugal by the EU and the International Monetary Fund, which involved detailed austerity targets and monitoring.

"There's no conditionality of any kind. This does not affect the deficit," Mr Rajoy said, placing the new loan deal in the context of his centre-right government's efforts to restructure the banking system, cut the budget deficit and reform the labour market since it took power less than six months ago.

Economists and analysts say the EU loan nevertheless amounts to a rescue for Spain because the money will go to the state Fund for Orderly Bank Restructuring and was necessary only because Spain itself could not access the sovereign bond markets at a reasonable price.
An opinion poll published on Sunday in the newspaper El País showed that 78 per cent of Spaniards had "little or no" confidence in Mr Rajoy, whose Popular party won an overwhelming election victory over the Socialists in November.
Victory or Defeat?
If a 100 billion euro bailout is a "victory" then what constitutes defeat?
The answer of course is a restructuring or default.
Once the rest of the European banks sell all their exposure to Spanish debt, a restructuring or default is exactly what will happen, just as with Greece.
No Strings Attached?
Rajoy says there were "no strings attached". Complete details have yet to emerge but there is one major string already. It's called subordination.
Spanish Bondholders to Rank Behind Official Loans After Bailout
Bloomberg reports
Spanish Bondholders to Rank Behind Official Loans After Bailout
Investors holding bonds issued by Spain and its banks will rank behind official creditors in the queue for payment after the nation asked for a bailout of as much as 100 billion euros ($125 billion).
Rajoy said the agreement was "the opening of a credit line," rather than a bailout such as those received by Greece, Ireland and Portugal, and the conditions of the loan affected the financial industry, the sovereign is ultimately responsible for it.

"The risk is now all Spanish bonds are inferior to the ESM," Steen Jakobsen, chief economist at Saxo Bank A/S in Hellerup, Denmark, wrote in a note. "Finland already declared that if this loan is coming from EFSF they want collateral."

"This is state financing, and the risks of an equity injection into the banks will stay with Spain," said Alberto Gallo, head of European macro credit research at Royal Bank of Scotland Group Plc in London. "Spain needs a systematic restructuring of its banking system, which could entail haircuts to subordinated bank debt.

Holders of the subordinated debt of banks that Spain has to rescue will probably have to accept losses, according to Gary Jenkins, director of Swordfish Research Ltd. in Amersham, England.

"Whilst Spanish politicians tried to claim that this was not a bailout it is of course a de-facto bailout of Spain itself," Jenkins wrote in a note.
Key Statement

"Holders of the subordinated debt will probably have to accept losses". So who wants to hold that debt given what happened to Greece?

It will be interesting to see if there is initial euphoria in the bond markets. Regardless, sooner or later (probably sooner), selling pressure will eventually overtake any initial excitement of this alleged "victory".
and.....
http://www.zerohedge.com/contributed/2012-06-10/subordination-spain-will-cause-pain
The Subordination in Spain Will Cause Pain
Submitted by Bruce Krasting on 06/10/2012 11:36 -0400
As of Sunday morning there are no details on the Spanish bank bailout. The only information released is the amount – Euro 100B. This is a nice round number.
Last week the IMF suggested that Euro 40B might be the right number. Now we get a deal for 2+Xs that. I think this was orchestrated to leave the markets with the impression that massive firepower has been garnered, and therefore the problem is now contained. Rubbish.
I'll hazard a guess on how this bailout may be structured:
The EFSF will make a loan to the Republic of Spain. The Spanish government will use this money to recapitalize the Spanish banks. The critical question is what form the deal will take. There are only two options:
1) - The Spanish government could acquire new common or preferred shares of the banks that are in trouble.
2) - The banks that need a bailout will issue new debt securities; the Spanish central bank (or Treasury) would buy the debt instruments.
#1 is the only option that should be considered. New cash equity in the ailing banks is the only transaction structure that will result in stabilizing Spain's banks. I doubt that this will happen. I see the "easiest/convenient" solution as #2; more debt.
A bank capitalization structure typically has these components:
Deposits
Senior Secured Debt
Senior Unsecured Debt
Subordinated Debt
Preferred Shares
Common Equity
.
Spanish banks have already hocked any available assets that could be used to "secure" the debt that will be issued in the bailouts. Therefore, the only alternative is for the banks to issue new debt that is unsecured. This is a subtle difference, but an important one. It might end up blowing up the entire European banking sector.
There is a simple fact that must be considered. Any debt that a Spanish bank has outstanding to the Spanish government is Senior to all other classes of debt except depositors. It doesn't matter what the language says in the creditor agreements.What matters is how the markets will perceive the transaction.
I know how the market will react. If one were a holder of a Senior Debt security of a Spanish bank on Friday, you would end up with a functionally subordinated debenture after the bailout transaction on Monday. Any publicly issued senior debt (including senior secured) of that bank issued after the government bailout debt was created, would be perceived as tainted. It would be unsalable swill. The existing bond debt would sink like a stone.
This discussion is somewhat irrelevant when it comes to Spain's banking system in June of 2012. The capital structure of many Spanish banks is already toast. So the details of the bailout don't really matter at this point. In all likelihood the market's knee jerk reaction will be:
"Any bailout is a good bailout".
.But not too long after, the reality will set in. A precedent will have been set on what may/will happen to banks in other European countries. Should the bailout of Spanish banks be accomplished via the issuance of new debt (versus equity), then damn near every bank in the EU will have a run on the debt portion of its capital structure. It will happen first with the Italian banks, from there, it will head to Paris.
Holders of senior bank debt have few options faced with this scenario. They could (1) dump their holdings, or attempt to hedge some of the risk. The only hedges available are (2) CDS, or (3) a short of the common stock. A combination of 1,2&3 would be devastating to the EU banking system.
The IMF published a lengthy report on the topic of Senior bank bonds on April 24 (convenient timing). The bottom line conclusion of the IMF? It recommended a "bail-in", where the senior bondholders of banks get crushed. I found this startling:
.



Bail-in, which is a statutory power of a resolution authority to restructure the liabilities of a distressed financial institution by writing down its unsecured debt and/or converting it to equity.




.




The USA set the precedent on Senior Debt of the TBTFs. The shareholders of the TARP banks took losses, but bondholders got a free walk. In the case of Fannie and Freddie, all of the creditors, including subordinated note holders, got paid off at a premium.




If the Spanish bank bailout deal ends up subordinating existing bondholders, it will create a whole new wrinkle to worry about. Portfolio managers who hold senior bank bonds of other EU banks will crap in their pants.






and.......
http://www.zerohedge.com/news/details-emerge-about-spains-cramming-down-bailout-loan
Details Emerge About Spain's Cramming Down "Bailout" Loan
Submitted by Tyler Durden on 06/10/2012 11:05 -0400
While details are largely missing in the aftermath of yesterday's historic announcement from Spain, the one thing that we did catch in between the various conferences and announcements, and probably the most important thing, is that the ESM/EFSF funded bailout loan, whose use of proceeds will go to fund the FROB, not one which will rank pari passu with the FROB, will have "terms better than market" - always a code word for priming and cramdown of other debt classes. Today, we learn that this is precisely the case, and the worst case outcome from Spain's pre-primed sovereign creditors.
El Pais reports: "European aid (through the EFSF or ESM) are actually loans to recapitalize the financial system, which the Treasury. Again, the State comes to the rescue of the bank. Of course, it is soft loans, in much better shape than the market: around 3%, according to sources familiar with the negotiations between Spain and its European partners. Faced with this 3%, Treasury currently pays interest of 6% over the 10-year debt."And there you have it: Bankruptcy 101, lesson on Equitable Subordination, where one always gets a priming DIP at terms much better than other classes of debt, when secured and guaranteed by unencumbered assets. Such as what is happening here, because for one to accept 3% rate compared to 6% for 10 Year Spanish GUCs, there obviously has to be some security incentive. It also means that, as we suggested yesterday, subordination has come to Spain.
El Pais continues:
In return for subsidized rates, Spain cede sovereignty over its financial system, but also lose tax sovereignty, contrary to what the Government said yesterday.
So yes, there will be conditions in exchange for priming. As anyone with the most rudimentary understanding of waterfall analysis could have suggested.
More Google translated:
The Economy Minister Luis de Guindos, said flatly that the only conditionality for banks will require assistance . "There will be no fiscal or macroeconomic conditions," he said repeatedly in a crowded press conference, reports Amanda Mars. But he amended the flat Eurogroup: along with the praise for the Spanish efforts to address their varied and acute imbalances, the communique finance ministers of the euro area makes it clear otherwise.Europe monitored with an iron fist that Madrid continue on the path of fiscal consolidation,structural reforms and labor market. "We will look closely and regularly review progress in these areas, in parallel with financial assistance," the statement said.

The biggest problem, as Greece learned, is that once the priming begins, and the various sovereign debt classes start becoming subordinated, it doesn't end, until the PSI. At which point the crammed down debt gets impaired and receives 20 some cents on the dollar recoveries... at which point Grey Wolf will tell you it is the "no-brainer trade" of the year.

Keep a close eye on Spanish sovereign bonds at the moment when the bond market understands what just happened, and once the euphoria over the very short-term bailout of insolvent Spanish banks passes. Because a month from today another €100 billion will be required, then another €100, and so on.

At that point even the officially acknowledged Spanish debt/GDP will surpass 100%.
and......
http://www.nakedcapitalism.com/2012/06/spanish-bank-rescue-will-the-treatment-make-the-patient-worse.html
SUNDAY, JUNE 10, 2012
Spain has reversed itself and asked the Eurozone for "up to" €100 billion after not long ago insisting it could go it alone. The proximate cost was the increase in its sovereign debt yields in the wake of the announcement of a bailout of Bankia, which was cobbled together from dud cajas. Even though Spain's bond auction last week got off better than expected, that was likely in part due to the expectation that the creditor states would indeed ride in to the rescue.
But will the latest, yet to be finalized remedy do anything more than buy a little time? The half life of Euro-interventions is shortening. George Soros has argued that the Europeans have at most three months, and the action they need to take must be decisive. Unfortunately the Germans are signaling movement, but the ideas they are touting, such as having debtor nations agree to cede more sovereignity and implementing pan-European banking supervision, aren't like to be achieved quickly; indeed, they may require treaty approvals.
And there are reasons to wonder whether the Spanish
bank
rescue will accomplish its aim of bringing Spanish bond yields back to a more sustainable level. The first question is whether it is big enough. Even though the Spanish government is confident that €100 billion gives it an ample buffer, Spain's unemployment level only recently gapped up to 25%. Without a fix for the underlying economy, it's not hard for the powers that be to underestimate the stresses Spanish banks will face as the impact of job losses work their way through the economy.
Second is the bank rescue is being routed through Spain's Fund for Orderly Bank Restructuring and repayment will be an obligation of the government, bringing its total debt outstanding from roughly €600 billion to as much as €700 billion. There is a good possibility that this change alone will lead ratings agencies to downgrade Spain from singe A to BBB.
Third is that the specific funding mechanism has yet to be decided. Even though the Spanish finance minister asserted the loan would be "on very favourable conditions, more favourable than in the market," that remains to be seen. The funds will come from the EFSF and the ESM. The problem with that is that use of either one has adverse implications. Spain may have to get at least some funds from the EFSF, since the ESM is not operational for another month. But Finland insists that if Spain gets funds from the EFSF, it must provide collateral, and it is not likely that Spain has a ton of good collateral sitting around. To the extent the funds come from the ESM, those obligations will be senior to that of existing and new sovereign bond issuance. Needless to say, this change is not going to be a plus for Spain as far as its regular bond issuance is concerned.
Various commentators have argued that the Eurozone needs to backstop its banking system, say by issuing deposit guarantees. Instead, just as the Troika did with Ireland, the Eurocrats are intent on making a bust banking system the problem of its already-stressed government, even when the markets are certain to see around the circularity of that arrangement. We argued that the Irish had the upper hand and could have stared down the Troika (Irish bank failures would have blown back to certain German banks), but Irish were sold out by the head of their central bank. Spain was widely acknowledged as having considerable leverage in its negotiations with the officialdom; it is clearly too big to fail. So it is puzzling that it allowed itself to be put in the same position as the Irish. It seems the Spanish were so pleased not to be required to implement more draconian austerity measures that they settled for less than they could have.
As Marshall Auerback discussed by e-mail, this measure also fails to address the existential threat to the Eurozone:
There is a key flaw in the European monetary system that lies behind the current bank run, an all important difference between the Target 2 clearing system and that of the Federal Reserve. As Peter Garber explained in 1998, any possibility of a euro exit by one of the euro member countries creates a

risk

of a currency loss to parties involved in the euro area banking system. There is no parallel potential currency loss in the case of the US. No state is going to pick up and run and form its own new currency (Rick Perry's mindless secessionist threats to the contrary in Texas). It is this potential for euro exit and subsequent currency loss that fuels the European bank run. It is this potential for currency loss that prevents the private interbank system from recycling flight deposit funds from recipient nation banks back to the banks in those countries where the deposit run originates. This is why the ECB has to step in and act as lender of last resort lynchpin in the system. There is no parallel need for such a Federal Reserve role in the U.S.

Peter Garber explained that, given the complete capital

mobility

in the EU and euro wide acceptance of a common currency, transferring deposits from a domestic commercial bank in one nation to a bank domiciled in another EU nation is costless. In a world of rational economic agents, any non-negligible perceived probability of euro exit and subsequent currency loss should result in a massive deposit run. The imbalances we see now reflect only the early stage of such rational behavior. The bank deposit run and therefore Germany's unenforceable claims against the periphery countries could explode.

So, given these considerations, the ECB's "unenforceable claims against the periphery" could be many trillions of euros by year end to which Germany would be massively exposed. Therefore, according to Soros' logic, Germany would be all the more trapped into doing whatever is necessary to preserve the euro.
The endless stopgap measures have kept the Eurozone limping through its sovereign debt/banking crisis far longer than I thought possible. But the seeming
success
of bare minimum moves may well have conditioned the authorities to continue on that path. If so, it will prove to be their undoing.
and.....
http://www.guardian.co.uk/world/2012/jun/10/eurozone-spain-bank-bailout-victory-euro?intcmp=239
Eurozone crisis: bank bailout a victory for the euro, says Spanish PM
Spain's prime minister Mariano Rajoy makes upbeat claims for the €100bn deal, calling it a soft loan rather than a bailout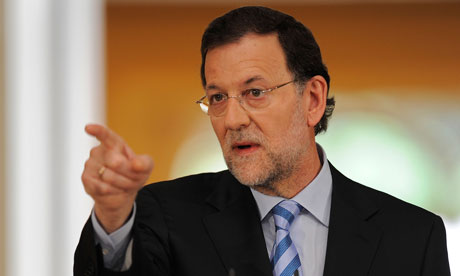 Spain's prime minister Mariano Rajoy has claimed that the €100bn bailout of his country's banks is a victory for Spain, the euro and Europe.
Rajoy had been heavily criticised for leaving the dirty work of presenting the bailout to his finance minister Luis de Guindos on Saturday after Spain gave up the battle to rescue its ailing banks alone and joined Greece, Ireland and Portugal in requesting outside aid to survive Europe's debt crisis.
But on Sunday in a strangely triumphalist press conference he and his officials refused to accept that this was a bailout. In fact, they are simply calling it a soft loan, with favourable interest rates and no conditions attached beyond the finance sector.
The eurozone finance ministers did not seem to agree with their statement on Saturday talking clearly about vigilance over the budget deficit and structural reforms.
Much of the detail obviously still has to be worked out, with an inevitable battle over the amount that Spain will eventually take from Europe.
Rajoy jetted off to Poland over, to watch Spain play their first game in Euro 2012 against Italy.
He said he was going because the Polish prime minister had invited him, but many Spaniards are worried about how other Europeans will react to the sight of Rajoy at a football fiesta while the rest of Europe starts looking for up to €100bn to help solve Spain's banking problems.
European leaders hope a bailout will prevent a wider deterioration of the eurozone's fourth largest economy, which is paying punishing interest rates on borrowed money and is key to the survival of the single currency.
It remains unclear exactly how much of the €100bn Spain will need, with De Guindos saying it preferred to wait for two independent reports on its banking system before making a formal request. These reports would be ready within weeks or days, according to De Guindos, who implied that the final sum would be lower than €100bn. "The €100bn sum is a maximum figure," he stressed. "It includes a considerable margin of security."
Eurozone policymakers had been eager to shore up Spain's position before elections in Greece on 17 June that could push Athens closer to a eurozone exit and unleash contagion. Various estimates have put the outside capital needed by Spanish banks at between €40bn and €100bn. "The loan amount must cover estimated capital requirements with an additional safety margin," the eurozone ministers said.
A bailout focused on its banks will ensure Spain can still borrow money on the markets to cover government spending. That makes the bailout very different from those of Greece, Portugal and Ireland. An IMF report estimated Spain needs at least €40bn for its banks to cover toxic real estate assets left over from a burst housing bubble.
Washington, which is worried the
eurozone crisis
could drag the US economy down in an election year, welcomed the measures. "These are important for the health of Spain's economy and as concrete steps on the path to financial union, which is vital to the resilience of the euro area," treasury secretary Timothy Geithner said.