http://eu2012.dk/en/Meetings/Informal-Meetings/Informal-DER-23-05
Informal meeting of the European Council
On the invitation of the President of the European Council, the EU's heads of state or government will come together for an informal working dinner, essentially with a view to preparing the next European Council meeting scheduled for 28 and 29 June. Growth and jobs will be at the centre of their discussions.
and....
http://www.bnonews.com/inbox/?id=698&utm_source=dlvr.it&utm_medium=twitter
[RAW] Statement by G-8 Leaders on the Global Economy
Posted on 05-19 at 11:07:44 CST
Our imperative is to promote growth and jobs.
The global economic recovery shows signs of promise, but significant headwinds persist.
Against this background, we commit to take all necessary steps to strengthen and reinvigorate our economies and combat financial stresses, recognizing that the right
measures
are not the same for each of us.
We welcome the ongoing discussion in Europe on how to generate growth, while maintaining a firm commitment to implement fiscal consolidation to be assessed on a structural basis. We agree on the importance of a strong and cohesive Eurozone for global stability and recovery, and we affirm our interest in Greece remaining in the Eurozone while respecting its commitments. We all have an interest in the success of specific measures to strengthen the resilience of the Eurozone and growth in Europe. We support Euro Area Leaders' resolve to address the strains in the Eurozone in a credible and timely manner and in a manner that fosters confidence, stability and growth.
We agree that all of our governments need to take actions to boost confidence and nurture recovery including reforms to raise productivity, growth and demand within a sustainable, credible and non-inflationary macroeconomic framework. We commit to fiscal responsibility and, in this context, we support
sound
and sustainable fiscal consolidation policies that take into account countries' evolving economic conditions and underpin confidence and economic recovery.To raise productivity and growth potential in our economies, we support structural reforms, and investments in education and in modern infrastructure, as appropriate. Investment initiatives can be financed using a
range
of mechanisms, including leveraging the private sector.
Sound
financial measures, to which we are committed, should build stronger systems over time while not choking off near-term credit growth. We commit to promote investment to underpin demand, including support for small businesses and public-private partnerships.

Robust international trade, investment and market integration are key drivers of strong sustainable and balanced growth. We underscore the importance of open markets and a fair, strong, rules-based trading system. We will honor our commitment to refrain from protectionist measures, protect investments and pursue bilateral, plurilateral, and multilateral efforts, consistent with and supportive of the WTO framework, to reduce barriers to trade and investment and maintain open markets. We call on the broader international community to do likewise. Recognizing that unnecessary differences and overly burdensome regulatory standards serve as significant barriers to trade, we support efforts towards regulatory coherence and better alignment of standards to further promote trade and growth.

Given the importance of intellectual property rights (IPR) to stimulating job and economic growth, we affirm the significance of high standards for IPR protection and enforcement, including through international legal instruments and mutual assistance agreements, as well as through government procurement processes, private-sector voluntary codes of best practices, and enhanced customs cooperation, while promoting the free flow of information. To protect public health and consumer safety, we also commit to exchange information on rogue internet pharmacy sites in accordance with national law and share best practices on combating counterfeit medical products.
and....
http://www.guardian.co.uk/world/2012/may/19/g8-camp-david-germany-euro
Germany isolated over euro crisis plan at G8 meeting in Camp David
Barack Obama and David Cameron want German chancellor Angela Merkel to set out a clear path forward for Europe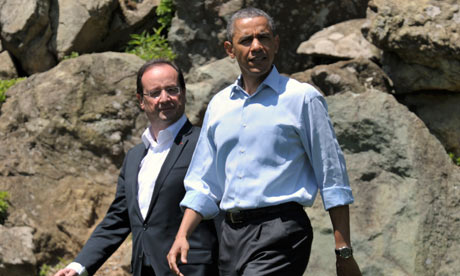 Barack Obama and David Cameron on Saturday clashed with the German chancellor Angela Merkel, demanding she drop her G8 resistance to setting out a clear path for Europe out of its crisis. Measures resisted by the Germans included a looser monetary policy for the European Central Bank that would enable quantitative easing similar to that deployed by the Federal Reserve and the Bank of England.
Obama and Cameron discussed their joint position at a G8 summit in Camp David during a 7am meeting held on a treadmill, possibly the first UK-US bilateral to be conducted in a gym.
With the pressure from stock markets on world leaders to come up with a decisive plan for solving the crisis, it emerged that the Germans were resisting the inclusion of details in the final communiqué about the best course of action for the eurozone. The so-called sherpas, appointed by national leaders to draft summit communiqués, were at work until 4am on Saturday trying to forge a common position that said something specific about the
euro
-crisis.
It was being suggested that the Germans, partly due to their isolation at the summit, were pressing for specifics to be deferred to an informal EU council later this week, and arguing it was not the business of the G8, including Canada, Russia, Japan and the US, to tell the EU states how to handle their economy. Cameron's aides took the view that it would look distinctly odd if the communiqué did not highlight solutions.
The discussion on the global economic crisis at Camp David was opened at the request of Obama by the Italian prime minister Mario Monti, seen as the power broker in Europe between austerity and growth factions.
Britain, although outside the single currency and committed to a hardline deficit reduction programme at home, would like to see the ECB be more interventionist, and stimulate demand through capital spending.
Referring on CNN to the austerity and growth divide, Monti said: "I think these two positions need to be bridged. If it is demand to remove bottlenecks in the supply of goods and services – so, broadly, investment demand – then I think we regard it more positively than the most conservative European authorities do.
"On the other hand, if it is an across-the-board crusade for more demand, then I believe that the German reluctance to that is not entirely unfounded."
He also pointed out that, for the US, as a reserve currency, it was easier to be relaxed about big expansions of demand. Cameron, speaking after his 35-minute workout with Obama, said: "What is required is a sense of urgency but then clear action for strong banks and strong contingency plans for whatever might happen. The strengthening of the banks, governments and firewalls, all of those things need to take place very fast."
He said Merkel was right to say every country needed strong deficit plans. "Growth and austerity are not alternatives," he said, adding pointedly that the eurozone needed to follow the UK monetary policy, a reference to quantitive easing.
Suggestions that the G8 might advocate using strategic oil reserves to drag down the oil price appear premature, partly due to the recent fall in oil prices, and concerns that Obama would be seen to be putting US security at risk.
The G8 summit is to be followed immediately by a two-day Nato summit in Chicago likely to be dominated by commitments to Afghanistan.