Zero Hedge....
Three Years later, Japan Finally Tells The Truth: More Fuel Melted At Fukushima
Submitted by Tyler Durden on 08/06/2014 08:54 -0400
After years of obfuscation and, simply put, lies; TEPCO has admitted in a new report that more nuclear fuel had melted at the Fukushima nuclear reactor than previously stated. While this is dreadful news, it gets worse, as the report further confirms that despite Abe's promises and TEPCO's state-funded efforts to build ice-walls, it may miss an important deadline binding it to clean radioactive water stored inside the Fukushima nuclear plant. Bloomberg reports officials commenting "we are doing everything we can do," but it appears, that is not enough as tens of thousands of tons of toxic water are expected to remain at the site by the imposed deadline.
As NHK reports, the meltdown was far more significant that originally publicly stated...
Tepco finds meltdown of the fuel at Fukushima Dai-Ichi No. 3 nuclear reactor began at about 5am on March 13, 2011, five hours earlier than co. previously estimated,NHK reports, citing co.'s latest findings.




Most of the fuel may have melted through the base of the reactor into the containment vessel by 6am the next day: NHK
And now we find that TEPCO's clean-up plans are failing...
TEPCO's attempt at removing toxic cancer-causing substances from the reactor's waters may exceed the stated deadline. Earlier, TEPCO's president pledged to terminate the filtering process by the end of March 2015.




The country's Chief Cabinet Secretary Yoshihide Suga confirmed the deadline to journalists. The official, though, did not clarify the penalties TEPCO face if it failed to meet the target date.




The isotope Strontium-90 is believed to cause cancerous diseases. It has a half-life of about 30 years and can be deposited in fish bones. The fear of the radioactive substance's presence in the water has already become the reason for South Korea's ban on seafood imports from Japan.




As of July 29, the site had more than 370,000 tons of water contaminated with radiation, with its levels rising at a rate of 400 tons a day. The measures taken by TEPCO included the launch of the so-called ALPS filtration system, capable of cleaning about 500 tons of water daily. The system is set to be expanded to process more than 600 tons a day additionally starting September. Also, another system to filter about 425 tons daily is to be launched in October.




However, even with the use of additional facilities, such as the U.S.-based Kurion Corporation's truck-mounted filtration system, Bloomberg expects tens of thousands of tons of toxic water to remain at the site by the imposed deadline. Familiar with Bloomberg's data, TEPCO's spokesperson has said: "We are doing everything we can do."
And then there's this...
Police have arrested four people on Saturday on suspicion of defrauding Tokyo Electric Power Co. of ¥12 million in nuclear compensation.




The four included a 42-year-old former official of a Tokyo nonprofit organization that does paperwork on behalf of clients for claiming damages from TEPCO from harmful rumors related to the March 2011 nuclear accident at the company's Fukushima No. 1 nuclear power plant.




They are suspected of filing false claims in April and May 2012 that an event company, based in Koriyama, Fukushima Prefecture, faced a raft of cancellations from its customers due to concerns over radiation exposure.




The company was not actually operating, according to the police.
* * *
We anxiously await Shinzo Abe's statement of calm and that everything's ok...because he has been so honest so far. But we leave it to TEPCO to conclude:
"We have been saying that we cannot say when the (restart) will be," a TEPCO spokesman said.
Energy News ......
Fukushima Diary .....
"NRA reports Cs-134/137 density in Tokyo tap water higher than Fukushima."
August 01, 2014 at 03:00PM
It was the second quarter of 2014. The Cs-134/137 density was 0.00286 Bq/kg in Tokyo, where it was 0.0028 Bq/kg in Fukushima prefecture.
"Former Vice President of KEPCO admits they gave 20 million yen to at least each 7 JP PM from 1972."
August 01, 2014 at 03:17PM
(This article was posted from Iori's mobile device to prioritize the speed of informing more than accuracy. It will be followed up by the main part of Fukushima Diary shortly. I hope you to follow this for reference.)
Cs-134 / 137 density jumped up 12 times much as previous highest reading in groundwater beside Reactor 2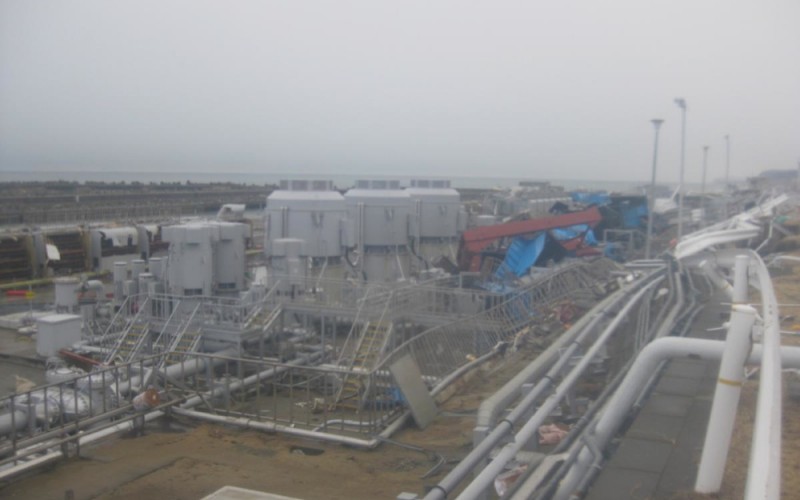 On 7/29/2014, Tepco announced Cesium-134 / 137 density of groundwater increased by over 12 times much as the previous highest reading.
This July, the groundwater was taken in the seaside of Reactor 2.
Last week, the highest density of All β nuclide to include Strontium-90 and Cs-134 were also measured from another boring in the same area.
(cf, Highest density of All β and Cs-134 measured from groundwater near Reactor 2 [
URL
])
The highest reading that Tepco announced today was 116,000 Bq/m3 (Cs-134 / 137) . The previous highest reading was 9,600 Bq/m3.
Tepco is struggling to stop contaminated water spreading by building frozen water wall, however the actual contamination doesn't seem to stop at all.
See also.. 2,700,000,000 Bq/m3 of Strontium-90 measured from groundwater nearby Reactor 2 [
URL 2
]
Hmm , Tepco doesn't have a grasp on the basics yet thinks they can master the near impossible ?
From Ex SKF .....
MONDAY, JULY 28, 2014
(UPDATE) According to
@jaikoman
who follows and tweets on every single TEPCO and NRA press conferences, TEPCO poured ice and dry ice, thinking ice would float, cooling the top layer of water, and dry ice would sink, cooling the bottom layer of water.
Well they need a Plan C. Dry ice pieces they pour were apparently too small, and they all floated. Water remain unfrozen, and TEPCO says they will know by mid August whether the operation will work.
-----------------------
TEPCO
says
by dumping ice and dry ice they can lower the temperature of the contaminated water in the trench to about 5 degrees Celsius, then they will be able to form a continuous ice plug.
Here I thought that water freezes at zero degree Celsius. As the whole world is seemingly going crazy afresh this July, maybe TEPCO is correct that water does freeze at 5 degrees Celsius.
From
TEPCO's photos and videos library, 7/24/2014
:
On July 24, 2014, TEPCO started the experiment of dumping ice into the Reactor 2 turbine building trench, trying to freeze highly contaminated water which has refused to freeze despite 3 months of freezing effort. Workers dumped only 2 tonnes of ice, or 4 bags with 500 kilograms of ice each.
Workers seem to be wearing vests, probably to shield ambient radiation. The location is the oceanside (east side) of the turbine building, where, according to the
latest survey map
by TEPCO as of July 8, 2014 (which I had a very hard time locating in TEPCO's updated site) the radiation level looks to be about 0.20 millisieverts (or 200 microsieverts) per hour. According to TEPCO, workers spent two and a half hours dumping 2 tonnes of ice using shovels.
Locations of the trenches filled with highly contaminated water (most likely from April/May 2011), and the locations in blue squares TEPCO wants to create ice plugs so that no water from the turbine buildings enters the trenches, from
TEPCO's presentation to Nuclear Regulation Authority on 7/7/2014
, when TEPCO disclosed that after three months of attempt, the water was still not frozen (English labels are by me):
Part of TEPCO's survey map (7/8/2014) showing ambient radiation levels, with "Shaft A" marked (by me) in red square:
So why isn't the water freezing? According to TEPCO's convoluted explanation to NRA on 7/7/2014, it is because of the fluctuation of water levels in the turbine building which creates water flow through the gaps created by the pipes that go through the turbine building walls. The flow was strong enough to disturb the freezing process, which TEPCO hadn't anticipated from the mock-up.

I do remember from January, I believe, a meeting at Nuclear Regulation Authority in which TEPCO and NRA commissioners discussed these ice plugs. Commissioner Fuketa openly questioned the efficacy of the scheme, asking TEPCO why they were planning to create a plug right outside the turbine building where lots of pipes are going through in a narrow space, as you can see even in TEPCO's simplified presentation to NRA on 7/7/2014 (English labels are by me) below.

The red rectangle right outside the turbine building is the ice plug to be created. The purple pipe in the diagram going down to the red rectangle is where workers were dumping ice.
Commissioner Fuketa also expressed doubt that it would ever freeze. I think he even asked what TEPCO's "Plan B" was, in case it would not freeze. TEPCO's answer was that it would freeze. (Watching this futile exchange live, I kept thinking, "Why can't they just pour concrete?")

Well the water didn't freeze. Nowhere close. TEPCO's measurement shows the temperature of part of the water which should have frozen is as high as 15 degrees Celsius, after 3 months of freezing.

So dumping ice and dry ice, then, is TEPCO's "Plan B". And ask the god of physics to look the other way and make water freeze at 5 degrees Celsius at sea level.

Ahhh good (bad) old days are back... when TEPCO used diaper polymers, saw dusts, shredded newspaper to try to stop the same highly contaminated water in the same set of trenches from pouring into the plant harbor.

It feels it was only yesterday.