Vineyard of the Saker...
I would like to thank the Saker for allowing these Iraq SITREPs. As I've stated before they are a compilation or summary of Iraqi news. If anybody finds anything missing or amiss please point it out and it will be added/corrected in the next days SITREP.

10th July: Kurdish officials declare that they will boycott parliament after Maliki accused them of harbouring terrorists. Massoud Barzani referred to Maliki as having become "hysterical" and that he needed to step down.

10th July: State of the Law Coalition (SLC) the biggest partner in the Shia National Alliance (NA) has accused other members of the alliance of putting forward names of alternate candidates for the post of Prime Minister. SLC states that it is backing Maliki alone.

10th July: Kurdish politicians claim that the Baghdad government has blocked transport flights to Iraqi Kurdistan. The Iraqi Transport Ministed, Hadi Al Amiri, "This is baseless and lies; no decision about stopping any flights to these two airports has been made."

10th July: Daash/rebel fighters fire mortars into a village in Northern Baqouba killing 5 civilians and injuring 8. The mortars were fired after militants were driven out from the village by Security Forces and tribal fighters.

11th July: Peshmerga forces have taken over two oil fields in the north of Iraq: the Bai Hassan and Kirkuk oil fields. The combined oil production of these two fields is 400000 bpd. The Iraqi government stated that it expected the Kurds to help fight Daash and not grab oil fields.

11th July: Two new malls costing 100 million USD each are being built in the Kurdish city of Suleimani. The malls have seen 60% occupancy already with Kurds, Turkish nationals, Iranians, and Europeans investing in them.

11th July: An Iranian delegation in Iraqi Kurdistan is asking the Kurds to open up an offensive against the DI of Daash. The Kurds have so far politely declined the Iranian invitation to fight. The Iranians also met with Sunni politicians from Northern Iraq; the Sunnis asked Iran to urge government forces from advancing on the north.

11th July: Clashes between Security. Personnel and Rebel/Daash fighters have been reported in Ramadi, Anbar province, 110 km west of the capital Baghdad. Rebels/Daash fighters have taken over parts of the city and a police station as well. Eleven police personnel are reported killed while fighting the rebels and 24 are injured. The rebels destroyed one police station in addition to the one they seized.

11th July: The Iraqi army has repulsed an attack north of Samarra with the help of allied militias and the airforce.

11th July: Two pro government militia members are killed and five injured in clashes with Rebel/Daash fighters in Northern Hilla, south of Baghdad.

11th July: Daash/Rebel fighters kill three civilians and display their bodies on the road in Northern Tikrit

11th July: Daash/rebel fighters kill three civilians kill three civilians north east of Baqouba by firing on the vehicle they were travelling in

11th July: Daash/rebel fighters loot and then destroy 200 homes in Azwija village, north of Tikrit

11th July: Atta's/government claims for the day:

6 rebel fighters are killed and two vehicles destroyed near Baiji refinery

Unspecified number of rebels killed and three vehicles destroyed in air raids on Baiji

Security forces kill 10 Daash fighters in norther Hilla when raiding the home of a suspected militant

Anti terrorism forces have arrested five foreign fighters from Saudi Arabia, Somalia, and Egypt in Northern Babel

Related:

11th July: 1000 strong rebel Dawud Brigade has pledged allegiance to the DI of Daash in Syria.

11th July: Two rockets are fired by pro Palestinian groups from Lebanon into Israel. Israel responds with artillery strikes on "suspicious" (code for anything not Hezbollah) positions. The Lebanese army locates a rocket launch site and disables rockets pointed at Israel.

11th July: Morocco, the land of Milk and a lot of "Honey" for Saudi Rulers, has declared an alert for returning Jihadist fighters from fronts in Syria and Iraq. Suspected Moroccan Jihadist referring "reverently" to his king, ""We will bring this back to you in the kingdom of Mohammed VI."

11th July: Turkey restarts the peace process with Kurdish separatist groups in the East. It is seen as a move by Erdogan to guarantee votes in upcoming elections.

11th July: Sunni militant groups have started to appear in Beirut. Authorities in Lebanon are being more vigilant in the face of increased cases of car and suicide bombings mainly targeting the Shia.

11th July: Hezbollah in Lebanon is on a heightened state of alert. Israel's air raids on Gaza, Daash threats of Suicide bomb attacks, and the conflicts in Syria and Iraq is keeping the organisation on its toes.

11th July: Syrian refugee women are facing increased cases of sexual abuse, depression, and suicidal tendencies. As a coping mechanism most Syrian women are marrying early, and not having access to sex education, contributing to a higher birth rate.

Unrelated Short Analysis:

Islam requires its followers to be obedient to the state they live in. As long as the state does not infringe on their individual religious freedoms. An example I've stated before is Marjas asking Shias not to slaughter cows in India, I believe there is a similar Salafi Fatwa; since cows are sacred to Hindus.
Map via tweet...
Anti War...
Iraq Insists Base Isn't Lost Yet
by Jason Ditz, July 10, 2014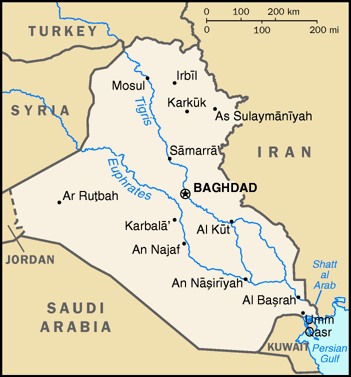 The base is one of the last Iraqi military positions in the north, and while they confirmed part of it is now under ISIS control, they insist they will retake the area soon.
The loss of the base would give ISIS a foothold on yet another key northern highway, heading into Baghdad by way of Baqubah. ISIS has been steadily encircling Baghdad in recent weeks.
Another northern battle continues at the Baiji Refinery, where Iraq is conceding that the remaining troops are surrounded. Though reports had initially put the remaining Iraqi troops in Baiji
at just 75
, the Iraqi government is contesting that, claiming that the troops are surrounded, but that there are 1,500 "
counterterrorism forces
" in the single building they still hold.
Kurdish Officials Want 'Hysterical' Maliki Ousted
by Jason Ditz, July 10, 2014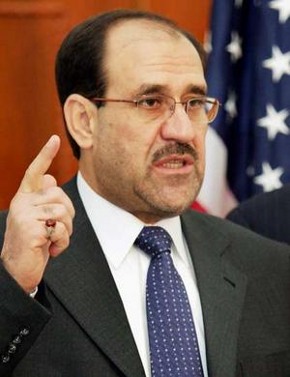 The Iraqi Transportation Ministry has refused to offer any details, or to confirm that the blockade was even in effect, but several nations have confirmed being informed by Iraq they aren't allowed to fly cargo into Kurdistan anymore.
The Kurds have announced they are
boycotting all cabinet meetings
in Baghdad indefinitely, and while they haven't yet announced if they're attending Sunday's parliament session, they seem even less likely to agree to a unity government.
Tweets - FWIW....
#

Iraq
: Death toll in Kirkuk bombings rises to 28, health official to
@

AFP
Many victims refugees who fled jihadist offensive in June
#

BreakingNews
: Iraq's Kurdish bloc is suspending all participation in the national government in response to Maliki's accusations: minister
Rumor:
#

Iraq
'i army forces negotiate in
#

Dijala
province about ceasefire after rebels take control in
#

Muqdadiyah
& try to storm army base