http://vineyardsaker.blogspot.com/2014/07/july-8th-iraq-sitrep-by-mindfriedo.html
TUESDAY, JULY 8, 2014
July 8th Iraq SITREP by Mindfriedo

7th July: The Iraqi army is preparing an all out assault on Tikrit. The authorities in Salahuddin province expect the armed forces to be in complete control of Tikrit in the next 48 hours

8th July: the Iraqi army started its advance on Tikrit from the north. Progress has been slow but steady with the army repelling a rebel counter offensive. A fifth of the residents of Tikrit have not fled and remain in the city as fighting escalates.

8th July: Rumours are circulating in Baghdad that the army plans to mount an Iranian backed coup in the absence political leadership and the deadlock in government formation

8th July: Daash (or should we call it blaaahsh) confiscates 20000 sheep from Nineveh and Salahuddin province and forcefully sells them to farmers in Diyalah

8th July: Moqtada Sadr meets with the military leadership of his Peace Brigades to be updated on the security situation in Samarra

8th July: Peshmerga fighters are negotiating with militants and local tribes in Jalawla in Diyala to let Peshmerga forces enter the town's southern districts. The two Arab Southern suburbs were the only ones still held by rebels and led to daily clashes and attrition losses on both sides. The Peshmergas were being held back by Ba'athist fighters.

8th July: The residents of Al Atheem in Diyala have formed people militias to protect themselves from the chaos and looting of Daash fighters

8th July: A mass grave of Daash fighters is discovered in Suleiman Bek town near the border of Diyala

8th July: Senator McCain tells CBS Maliki must go, Daash should be bombed first, FSA should be armed

8th July: Tribal fighters from Al Zweiya north of Tikrit kill 3 Daash fighters, the army assisted the tribal fighters with airstrikes destroying three vehicles. Daash has reportedly killed 50 tribal fighters it had captured in Baiji.

8th July: The Iraqi parliament has rescheduled its next session to the 12th of July

8th July: Massod Barzani is to announce the next President of Iraqi Kurdistan after consulting with the concerned political parties. The front runner is Abraham Salih.

8th July: A suicide bomber in a car bombed a check point north of Baghdad killing three police men and two civilians

8th July: Sunni cleric and head of the Scholars of Iraq Group, Shaikh Khalid Al Mulla stated that Sunni cities and towns including Mosul plan to organise National Defence Battalions to fight Islamic extremists in keeping with the call made by Sistani and other Sunni scholars

8th July: A road side bomb kills three federal police men and injures two west of Samarra

8th July: An IED explodes in Eastern Baghdad injuring two civilians

8th July: A suicide bomber driving a vehicle targets a checkpoint in Kadhmain in Baghdad, killing 3 civilians and injuring 10. A bomb explodes in the Abdul Mihsin Al Kadhimi square in Kadhmain injuring 2 civilians

8th July: A bomb explodes in Yusufiya, South Baghdad injuring 3 civilians

8th July: a According to Salama Al Khafaji, High Commission for Human Rights in Iraq, Daash is forcing a Sunni family in Mosul to have their daughter divorce her Shia husband

8th July: Hackers reported to be close to the government in Beijing target Iraqi related US interests

8th July: Maliki has appointed Major General Raed Shakir Jawdat as the new police chief of Iraq. He was earlier the police commander of Wasit.

8th July: Atta's/Government claims for the day:

Tribal forces and the government are planning to expel Rebel forces from Salah il-din and Nineveh provinces
Abdul Qader Hmaat a Colonel in Saddam's army has been killed along with 33 rebels in government airstrikes in Tal Afar north of Iraq. Another 38 rebels were injured

Related NEWS:

8th July: Bahrain expels the American Ambassador Tom Malinowski for talking with opposition Shia groups

8th July: The Battle for Aleppo begins in earnest with government troops, elite Republican guards, and Hezballah reinforcements having encircled the rebel held city.

8th July: Rebels receive a second batch of anti tank TOW missiles from the US

8th July: Daash has captured Kurdish villages along the Syrian Turkish border

8th July: Arsonists burn a Shia Mosque in Istanbul

8th July: A former Turkish jihadist: there are over 6000 Turkish Islamists who have received training by Daash

Further reading:

Whitewashing Saudi Arabia:
Rudaw......
Kurds Warn They Will Respond to More Iraqi Attacks on Tuz Khurmatu
By
RUDAW
39 minutes ago
The Peshmerga strengthened their positions in Tuz Khurtamu after the withdrawal of Iraq's armed forces from the region last month.
ERBIL, Kurdistan Region – Kurdish Peshmerga forces have been instructed to "respond appropriately" to any attack on Tuz Khurmatu, an official warned, after Iraqi jets bombed the town center on Sunday, killing four people and wounding 10.
Shalal Abdul, an official from the mostly Turkmen-populated town south of Kirkuk, told Rudaw that the decision to respond to Iraqi attacks on Tuz Khurmatu was taken at an urgent meeting of the Peshmerga forces on Monday.
The Peshmerga strengthened their positions in Tuz Khurtamu and moved into other "disputed territories" outside the official borders of their autonomous northern enclave, after the withdrawal of Iraq's armed forces from the region last month.

The Peshmerga lines are within range of both the Iraqi army and the Islamic State (IS). But the Kurds are in defensive positions to hold back any advance of the Iraqis or Islamic militants.
Abdul said that the Kurdish forces also have been ordered to repel Iraqi military jets or helicopters that enter the airspace around Tuz Khurmatu.
Anwar Hamadein, an ethnic Kurd and a commander in the Iraqi armed forces, has said that Sunday's air raid was a mistake. He said the jets had meant to target the nearby town of Suleiman Beg, which is under IS control.
But Abdul refuted that claim, saying no one from the central government in Baghdad has apologized for the attack, in which the dead included a 12-year-old girl.
Officials of the Patriotic Union of Kurdistan (PUK) suspect that the jets had targeted their local office in the ethnically mixed town of mostly Shiite Turkmen, 85 kilometers south of Kirkuk.
Erbil Announces Fuel Rationing, Plans for Two Refineries
2 hours ago
Erbil Announces Fuel Rationing, Plans for Two Refineries
By Alexander Whitcomb and Raed Asad Ahmed
ERBIL, Kurdistan Region - Hit hard by gasoline shortages caused by fighting at Iraq's largest oil refinery at Baiji, the Kurdistan Region has announced it will build two new refineries of its own in a move towards energy independence. The only hitch is it's not happening anytime soon.
Ashti Hawrami, the minister of natural resources, was called to the Kurdistan Regional Government (KRG) Parliament on Monday to account for the fuel crisis.
"We have plans to launch two refineries in Dohuk and Garmiyan, but it takes two to three years to do so," he told lawmakers. Scheduled improvements to existing refineries will also increase capacity over the next two years.
In the meantime, the KRG must ration fuel supplies and encourage private companies to import gasoline to substitute for Baiji. Eighty percent of domestically-produced gasoline will be distributed to citizens through a coupon system. The other 20 percent is allocated for government departments and Peshmerga military forces. Traders will be allowed to import gas from abroad, but the government has pledged to cap prices and regulate fuel quality.
Jihadi-led Sunni insurgents that have captured mostly northern territories, and are in control of a third of Iraq, also have been fighting to capture the Baiji refinery in Salahaddin province.
Fighting at the complex has been ongoing for the past several weeks, with conflicting reports about whether it is in government control or has been taken over by the militants, led by the Islamic State of Iraq and Syria (ISIS).
Hawrami explained that the current crisis was intensified by the generous gasoline subsidies provided by the government. Because commercial prices are significantly higher in Turkey, traders were buying Kurdish gasoline and taking it to market across the border. He complained oil was being smuggled out of the region, only to be resold to the government at higher cost as "imported oil."
According to his estimation, a third of Kurdistan's fuel was being sold on the black market.
Fighting by ISIS militants cut off the Baiji supply at the same time that demand for oil products spiked. Military mobilization, territorial expansion and a massive influx of refugees all led to a rise in fuel consumption in the region. Dramatically diminished supply and increased demand were amplified by panic and black market speculation, resulting in enormous queues at Kurdish pumps over the last weeks.
Hawrami also indicated that artificially low prices caused undesirable market distortions, even before the crisis hit.
"There are more than 50,000 vehicles in the Kurdistan Region that belong to oil companies, consulates and foreign missions that operate in Kurdistan and benefit from gas subsidies," he said.
According to him, driving had become too cheap even for the intended recipients of the subsidies, the Kurdish lower and middle classes. While they deserved a subsidy, most poor people "do not have private cars -- they use public transportation or cabs instead." He pointed to the fact that many families have two cars, the hallmark of a developed country, despite the fact that the Kurdistan Region still has a relatively low income per capita.
If the crisis effectively reduces state subsidies -- people invariably become more reliant on privately traded gasoline -- there are a few upsides, Hawrami reasoned.
"Iran's environment and economy improved greatly after they removed their gas subsidy regime," Hawrami told the room of skeptical MPs. When Iran increased gas costs (once set at $0.10 a liter), "traffic decreased by 20 percent in Tehran. People began using more public transportation than cars."
Maj. Gen. Ali Was Responsible for Defending Capital
by Jason Ditz, July 07, 2014
A major casualty was reported today in the Ibrahim Bin Ali region of metro Baghdad, as Major General Negm Abdullah Ali, the commander of Iraq's sixth division
, was slain in fighting with ISIS
.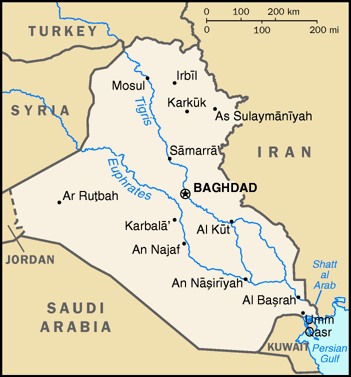 Major General Ali was responsible for defending a large portion of the capital city, and according to Iraqi officials was killed by ISIS mortar fire against his position during a battle.
The Ibrahim Bin Ali region is on the Baghdad-Anbar border, and less than 15 miles away from Baghdad's International Airport. While the loss of a top general is big news for Iraq, perhaps the bigger story is j
ust how close this is to the heart
of Baghdad itself.
While ISIS is within spitting distance of the capital on several fronts, Western Baghdad in particular seems vulnerable, with such large portions of the Anbar Province part of ISIS's new Islamic State, and with the highway from Abu Ghraib to northern Syria virtually entirely under their control.
Western Baghdad is also the most serious region to be under threat from a US perspective, as American deployments have focused on securing the airport and the Green Zone, where the US Embassy is. Whether a direct ISIS attack is imminent or not, it seems difficult to see how Iraq can keep Baghdad as a functioning capital city with hostile fighters so close.
MPs Couldn't Agree on a New Speaker
by Jason Ditz, July 07, 2014
After last week's first session of parliament in Baghdad lasted only a matter of minutes before major walkouts, it was clear that the process of electing a new speaker, president, and premier wouldn't be so easy. Yet it seems no progress at all is being made.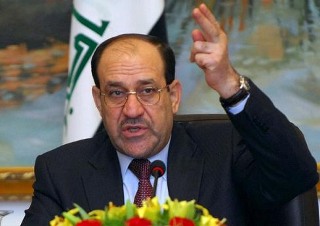 Closed door meetings among officials aimed at deciding on the speaker, the first step,
ended in failure
over the weekend, and the government has announced it is
delaying its next session until August 12
.
Outgoing parliament speaker Osama Nujaifi, a Sunni, was so eager to see the new government take over and oust Prime Minister Maliki that he agreed to give up the speaker's position in the next term to a Shi'ite, assuming that might speed the process up. It isn't.
The big problem is that Iraq's Shi'ite majority, which is a large majority in parliament given that much of Sunni Anbar Province didn't get to vote, is split among several different parties who don't like each other very much. The largest faction, Maliki's State of Law Bloc, seems internally divided as well, with some looking to back a new PM and others insisting Maliki must be allowed a third term.
Maliki has been angling for a third term for awhile, but mounting military losses to ISIS have put the militants on the outskirts of Baghdad, and the divisive premier is in no position to try to unite Iraq anymore. The problem is, Maliki has centralized power so much for so long, there is no obvious heir apparent, and what few candidates have been floated don't seem much more likely to secure support from Kurds and Sunni Arabs than Maliki was.
Tweets of note......
Najaf's American governor talks IS, Sadr, Soleimani & his view of the U.S. response to the crisis: "Bullshit."
http://
tinyurl.com/nwa29as