Iraq ......
http://www.zerohedge.com/news/2014-06-10/al-qaeda-militants-capture-us-blackhawk-helicopters-iraq
Al Qaeda Militants Capture US-Made Black Hawk Helicopters In Iraq
Submitted by Tyler Durden on 06/10/2014 19:54 -0400
For those who may have forgotten, Iraq was one of those countries "liberated" by the the United States, which unlike Afghanistan where the opium trade is still important, did pull out its troops two and a half years ago.
Ths shocking takeover of Mosul took place months after Al Qaeda-linked fighers took over another Iraqi town, Fallujah, earlier in the year and which they have successfully defended against government attempts to reclaim it.
That however, was just the appetizer: Mosul is a much bigger, more strategic prize. The city and surrounding Ninevah province, which is on the doorstep of Iraq's relatively prosperous Kurdish region, are a major export route for Iraqi oil and a gateway to Syria.
The capture of Mosul by rebels linked to the Islamic State of Iraq and al-Sham, or ISIS, is the latest evidence of the weakness and disorganization that have beset Iraq's security forces since the U.S. forces withdrew from the country in December 2011.
Residents of Mosul said they were shocked at the ease of the rebel takeover of government buildings, television stations and military installations where U.S.-supplied fighter airplanes, helicopters and other heavy weaponry are based.
"The whole of Mosul collapsed today. We've fled our homes and neighborhoods, and we're looking for God's mercy," said Mahmoud Al Taie, a dentist. "We are waiting to die."
Videos showed victorious insurgents waving black flags emblazoned with an Islamic script—the standard brandished by al Qaeda militants world-wide.
The biggest irony here is that while the US is arming "rebels" in neighboring Syria, among which numerous Al-Qaeda rebels, the weapons and the trained "fighters" then promptly make their way across the border and continue fighting the US-blessed government in Iraq!
Jessica Lewis, a former U.S. Army intelligence officer, said ISIS fighters won a notable victory in Mosul.
The ISIS-controlled areas of Iraq.
And to think none of this could have been accomplished without the assistance of the US state department.
The Obama administration, responding to the fall of Mosul, said ISIS "is not only a threat to the stability of Iraq but a threat to the entire region."




State Department spokeswoman Jen Psaki said the group has drawn strength from the Syrian civil war, where it can acquire recruits, weapons and other resources for its fight in Iraq.
Perhaps miss Psaki should have answered questions about where the ISIS force was getting its weapons. The U.S.-trained and equipped Iraqi security forces, which have floundered since the U.S. pullout, haven't succeeded in thwarting ISIS's emergence as a formidable paramilitary force.
Below is a detailed narrative of just how Al-Qaeda managed to take over yet another garrison in the middle east:
Despite the security precautions, ISIS fighters raided the western half of Mosul early Friday, forcing military personnel and federal police forces to retreat over bridges to the eastern bank of the Tigris River, which divides the city.




For three days, residents in the eastern half of the city huddled in their houses and parceled out their ever-dwindling supply of food and other staples, as authorities tried to secure the city.




Mosul governor Atheel Nujaifi, appearing Monday evening on national television, made a desperate call for city residents to form ad hoc committees to defend themselves. But he fled on Monday night.




In the early-morning darkness of Tuesday, local resistance dissolved, as insurgents poured across the bridges separating east from west. According to witnesses, government soldiers fled on foot, leaving the streets littered with abandoned army vehicles, weapons and uniforms.




The vanquished soldiers knocked on doors and begged for civilian clothes, so they could escape without being identified, said Ahmed Khaza'al, a cosmetic dealer.




The victory by ISIS and its allies means they control sizable regions in at least three of Iraq's 18 provinces. Upon news of Mosul's fall, fears of more fighting rippled across the country.
The US has pledged to help Iraqi leaders "push back against this aggression" as the government of Prime Minister Nuri al-Maliki asked parliament to declare a state of emergency that would give him extraordinary powers to tackle the crisis. The rampage by the black banner-waving insurgents was a heavy defeat for Prime Minister Nouri al-Maliki as he tries to hold onto power, and highlighted the growing strength of the Islamic State of Iraq and the Levant. The group has been advancing in both Iraq and neighboring Syria, capturing territory in a campaign to set up a militant enclave straddling the border.
But the battle, for the time being, seemed to be over. Some police were discarding uniforms and weapons and fleeing a city where the black flag of ISIL now flew over government buildings.
"We have lost Mosul this morning," said a colonel at a local military command center. "Army and police forces left their positions and ISIL terrorists are in full control.
"It's a total collapse of the security forces."
This is the aftermath in clips and images:
Assyrian church set ablaze...
Iraqi troop uniforms left behind...
Smoke everywhere...
As the roads are full amid the mass exodus...
* * *
Mosul airport viewed through Google maps: grounded helicopters can be easily seen just east of the main airstrip:
Thank you US State Department: once again, this smashing Al-Qaeda success could not have been achieved without your help.
http://www.dailytimes.com.pk/foreign/11-Jun-2014/turkey-says-investigating-reports-28-truck-drivers-kidnapped-in-iraq
Turkey says investigating reports 28 truck drivers kidnapped in Iraq
ISTANBUL: Turkey is investigating reports that 28 Turkish truck drivers ferrying diesel to the northern Iraqi city of Mosul have been abducted by militants from an al Qaeda splinter group, senior Turkish officials said on Tuesday.
Insurgents overran the headquarters of the provincial government in Mosul late on Monday, making further gains in a fourth day of fighting in the country's second-largest city. Turkish media reports said the drivers were taken hostage by militants from the Sunni Islamic State of Iraq and the Levant (ISIL) while carrying diesel from Turkey's southern port of Iskenderun to a power plant in Mosul. "The situation in Mosul looks a bit grim ... Concerning the 28 truck drivers, we are trying to confirm through our consular department but we have nothing as yet," one Turkish official told Reuters.
An official at Ikra Logistics, a trucking company based in the southern Turkish city of Adana which ships diesel to Mosul, said it had lost contact with some of its drivers and that they could be among those reportedly abducted. "Their phones are switched off," the official said, declining to be identified or to comment further as the situation remained unclear. An official in Prime Minister Tayyip Erdogan's office also said the reports were being investigated, while Transport Minister Lutfi Elvan said he had no information of an abduction. The western side of Mosul is now under the control of the militants, three Iraqi army officers told Reuters, while a senior Iraqi security official warned the whole city could fall into their hands if supporting troops were not sent in. Turkey has for years supplied refined oil products to Iraq, which is chronically short of diesel due to a lack of refineries and increasing power consumption.
ISIL is also active in Syria's civil war, controlling patches of territory along the Turkish border. It was disowned by al Qaeda's central command earlier this year after it fell into territorial and power struggles with Jabhat al-Nusra rebels, who comprise al Qaeda's official Syria wing. Syria, tugged by various regional conflicts, has fragmented into a patchwork of warring ethnic and sectarian pockets, and fighters from neighbouring Iraq and Lebanon have joined both sides of the civil war. Turkey has been a staunch backer of the Syrian opposition, letting it organise on Turkish soil and hosting hundreds of thousands of Syrian refugees. But the rise of Islamist militants in rebel ranks presents it with a growing security risk. Turkish special forces raided a suspected ISIL hide-out in Istanbul in March, leading to a gun battle, weeks after two members of the security forces were shot dead in southern Turkey by militants suspected of links to militant groups in Syria.
http://www.debka.com/article/23987/Al-Qaeda-ISIS-conquers-Iraqi-Mosul-links-up-with-Syrian-front-for-core-of-Islamist-state
Al Qaeda in Iraq (ISIS: Islamist State of Iraq and Syria), captured the northern Iraqi oil city of Mosul, capital of Nineveh Province, Tuesday, June 10, after the Iraqi military defenders caved in and fled. Mosul is Iraq's third largest city after Baghdad and Basra with a population of around two million.
Ministers in Nuri al-Maliki's government have sent desperate appeals to the Obama administration for help to save Baghdad and Iraq from doom.
DEBKAfile's military sources report that the Iraqi army's command facilities and bases in Mosul are ablaze and many bodies of Iraqi soldiers are lying in the town's streets. Convoys of fleeing troops were ambushed by the invaders and destroyed.

The fall of Mosul with heavy casualties is the worst disaster suffered by the Iraqi army in its feeble attempts to fend off the deep inroads Al Qaeda has been making in the country for more than a year. ISIS now controls two major Iraqi cities, after capturing Fallujah earlier this year, has overrun parts of Ramadi and Tikrit, as well as eastern provinces bordering on Iran, Diyala province and parts of the town Baquba, where just Tuesday, 20 people were killed in two explosions.
The loss to Islamist terrorists of Mosul, home to Arab, Assyrian, Christian, Turcoman and Kurdish minorities - and the site of Old Testament prophets such as Jonah - is critical for six additional reasons outlined here by DEBKAfile's counter-terror and military sources:
1. Mosul's conquest gives ISIS the key to the highway to Baghdad, enabling its fighters to advance on the capital from three directions: the west from Fallujah and Ramadi, the east from Diyala and now the north, from Mosul.
2. ISIS can merge its Iraqi and Syrian fronts and move its forces freely between them.

3. Mosul straddles the two banks of the vital Tigris-Euphratest river system shared by Iraq, Turkey, Syria and Iran. The Iraqi Islamists now have their hand on its flow.

4. With Mosul's capture, Bakr Al-Baghdadi, commander of ISIS, had taken a flying leap towards his avowed goal of establishing an independent Islamist state in the heart of the Middle East. No army has been able or willing to stem his steady advance, including the United States, although his state would present a direct threat to Saudi Arabia, Jordan, Turkey and Israel.
5. Mosul is a vital link in Iraq's northern oil trade; one third of its exported crude is pumped past this city from Kirkuk and it also has a refinery.

6. Iran and Hizballah face a second front in Syria opened by Al Qaeda from Iraq. To save their proudest strategic gains in Syria, Tehran will have to send troops into Iraq to save Baghdad from falling to the Islamists, or else see Syria falling into another abyss, this one of vicious Sunni-Shiite warfare.
http://www.aljazeera.com/news/middleeast/2014/06/iraq-calls-emergency-after-rebels-seize-mosul-2014610121410596821.html
Iraq PM calls emergency after Mosul seized
Nouri al-Maliki says he will arm civilians after al-Qaeda inspired ISIL take second-largest city and Nineveh province.
Last updated: 10 Jun 2014 20:15
The Iraqi prime minister has called for a national state of emergency after the city of Mosul and parts of the northern province of Nineveh fell to al-Qaeda-inspired fighters.
Nouri al-Maliki said on Tuesday that he would ask parliament to declare the emergency after the overnight takeoverby the Islamic State of Iraq and the Levant.

He stated that the government would arm civilians who volunteered "to defend the homeland and defeat terrorism".
Osama al-Nujaifi, the parliament speaker, said Iraqi soldiers abandoned their posts in Mosul when the attack began, action he described as "a dereliction of duty".
Nujaifi said parliament would discuss the call for a state of emergency on Thursday.
Reports by AFP later on Tuesday quoted Iraqi police sources as saying fighters had taken over areas of Kirkuk and Salaheddin province.
Syrian activists meanwhile said ISIL fighters had taken over the Syrian side of al-Yaroubiya crossing, one of three crossings into Iraq.
Al Jazeera cannot verify those reports.
'Foreign invasion'
Nujaifi, who is the brother of Atheel al-Nujaifi, the state governor, said he had asked the US ambassador in Baghdad for help in order to stop what he described as "a foreign invasion by ISIL".
A pro-ISIL Twitter feed said the group had released about 3,000 people from three prisons, although other estimates were lower.
Mosul is Iraq's second largest city, and the second city to be captured by fighters this year after Fallujah.
"We have lost Mosul this morning," a colonel at a local military command centre told the Reuters news agency. "Army and police forces left their positions and ISIL terrorists are in full control. It's a total collapse of the security forces."
Al Jazeera's Imran Khan, reporting from Baghdad, said Maliki faced opposition to his call for a state of emergency, which would grant him sweeping powers.
Khan said: "Many politicians have vocally criticised Maliki's handling of the crisis. Many in Iraq are asking why a lightly armed group like ISIL have been able to take over huge cities.
"Some here worry that a state of emergency will give Maliki sweeping powers that once he has, he may well find difficult to give up."

Governor Urges Locals to Fight Off AQI Invasion
by Jason Ditz, June 09, 2014
A weekend of bloody fighting in Mosul is going worse than anyone thought for government forces, and the district that is the provincial capital of the Nineveh Province has now fallen to al-Qaeda in Iraq (AQI).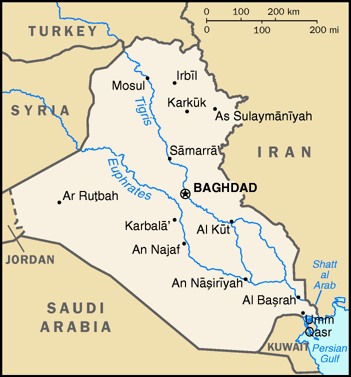 AQI fighters
by the hundreds poured into the capital district,
briefly trapping Governor Atheel Nujaifi before he was rescued by police and ferried out of the area.
Gov. Nujaifi seems short on ideas at this point, and issued a televised plea for the civilians of Mosul to take up arms and defend their neighborhoods from the outsiders.
Top security officials were even less circumspect about their prospects, saying that without some major change on the ground Mosul could fall outright in a matter of days.
If that happens, it becomes the biggest city in an AQI-held territory that spans the borders of Iraq and Syria, and which includes seemingly large portions of both countries.
AQI's territory is already a de facto Islamist state, even if its borders aren't easily defined. The loss of Mosul to them, however, would mean one of Iraq's richest and most important cities would be falling into the AQI state.
Second Round of Truck Bombings Tear Through Northern Offices
by Jason Ditz, June 09, 2014
Yesterday,
30 people were killed
in a bombing attack on the Patriotic Union of Kurdistan (PUK) party in Jalawla, in Iraq's Diyala Province. Today, the bombers hit two more Kurdish party offices in the far northern town of Tuz Khormato, near Kirkuk.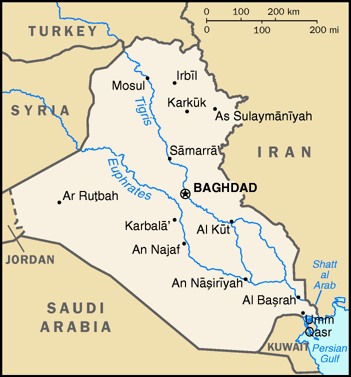 Today's attacks hit another PUK party office as well as a nearby office of the Kurdistan Communist Party, with
a suicide car bomber hitting a checkpoint near the offices, and a remote truck bomb detonation
causing massive casualties in the chaos that followed.
The initial figure in today's attack was 22 killed and 150 wounded, along with several homes and buildings destroyed. The final death toll was put at 33, putting the two-day figure against Kurdish political offices at 63.
Al-Qaeda in Iraq (AQI) has claimed credit for yesterday's Jalawla attack, and while they haven't confirmed today's yet, it seems likely they were behind these attacks as well.
Northern Iraq Under Siege: 123 Killed, 261 Wounded