Anti - War ...
Talks Centered on 'Key Stages' of Plan to End Donetsk Revolt
by Jason Ditz, June 09, 2014
Two days of meetings between Ukrainian President Petro Poroshenko's new government and Russian officials have ended with what Ukraine is describing as an "
understanding
" on a peace plan for their common border.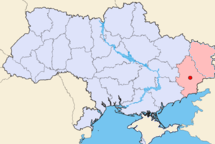 Exactly what was understood remains unclear, as details were scant, but Ukrainian officials say that the
two sides agreed on "key stages"
of a plan to deescalate violence in the Donetsk and Luhansk Oblasts.
Russia had been keen for a deal to end fighting in the area, and has been criticial of Ukraine's interim government for invading the oblasts after protesters there declared themselves independent "Peoples Republics." President Poroshenko, inaugurated over the weekend, also seems more willing than his predecessors to make some sort of deal.
Talks between Russia and Ukraine centered not only on the Donetsk uprising, but on the
ongoing
gas dispute between Russian giant Gazprom and Ukraine's state-run natural gas company, which is billions of dollars in debt to them.
Separatist Rebels Aim to Control Border Crossings
by Jason Ditz, June 09, 2014
While Ukraine's military offensive against the rebels in Donetsk and Luhansk Oblasts has seemingly just started at the frontier and tried to work its way east into Slovyansk, the rebels seem to have a much more direct strategy.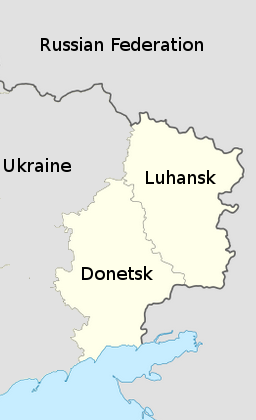 Instead of attacking the military wherever and whenever, the separatist rebels have been
attacking border crossings into neighboring Russia, trying to seize them and secure supply lines
to any potential aid they may get there.
Donetsk and Luhansk are largely ethnic Russian, and some of the separatists envisions joining the Russian Federation, while others have designs on independence or at least increased autonomy within Ukraine.
Whatever the case, their economies are closely tied to the Russian side of the border, and any aid they might get from factions supporting their movement will also come through that border. While they've taken multiple crossings already, the border guards remain at others,
waiting for inevitable rebel attacks
.
NATO Wargames Take Place in Latvia, Lithuania
by Jason Ditz, June 09, 2014
Tensions with Russia are on the rise again today as NATO launches the "Sabre Strike" military exercises in Latvia and Lithuania. Some 4,700 troops and 800 military vehicles are taking part in the action,
right along the Russian border
.
It's worth noting that NATO was furious at Russia for conducting its own wargames near Ukraine's border, dubbing it a threat even though Ukraine isn't a NATO member to begin with. Latvian DM Raimonds Vejonis touted the Sabre Strike wargames as aimed directly at Russia and their "aggression" in the region.
Russia's Foreign Ministry is none too happy with this turn of events, and warned it would treat any further NATO buildups in the region as a "
demonstration of hostile intentions
" that would lead to political and military measures in retaliation.
Foreign Minister Sergey Lavrov went on to say that NATO's eastward expansion is "
counterproductive
" and contrary to pledges previously given to Russia.
Itar Tass......
June 10, 18:04
UTC+4
Another round of three-party gas talks between Russia, Ukraine and the European Union ended, producing no solution to the Russia-Ukraine gas conflict
Another round of three-party gas talks between Russia, Ukraine and the European Union ended, producing no solution to the Russia-Ukraine gas conflict.
"$268 US dollars per 1,000 cubic meters is the price at which Ukraine used to buy the gas. There is no way to explain how the price of gas can change twofold. There are long-term agreements and there is a long-term partnership, and the price of gas cannot depend on certain political will or other reasons. Negotiations are underway and I want to say that Ukraine is not demanding some exclusive terms for itself. We just want to see a real and economically justified price," Ulida said.
Ukrainian Energy and Coal Industry Minister Yuri Prodan said earlier that at the talks with Russia the Ukrainian delegation was also insisting on the termination of the ban on re-export of Russian gas. "The lifting of the ban on re-export is one of the demands [of the Ukrainian delegation]," he said.
Why did the gas price change?
In early April Russia's gas producer Gazprom raised the price of gas for Ukraine from $268.5 per 1,000 cubic meters by $200. The company also cancelled the 100% discount for Naftogaz of Ukraine which had failed to make timely payments for gas supplies. Another $100 rise in price was a result of the termination of a customs duty discount under the Kharkiv Agreement — the Russian Ukrainian Naval Base for Gas treaty between Ukraine and Russia whereby the Russian lease on naval facilities in Crimea would be extended beyond 2017 by 25 years (until 2042) with an additional 5 year renewal option (until 2047) in exchange for a multiyear discounted contract to provide Ukraine with Russian natural gas.
June 10, 11:12
UTC+4
Ukraine's President Petro Poroshenko has ordered the government to organize the transportation of people and medical assistance to the population
KIEV, June 10. /ITAR-TASS/. Ukraine's President Petro Poroshenko has ordered to organize a humanitarian corridor for civilians who want to live combat areas where the Ukrainian army is conducting a special operation, the presidential press service reported.
Poroshenko met with heads of Ukraine's Security Service, Interior Ministry, Defense Ministry and State Emergency Service. "In order to avoid new casualties in the area where the anti-terrorist operation is carried out, the president of Ukraine has ordered the heads of security services to create necessary conditions for civilians who want to leave the region," the press service said.
Poroshenko has ordered the government to organize the transportation of people and medical assistance to the population, as well as establish a network of mobile stations that will provide the civilian population with drinking water, foodstuffs and medical supplies.
June 09, 19:34
UTC+4
This situation "was a test for the EU's ability to pursue an independent policy", Vladimir Chizhov said
BRUSSELS, June 09. /ITAR-TASS/. Russia's ambassador to the EU has linked the EU's move against the South Stream gas project with the West's pressure on Russia because of the crisis in Ukraine.
The EU's move can be qualified as "creeping economic sanctions against Russia", Russian representative to the EU Vladimir Chizhov said on Monday.
"European Commissioner for Energy Guenther Oettinger linked the construction of the South Stream gas pipeline with the situation in Ukraine," he said.
June 10, 11:26
UTC+4
As of today, the central bank ordered that 34 banks discontinue their operations in Crimea
The central bank stopped the operations of Commercial Bank Daniel, Bank Capital, Bank Kliringovy Dim, Nadra Bank, and Real Bank.
Depositors will be compensated by recently established fund to protect rights of depositors in Crimea, the regulator said.
Before Crimea joined Russia in March, 77 banks used to have offices in the region. As of today, the central bank ordered that 34 banks discontinue their operations there.
June 10, 8:23
UTC+4
European Commissioner for Energy Guenther Oettinger says that many questions remain and that positions on many issues differ
Oettinger said the parties had long talks (over 7 hours) this evening and this night, and added that negotiations continue. He said the parties have discussed issues of gas prices, the current contracts, market, neighboring countries and the current situation, but added that many questions remain and that positions on many issues differ.
According to the European energy commissioner, Russia, Ukraine and the EU agreed not to take wrong actions. He said Ukrainian and Russian officials should discuss the developments with their governments and heads of state and say they are ready to discuss
the situation on Tuesday evening or Wednesday morning.
According to Russian Energy Minister Alexander Novak, the Russian gas price for Ukraine for June, July and August was discussed during the meeting for the first time.
Ukrainian parliament-appointed Energy and Coal Industry Minister Yuriy Prodan in turn said after the fifth round of talks that Russian state energy giant Gazprom offered Ukraine a discount on gas through reduction of duties. Prodan said no new achievements have been reached at the talks since June 2.
He said Gazprom is ready to lower the gas price for Ukraine to $385 per 1,000 cubic meters as the export duty totals some $100.
Gas price battle
After Crimea's accession to Russia, the price for 1,000 cubic meters of gas for Ukraine exceeded $485.
Oettinger earlier said a fair price for Ukraine would be in the range of $350-$380
per 1,000 cu m. Official Kiev still insists on the return to an earlier price of $268.5 per 1,000 cu m.
The undisputable part of Ukraine's debt for November-December 2013 stood at $1.454 billion as of Monday, June 9. Moscow is waiting for the debt to be repaid. However, Prodan reiterated Kiev's position that the debt repayment will start only when a price acceptable for Ukraine is approved.
Gazprom CEO Alexey Miller said June 2 after a regular round of the three-party talks that Gazprom is ready to cut its gas price for Ukrainian state energy company Naftogaz Ukrainy even beyond the limits of export duties.
Miller told journalists that the Ukrainian gas debt should be repaid, the Russian side will be ready to consider the price issue resolution scheme "not only through reduction of the export customs duty but also through direct commercial talks on a corporate basis,".
Earlier, Novak said Moscow is ready to lower the gas price for Ukraine within the limits of the export duty if Kiev repays its accumulated gas debt.
Moscow recently substantially raised the price for gas supplied to Ukraine from the figure of $268.5 per 1,000 cubic meters agreed last year when an association agreement with the European Union was shelved in November 2013.
INFOGRAPHICS
Russian gas in Europe
One-third of gas consumed in EU comes from Russia. Infographics ITAR-TASS
In the second quarter of 2014, the price for Russian gas for Ukraine was set at $385.5 per 1,000 cu m. Gazprom said earlier that the price rose from $268.5 due to the return to earlier contract agreements, as Ukraine failed to fulfill its commitments under an additional agreement concluded in December 2013, which obliged the country to pay for supplied volumes of Russian gas in time.
On April 2, Russian President Vladimir Putin signed a law on denunciation of the Kharkiv Accords with Ukraine, which were struck in 2010 and stipulated that Russia's lease of naval facilities in Crimea (then part of Ukraine) would be extended by 25 years beyond 2017 - until 2042.
The Kharkiv deals envisioned a discount of $100 per 1,000 cu m on Russian gas for Kiev. Now that the accords have been denounced due to Crimea's accession to Russia, the discount is no longer applied, raising the gas price by another $100 to $485.5 per 1,000 cu m.
Coup in Ukraine
Despite Moscow's repeated statements that the Crimean referendum on secession was in line with the international law and the UN Charter and in conformity with the precedent set by Kosovo's secession from Serbia in 2008, the West and Kiev have refused to recognize the legality of Crimea's reunification with Russia.
Ukraine hopes to annually obtain about 10 billion cubic meters of gas through gas reverse supply schemes from Slovakia, Poland and Hungary. In this way, Ukraine can only cover a third of its Russian gas imports due to supplies from Europe.