In this podcast, Ron Paul chides supporters of the Senate bill, saying: "many of the warmongers in the Senate who sign on to this bill are so-called conservatives, but I've never understand how those who call themselves conservative can be so liberal with other people's money when it comes to war overseas. They may vote against food for the poor and say 'well I am a real hero and a Constitutionalist,' but at the same time they never challenge the military industrial complex and the wars overseas."
May 17, 19:25
UTC+4
On May 14, the first roundtable in the Verkhovna Rada discussed settlement in the troubled Donbass, constitutional reform, decentralisation of power and fight against corruption
KIEV, May 17, 18:49 /ITAR-TASS/. Ukraine's former president Leonid Kravchuk has said the third "roundtable for national unity" over the settlement in the south-east of Ukraine may take place in Cherkassy, central Ukraine, on Wednesday, May 21.
Kravchuk spoke upon completion of the "second roundtable for national unity", held in the eastern city of Kharkov on Saturday amid continuing armed operation in the country's east.
Discussions in Kharkov were more open than in Kiev. "We're trying to improve our work. This 'roundtable' was opener and included more issues. It involved representatives of the opposition and regions, including of the Lugansk region," Kravchuk said.
Lots of high-profile politicians and officials participated in the discussions, in particular Ukraine's former presidents Leonid Kravchuk and Leonid Kuchma, parliament-appointed interim Prime Minister Arseny Yatsenyuk, Minister for Regional Construction and Housing Vladimir Groisman and Interior Minister Arsen Avakov, Acting Foreign Minister Andrei Deshchitsa, Vice-Speaker of the Verkhovna Rada, Ukraine's national parliament, Ruslan Koshulinsky, lawmakers and representatives of local self-rule bodies, religious and public organisations.
On May 14, the first roundtable in the Verkhovna Rada discussed settlement in the troubled Donbass, constitutional reform, decentralisation of power, and fight against corruption among other issues.
Certain politicians claimed that the dialogue failed then as the participants again turned a deaf ear to the east of the country. A lawmaker of the Party of Regions, Nestor Shufrich, said that those who were openly opposing the authorities in the east should have been invited. The Ukrainian communists were not there, either, he said.
"Without their participation - immediate or tentative - all the roundtable debates are declarative," he said adding "there is no place at the table for those whose hands are in blood."
The authorities are tasked with decentralisation and transfer of power to the regions and a status of the Russia language, he said. Shufrich is confident that "the parliament must find the stamina and settle the issue once and for all.
May 17, 14:59
UTC+4
Moscow hopes that the West will exert energetic impact on the Kiev authorities to ensure the start of practical efforts
May 17, 14:59
UTC+4
Moscow hopes that the West will exert energetic impact on the Kiev authorities to ensure the start of practical efforts
MOSCOW, May 17, 14:05 /ITAR-TASS/. Russia insists on an immediate ending of Kiev-led combat actions in southeastern Ukraine, the Russian Foreign Ministry said in a statement Saturday.
Moscow hopes that the West will exert energetic impact on the Kiev authorities to ensure the start of practical efforts towards the settling of the situation in the southeastern regions of the country.
Continuation of the punitive operation in the area of Slavyansk testifies to the hypocrisy of the government in Kiev, which is make deceitful claims about its readiness to act in line with provisions of the statement by the Organization for Security and Cooperation in Europe (OSCE) regarding its roadmap.
Russia has grave doubts that an election held to the accompaniment of cannonades matches the democratic norms of the electoral process, which is underway in Ukraine, the ministry said.
RIA Novosti.......
Russian Diplomat Says OSCE Report on Ukraine Ignores Govt's Violation of Human Rights
© Photo OSCE/Mikhail Evstafiev
MOSCOW, May 16 (RIA Novosti) – An OSCE report on Ukraine ignores the Kiev government's violations of human rights, as well as the rise of neo-nationalist and xenophobic sentiments in the society, a senior Russian diplomat said.
"[The report] ignores facts of blatant violations of basic human rights – such as the right to express opinions freely – by the de-facto authorities in Kiev with support from the West. It also lacks information about the rise of neo-Nazi, xenophobic, ultranationalist and anti-Semitic sentiments in Ukraine," Konstantin Dolgov, Russian Foreign Ministry's Special Representative for Human Rights, Democracy and the Rule of Law, said in his Twitter blog.
He also said the report fails to mention "the destructive role of Maidan activists," whose violent actions against law enforcement officers, including the use of firearms against them, have resulted in a state coup that brought neo-Nazis and ultranationalists to power.
"The OSCE also showed little interest in the punitive operation against residents of the southeast [who question the legitimacy of the interim Kiev government]," Dolgov said.
"Instead, the authors point at alleged violations of human rights in Russia's Republic of Crimea and in southeastern regions of Ukraine, offering no proof. We call on the OSCE leadership and its special mission in Ukraine to give a full and comprehensive assessment of the disastrous human rights situation in the country," the diplomat said.
A state coup took place in Ukraine of February 22, when erstwhile opposition, supported by violent protests in the streets of the capital Kiev, seized power, ousted President Viktor Yanukovych and appointed elections for May 25. Moscow says doubts the legitimacy of the incumbent government and says its legitimacy will depend on the transparency of the political process in Ukraine and the respect for interests of regions.
The coup-imposed government launched a military operation in Ukraine's eastern and southeastern regions on April 15 with an aim to crush dissent among residents who refuse to recognize the legitimacy of central and regional authorities. Protesters want broader autonomy for their regions and demand to treat the linguistic and cultural peculiarities of their regions with respect.
Russia Today.....
Kiev proclaims post-referendum Donetsk, Lugansk regions 'terrorist organizations'
Published time: May 16, 2014 19:10
New authorities in post-coup Kiev have listed the self-proclaimed republics of Donetsk and Lugansk as terrorist organizations. The two regions proclaimed themselves sovereign states after the controversial May 11 referendums.
"The two so-called 'people's republics' in Donetsk and Lugansk regions are terrorist organizations, which have a clear hierarchy, financing, and channels of weapons supplies," Ukraine's deputy prosecutor general, Nikolay Golomsha, said.
The statement confirmed a similar statement made by Ukraine's minister of justice, Pavel Petrenko. The minister said the two "were created for assaulting people, intimidation, sabotage, terrorist attacks, beatings, and murder of our citizens."
Criminal cases have been launched to investigate the "formation of the terrorist organizations."
On Friday, Golomsha stressed that the General Prosecutor's Office has managed to reveal channels through which weapons are being supplied to Donetsk and Lugansk.
On May 11, the Ukrainian regions held referendums and voted for self-rule. Kiev and Western countries condemned the ballots, calling them illegal.
Kiev has intensified its military crackdown in the region, deploying tanks, APCs and helicopters. It formed paramilitary forces which are now on the ground in Donetsk and Lugansk regions as part of an "anti-military operation."
The self-proclaimed republics are demanding the withdrawal of Kiev fighters which continue to clash with local self-defense units.
The deadline for an ultimatum issued by the Donetsk People's Republic, which demanded that Kiev pull out its troops, passed on Friday.
A deputy commander of the pro-autonomy militia of Donbass, Sergey Zdrilyuk, said on May 15 that all Ukrainian armed forces had 24 hours to withdraw their armored vehicles and checkpoints from around "Donetsk, Mariupol, and other cities."
He threatened to "destroy and burn down all of this" if the demand was not met. However, Kiev's forces still remain in the region. According to the Donetsk People's Republic, the troops were enlarged following the ultimatum.
Reuters....
Energy sanctions against Russia would be 'inappropriate', EU says
(Reuters) - European Energy Commissioner Guenther Oettinger said on Friday that
Russia
is Europe's main trading partner in
natural gas
and that there should be therefore no sanctions against Moscow's energy sector over the crisis in
Ukraine
.
Sanctions against the Russian energy sector are "something that is inappropriate," Oettinger told reporters through an interpreter after a meeting of EU energy ministers in Athens.
Anti - War ...
Energy Minister: Pay Everything Through April 1
by Jason Ditz, May 16, 2014
Ukraine's interim government may have lost the long-standing natural gas discount they were getting from Russia in the past,
but negotiations for a new one are possible
, according to Russian Energy Minister Alexander Novak.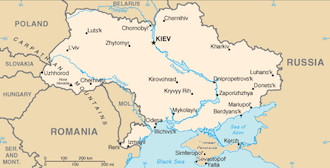 According to Novak, the Russian government is willing to discuss a new price discount provided Ukraine actually starts making good on its payments for gas delivered under the
old discount program
, through April 1.
That's $2.237 billion in back payments, just to get them current through the first of April, and reflects how long it's actually been since Ukraine was paying for its gas, no matter what price was being charged on paper.
Russian officials announced yesterday that Gazprom, the world's largest natural gas company, will insist on up-front payment before any future deliveries to Ukraine. Though this makes sense on the surface, the situation is more complicated than that.
That's because a lot of Russia's paying customers are in central Europe, and that gas goes through the pipeline into Ukraine. Cutting off gas to Ukraine risks them trying to syphon off those supplies, or making shipments to Europe completely impossible. It's the desire to protect those markets that has Russia interested in cutting a deal with Ukraine, though with the interim government so far unwilling to pay its bills a deal may be hard to broker.
Sydney Morning Herald....
Ukraine crisis: A city in shock, but who is in control of Mariupol?
Attacked: Men inspect the ruins of the central police station in Mariupol. Photo: Kate Geraghty
Mariupol: This is a city in dazed shock. We drive in gingerly, not sure about who, if anyone, is in control of a sprawling industrial centre that erupted in anger when Ukrainian national military forces turned their guns on the main police station last week.
We walk up Metalurhiv Avenue, named in honour of the local steel workers, to where it intersects with Ilyich Avenue, celebrating the Russian revolutionary leader Vladimir Ilyich Lenin.
Tracked military machines have gouged the bitumen where these two roads intersect. A teenage boy, masked and wielding a police riot shield and a club, sits on an abandoned armoured personnel carrier. There's a tangle of fire hoses and, off to one side, a woman nurses a plastic crate filled with petrol bombs. The intersection is barricaded with an assortment of tyres and upended industrial-size wheelie bins.
Sifting through debris: A man in a burnt-out bank in Mariupol. Photo: Kate Geraghty
"Where is the police chief?" we ask the woman. "He killed himself," she answers vacantly. In the darkened shell of a burnt-out bank, a man scavenging in the debris unearths a silver coin from the ashes. "I'm an archaeologist," he insists, as though scavenging is beneath him.
Advertisement
We fall in with a 67-year-old woman who wields a bunch of red roses. She refuses to identify herself, but she says: "Come, I'm going to the police station."
She is not alone. Dozens arrive, adding to a small mountain of flowers on the steps to what is left of the police station after an assault in which the Kiev government claims to have killed at "least 20 terrorists". But, after a tour of local hospitals, Human Rights Watch researcher Anna Neistat concludes that "at least seven" were killed – only one of whom was of the security forces – and more than 40 injured, six of whom were of the security forces.
Charred remains: Two burnt police helmets among flowers left at the entrance of the police station in Mariupol. Photo: Kate Geraghty
Instructions to the city's medics not to release any information incite wild unsubstantiated claims that many more were killed and their bodies spirited away from the town. The woman with the roses is adamant: "They killed 300 as if we were insects; they dropped bombs from aircraft."
A man in the crowd explains to a small audience that hundreds of locals are being "disappeared" – taken to Kiev where they are killed before their bodies are harvested of organs for sale on the European black market. Really?
Pointing to where big chunks of the police station's walls are missing and disembowelled airconditioning units hang precariously, another man demands: "And they want us to believe that Molotov cocktails did that?"
At a military checkpoint: Lieutenant Igor Dumbrovsky in Mariupol. Photo: Kate Geraghty
Where do we find whoever is in charge? He directs us to the town's administrative centre, control of which has changed several times during the crisis. Now it is gutted and the rank and file of the separatist movement conduct their business in the forecourt – here a dispensary table, laden with a range of drugs; there the galley tables, stocked with food; and over there the treasury, where locals queue to make cash donations.
Men are sleeping soundly on couches salvaged from the building while five grandmothers perch on steel-framed chairs watching the passing parade – couples posing for family snaps in from the abandoned APC; a crowd of about 100 waiting patiently in what appears to be an orderly run on the institution. They are allowed to enter another bank one at a time.

Can we speak to whoever is in charge? "We're all in charge – this is a collective," a man says as smoke rises from tyres that are still burning on a barricade.
In the street, we spy three policemen and ask who is their new boss.
Pro-Russian: A rebel in front of the Mariupol council building. Photo: Kate Geraghty
"We don't know," one replies sheepishly.
Later, we are informed that indeed there is an acting police chief. Can we talk to him? "No."
His name is Oleg Margon and his men are still in Mariupol, but they are hunkering behind sandbags and bolted doors at a police station in the suburbs.
Click for more photos
Eastern Ukraine
Ukrainian national army Lt Igor Dombrovsky at a Ukrainian military checkpoint on the northern perimeter of the city of Mariupol in Eastern Ukraine. Photo: Kate Geraghty
When two young shopkeepers, Ivan Kurilov and Vitali Lukin, show up there to complain that 21 shops on their street have been looted, they are told through a crack in the door: "Come back later, we're too busy."
Through the same crack, we ask for information on the fate of the former police chief who, reportedly, is dead. "His name was Valeriy Andrushko – we have no information about him," we are told.
A helpful local journalist explains that all phone calls to the police in Mariupol are being re-routed to the police at Donetsk, the regional centre, about 110 kilometres to the north.
There is a small military base in the city but, when we attend there, it has been abandoned and looted.
So who is keeping the peace in Mariupol? We are told that the owner of one of the local steel plants, who happens to be the country's richest man, has ordered his tradesmen and labourers into the streets to quiet things down.
We still could not be sure who was in control. But, driving away, we chanced upon Lieutenant Igor Dumbrovsky, of the Ukrainian National Army, during a tense moment at a checkpoint on the city's northern limit.
As we pulled up, about half a dozen men in the uniform of the special operations wing of the Ukrainian National Guard had their guns drawn, yelling at a truck driver whose slow response to their instruction to alight from his vehicle had aroused their suspicion.
Pulling us into the cover of a clump of roadside trees, Lieutenant Dumbrovsky cradled his weapon as he, refreshingly, gave a candid account of security in Mariupol. It went like this:
Question: Who controls Mariupol?
Till yesterday evening, the police had lost control.
What about the National Guard?
They were there, but they've left the town. They retreated to a military base next to the airport.
The separatists are in control?
Yes. They have declared themselves to be the local government.
But some of the police are still there. We saw them – are they working with the separatists or with the Kiev government?
I don't know. Before the military assault on the police station at Mariupol, the police were here, working this checkpoint with us. But, after the blow-up, they left us. There was anarchy in the city – looting and fighting. I don't know who's in control.
Interfax - Ukraine ......