Coup in progress in Libya ?

Fierce fighting rages in Libya's Benghazi
At least 18 die as forces believed to be loyal to army general at the centre of coup rumours clash with armed groups.
Last updated:

16 May 2014 21:19
Troops under the command of Major General Khalifa Haftar have attacked the bases of two armed groups [EPA]
Fierce fighting in eastern Libya between army troops loyal to a general at the centre of recent coup rumours and two armed groups has killed at least 18 people and injured 90, according to officials.

The country's top military official was describing Friday's offensive - launched without government approval - as a "coup", news agency the Associated Press reported.

Military aircraft and helicopters, apparently under the command of Major General Khalifa Haftar, were flying over the city of Benghazi on Friday, Libyan security officials said.

On the ground, Haftar's troops attacked the bases of the Islamist group Rafallah al-Sahati and another group known as February 17, the officials said.

Major General Abdel-Salam Gadallah al-Obeidi, Libya's chief of staff, said forces that launched the Benghazi assault were under Haftar's control. However, he did not address claims that federal forces fought on Haftar's side, according to the Associated Press.

Al-Obeidi said he would ban any forces from entering Benghazi to join Haftar, without elaborating. Al-Obeidi later described the unfolding events as a "coup', the Associated Press reported.

Interim Prime Minister Abdullah al-Thinni later said only one jet moved out to attack the armed groups without government permission, along with some 120 weapons-loaded army vehicles.

"This is an attempt to use the current security situation to stand against the revolution. ... The era of coup is gone,'' he said in a televised statement.

Airport closed

Libya's state LANA news agency, citing medical sources, said 12 people had been killed and 90 were injured.
Mohammed al-Hegazi, a spokesman for Haftar, told Libyan television station Al-Ahrar that some military units joined Haftar and his forces in their fight against the armed groups.

He said the operation, called the `"Dignity of Libya," included air forces and special forces.

Al-Hegazi said Haftar's forces now controlled the two militia bases.

The "clashes will not stop until the operation achieves its goals," al-Hegazi said.

He said forces based at the city's airport had also joined Haftar.

While it was not immediately possible to verify his claims, Reuters reported that Libyan authorities closed the Benghazi airport late on Friday because of the fighting.

"We have closed the airport for the safety of passengers as there were clashes in the city. The airport will be reopened depending on the security situation," Ibrahim Farkash, the director of Benghazi's Benina airport, told Reuters.

Associated Press footage from Benghazi showed at least one military helicopter flying overhead as gunfire crackled in the city.

The LANA news agency quoted Milad al-Zowi, a special forces spokesman, denying that his troops were involved.

Friday's assault marks the first time that army units have fought unilaterally and joined forces with Haftar, who once headed the army under Gaddafi but defected in the 1980s. After Gaddafi's ouster, he was assigned to help rebuild the forces, but he was removed soon after.

In February, Haftar appeared in an online video aired on several Libyan television stations. Wearing a military uniform, he stood in front of a map of Libya and the national flag and claimed to speak for the "general command of the Libyan army".

In the video, he said the military intended to "rescue" the nation.

Libya's government viewed Haftar's statement as a coup attempt. Later Libyan media reports claimed Haftar held meetings in air bases in eastern Libya to win the support of the military.

Armed groups grew in number and power after the ouster of longtime dictator Muammar Gaddafi in 2011, taking advantage of Libya's disarrayed military and police.

Also on Friday, Algerian's Foreign Ministry announced the closure of its embassy in Tripoli, citing "information of a clear and imminent threat" to its diplomatic personnel.

The statement did not specify if the ambassador and his staff had been evacuated and described the closure as a temporary measure in light of the "difficult security conditions".




Libya Herald.....






At 14 dead in Benghazi as it awaits further
violence
tomorrow
By Moutaz Ahmed and Aymen Amzein.
Benghazi, 16 May 2014:
At least 14 people and possibly 24 are reported to have been killed in the fighting in Benghazi today between forces led by General Khalifa Hafter on the one side and 17 February Brigade, Libya Shield No. 1 Brigade and Ansar Al-Sharia on the other.
The number of wounded is put at between 91 by Benghazi Medical Centre (BMC) and 146 in other reports.
According to the BMC, it had nine dead, of whom seven had so far been identified, and a further nine injured. Jelaa Hospital said it had one dead and 29 injured and Marj Hospital four dead and 16 injured. The Marj figures could be higher, however. The figure was given earlier in the day and it has been impossible to get in touch with it since.
It is being used as one of the main medical centres for treating Hafter's forces.
Hawari Hospital, near the fighting, decided to move patients with heart problems to Hawari Heart Centre to free up bed space in the expectation that more wounded wold be brought in.
Numbers for dead among the two brigades and Ansar are equally difficult to pin down. The Libyan news agency LANA reported that one member of Ansar, named as Feisal Ben Jamia, was killed and four injured in an air strike attack on its base.
Among the dead, according to Jelaa Hospital spokesperson Fadia Barghathi, was 16-year-old Khalifa Juma El Madoli who was killed by a stray bullet while looking out of the window at his home in Hay Shuhada Al-Zawia, near Leithe district. It is claimed that as a result, angry neighbours were now supporting the Hafter forces.
These appear to have suffered a setback during the day, with the cement factory, which they reportedly captured from Ansar this morning lost to the Islamists later in the day.
According to LANA, the 17 February Brigade also claimed to have shot down a helicopter used in the attacks, but there has been no independent conformation.
This evening, with all shops shut and the city virtually closed down – including the internet for much of the day (supposedly by a short circuit), residents fear further fighting before dawn.
They say they are trying to get through the crisis as best they can.
Algeria closes embassy after ambassador's
residence attacked
By Ashraf Abdul-Wahab.
Tripoli 16 May 2014:
Algeria has become the latest Arab state to close its embassy and consulate general in Tripoli, following an attempt by gunmen early this morning to break into the residence of the ambassador in Hay Andalous.
He and embassy staff were later flown to Algiers.
"Following information about the existence of real and imminent threat targeting our diplomats and consular staff, it has been decided, in coordination with the Libyan authorities, to close our embassy and consulate general in Tripoli as precautionary and urgent measure," an Algerian Foreign Ministry statement said.
Three days ago, the Jordanian Ambassador, Fawwaz Al-Eitan, was
freed
and flown home to Amman after being held for four weeks by kidnappers.
This decision was, it added, "temporary and dictated by the difficult security conditions". Algeria, it added, still supported Libyan efforts to build "the rule of law and establish peace and security throughout the Libyan territory".
There have been
unconfirmed
reports that the gunmen intended to kidnap the ambassador. It is not known, however, if they were common criminals or were politically motivated.
They reportedly fled when security forces opened fire.
Hafter launches Benghazi attack on Islamists
By Aimen Majeed and Moutaz Ahmed.
Benghazi, 16 May, 2014:
Benghazi woke up to the sound of heavy gunfire early this morning as forces led by General Khalifa Hafter, supported by some members of the air force and marines, attacked the 17 February Brigade, Libya Shield No. 1 (Deraa No. 1) Brigade and Ansar Al-Sharia.
The first two, long linked, are viewed as Islamist. They have recently developed closer ties with the latter.
The action has been in the south west of the city – in Hawari and Sidi Ferej districts, in particular the area controlled by Ansar Al-Sharia between the south-western gate checkpoint and the cement factory – as well as in the port area where
clashes
were
reported
between marines and Deraa 1.
Helicopters were seen flying over Hawari.
The action appears to have taken the government by surprise. At a press conference this afternoon, acting Prime Minister Abdullah Al-Thinni who e
arlier this month called Ansar Al-Sharia a
terrorist
organisation,
insisted that Hafter's action was illegal and undermined attempts to confront terrorism.
The
Chief of Staff, Major General Abdussalam Jadallah Al-Obeidi,
has vehemently condemned the attack, calling Hafter's forces "intruders into Benghazi" and urging "revolutionaries" in the city to resist them.
The assault, codenamed "Libya's Dignity" by Hafter, is seen as a bid by him to boost his political standing. I
n February, he provoked bewilderment when he went on TV to
announce
that he intended to take over power in the country.
A source close to his forces today said that the aim of the operation was to "target and cleanse Benghazi of extremist groups".
Were to to succeed in doing so, there is little doubt his
popularity
would
soar.
So far,
four of his forces are
reported
to have been killed and 24 wounded. The dead and 16 of the injured were taken to hospital in Marj, from where some of Hafter's men originated. There are no further details on casualties. Ansar Al-Sharia traditionally have not disclosed their numbers of dead, and 17 February Brigade have done likewise.
Although some air force members and marines are involved, both of which have close links to the Saiqa Special Forces Brigade, it is said not to be involved, neither is the Benghazi Joint Security Room.
A number of flights in and out of the city's Benina Airport were cancelled or delayed and roads into the city effectively closed.
The operation follows last Friday night's killing of protestors outside the 17 February Brigade headquarters in Benghazi, after which the brigade was ordered by General Staff to quit the premises. There were then negotiations, but it reportedly refused to do so.
The operation also follows unconfirmed reports that the Chief of Staff, Major General Abdussalam Jadallah Al-Obeidi, was about to dismiss some 400 officers in the east of the country.
Hafter's forces came from east of Benghazi and are said to include a number of tribal groupings. It is reported that some army forces in Benghazi joined them. There are
unconfirmed
claims that Ibrahim Jadhran's Cyrenaica federalist forces also fought alongside them.
Although the BJSR is not involved, its former spokesman Colonel Mohammad Hijazi spoke of Libyan military forces being locked in battle with "terrorist formations" in the districts of Sidi Ferej and Hawari and stated that Libyan "army forces" were now in control of a camp at Rafallah Al-Sahati.
An eyes witness told the
Libya Herald
that tanks belonging to Saiqa had been stationed on the road in front of its camp at Buatni.
It has called on Benghazi resident to keep away from the areas affected by the fighting, an appeal
which
people
have heeded. With t
he sound of occasional explosions heard during the afternoon, the streets in the city, even for a Friday, have been largely deserted.
With input from Moutaz Ali in Tripoli
The Guardian.....
Heavy fighting breaks out in Libya as troops storm militias in Benghazi
Attack leader, a retired general, says operation aims to clear the city of Islamist militias and restore Libya's dignity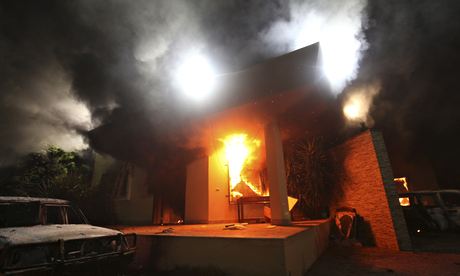 The heaviest fighting in
Libya
since the Arab spring revolution broke out in the eastern capital of Benghazi on Friday as forces led by a retired general attacked militias on the ground and with jets.
Air strikes pounded militia bases at dawn and 6,000 troops converged on the city, storming a series of bases and checkpoints.
Eyewitnesses described a city in chaos, with jets streaking low over rooftops, tanks on the streets, heavy detonations and aggressive fighting.
"The fighting is close to my house," said one resident in the Hawari district. "Planes are going very low, there are explosions, there is fighting around the February 17 [militia] base."
But there were wildly different claims over whether the attacks have official sanction, with the government denouncing the offensive and the local army command saying it was monitoring the situation.
The attack is led by Khalifa Hiftar, a former commander of the 2011 uprising that deposed
Muammar Gaddafi
. Hitfar announced the operation was launched to clear Benghazi of Islamist militias and restore Libya's dignity.
Hiftar, who called on the army earlier this year to mount a coup against the government, appears to have the support of a significant proportion of Libya's armed forces. He insisted the operation was sanctioned by army commanders, saying: "All reserve forces are mobilised. If we fail today, the terrorists win."
But Libya's government insisted the operation had no official sanction, with the chief of the general staff, Abdul Salam Jadallah, branding Hiftar a criminal and ordering Benghazi's militias to fight back.
Air force planes struck the bases of the Rafalla al-Sahati and Ansar al-Sharia militias, the latter blamed by Washington for the attack two years ago on the US consulate that led to the death of ambassador Chris Stevens.
By early afternoon on Friday hundreds of Benghazi residents had assembled on a flyover to watch the battles around militia bases, as jets and helicopters circled above.
There are few foreigners in Benghazi, with most diplomatic missions evacuated after a string of attacks and bombings. Britain closed its consulate in the city in 2012 after a rocket attack on the former ambassador which wounded two of his bodyguards.
Elsewhere in Libya there are reports of pro and anti-government forces mobilising. The capital, Tripoli, is tense after weeks of skirmishes between rival militias.
The attack comes after weeks of chaos and instability in Libya, with the national congress split between Islamists and their allies and non-Islamists.
A new prime minister, Ahmed Maiteeg, was elected earlier this month in a vote opponents labelled fraudulent, and has still to take office, which remains in the hands of former defence minister Abdullah al-Thinni, himself a replacement for Ali Zeiden who was sacked in March.
Earlier this week the Pentagon announced the deployment of a force of 200 Marines, backed by helicopters and vertical takeoff aircraft in Sicily amid growing concerns about Libya's unrest.
And this makes sense now........
WEDNESDAY, MAY 14, 2014
U.S. Marines Deployed To Sicily To Respond To Any Crisis In North Africa
U.S. Positions Forces In Sicily Over Libya Security Fears -- Reuters
May 14 (Reuters) - The Pentagon said on Wednesday it has temporarily moved nearly 200 Marines to Sicily from their base in Spain as a precaution due to concerns about unrest in North Africa, bolstering the U.S. ability to respond to any crisis.
The Pentagon declined to single out any countries but two U.S. officials, speaking on condition of anonymity, said American concerns were centered squarely on Libya, where armed groups and Islamists refused to disarm after the 2011 ouster of Muammar Gaddafi.
The Marines are part of a crisis response unit focused on embassy security created after the attack on the U.S. diplomatic compound in Benghazi, Libya, on Sept. 11, 2012, which killed U.S. Ambassador Christopher Stevens and three other Americans.
That force is meant to speed U.S. response times in north and west Africa.
Read more
....