Zero Hedge.....
6 Ukraine Soldiers Killed, 8 Injured Ahead Of Tomorrow's "Leave Or Face War" Deadline
Submitted by Tyler Durden on 05/13/2014 11:05 -0400
*

SIX UKRAINE SOLDIERS KILLED, 8 INJURED AFTER CONVOY ATTACK

: IFX
*ATTACK ON UKRAINIAN ARMY CONVOY NEAR SEPARATIST-HELD SLOVYANSK
This follows earlier concerns from Germany's Schaeuble who said he "can imagine" a worsening of the Ukraine crisis. As AP reports,
Ukraine's defense ministry says 6 servicemen ambushed, killed in the restive east.
Today
, May 13 , about 13.00 on the outskirts of the village Oktyabrske ,
Slavic district, 20 km from Kramatorska , while driving a convoy of
military units of the Armed Forces of Ukraine was cynical and insidious
fired from an ambush .

Terrorists attacked the Ukrainian paratroopers with grenade launchers, were busy aimed fire with small arms.




Over 30 attackers arrived early and were located along the river in the bushes.

The first shot from a grenade launcher terrorists hit the engine of the other BTRiv who approached the bridge.

There was an explosion.

Other BTR tried to push the damaged fighting machine that caught fire , away from the village.

The soldiers took the fight .




After the first volley of heavy weapons from terrorists killed two soldiers, 3 more were wounded.

Overall, as a result of prolonged clashes killed 6 members of the Armed Forces of Ukraine .

8 injured varying degrees of severity.




All the wounded and dead were evacuated.
if this is any indication what to expect tomorrow when yesterday's 48 hour ultimatum expires, the S&P should easily hit 2000 when the Ukraine civil war bursts out of the gate.
"People's Governor" Of Newly-Independent Luhansk Survives Assassination Attempt
Submitted by Tyler Durden on 05/13/2014 10:41 -0400
Just 2 days after the people of the Luhansk region voted for secession to Russia - despite protestation from the West and calls for delays from Putin - the self-proclaimed "people's governor" of the region has been injured in an apparent assassination attempt this morning. A car carrying Valery Bolotov was shot at and the press office reports that "he is injured and is currently in a private hospital." Of course, it is unclear who opened fire upon the governor but it certainly won't please Putin who has vowed to protect the rights of his people in that region...
Via Novinite,
The self-declared People's Governor of Luhansk Region in eastern Ukraine was injured in an assassination attempt, Tuesday.




A car carrying the Luhansk 'people's governor' Valery Bolotov was fired on Tuesday in the Luhansk region, his press office said, the CNN reports.




"Yes, Valery Bolotov is injured, and he is currently in a private hospital," Southeastern Army spokesman Vasiliy Nikitin told RIA Novosti.




The assassination attempt occurred in the Luhansk Region at around 11:00 am local time, he said, without specifying the perpetrator or the weapon used in the attack. Bolotov's life is not currently in danger, Nikitin added.




The reported attack comes amid increasing tensions in Donetsk and Luhansk regions, where pro-Russian separatists staged a referendum Sunday asking residents whether they should declare independence from Ukraine.
Ria Novosti......
BRUSSELS, May 13 (RIA Novosti) – Ukraine will be able to use the EU's financial assistance to pay off its debt for Russian gas, a spokesman for the European Commission on economic and monetary affairs said Tuesday.
"This is support for the Ukrainian budget with a view [to enabling Ukraine] to make the necessary payments in the energy sector," Simon O'Connor said.
Ukraine and the EU will sign an agreement on the provision of 1 billion euro in financial assistance to Kiev in Brussels on Tuesday, during a visit of the Ukrainian government.
A Ukrainian government delegation, led by Energy Minister Yuriy Prodan will also discuss gas issues with EU energy commissioner Gunther Oettinger in Brussels. The sides are expected to discuss the issues of natural gas supplies from Russia to Ukraine and its transit to EU countries.
Earlier Tuesday, Russian gas giant Gazprom sent an official notification to Ukrainian national oil and gas company Naftogaz about switching to advanced payment for gas supplies. If Ukraine fails to pay for June deliveries by June 2, Gazprom will cut off gas supplies from June 3.
Ukraine has not paid for Russian gas in two months. According to Gazprom, Ukraine's accumulated debt for previous deliveries totals $3.5 billion. On April 1, the price of Russian gas for Ukraine rose to $485 per thousand cubic meters from $268.50, as Russia withdrew two major discounts. Ukraine refuses to recognize the new gas price, which is fully in line with the contract that the two states signed in 2009.
MOSCOW, May 13 (RIA Novosti) – Russian energy giant Gazprom has notified Ukraine's Naftogaz that it will switch to a pre-payment scheme for gas deliveries, with the advance bill for June already prepared, Gazprom spokesman Sergei Kuprianov said Tuesday.
According to Gazprom's gas price for deliveries to Ukraine's Naftogaz, $485 per 1,000 cubic meters, the bill for June comes to $1.66 billion (for 3.42 billion cubic meters).
"The overall debt has reached $3.505 billion, and no one can doubt that this is a considerable and objective reason to invoke the provision figuring in the contract on the pre-payment. A preliminary bill has been sent for June, for 114 million cubic meters daily," Kuprianov said.
Ukrainian state-run gas company Naftogaz must pay the bill by June 2, as June 1 is a Sunday, which is not a working day. Beginning June 3 the company will receive gas for Ukrainian consumers only in the volumes it has paid for in advance.
Gazprom earlier said it would stop deliveries of natural gas to Ukraine if Kiev failed to pre-pay by June 2. The company also voiced concerns that Naftogaz could fail to fulfill its commitments on gas transit, siphoning off gas destined for European consumers.
MOSCOW, May 13 (RIA Novosti) – A phone opinion poll conducted by the German TV channel N-TV has yielded a surprise finding that 89 percent of its viewers sympathize with Russian President Vladimir Putin's policy on Ukraine.
A poll on Russia's handling of the Ukraine crisis by the Berlin-based N-TV went spectacularly wrong in the channel's opinion, when the majority of its audience said "yes" to the question "Do you have understanding for Putin's policy?"
The response was indeed so baffling that the poll was wiped off the N-TV home page the same day, but not before some people managed to make screenshots of it, which they posted online.
A screenshot posted on the Facebook page of Christoph Hoerstel from Potsdam shows that 89 percent answered with a resounding "yes," with the remaining 11 percent responding with a "no." Respondents could choose only those two options.
The subsequent deletion of the controversial survey raised an important question of news coverage in the German mainstream media, which has been remarkably vocal in its disapproval of Russia's stance on Ukraine.
In February, the Ukrainian parliament backed by far-right movements ousted President Viktor Yanukovych and scheduled an early presidential election for May 25.
Moscow has described the uprising in Kiev as an illegitimate fascist coup and a military seizure of power, which resulted in it taking steps to protect ethnic Russians in Ukraine, including the reunification with Crimea.
Russia Today
Kiev military unit shoots at Russian journalists after fight near Kramatorsk
Published time: May 13, 2014 21:05
Ukrainian armed forces have opened fire on journalists from Russia's LifeNews working near the city of Kramatorsk, eastern Ukraine, where fighting broke out between self-defense forces and Kiev's army.
The shooting began around 1 p.m. as three members of a LifeNews crew tried to enter the village of Oktyabrskoe following the fighting. The village is located some 20 kilometers from Kramatorsk.
"We saw that machines were gone and the shooting stopped like half-an-hour ago. We tried to enter the premises of the village to find out what happened to locals, if they needed help, and if there were wounded among them," reporter Oleg Sidyakin told RT. "But as we got closer to the outskirts of the village, we ran into an armored troop carrier with a Ukrainian flag on it and armed people in black uniforms. We were going in a car with 'TV' stickers, indicating that were are press. We stuck hands out of windows, but first there came one shot and then machine gun fire."
Sidyakin said he did not know where the shots were aimed – in the air or above their heads – but still decided to turn away and move to a safer location, in order to avoid provoking armed people.
"I had to make such decision because I could not put in danger the lives of a driver and a cameraman," he said.
The LifeNews reporter said that local residents were shocked, stating that some of them hid in basements. Many still cannot return home. Sidyakin said that phone communication was cut off, which "as self-defense forces told us, is a sign of an 'active phase' of the military operation" conducted by Kiev forces.
Fighting between Kiev's army and local self-defense groups broke out in the afternoon near Oktyabrskoe.
"It was around noon. The Ukrainian army was taking ammunitions to the city of Kramatorsk," local resident Vladimir told RT, citing his friend Aleksandr, who lives nearby. "There is the village of Oktyabrskoe, where there is a bridge [on the way]. Our self-defense blew up a vehicle with ammunition and set Kiev's APC on fire," he said.
According to Kiev's Defense Ministry, a group of around 30 self-defense troops "ambushed a convoy of armored vehicles of one of the military units."
The ministry said the self-defense group came to the scene beforehand and hid in bushes along the river.
"The first shot from a grenade launcher targeted the engine of an APC, which came up to the bridge. There was an explosion. Another APC tried to pull away the damaged machine that caught fire further away from the village. The soldiers engaged in the fight," the ministry's statement read.
Kiev says that six of its army fighters were killed and another eight injured, with one in critical condition.
Hours after the fight, self-defense units confirmed that they "destroyed two of the enemy's APCs."They also reported that one of their militiamen died.
"It is true that there was an armed clash," the Kramatorsk self-defense unit told Interfax. "The enemy retreated."

The fight near Kramatorsk is the latest in a string of local fights as Kiev continues to conduct its "punitive operation" against anti-government activists in southeastern Ukraine, which began May 2.
France refuses to block Mistral warship deal with Russia
Published time: May 12, 2014 17:17
Edited time: May 13, 2014 22:17
The French government has said that it will go ahead with 1.2 billion euro ($1.6 billion) contract to supply Russia with two Mistral helicopter carriers because cancelling the deal would harm Paris more than Moscow.
In the wake of the crisis in Ukraine, the United States had been pressing France as well as Britain and Germany to take a tougher line against Russia and cancel the Mistral contract.
But France refuses to link the helicopter carrier deal to the US/EU debate over tougher sanctions against Russia.
A French government official travelling with President Francoise Hollande in Azerbaijan Sunday, who asked not be named, told reporters that the contract was too big to cancel and that if France didn't fulfill the order it would be hit with penalties.
"The Mistrals are not part of the third level of sanctions. They will be delivered. The contract has been paid and there would be financial penalties for not delivering it.
"It would be France that is penalized. It's too easy to say France has to give up on the sale of the ships. We have done our part," the official said.
President Hollande also said earlier on Saturday that the contract will go ahead.
"This contract was signed in 2011, it will be carried out. For the moment it is not in question,"President Hollande said on Saturday during a visit to German Chancellor Angela Merkel's electoral district.
The Russian defense ministry warned Paris in March that it would have to repay the cost of the contract plus additional penalties if it cancelled the deal.
EU foreign ministers met in Brussels Monday and expanded their sanctions over Russia's stance on the Ukrainian crisis, adding two Crimean companies and 13 people to the bloc's blacklist, EU diplomats said.
They have threatened a further widening of sanction if the Ukrainian presidential elections do not go ahead on May 25.
US Secretary of State Victoria Nuland expressed concern over the deal on May 8 after US lawmakers had demanded more pressure be put on France to stop the contract.
"We have regularly and consistently expressed our concerns about this sale, even before we had the latest Russian actions, and we will continue to do so," Nuland told the House Foreign Affairs Committee.
US Secretary of State John Kerry is due to meet the French Foreign Minister Laurent Fabius in Washington Tuesday and President Barak Obama is expected to raise the issue during a visit to France next month to commemorate the D-Day Normandy landings.
US officials have suggested France could sell the ships to another buyer or sell them without the advanced technology, although it is not at all clear at this late stage who the other buyer could be.
The French deal was Moscow's first foreign arms purchase since the end of the Cold War and was hailed by then President Nicholas Sarkozy has an important step forward in French-Russian relations. The contract has created some 1,000 jobs in French shipyards.
The first of the two ships, the Vladivostok, is due to be delivered by November this year and the second, called Sevastopol, will arrive in St Petersburg for further fitting out with Russian weapons systems in November 2015 and will join the Pacific fleet in the second half of 2016.
The Mistral can carry up to 16 attack helicopters such as Russia's Kamov Ka-50/52, more than 40 tanks or 70 motor vehicles and up to 700 troops. The ships for Russia have been modified from the version used by the French navy to operate in northern altitudes and ice covered seas.
The Russian navy will fit the ships with air defense systems and rapid fire artillery guns to allow them to go on combat missions with fewer escort vessels.
Anti - War....
Insists Vote Was 'Illegal' as Interim Govt Vows to Arrest Organizers
by Jason Ditz, May 12, 2014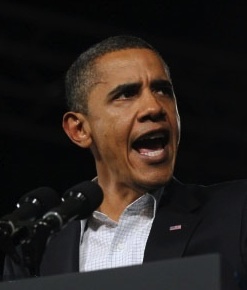 They insist they
consider the vote "illegal"
and that the US is "disappointed" that Russia did not forcibly stop the vote after the organizers rejected calls to delay it indefinitely
The Ukraine interim government, which the US endorses, has been invading the eastern Ukrainian provinces covered by the referendum, and the military attempted to try to disrupt the vote yesterday by attacking polling places and seizing ballots.
The interim government has similarly condemned the referendum as the work of "terrorists," and promised to continue the offensive against the cities in the area.
Praises High Turnout, Warns Against Violence
by Jason Ditz, May 12, 2014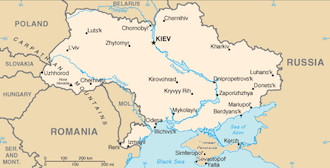 Exactly what this means for those regions isn't clear, and Russia was similarly vague on their view of the matter, beyond saying that now more than ever they
support renewed dialogue
between Ukraine and the protesters.
Russian officials did not address the calls from some in the protest movement to consider accession into the Russian Federation, and indications are that Russia would prefer not to see that happen, as integrating the impoverished industrial area would be extremely costly.
Ukraine's interim government, itself created as a result of protests, has ruled out any negotiation with the eastern protesters, who they dubbed "terrorists." They have likewise condemned the referendum.
First Vote Created More Questions Than It Answered
by Jason Ditz, May 12, 2014
Sunday, eastern Ukraine's Donetsk and Luhansk Oblasts went to the polls to answer the question "do you support the People's Republic of Donetsk?" They answered yes, now they need to figure out what that means.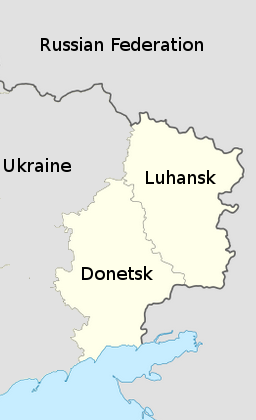 The wording of the referendum was deliberately vague because the protest movement has a lot of different people with a lot of different agendas. Now that the movement in general has a formal imprimatur from the public, their ultimate goal becomes much more important.
That
could well mean a second referendum
, asking if the voters support seeking accession into the Russian Federation, as voters in Crimea did earlier this year. Some protest leaders saw that as the whole point of yesterday's vote, and
want annexation
.
But that's just one possibility. Many protesters saw the whole point of the People's Republic of Donetsk to be something akin to the Kurdistan Regional Government in Iraq, establishing autonomy within the current nation.
Still others are suggesting that instead of staying in Ukraine or joining Russia, the region could go it alone,
establishing themselves
as an independent Novorossiya that may or may not ever seek unity with Russia itself.
Figuring out where Donetsk is headed is all the more difficult because all of this is occurring amid a military invasion by the interim government, which is promising to not only reconquer the area, but "liquidate" the protest movement outright. The situation, if anything, is less resolved than ever.
Russia Today
Russia disappointed over additional EU sanctions
Published time: May 13, 2014 01:33
Edited time: May 13, 2014 03:56
Moscow expressed disappointment over the EU's newly imposed sanctions against Russia, stressing that it is not worthy of the European Union.
"Instead of trying to solve the situation through de-escalation, disarmament of the Right Sector, improvement of dialogue between Kiev's authorities and Ukrainian regions, EU colleagues are demonstrating a one-sided and one-dimensional policy, not worthy of the European Union," Itar-Tass quoted Deputy Foreign Minister Sergey Ryabkov as saying.
Further sanctions were introduced on Monday following the results of referendums that have been announced in Donetsk and Lugansk Regions, showing the majority of voters support self-rule, amid an intensified military operation by Kiev which resulted in several deaths.
EU foreign ministers have expanded their sanctions over Russia's actions in Ukraine, adding two Crimean companies and 13 people to the bloc's blacklist, EU diplomats stated.
The sanctions will come into effect Tuesday. Earlier, 48 Russians and Ukrainians were targeted by EU asset freezes and visa bans over Crimea joining Russia in March.
Among the individuals banned entry to the EU are the chief prosecutor of Crimea and Internet sensation Natalia
Poklonskaya
and her colleague from Sevastopol, Igor Shevchenko. Also the list includes influential individuals such as the deputy head of the presidential administration, Vyacheslav Volodin, the Commander of airborne troops Vladimir Shamanov, State Duma deputy Vladimir Pligin, Crimean administration chiefs and six pro-autonomy activists in eastern Ukraine, reported Itar-Tass.
Following the referendum results, Donetsk People's Republic has proclaimed itself a sovereign state and has asked Moscow to consider its accession into Russia, the Republic's council said.
Russia is
taking its time
before reacting to Donetsk People's Republic's plea while calling for dialogue between Kiev and the eastern regions.
May 13, 12:34
UTC+4
The EU will provide 1.6 billion euro to Kiev
KIEV, May 13. /ITAR-TASS/. Ukrainian security forces special operation continues in the Donetsk and Luhansk regions. pParliament appointed Acting President Oleksandr Turchynov announced at a meeting of the Verkhovna Rada.
He also suggested that the organizers of the referendums in the Donetsk and Luhansk regions, which took place May 11, should be criminally liable.
The EU will provide 1.6 billion euro to Kiev
A delegation of the Verkhovna Rada-appointed Cabinet of Ministers will sign a number of "very important documents" in Brussels on Tuesday, including "an agreement on a 1.6 billion-euro loan to Ukraine," Ukraine's interim President Oleksandr Turchynov said.
"A government delegation led by (the Verkhovna Rada-appointed) prime minister is working in Brussels today where very important documents are planned to be signed, in particular, an agreement on the provision of quite a serious financial resource of 1.6 billion euros to Ukraine," he said.
The Ukrainian delegation will also "discuss the issues of simplifying the visa regime between the EU and Ukraine," he said.
Punitive operation in Ukraine
Earlier, the representative said the Ukrainian authorities were conducting a full-scale sweep operation in Sloviansk, using aircraft and landing troops against civilians. Ten civilians and self-defense activists were killed and 25 people wounded as a result of the punitive operation carried out by Ukrainian servicemen near Sloviansk (Donetsk region).
The death toll from the bloodshed in the Ukrainian Black Sea port city of Odessa has risen to 48. Rioting in Odessa began on May 2 when football fans arriving from Kharkov, eastern Ukraine, as well as activists from the radical Right Sector movement and members of the so-called Maidan self-defence forces from Kiev staged a march along city streets.
The action culminated in clashes with supporters of Ukraine's federalization, during which radical activists set fire to the regional Trade Unions House and a tent camp on Kulikovo Pole Square, where activists were collecting signatures in favour of a referendum on Ukraine's federalization and the state status of the Russian language.
Massive protests against the new Ukrainian authorities, who were propelled to power in Kiev amid riots during a coup in Ukraine in February, erupted in Ukraine's Russian-speaking southeastern regions in March after Crimea's incorporation by Russia. Demonstrators, who are demanding referendums on the country's federalization, seized some government buildings.
The Kiev authorities have been conducting an antiterrorism operation in eastern Ukraine. Russia, which does not recognize the de facto Ukrainian leaders brought to power by the coup, has condemned the operation, apparently aimed to crack down on Ukrainian nationals supporting federalization.
Crimea's urge to reunify with Russia was caused by the republic's refusal to accept the new Kiev authorities. In a March 16 referendum, Crimeans overwhelmingly voted to secede from Ukraine and accede to Russia. The reunification deal with Moscow was signed March 18.
In the Soviet Union, Crimea used to be part of Russia until 1954, when it was gifted to Ukraine by Soviet Communist Party leader Nikita Khrushchev.
Itar Tass.....