RIGGED: PART 1 OF A TWO-PART SERIES
Fixed Soccer Matches Cast Shadow Over
http://deadspin.com/report-qatar-bought-world-cup-with-over-5-million-in-1584326027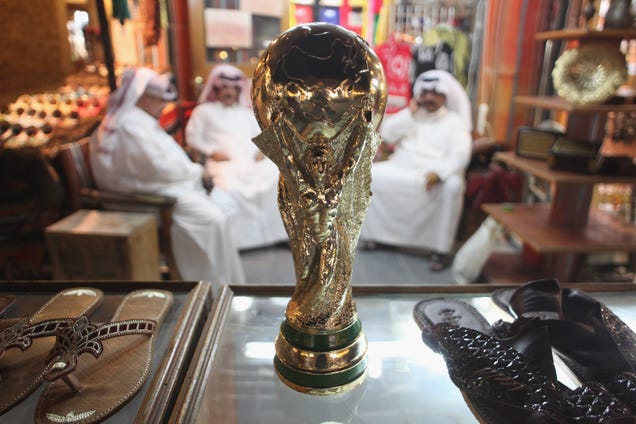 S
EXPAND
Well, at least we know for sure, now.
The Sunday Times
has analyzed "hundreds of millions of emails, accounts and other documents," uncovering the secret payments former Qatari FIFA vice president Mohamed bin Hammam made to international soccer officials to back Qatar's bid to host the 2022 World Cup. So maybe the "
mistake
" wasn't just because of the heat?
The
Times
report is behind a paywall, but the
BBC
has also seen the emails and summarizes it if you don't want to subscribe.
Bin Hammam, Qatar's top soccer official, was banned from world soccer in 2011 when he was caught trying to bribe his way into the FIFA presidency. The ban was
later lifted
on appeal, but he was not cleared of the charges. Qatar football has always maintained that he was not a member of the bid committee and was merely a rogue agent who, it turns out, just happened to be very helpful to the bid. The documents the
Times
received—which includes emails, faxes, bank statements—show a close tie between bin Hammam and the Qatar bid committee.
Following the money trail, it's easy to see how he hoped to gain favor for the 2022 bid.
Buying support across Africa was central to Bin Hammam's strategy because the members of CAF exerted collective influence over how its block of four Exco members should vote. Several of the officials he paid held seats on CAF's ruling executive committee and another nine currently sit on standing committees of the Fifa executive.
Bin Hammam was able to secure votes with "lavish junkets" and straight-up cash. According to the Times at least one of these junkets with money goodie-bags was actually paid for by the Qatar bid. In 2009 bin Hammam hosted three key voters, and 35 other soccer officials in Doha, all on Qatar's dime.
In addition to these junkets, Hammam also made payments totalling up to $200,000 to accounts "controlled by the presidents of 30 African football associations" who were key to securing a pro-Qatar vote. Payments were made from 10 slush funds and bin Hammam's daughter's account.
Some of the emails obtained by the Times are remarkably brazen. One soccer official flat out asks for money in return for his support. In writing.
John Muinjo, president of the Namibian FA, emailed Bin Hammam promising that his federation "will always be behind you in its unequivocal support at all times"and adding that "we would want to be assisted with a once off financial assistance to the tune of U$50,000" to build football pitches.

Bin Hammam responded personally, pledging that it would be "delivered as soon as possible". Last week Muinjo said the money had never reached his account.
Bin Hammam also offered financial assistance to officials and worked to keep unfriendly voters away from the vote. He provided €305,000 to Oceanic executive committee member Reynald Temarii for legal services and private investigator fees. Temarii had been busted in a sting by reporters, admitting he took a $12 million bribe for his vote on the 2022 bidding process.
Temarii was suspended and a replacement voter, thought to be partial to Australia's and/or England's bid—but definitely not Qatar's—was going to vote. Two days before the vote, Temarii was set to step down, and allow his replacement to vote, but Bin Hammam apparently intervened and convinced him to appeal the suspension. This procedural move meant the Oceanic committee, a sure vote against Qatar, was disenfranchised.
Some other bin Hammam highlights:
Funnelled more than $1.6m directly into bank accounts controlled by Jack Warner, the Exco member for Trinidad and Tobago, including $450,000 before the vote

Used his position in charge of Fifa's Goal Programme funds to channel $800,000 to the Ivory Coast FA, whose Exco member Jacques Anouma agreed to "push very hard the bid of Qatar". He also signed off two payments of $400,000 each to the federations of two other voters
You should read the whole thing if you can. Many folks are calling for a divestment of Qatar's bid and a revote held to award a new home for the 2022 World Cup.
http://deadspin.com/fifa-vice-president-would-support-a-re-vote-on-2022-hos-1584458401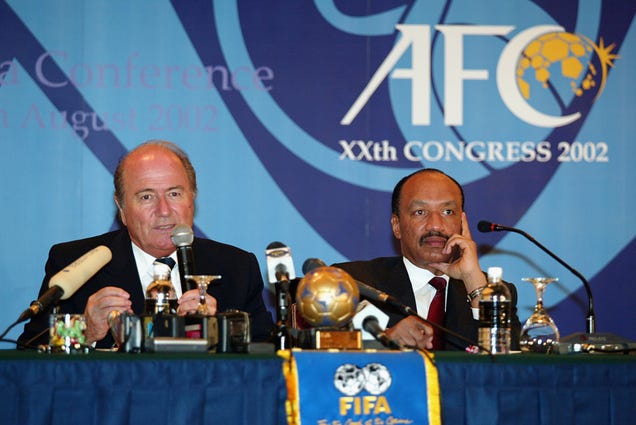 S
EXPAND
On the heels of
The Sunday Times
report detailing Mohamed bin Hammam's successful campaign to
purchase the 2022 World Cup
for Qatar, FIFA vice president Jim Boyce told BBC Radio 5 he would support a re-vote for a new host city. Boyce says the claims in the
Times
report would have to be proven, but if they were and the recommendation was a re-vote,
FIFA would support it
.
FIFA has been conducting its own investigation into allegations of fraud for both the 2018 and 2022 bid awards and investigator Michael Garcia is scheduled to meet with Qatar officials Monday.
"If Garcia reports that wrongdoing happened for the 2022 vote then it has to be looked at very seriously," Boyce told 5 live's Sportsweek programme.

"The Fifa executive committee are 100% behind Garcia," he continued. "He will be allowed to go and speak to anyone from around the world to complete his mission. All evidence should go to him and we will then await a full report on his findings."
The main hang-up so far—the Times has only released a portion of its findings—is creating a definitive connection between bin Hammam and the Qatar bid committee. The committee has claimed he was never an official or unofficial member, which is what they will surely tell Garcia, but according to the report, the documents suggest otherwise.
And now, politicians are calling for action. Independent of these investigations, British Shadow Secretary of State for International Development Jim Murphy recently traveled to Qatar to inspect the
deadly conditions
migrant workers have barely endured as they build Qatar's World Cup infrastructure from scratch. The fraud (if proven), coupled with the life-averse work environment, says Murphy, leaves FIFA no choice but to act.
"There now needs to be a forensic inquiry into each and every one of those emails and documents to work out who paid what, when, for what, and what was the ebb and flow of votes and voting allegiances as a consequence.

"And if that's proven, then the building work in Qatar has to stop, the vote has to be re-run, it has to be free and fair, because football fans deserve that.

"If Fifa doesn't act it's lost the right to lead the world of football," he added.
Both The Sunday Times and BBC sports editor David Bond claim to have reviewed the cache of documents that seem to explicitly point to bin Hammam's efforts to sway the vote in Qatar's favor, so proving it happened could be as simple as making those document public, or at the least, sharing it with FIFA's investigator. The Times is also revealing it's investigation in several parts in the coming weeks, so more proof may also be available.
Photo Credit: Getty Images
World Cup
ILLUSTRATION BY SAM MANCHESTER / THE NEW YORK TIMES; PHOTOGRAPHS FROM FIFA REPORT AND AGENCE FRANCE-PRESSE — GETTY IMAGES
By DECLAN HILL and JERÉ LONGMAN
May 31, 2014
JOHANNESBURG — A soccer referee named Ibrahim Chaibou walked into a bank in a small South African city carrying a bag filled with as much as $100,000 in $100 bills, according to another referee traveling with him. The deposit was so large that a bank employee gave Mr. Chaibou a gift of commemorative coins bearing the likeness of Nelson Mandela.
Later that night in May 2010, Mr. Chaibou refereed an exhibition match between South Africa and Guatemala in preparation for the World Cup, the world's most popular sporting event. Even to the casual fan, his calls were suspicious — he called two penalties for hand balls even though the ball went nowhere near the players' hands.
Mr. Chaibou, a native of Niger, had been chosen to work the match by a company based in Singapore that was a front for a notorious match-rigging syndicate, according to an internal, confidential report by FIFA, soccer's world governing body.
New York Times Investigation Finds Brazen Corruption At The World Cup
REUTERS/Wolfgang Rattay
The New York Times has obtained a shocking report from FIFA, soccer's worldwide regulator, that suggests the World Cup may be
incredibly vulnerable to match-fixing
.
According to the Times article, FIFA found a notorious match-fixing syndicate had infiltrated the last World Cup in South Africa and fixed at least 5 matches. FIFA also found the syndicate was probably helped by South African officials, who were either "easily duped or extremely foolish."
When an official did try to put a stop to the match-fixing, the syndicate made a death threat against the official, according to the Times' account of the FIFA report.



From the NYT article , key takeaways below ....
http://mobile.nytimes.com/2014/06/01/sports/soccer/fixed-matches-cast-shadow-over-world-cup
FIFA, which is expected to collect about $4 billion in revenue for this four-year World Cup cycle for broadcast fees, sponsorship deals and ticket sales, has relative autonomy at its headquarters in Zurich. But The Times found problems that could now shadow this month's World Cup.
■ FIFA's investigators concluded that the fixers had probably been aided by South African soccer officials, yet FIFA did not officially accuse anyone of match fixing or bar anyone from the sport as a result of those disputed matches.
■ A FIFA spokeswoman said Friday that the investigation into South Africa was continuing, but no one interviewed for this article spoke of being contacted recently by FIFA officials. Critics have questioned FIFA's determination and capability to curb match fixing.
■ Many national soccer federations with teams competing in Brazil are just as vulnerable to match-fixing as South Africa's was: They are financially shaky, in administrative disarray and politically divided.
Ralf Mutschke, who has since become FIFA's head of security, said in
a May 21 interview
with FIFA.com that "match fixing is an evil to all sports," and he acknowledged that the World Cup was vulnerable.
"The fixers are trying to look for football matches which are generating a huge betting volume, and obviously, international football tournaments such as the World Cup are generating these kinds of huge volumes," Mr. Mutschke said. "Therefore, the World Cup in general has a certain risk."
Mr. Chaibou, the referee at the center of the South African case, said in a phone interview that he had never fixed a match, and he denied knowing or having ever spoken to Wilson Raj Perumal, a notorious gambler who calls himself the world's most prolific match fixer and whom FIFA called one of the suspected masterminds of the South Africa scheme.
"I did not know this man," Mr. Chaibou said. "I had no contact with him ever."
Mr. Chaibou said FIFA had not contacted him since his retirement in 2011. He declined to answer any questions about money he may have received in South Africa.
The tainted South African matches were not the only suspect ones. Europol, the European Union's police intelligence agency, said last year that there were 680 suspicious matches played globally from 2008 to 2011, including World Cup qualifying matches and games in some of Europe's most prestigious leagues and tournaments.
"There are no checks and balances and no oversight," Terry Steans, a former FIFA investigator who wrote the report on South Africa, said of the syndicate's efforts there in 2010. "It's so efficient and so under the radar."
Think this is a matter of the past ?
http://www.telegraph.co.uk/news/uknews/law-and-order/10858328/Police-investigate-World-Cup-friendly-between-Scotland-and-Nigeria.html
Police have launched an investigation into attempts to fix a World Cup friendly between Scotland and Nigeria that is due to be played in London on Wednesday evening, the Telegraph can disclose.
Officers from the National Crime Agency, Britain's equivalent of the FBI which investigates serious and organised crime, are understood to have asked Fifa to issue an alert over potential attempts to rig the game.
The football match is one of a sequence of friendlies that serve as a warm up for the World Cup in Brazil next month and is due to be played at Craven Cottage, the home of Fulham Football Club.
The Scottish Football Association has been liaising with the NCA after the game was "red flagged".
It is understood that a South American football official is being investigated as part of the inquiry.
Jim Boyce, Britain's most senior football official and Fifa Vice President said that he hoped the police would do "everything in their power to get to the bottom of [attempts to fix the game]".
Premiership footballers are expected to play at Wednesday's game, including Chelsea's John Obi Mikel, Liverpool's Victor Moses and Manchester United's Darren Fletcher. There is no suggestion that any of the players are involved.
There are growing fears that World Cup warm-up matches will be targeted by match fixers acting on behalf of illegal betting syndicates in the Far East. In recent months, there have been a series of arrests following suspected attempts to fix matches in the lower English football leagues. There have also been allegations of illicit activity in cricket.
A Singaporean match-fixer claimed in his book that he helped two international sides qualify for the 2010 World Cup in South Africa.
Wilson Raj Perumal, a convicted match-fixer, claims that he assisted Honduras and Nigeria in reaching the World Cup through his activities.
Stuart Regan, the Chief Executive of the Scottish Football Association, said, "We have been liaising with the relevant authorities, the National Crime Agency and Fifa, and will be preparing for the match as normal."
A spokesman for the National Crime Agency (NCA) said: "The NCA will from time to time provide operational detail necessary for public reassurance purposes. It does not routinely confirm or deny the existence of specific operations or provide ongoing commentary on operational activity".
Fifa has detailed plans to give footballers special briefings on what to do if they are targeted by match-fixers during the World Cup.
For the first time players from all 32 competing nations will be given "integrity sessions" by Fifa officials, when they will be told to report anything suspicious via a special anti-corruption hotline available only to players and referees.
The threat posed to the World Cup by organised crime networks all over the world is being taken so seriously by Fifa that it has put a raft of unprecedented measures in place.
Speaking to the Telegraph, Ralf Mutschke, Fifa's head of security, also issued a stark warning to English football over match-fixing, saying a series of arrests by the National Crime Agency last year should act as a "wake-up call" about the seriousness of the problem.
Mutschke, the most senior anti-corruption official in the world game, also told the British Government it would succeed only in combating the threat to sporting integrity in the UK if it passed a law specifically to deal with match-fixing, something it has so far refused to do.
Mutschke's greatest immediate concern was the World Cup, with the former senior German police officer determined to leave nothing to chance.
"Fifa, and in particular myself, has to make the presumption that the World Cup itself is under threat and implement the maximum protection for our competition as we can," he said. "We are trying to protect the World Cup from fixing and we have set up a pretty wide range of measures to do so."
As well as integrity briefings, those measures will include intelligence-led targeting of high-risk players, referees and fixtures. "We are also indicating the players, the teams and their histories in fixing and making a risk assessment," Mutschke said. "Is it a group match, is it the first match, is it the end-of-a-group match, is it a final? This indicates the vulnerability."
Security agents will appear at each of the 12 World Cup venues, social media will be monitored and scrutiny will be applied to suspicious betting patterns, he said.
Mr Boyce said, "Everyone who loves the game of football will be very concerned with any allegations regarding the serious problem of match-fixing.
"If police have been alerted to the possibility that something may occur tomorrow, I hope they will do everything in their power to get to the bottom of it.
"If anyone is found guilty in any shape or form, they should be banned for life without any form of equivocation.
On Tuesday the director of the European anti crime agency, Europol, said that match fixing was not a "major problem".
"I still don't think it's a major problem in European football, not from what I see," Rob Wainwright, director of the European anti-crime agency, told reporters at Uefa headquarters.
"But we are sending a message that we want to make sure it doesn't become one."
http://www.ftbpro.com/posts/mark.breen/970527/nigeria-vs-scotland-friendly-ends-in-controversy-as-match-fixing-takes-centre-stage
Nigeria vs Scotland Friendly Surrounded By Controversy as Match-Fixing Takes Centre Stage
Wednesday nights pre-World Cup friendly match between Nigeria and Scotlandhas ended in controversy as match-fixing takes centre stage.
Heading into the match, the National Crime Agency were on high alert as the threat of match-fixing was a serious concern. And it appears Nigerian goalkeeper Austin Ejide's antics in the 33rd minute of the friendly may have been exactly what they were looking for.
With his team down 1-0, the 30-year-old took command of his box and challenged for an incoming cross that looked like a routine save for any high level goalkeeper. Instead of making the easy catch however, the Nigerian goalkeeper proceeded to throw the ball into his own net - seemingly intentionally.
The goal was eventually ruled out after the referee ruled Scotland defender Grant Hanley to have fouled the goalkeeper, but Ejide's efforts raise serious suspicion as to the NCA's match-fixing investigation.
Prior to the fixture, the Scotland Football Association had been contact by the NCA to make them aware of the threat, to which the SFA released a statement saying, "We are liaising with the relevant authorities and will prepare for the match as normal."
No Scotland players are thought to be under any suspicion at this time, but there is growing concern regarding match-fixing's place in the pre-World Cup friendlies as
BBC Sport
report a number of upcoming matches leading up to
Brazil
have been "highlighted as potentially at risk."
In BBC's report, a spokesman for a bookmaker revealed there has been "no evidence of the reported issues," but did go on to say that "this sort of activity will be executed in the illegal betting market, and is unlikely to be seen in the UK or European regulated sector."
Football's governing body, FIFA, released a statement prior to the match, aknowledging the NCA's investigation.
"We are aware of the claims published recently.
"Generally speaking, we are not in a position to comment or provide information on any match-manipulation investigations that are ongoing so as not to compromise investigations, nor do we provide any comments as to whether or not any investigations are under way.
"It would only be after a decision has been taken by the Fifa disciplinary committee or Fifa ethics committee and first notified to the parties concerned that Fifa would be in a position to communicate the contents of that decision publicly."