Afternoon news ....... closing in on that 48 hour ultimatum
It's On: Gazprom Prepares "Symbolic" Bond Issue In Chinese Yuan
Submitted by Tyler Durden on 04/10/2014 12:33 -0400
Curious what the fate of the petrodollar is? Look no farther than this Interfax update blasted moments ago by Bloomberg: "Gazprom Considers 'Symbolic' Yuan Bond Issue, Interfax Says."
Bloomberg adds that the gas giant is considering proposals from potential organizers to market bonds in yuan, Interfax reports, citing people with knowledge of the matter.
Gazprom unlikely be able to gain more than $300m due to mkt volume, newswire reports
No mandates, deal timeline yet
Issue may add new investors, become a "topical" public relations act amid tensions with U.S., EU
Well, yes. It's called "symbolic" for a reason. More importantly, it is a symbol of what happens when one can "create" money de novo without the presence of the world's increasingly defunct reserve currency, either secured by gas or by future cash flows, i.e., unsecured.
Confused? Read:
... and the New New Normal flow of funds will suddenly become clear -
Gazprom delivering gas to China.
China Gazprom paying in Yuan (convertible into Rubles)
Gazprom funding itself increasingly in Yuan.
Russia buying Chinese goods and services in Yuan (convertible into Rubles)
And all of this with the US banker cartel completely disintermediated courtesy of the glaring absence of the USD in any of the above listed steps, or as some may call it:
from the Petrodollar to the Gas-o-yuan
(something
40 central banks have already figured out
... just not the Fed).
Putin Warns Europe "No Alternative... Will Cut Gas Supplies"
Submitted by Tyler Durden on 04/10/2014 10:29 -0400
European partners have left Russia with "no alternative" but to halt supplies of gas to Ukraine and Europe, according to a letter from Russian president Putin to European leaders.
*EUROPEAN PARTNERS LEAVE RUSSIA 'NO ALTERNATIVE,' PUTIN SAYS
*

RUSSIA TO HALT UKRAINE GAS IF PAYMENT VIOLATIONS GO ON

: PUTIN
*PUTIN: RUSSIA UKRAINE GAS SUBSIDY WORTH $35.4B IN PAST 4 YEARS
The remarks, as Reuters reports, were the strongest sign yet that Russia could curtail supplies of gas to (and through) Ukraineaffecting supplies of gas to Europe (as they fear Ukraine will siphon off Russian gas meant for Europe). Russia is already reducing its delivery through Ukraine but it stil represents 39% of Europe's demand. Gazprom has also been forced to move to pre-payment terms on any future deliveries (there's your IMF bailout).
President Vladimir Putin has told European leaders a dispute over Ukraine's gas debt to Russia could affect supplies of Russian gas to Europe and proposed urgent discussions on the matter, his spokesman said on Thursday.




The remarks were thestrongest sign yet that Russia could curtail supplies of gas to Ukraine, which could increase tension between Moscow and Kiev and aggravate the worst crisis in East-West ties since the Cold War.




"The situation is urgent,"Putin's spokesman, Dmitry Peskov, said after Putin sent a letter expressing deep concern about Ukraine's $2.2 billion gas debt and warning of a possible impact on the transit of Russian gas to the European Union.




In the letter, Putin proposed "mechanisms of dialogue for urgent discussions of the situation that has developed," Peskov said. He did not give any details about the proposal or say which leaders were addressed.
Putin also added that Ukraine is in trouble...
*PUTIN SAYS UKRAINE IS HEADING TOWARD DEFAULT
*PUTIN URGES TALKS WITH EU MINISTERS ON UKRAINE GAS DEBT
*PUTIN: RUSSIA UKRAINE SUBSIDY INCLUDES $18.4B TAKE-OR-PAY FINE
*GAZPROM FORCED TO MOVE UKRAINE TO PREPAYMENT DUE TO DEBT: PUTIN
Reuters further adds that:
IN LETTER SEEN BY REUTERS, PUTIN SAYS THERE ARE RISKS UKRAINE WILL SIPHON OFF RUSSIAN GAS DESTINED FOR EUROPE
PUTIN SAYS IT IS NECESSARY TO PUMP 11.5 BCM OF GAS INTO UKRAINE GAS STORAGES TO SECURE UNINTERRUPTED RUSSIAN GAS TRANSIT TO EUROPE
PUTIN URGES EUROPE TO URGENTLY DISCUSS MEASURES TO STABILISE UKRAINE'S ECONOMY AND ENSURE DELIVERY AND TRANSIT OF RUSSIAN GAS
We are sure any new sanctions that Obama and his motley crew are coming up with have all of this in mind...
In sum, Russia is saying that Ukraine must build its own gas reserves to guarantee that there is enough for Europe, and Ukraine is saying no. Russia is thus implying that European gas supplies are at risk because Ukraine will take the gas supposedly traveling to Europe.
The math, as performed by Gazprom, via Bloomberg:
Ukraine needs ~18bcm of natgas in underground storage facilities for future winter consumption, to ensure uninterrupted transit of Russian fuel to Europe, Gazprom Deputy CEO Vitaliy Markelov says at govt meeting outside Moscow. Ukraine has 6.5bcm in storage now, ~0.65bcm are in Crimeanunderground storage facilities.Markelov adds that 11.5bcm needed before winter to cost $4b-$5b, if history is any example gas in storage before last winter was 19bcm, and currently has 7.2bcm in underground storage, according to Naftogaz Ukrainy.
So to paraphrase: Gazprom is saying it demands that Ukraine build up its gas holdings to assured it won't syphon off gas with a European destination, gas which will cost Ukraine up to $5 billion, money which Russia is now demand be paid up front. Or else Europe gets it.
* * *
Full Putin letter is below via Itar-Tass(highlights ours):
Ukraine's economy in the past several months has been plummeting. Its industrial and construction sectors have also been declining sharply. Its budget deficit is mounting. The condition of its currency system is becoming more and more deplorable. The negative trade balance is accompanied by the flight of capital from the country. Ukraine's economy is steadfastly heading towards a default, a halt in production and skyrocketing unemployment.
Russia and the EU member states are Ukraine's major trading partners. Proceeding from this, at the Russia-EU Summit at the end of January, we came to an agreement with our European partners to hold consultations on the subject of developing Ukraine's economy, bearing in mind the interests of Ukraine and our countries while forming integration alliances with Ukraine's participation. However, all attempts on Russia's part to begin real consultations failed to produce any results.
Instead of consultations, we hear appeals to lower contractual prices on Russian natural gas – prices which are allegedly of a "political" nature. One gets the impression that the European partners want to unilaterally blame Russia for the consequences of Ukraine's economic crisis.
Right from day one of Ukraine's existence as an independent state, Russia has supported the stability of the Ukrainian economy by supplying it with natural gas at cut-rate prices. In January 2009, with the participation of the then-premier Yulia Tymoshenko, a purchase-and-sale contract on supplying natural gas for the period of 2009-2019 was signed. The contract regulated questions concerning the delivery of and payment for the product, and it also provided guarantees for its uninterrupted transit through the territory of Ukraine. What is more, Russia has been fulfilling the contract according to the letter and spirit of the document. Incidentally, Ukrainian Minister of Fuel and Energy at that time was Yuriy Prodan, who today holds a similar post in Kiev's government.
The total volume of natural gas delivered to Ukraine, as stipulated in the contract during the period of 2009-2014 (first quarter), stands at 147.2 billion cubic meters. Here, I would like to emphasize that the price formula that had been set down in the contract had NOT been altered since that moment. And Ukraine, right up till August 2013, made regular payments for the natural gas in accordance with that formula.
However, the fact that after signing that contract, Russia granted Ukraine a whole string of unprecedented privileges and discounts on the price of natural gas, is quite another matter. This applies to the discount stemming from the 2010 Kharkiv Agreement, which was provided as advance payment for the future lease payments for the presence of the (Russian) Black Sea Fleet after 2017. This also refers to discounts on the prices for natural gas purchased by Ukraine's chemical companies. This also concerns the discount granted in December 2013 for the duration of three months due to the critical state of Ukraine's economy.Beginning with 2009, the total sum of these discounts stands at 17 billion US dollars. To this, we should add another 18.4 billion US dollars incurred by the Ukrainian side as a minimal take-or-pay fine.
In this manner, during the past four years, Russia has been subsidizing Ukraine's economy by offering slashed natural gas prices worth 35.4 billion US dollars. In addition, in December 2013,Russia granted Ukraine a loan of 3 billion US dollars. These very significant sums were directed towards maintaining the stability and creditability of the Ukrainian economy and preservation of jobs. No other country provided such support except Russia.
What about the European partners?Instead of offering Ukraine real support, there is talk about a declaration of intent. There are only promises that are not backed by any real actions. The European Union is using Ukraine's economy as a source of raw foodstuffs, metal and mineral resources, and at the same time, as a market for selling its highly-processed ready-made commodities (machine engineering and chemicals), thereby creating a deficit in Ukraine's trade balance amounting to more than 10 billion US dollars. This comes to almost two-thirds of Ukraine's overall deficit for 2013.
To a large extent, the crisis in Ukraine's economy has been precipitated by the unbalanced trade with the EU member states, and this, in turn has had a sharply negative impact on Ukraine's fulfillment of its contractual obligations to pay for deliveries of natural gas supplied by Russia. Gazprom neither has intentions except for those stipulated in the 2009 contract nor plans to set any additional conditions. This also concerns the contractual price for natural gas, which is calculated in strict accordance with the agreed formula. However, Russia cannot and should not unilaterally bear the burden of supporting Ukraine's economy by way of providing discounts and forgiving debts, and in fact, using these subsidies to cover Ukraine's deficit in its trade with the EU member states.
The debt of NAK Naftogaz Ukraine for delivered gas has been growing monthly this year. In November-December 2013 this debt stood at 1.451,5 billion US dollars; in February 2014 it increased by a further 260.3 million and in March by another 526.1 million US dollars. Here I would like to draw your attention to the fact that in March there was still a discount price applied, i.e., 268.5 US dollars per 1,000 cubic meters of gas. And even at that price, Ukraine did not pay a single dollar.
In such conditions, in accordance with Articles 5.15, 5.8 and 5.3 of the contract,Gazprom is compelled to switch over to advance payment for gas delivery, and in the event of further violation of the conditions of payment, will completely or partially cease gas deliveries. In other words, only the volume of natural gas will be delivered to Ukraine as was paid for one month in advance of delivery.
Undoubtedly, this is an extreme measure.We fully realize that this increases the risk of siphoning off natural gas passing through Ukraine's territory and heading to European consumers. We also realize that this may make it difficult for Ukraine to accumulate sufficient gas reserves for use in the autumn and winter period. In order to guarantee uninterrupted transit, it will be necessary, in the nearest future, to supply 11.5 billion cubic meters of gas that will be pumped into Ukraine's underground storage facilities, and this will require a payment of about 5 billion US dollars.
However, the fact that our European partners have unilaterally withdrawn from the concerted efforts to resolve the Ukrainian crisis, and even from holding consultations with the Russian side, leaves Russia no alternative.
There can be only one way out of the situation that has developed. We believe it is vital to hold, without delay, consultations at the level of ministers of economics, finances and energy in order to work out concerted actions to stabilize Ukraine's economy and to ensure delivery and transit of Russian natural gas in accordance with the terms and conditions set down in the contract. We must lose no time in beginning to coordinate concrete steps. It is towards this end that we appeal to our European partners.
It goes without saying that Russia is prepared to participate in the effort to stabilize and restore Ukraine's economy. However, not in a unilateral way, but on equal conditions with our European partners. It is also essential to take into account the actual investments, contributions and expenditures that Russia has shouldered by itself alone for such a long time in supporting Ukraine. As we see it, only such an approach would be fair and balanced, and only such an approach can lead to success.
Donetsk Creates "People's Army"
Submitted by Tyler Durden on 04/10/2014 13:32 -0400
With tensions rising ever faster in eastern Ukraine, the anti-government (pro-Russia) movement in Donetsk has taken dramatic steps to bolster itself by creating a "people's army," or National Army of Donetsk. As RT reports, masked men, who are mostly civil volunteers, but also police and army defectors, say they "defend their motherland from the fascist army that's going to kill them." They alsodemand "a referendum to be independent from Kiev" and are in favor of "being with Russia."
The Ukraine forces are moving in on Donetsk...
http://rt.com/news/kiev-forces-eastern-ukraine-512/
Standoff between gvt, protesters intensifies, 24 hours before Kiev ultimatum ends
Published time: April 09, 2014 21:57
Edited time: April 10, 2014 07:28
With 24 hours until Kiev's threatened deadline to use force against anti-government protesters occupying buildings in eastern Ukraine, reports emerge of tanks around the city of Donetsk. Several locals were allegedly injured trying to stop the convoy.
An eyewitness confirmed the information about military forces arriving in the city in an interview with RT.
"At about 2pm we received information that military hardware had arrived at our local train station. We went there and saw APCs, military vehicles and troops. The whole town gathered nearby. The soldiers tried to start moving, and the people tried to stop the vehicles," Lyudmila said.
She also noted the harsh response from the military when the locals attempted to stop them.
"The soldiers twisted the arms of pensioners, there were two men standing there and [the soldiers] drove over their feet [in tanks]. I was pulled back by local coalminers while I tried to stop the vehicles. They didn't even look at who was in front of them. The men started shouting for them to stop, saying there were girls and women in front of them, but they didn't care."
According to a decree signed by coup-imposed leader Aleksandr Turchinov, the local administration building in Donetsk and surrounding territory is an "important government facility, which is a subject to state protection."
The decree entered into force upon signature and Turchinov has already given Ukraine's state security service appropriate directions, Itar-Tass reports.
Ukraine's acting interior minister Arsen Avakov stated earlier on Wednesday that a
"special police task force"
had already arrived in Donetsk, Lugansk and Kharkov from western regions of Ukraine and was ready to take them under control within 48 –
using force
, if needed.
The buildings of power structures in the eastern cities of Donetsk and Lugansk remain under control of the protesters. While so far there have been no attempts to recapture the occupied buildings, activists continue building barricades preparing for a possible attack by forces shipped in from other regions of Ukraine.
People are burning bonfires to stay warm in front of the barricades and singing songs to keep up their spirits, with Russian and regional flags waiving in the background. Many women and elderly people are among those on nightwatch in the center of city.
"We will be on duty here all night, because the assault could begin at any moment," one of the activists told Ria Novosti. Thousands more people are ready to stand up against attackers at the first call of those keeping watch around the perimeter. Several times over the last few days activists assembled to train their response to emergency situations.
Activists expect the military operation to take place overnight in Donetsk and Lugansk simultaneously. Local administration in Kharkov was already
stormed
on Tuesday by armed men without insignia and masked law enforcement officers, after the local police in Kharkov refused to fulfil orders from Kiev.
About a hundred fighters from the newly-formed Ukraine's National Guard reportedly arrived in the airport of Donetsk, the deputy director of a local group called People's Militia of Donbas, Sergey Tsyplakov, told Ria Novosti.
"In Donetsk airport about a hundred of people from the National Guard have been housed,"Tsyplakov said. "Around a hundred of Right Sector thugs are also in the city, as well as a hundred employees from a private US military company operating under contract with Kiev junta."
"Totally around 300 professionals or well-trained and motivated fanatics," Tsyplakov added. "This is a major force, but we are ready to fight."
Earlier in the day, pro-federalization activists in Donetsk blocked two busses carrying unbadged armed men in camouflage near the military commissariat. According to Tsyplakov activists believe they were mercenaries but were unable to identify gunmen as they kept silent and refused to answer any questions.
In the meantime, Ukrainian personnel and armored vehicles were spotted moving closer to the city of Donetsk. Amateur videos posted on YouTube show that locals were trying to stop machinery from progressing further.
Protests against the new government in Kiev have been continuing in eastern Ukraine for weeks now. On Monday, popular assemblies in Donetsk and Kharkov, where local administration headquarters were captured by protesters, declared independence from Ukraine and announced the creation of the independent
Donetsk People's Republic
and
Kharkov People's Republic
.
Claims Russian Military 'Ready to Go' on Border
by Jason Ditz, April 09, 2014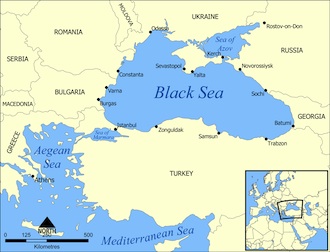 Gen. Breedlove said the plan right now is for a buildup of land, air, and naval assets in the region to "build assurance for our easternmost allies," and that it would mean troops from several nations, including potentially the US, heading to "front-line states."
Breedlove's comments at the conference centered around commercial satellite photos of Russian military bases in the westernmost portion of the country, which he presented as proof Russia has troops "ready to go" in the area.
He went on to say that Russia's assets include "fixed and rotary wing aircraft," unsurprising since a major Russian air force base is in the area near the Ukrainian border.
Suggests Ukraine May Have to Start Paying for Its Gas Up Front
by Jason Ditz, April 09, 2014
A war of words, tinted with matter of economic importance and constant predictions of a military invasion that never comes continues between Russia and Ukraine, with Russian President Vladimir Putin suggesting the interim government of Ukraine be more careful about making "
irreversible
" mistakes.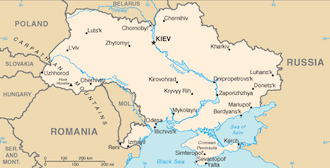 Putin's comments were seen as a warning
against
the planned Ukrainian military offensive against the Donetsk and Luhansk Oblasts, along the Russian border, which Ukraine's Interior Ministry suggests is needed to crush separatist sentiment there.
Ukraine's interim Prime Minister Arseniy Yatsenyuk announced earlier this week that Ukraine
isn't going to pay
for the gas it receives from Russia at all anymore, which is a rhetorical shift from the pro-Russian government that preceded him, but is practically the same, since they were many months behind on their bills themselves, and were constantly making empty promises to eventually make good.
and......
Itar Tass.....
April 09, 17:52
UTC+4
"This is an internal Ukrainian crisis, and those who are holding the reins of power in Kiev now must invite all regions, all political forces to start a dialogue," Russian Foreign Minister says
NOVO-OGAREVO, April 09. /ITAR-TASS/. Russia will attend a quadripartite meeting on Ukraine with the United States, the European Union and the Ukrainian authorities only if it helps Kiev foster contacts with all political and regional forces inside the country, Russian Foreign Minister Sergei Lavrov said.
"We want to understand the purpose of convening this meeting," the minister said on Wednesday, April 9. "This is an internal Ukrainian crisis, and those who are holding the reins of power in Kiev now must invite all regions, all political forces to start a dialogue on the constitution, on the language and all other aspects."
"If this meeting focuses on urging the Ukrainian authorities not to wait for the south-eastern regions to boil over, as is the case now, and on urging them to talk with these regions, we will join this call," Lavrov said.
"But if they: 'take your seats at the table and give them cheap gas', this is probably senseless," he said.
Sergei Lavrov also noted that Russia is ready for dialogue with Ukraine on the price of gas.
He recalled parliament-appointed Prime Minister Arseniy Yatsenyuk's remarks that the Ukrainian budget was based on the price of $485 per 1,000 cubic meters of gas. "Now they are saying that they won't pay until we agree to the price they want," the minister said, adding that there were more questions in relations with Ukraine than there were answers.
"But we are always ready for dialogue," he concluded.
Lavrov said Russia had so far received no reply to its inquiries, including those concerning rumours that Kiev is planning to sell ballistic missile technologies. "We asked the Americans what they think about this. They keep silent," the minister said.
Another inquiry that remains unanswered was about reports claiming that personnel of the private American security company Greystone had been deployed in Ukraine. "They say: we see no reason for this to be true. What a strange answer. Why don't you simply say: there is none of them there?" Lavrov said, adding that there were also other inquiries that had not been answered by the US authorities.
Lavrov recalled that the new Ukrainian authorities had not visited the southern and south-eastern regions of the country even once since February 22 when they took power in Kiev. "They say: there is the Party of Regions and there are communists in the Verkhovna Rada [parliament] and that's enough. But it's not so because many regions think that those who sit in the Verkhovna Rada do not represent their interests," he said.
The minister said he did not know where the meeting could take place. "We want to understand the purpose of convening this meeting," he said.
In discussing ways to resolve the Ukrainian crisis some time ago, Lavrov and US Secretary of State John Kerry did not rule out a quadripartite meeting between Ukrainian, Russian, EU and US officials.
And........