Eastern Europe ( non Ukraine ) news .......
Polish Magazine Lays Out What A Russian Invasion Would Look Like
Submitted by Tyler Durden on 04/02/2014 17:48 -0400
While the recently awakened dormant Russian bear appears content for now having digested the Crimea with barely a burp, Russia's immediate neighbors know all too well that appeasement - which is precisely how the west in its own eyes is viewing Putin's actions even if they will never admit it publicly - never works, most, especially the Baltic states, Finland and not to mention Poland, which was the country that got the raw end of the deal the last time European appeasement failed, are getting increasingly nervous.
So much so that some, in this case Poland, are already preempting the next escalatory steps in what some believe is a hyperbolic attempt to accelerate events so much so that a NATO build up in Eastern Europe forces Russia into a provocative first step so that said neighboring countries can get the backing of NATO instead of them too being sacrificed at the altar of appeasement. Nothing earthshattering here, and all in a day's work when it comes to realpolitik game theory.
So what has Poland in this case done? As the graphic below shows, Polish magazine "
Fakt
" has laid out
the following scenario
of just how a Russian invasion would look like, sweeping the Baltics, Belarus, and all of Ukraine, in one offensive wave. Obviously the implication is that Poland would be next.
What next: will this spark nationalist fervor in the potentially targeted countries leading to even further escalation, and more importantly, will NATO indeed proceed with a military build up which will almost certainly provoke Russia into even further action, which it itself would view as defensive and justified in light of "unwarranted" NATO expansion?
Obviously, nobody knows yet,
although news earlier today
that the US is sending yet another warship into the Black Sea at just a time when the tension over the annexation of Crimea appeared to be boiling over, is hardly the de-escalation signal that is needed to make sure the map above never becomes a reality.
Sees Economic Ruin from Sanctions
by Jason Ditz, April 01, 2014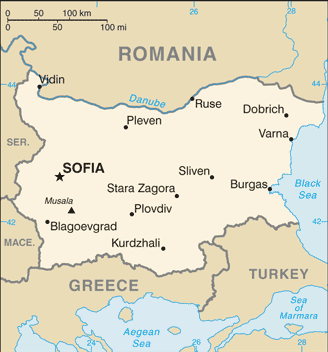 Though Attack has long been portrayed as strongly pro-Russian and averse to the EU, the move isn't simply ideological, as Bulgaria gets an overwhelming amount of energy from Russia, and a sanctions war could spell economic ruin for the nation.
Bulgaria's ruling Socialist coalition has been keen to back Western EU members on the push for sanctions, mostly hoping to curry favor with the EU's power brokers, but risks splitting its own electorate. As the former Communist Party, Bulgaria's ruling Socialists also have strong historic ties to Russia, and are facing calls to veto the sanctions, which any single EU nation could do.
Volen Siderov, Attack's party chairman, says he believes that a veto would do more for Bulgaria's EU standing than going along with the sanctions anyhow, saying he believes French and German officials would be silently thanking them for saving their own nations billions of euros in lost trade.
Polish FM Wants Permanent, Major Presence
by Jason Ditz, April 01, 2014
The Polish government is really using the Russian annexation of the Crimea as a chance to lay out a laundry list of demands for massive increases in NATO military aid today, hitting out at the "
slow pace
" of the build-up so far.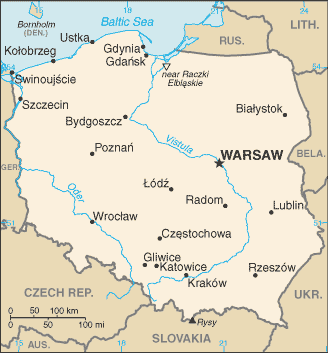 It seems slow because Poland's ambitions for a NATO force are so grand, with Foreign Minister Radek Sikorski pushing for a "permanent" deployment that includes
a minimum of 10,000 ground troops
.
Sikorski complained Poland has been a NATO member for 15 years and all they've gotten was a single conference center out of the deal, insisting he wants a "prominent, major presence."
Prime Minister Donald Tusk added that NATO membership came with a promise of military protection, and expressed annoyance at the lack of ground troops pouring into his country over the "threat" perceived by his government, but which no one seriously thinks is going to end with Russia invading Poland.
Basescu: Troops Coming for 'Specific Missions'
by Jason Ditz, April 01, 2014
The Russian annexation of Crimea has become a catch-all justification for the US to escalate its military presence virtually anywhere even remotely close, and today it was announced they are planning to send hundreds of ground troops to eastern Romania.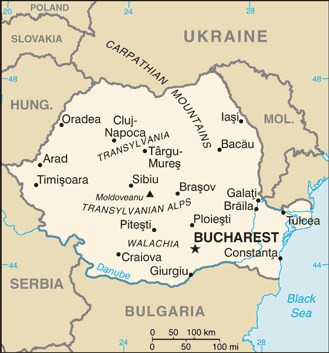 There are already 1,000 US troops in Mihail Kohalniceanu, and President Traian Basescu says the US has requested permission to add 600 more "
for specific missions
" in the Black Sea.
Despite making a huge deal of increasing their sway there, the Black Sea hasn't seen significant naval combat in generations, nor would there be any conceivable reason to expect Romania, a NATO member for the past decade, would even theoretically be a target for invasion by Russia, which doesn't border them.
Projects in Armenia, Azerbaijan Aimed at Spiting Russia
by Jason Ditz, April 01, 2014
US military interest in Azerbaijan usually begins and ends with it being on the border with Iran, but today NATO's interest in the tiny republic centers on its being along a border with Russia.
You can't have a border with Russia these day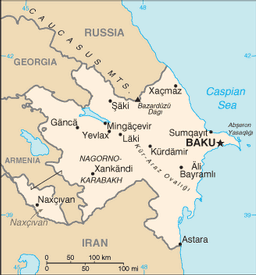 s, or in Armenia and Moldova's case be just kind of close to Russia, without
NATO looking to throw military assets
at you these days to "counter" an imagined Russian threat.
Moldova, which at least sort of borders Ukraine (tiny autonomous Transnistria notwithstanding), is getting a NATO "liaison office," according to the reports, while Armenia is getting full-fledged military exercises, and Azerbaijan is getting a defense rehaul aimed at protecting its offshore oil and gas fields in the Caspian Sea.
While NATO has imagined a looming problem in Moldova over the status of Transnistria, Russia has extremely cozy relations with both Azerbaijan and Armenia, and the only hint of any military tension for either Armenia or Azerbaijan in the region are with one another, not with Russia.
Rather, NATO seems to be looking to use the fiction of an "expansionist" Russia to engage in some military expansion of its own, insinuating itself ever-deeper into Asia for no apparent reason beyond just sticking it to Russia.
Ukraine ......
Tuesday, April 01, 2014 12:51 PM
Russia's natural-gas export monopoly raised prices for Ukraine 44 percent after a discount deal expired, heaping financial pressure on the government in Kiev as it negotiates international bailouts.

OAO Gazprom (GAZP) said Ukraine is losing its right to pay less because it has piled up a debt of more than $1.7 billion since 2013. Ousted President Viktor Yanukovych won a lower price at the end of last year as he grappled with protests after ditching an association agreement with the European Union, on top of a previous discount in April 2010. That may also be overturned, according to Russia's government.

The move raises the prospect that state-run Gazprom may threaten to halt sales to Ukraine, which relies on Russia for about half its gas.

Ukraine has a "very low" 7.2 billion cubic meters of gas in underground storage, Andriy Kobolyev, chief executive officer of state-owned NAK Naftogaz Ukrainy, told reporters in Kiev today. Naftogaz has asked regional governors to limit utilities' gas consumption this month, he said.
Notice how talk of sanctions is winding down. They didn't work and won't work. Russia has the upper hand.
Mike "Mish" Shedlock
Russia: Economic Ties With Ukraine Depend on Foreign Policy
by Jason Ditz, April 01, 2014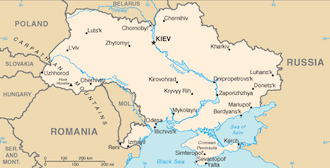 Ukrainian acting Defense Minister Mykhalio Koval said the move was a straightforward chance to improve the military's capabilities, which are very much in doubt giving both the age of their equipment and a widespread defections during the Crimean annexation.
The move sparked a warning from the Russian Foreign Ministry against getting too cozy with NATO, saying growing Ukraine-NATO ties would cause problems both for Russia-NATO relations and for economic ties.
The warning went on to say that "
future economic ties will largely depend
on the actions Ukraine takes in its foreign policy." Though Ukraine's interim government is keen to improve ties with the EU, they remain greatly dependent on Russia for trade, especially in energy.
Russia, EU Back Parliament's Vote on Disarmament
by Jason Ditz, April 01, 2014
Amid reports that one of their members was involved in a shooting at a Kiev restaurant, Ukraine's parliament
has voted to disarm "illegal armed groups"
in the nation, a move aimed primarily at the ultra-nationalist Right Sector.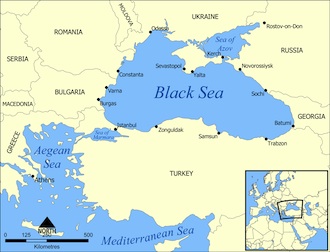 The Right Sector played a major role in the violent protests which installed the current interim government, but the group has
continued
to stir trouble in recent weeks, promising to take a violent revenge on the nation's Interior Minister over the death of one of their leaders, killed in a shoot-out with police.
The order to disarm the group and the ability to actually make it happen are two different things, however, and while police moved on a hotel linked to the group's leadership they are unlikely to disarm the group as a whole without a fight.
Russian officials expressed support for the move, as did foreign ministers from several EU member nations, which urged Ukraine's
new government to distance
itself from the extremist factions.
US House votes in favor of Ukraine aid, Russia sanctions
Published time: April 01, 2014 23:14
Edited time: April 02, 2014 01:44
The US House of Representatives voted strongly in favor of sending aid to Ukraine, supporting a $1 billion loan guarantee for Kiev, and imposing sanctions against Russia for its actions over Crimea.
The aid package was already passed by the US Senate and now only needs to be approved by US President Barack Obama.
The initiative was passed with 378 votes in favor, and supporters of the bill are expecting Obama to sign it into law.
Last week, the vast majority in the US Senate and House of Representatives voted for two bills - to provide Kiev with $1 billion in loan guarantees and to impose sanctions against some leading Russian officials.
As part of the package, the Senate authorized $50 million to help with democracy in Ukraine, governance, and civil society assistance, as well as $100 million for enhanced security cooperation by Ukraine with other states in Central and Eastern Europe.
Besides the financial help, the bill will give official status to sanctions against Russia issued by President Obama.
The West has been putting pressure on Russia in the form of sanctions since the Crimean referendum which resulted in the region's accession to Russia.
On Tuesday, NATO
announced
that it is suspending all military and civilian cooperation with Russia over the Ukrainian crisis. The statement follows a series of meetings in Brussels that were called on Tuesday in response to what the bloc sees as Russia's aggression in Ukraine and its annexation of Crimea.
The Republic of Crimea declared its independence from Ukraine following the March 16 referendum, in which 96.77 percent of voters chose to rejoin Russia.