Thursday, 24 April 2014 11:07
Shock! MH370 Landed Say Officials! SO WHERE ARE ALL THE SURVIVORS?
Written by beforeitsnews.com
As if the MH370 saga couldn't get any more strange, now officials are saying that the flight LANDED according to this newly released video report from Dahboo7 via the original story from the Daily Mail.
Will Americans and the world EVER find out what REALLY happened to this doomed flight or are they sending us off on ANOTHER wild goose chase?
WHERE did this mysterious flight land?
Was it Diego Garcia as long reported by alternative news outlets?
WHY are we just finding out that this plane MAY HAVE LANDED now?
WHAT happened to the survivors of Flight MH370?
HOW were these officials able to keep this secret for so long?
WHEN, if ever, will we ever find out the truth?
The 2nd video below shares more from an MH370 family member.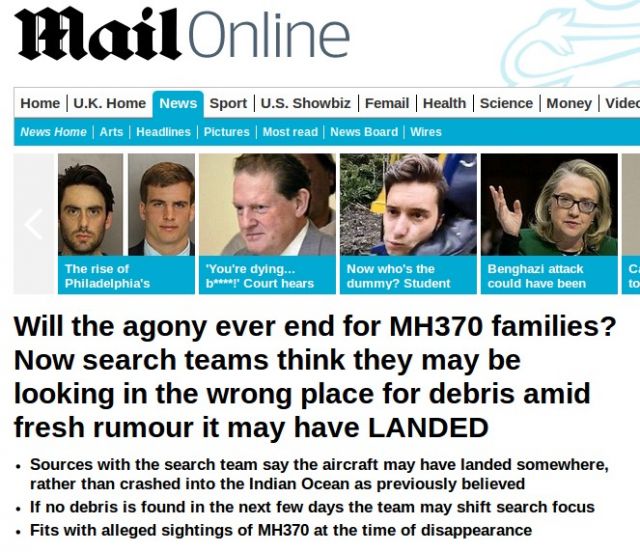 Thursday, 24 April 2014 07:10
WHAT'S THERE TO HIDE? M'sia UNDECIDED on making public report on MH370
Malaysia has yet to decide whether to publicly disclose an initial report submitted to international aviation authorities on the disappearance of Malaysia Airlines Flight 370, the country's director-general of civil aviation said on Wednesday.
The Southeast Asian country has filed the preliminary report as required by the International Civil Aviation Organization, Azharuddin Abdul Rahman told a news conference. He didn't specify when it was filed or offer any details of the contents.
"We have issued the preliminary report and we have sent it to ICAO,'' Mr. Azharuddin said. "We have not make any decision yet whether to release it to the media or public."
Such reports are usually disclosed, in the public interest, although that isn't required. Asked whether Malaysia would eventually disclose details of the investigation into the disappearance, Acting Transport Minister Hishammuddin Hussein said at the news conference that "with the public interest globally, I think there's no way that we can avoid making it public."
Reports to the ICAO, a U.N. body based in Montreal, are required from the country conducting an investigation within 30 days of an accident and would include the sequence of events and other technical aspects.
The Boeing 777-200 disappeared March 8 with 239 people aboard during a flight from Kuala Lumpur to Beijing, and the search is focused on a portion of the Indian Ocean based on analysis of satellite data and possible pings from the flight recorders. No confirmed wreckage has been found.
-stream.wsj.com
Thursday, 24 April 2014 07:15
NOT FROM MH370: Material washed ashore not linked to missing plane - Aussie authority
The Australian Transport Safety Bureau does not believe material found on a beach in WA's South West is connected to the missing Malaysia Airlines jet.
The material was found on a beach in Augusta yesterday by a member of the public and handed to police.
Photos of the items were sent to the ATSB for examination.
ATSB spokesman Martin Dolan has ruled out any link with MH370.
"We've carefully examined detailed photographs that were taken for us by the police, and we're satisfied that it's not a lead in terms of the search for MH370," he said.
The ATSB has also given the photographs to the Malaysian investigation team.
The search continues for wreckage from the Boeing 777, which vanished on March 8 carrying 239 people, including six Australians.
Planes were grounded for a second day on Wednesday after poor weather hampered search efforts.
The aerial search was initially suspended on Tuesday when bad weather caused by ex-Tropical Cyclone Jack moved into the area.
Twelve ships have been continuing the search.
Australia has vowed to keep searching for the missing plane as autonomous underwater vehicle Bluefin-21 nears the end of its first full mission.
Search officials have said that once the Bluefin-21's current mission, 2,000 kilometres north-west of Perth, is finished, they will redeploy the submarine to other areas yet to be determined.
-abc.net.au