http://www.nytimes.com/2014/04/24/world/fbi-informant-is-tied-to-cyberattacks-abroad
WASHINGTON — An informant working for the
F.B.I.
coordinated a 2012 campaign of hundreds of cyberattacks on foreign websites, including some operated by the governments of
Iran
,
Syria
,
Brazil
and
Pakistan
, according to documents and interviews with people involved in the attacks.
Exploiting a vulnerability in a popular web hosting software, the informant directed at least one hacker to extract vast amounts of data — from bank records to login information — from the government servers of a number of countries and upload it to a server monitored by the F.B.I., according to court statements.
The details of the 2012 episode have, until now, been kept largely a secret in closed sessions of a federal court in New York and heavily redacted documents. While the documents do not indicate whether the F.B.I. directly ordered the attacks, they suggest that the government may have used hackers to gather intelligence overseas even as investigators were trying to dismantle hacking groups like
Anonymous
and send computer activists away for lengthy prison terms.
The attacks were coordinated by Hector Xavier Monsegur, who used the Internet alias Sabu and became a prominent hacker within Anonymous for a string of attacks on high-profile targets, including PayPal and MasterCard. By early 2012, Mr. Monsegur of New York had been arrested by the F.B.I. and had already spent months working to help the bureau identify other members of Anonymous, according to previously disclosed court papers.
One of them was Jeremy Hammond, then 27, who, like Mr. Monsegur, had joined a splinter hacking group from Anonymous called Antisec. The two men had worked together in December 2011 to sabotage the computer servers of Stratfor Global Intelligence, a private intelligence firm based in Austin, Tex.
Shortly after the Stratfor incident, Mr. Monsegur, 30, began supplying Mr. Hammond with lists of foreign websites that might be vulnerable to sabotage, according to Mr. Hammond, in an interview, and chat logs between the two men. The New York Times petitioned the court last year to have those documents unredacted, and they were submitted to the court last week with some of the redactions removed.
"After Stratfor, it was pretty much out of control in terms of targets we had access to," Mr. Hammond said during an interview this month at a federal prison in Kentucky, where he is serving a 10-year sentence after pleading guilty to the Stratfor operation and other computer attacks inside the United States. He has not been charged with any crimes in connection with the hacks against foreign countries.
Mr. Hammond would not disclose the specific foreign government websites that he said Mr. Monsegur had asked him to attack, one of the terms of a protective order imposed by the judge. The names of the targeted countries are also redacted from court documents.
But according to an uncensored version of a court statement by Mr. Hammond, leaked online the day of his sentencing in November, the target list was extensive and included more than 2,000 Internet domains. The document said Mr. Monsegur had directed Mr. Hammond to hack government websites in Iran,
Nigeria
, Pakistan,
Turkey
and Brazil and other government sites, like those of the Polish Embassy in Britain and the Ministry of Electricity in Iraq.
An F.B.I. spokeswoman declined to comment, as did lawyers for Mr. Monsegur and Mr. Hammond.
The hacking campaign appears to offer further evidence that the American government has exploited major flaws in Internet security — so-called zero-day vulnerabilities like the recent Heartbleed bug — for intelligence purposes. Recently, the Obama administration decided it would be more forthcoming in revealing the flaws to industry, rather than stockpiling them until the day they are useful for surveillance or cyberattacks. But it carved a broad exception for national security and law enforcement operations.
Mr. Hammond, in the interview, said he and Mr. Monsegur had become aware of a vulnerability in a web-hosting software called Plesk that allowed backdoor access to thousands of websites. Another hacker alerted Mr. Hammond to the flaw, which allowed Mr. Hammond to gain access to computer servers without needing a user name or password.
*****
No-fly list used by FBI to coerce Muslims into informing, lawsuit claims
Case highlights plight of people wrongfully added to database who face lengthy, secretive process to clear their names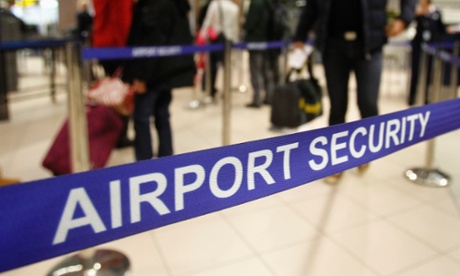 Naveed Shinwari hasn't seen his wife in 26 months. He suspects it's because he refused to become an informant for the FBI.
In February 2012 Shinwari, who has lived in the US since he was 14, flew to Afghanistan to get married. He says that before he could get home to Omaha, Nebraska, he was twice detained and questioned by FBI agents who wanted to know if he knew anything about national security threats. A third FBI visit followed when he got home.
The following month, after Shinwari bought another plane ticket for a temporary job in Connecticut, he couldn't get a boarding pass. Police told him he had been placed on the US no-fly list, although he had never in his life been accused of breaking any law. Another FBI visit soon followed, with agents wanting to know about the "local Omaha community, did I know anyone who's a threat", he says.
"I'm just very frustrated, [and I said] what can I do to clear my name?" recalls Shinwari, 30. "And that's where it was mentioned to me: you help us, we help you. We know you don't have a job; we'll give you money."
Shinwari is one of four American Muslims in a new lawsuit who accuse the FBI of placing them on the no-fly list, either to intimidate them into becoming informants or to retaliate against them for declining.
Filed on Tuesday night in the US district court for the southern district of New York, the case accuses the US attorney general, Eric Holder, the FBI director, James Comey, the homeland security secretary, Jeh Johnson, and two dozen FBI agents of creating an atmosphere in which Muslims who are not accused of wrongdoing are forbidden from flying, apparently as leverage to get them snitching on their communities.
Their lawsuit seeks not only the plaintiffs' removal from the no-fly list but also the establishment of a more robust legal mechanism to contest placement upon it.
"This policy and set of practices by the FBI is part of a much broader set of policies that reflect overpolicing in Muslim-American communities," said Diala Shamas, one of the lawyers for the four plaintiffs.
In recent years Muslim community leaders in the US have stated that they feel law enforcement at times considers them a target, particularly thanks to
mosque infiltrations
and other surveillance practices. Material
demonizing Muslims and Islam
has been present in FBI counter-terrorism training, which the bureau has conceded was
inappropriate
. The New York police department recently
shut down
a unit tasked with spying on Muslim businesses, mosques and community centers in New York and New Jersey.
Like his co-plaintiffs Shinwari does not know for sure that the FBI deliberately placed him on the no-fly list as either a punitive measure or a pressure tactic.
Their four stories differ in important respects.
Jameel Algibhah of the Bronx alleges that the FBI explicitly asked him to infiltrate a Queens mosque and pose as an extremist in online forums. But they have in common an allegation of an implied quid pro quo. "We're the only ones who can take you off the list," an unnamed FBI agent who wanted Algibhah to inform to is alleged to have told him.
Their case follows at least one other,
brought by the ACLU in Oregon
, that alleges the FBI attempted to leverage no-fly selectees into informants. That case also challenges as insufficient the process afforded to people seeking to remove themselves from the list.
Shinwari, who now lives in Connecticut and works for a temp agency, has not attempted to return to Afghanistan to see his wife. While he was able to board a flight last month, he wonders if he received a reprieve from the no-fly list that the FBI offered to him in 2012 as enticement. Repeated attempts to formally remove himself from the list resulted in vague and inconclusive notifications from the government – which he, his co-plaintiffs and his lawyers contend feeds into the problem.
The no-fly list is among the most opaque post-9/11 measures. It is maintained by the FBI and implemented at airports by the Department of Homeland Security. Few know they've been placed on it, and those who do face a complicated redress process to have themselves removed. The new lawsuit alleges that the opacity contributes to watchlist abuse.
According to the FBI's Terrorist Screening Center, which maintains the list, there were approximately 16,000 people, fewer than 500 of them Americans, on the no-fly list as of September 2011.
A larger pool of data that feeds the no-fly list and other government watchlists, known as the Terrorist Screening Database, contemporaneously contained records of 420,000 people. Famously it included
Nelson Mandela
until 2008. The government's policy is to not to confirm or deny someone's placement upon a watchlist.
Several earlier lawsuits have attempted to get people off the no-fly list. In February Rahinah Ibrahim became the first since 9/11 to win such a case, after demonstrating that the FBI adder her name by
mistake
. She had been unable to fly since 2004.
The criteria for inclusion on the list are unclear. In a March 2011 federal court filing Christopher Piehota, the current director of the Terrorist Screening Center, affirmed that FBI agents could nominate candidates to it.
Inclusion on the broader Terrorist Screening Database depends upon "whether there is reasonable suspicion to believe that a person is a known or suspected terrorist", Piehota, then the deputy director of the Terrorist Screening Center, told the eastern district court of Virginia.
"Mere guesses or 'hunches,' or the reporting of suspicious activity alone is not enough to constitute a reasonable suspicion and are not sufficient bases to watchlist an individual." Audits and other quality control measures were periodic, Piehota told the court.
An ACLU
study
last month challenged that criterion. "It is not at all clear what separates a reasonable-suspicion-based-on-a-reasonable-suspicion from a simple hunch," it said, calling inclusion on a government watchlist a potentially "life-altering" experience.
A
redress system
for thwarted travelers was operated by the Department of Homeland Security and referred complaints to the FBI, Piehota further affirmed. A subsequent records check determined "whether the complainant's current status in the TSDB [Terrorist Screening Database] is suitable based on the most current, accurate and thorough information available".
The process was entirely internal, with DHS informing the would-be traveler what the system had determined "without disclosing the traveler's status in the TSDB", Piehota said.
A study by the justice department's inspector general, partially declassified on 25 March, painted a mixed picture of the FBI's watchlisting processes. "Subjects of closed terrorism investigations were removed from the watchlist when the case was closed," it found, but it noted the FBI was "not timely in submitting watchlist nomination and removal packages for individuals not under investigation by the FBI". In such cases it took the FBI a median of 78 days to remove people from the lists.
"Because non-investigative subjects may be retained on the watchlist for an extended period of time, this subset of watchlist practices will continue to grow throughout the years," the inspector general's report said.
The FBI declined to comment on the allegations in the new lawsuit, which was filed by the Center for Constitutional Rights and the Creating Law Enforcement Accountability & Responsibility project at the City University of New York.
Shinwari said his placement on the no-fly list and his dealings with the FBI had a chilling effect. "I don't want to open up to people any more, or express myself politically or otherwise. It's definitely had an effect on me participating in my local mosque," he said.
"I just want to see some changes to this process, and openness and transparency would be good. That's what Obama originally ran for."
Intensive US Drone Strikes on Southern Yemen Lead to Retaliatory Assassinations
An intensive bombing campaign carried out jointly by US drones and Yemeni government forces has left a reported 68 people dead in a three-day-long operation against al-Qa'ida suspects in the south of the country.
The "massive and unprecedented" operation – as one Yemeni official was quoted as describing it – marks a significant escalation in Yemen's fight against the extremist group. As of today, officials said 65 militants were among the dead, as well as three civilians.
The US has targeted al-Qa'ida in the Arabian Peninsula (AQAP), which is based in Yemen, claiming it is the most dangerous al-Qa'ida affiliate in the world. A more likely explanation is that a drone campaign there is easy to conduct because the Yemeni government supports the attacks.
Al-Qa'ida affiliates and jihadist movements exactly similar to al-Qa'ida, such as Jabhat al-Nusra and the Islamic State of Iraq and the Levant (Isis), are much stronger in Iraq and Syria than they are in Yemen.
The drone strikes at the weekend were directed at what was called an al-Qa'ida base in the far south of the country, built in recent months and said to contain a training ground and storehouses for weapons, food and vehicles.
The US has stepped up its drone offensive against AQAP in Yemen in the past two years after the group had captured and later lost several southern cities in 2011. In a show of defiance, AQAP recently posted a video showing its leader, Nasser al-Wahishi, meeting openly with dozens of militants in Abyan province in the south.
Columns of smoke could be seen rising from vehicles hit by drones at the weekend, according to local tribal leaders. The attacked base is in a remote mountain valley called Wadi al-Khayala in the rugged al-Mahfad region at the border between Abyan and the neighbouring provinces of Shabwa and al-Bayda. The Yemeni government said the drone strikes the day before had killed at least 55 militants – though others gave higher figures – including three prominent al-Qa'ida-linked figures.
A drone strike on Sunday night killed three militants, one of whom may have been a senior commander, when a missile blasted their off-road vehicle in the southern Shabwa province, an official said. Witnesses confirmed the vehicle was destroyed and said they saw the charred remains of three individuals.
Shortly after the attack, commandos in an unmarked helicopter arrived to retrieve the bodies, they said. One witness told a reporter from Agence France-Presse that "the operation seems to indicate that one of the dead could be an important leader of al-Qa'ida".
On Saturday, a drone strike in the central province of al-Bayda killed 10 al-Qa'ida suspects and three civilians, the official Saba news agency said.
Yemen is an easy place for the US to be seen to be ramping up "the war on terror", though local observers doubt the long-term effectiveness of the drone strikes.
The Yemeni branch of al-Qa'ida was held responsible for two abortive but well-publicised attempts to bring down planes with explosives hidden in a bomber's underwear and, in another case, concealed in toner cartridges.
AQAP finds it easy to operate in Yemen, which is larger than California, has a population of 25 million and has well-developed smuggling networks for weapons, drugs and people. The political system is dominated by tribes which share out power.
The drones are often successful in hitting vehicles deep in the mountains but there is uncertainty about the importance of individuals killed and, on occasion, these turn out to be innocent civilians.
Political scientist Abdulghani al-Iryani pointed out in an interview with Reuters that there has been a sharp increase in the numbers of al-Qa'ida from several hundred when the drone campaign started in 2003 to several thousand today.
He said: "There are many reasons for the increase of membership of al-Qa'ida, but we cannot rule out that the use of drones and the popular backlash it produced has increased the recruitment opportunities of al-Qa'ida."
The Yemeni government has traditionally used the supposed threat from al-Qa'ida to gain support from the US.
A Yemeni official said that the government had "information that al-Qa'ida was plotting attacks as well as foreign interests in Yemen".
Government MiG-29 aircraft are said to have taken part in raids on the militants' camps. But even if some al-Qa'ida leaders are dead, the organisation, which makes a cult of martyrdom, is unlikely to be permanently weakened.
In an apparent retaliation to the strikes, gunmen shot dead four senior security officers today. Officials said that assassins riding motorbikes in the capital, Sanaa, killed two colonels in military intelligence and one in the military police, while a deputy director of intelligence was shot in Harib in central Yemen.
and.....
After Celebratory Video, Al Qaeda Pounded By Deadly Airstrikes
Dozens of suspected al Qaeda fighters have been killed in the latest in a string of strikes against the terror organization's Yemen affiliate over the weekend, Yemeni officials say, just days after the affiliate released a video of a large daytime militant rally.
A Yemeni official with the Supreme Security Committee told ABC News overnight that on April 19, an American drone strike took out 10 members of al Qaeda but also killed three civilians who were nearby. The civilians "were in a pickup truck that suddenly appeared next to the car that was targeted," the official said.
The next day the committee announced three additional aerial strikes that "completely destroyed" an al Qaeda training facility. Mohammed Albasha, a spokesperson for the Yemeni Embassy in Washington, D.C., tweeted from his personal account this morning that a preliminary assessment of the strikes showed two dozen militants had been killed without any civilian casualties. Later Albasha updated the count to 55 killed, many of them foreign fighters, purportedly including three high value targets. The HVTs, as they are known in counter-terrorism lingo, have not been identified.
The CIA, which in the past has operated lethal drone strikes in Yemen, had no comment on the anti-terrorist operations, nor did President Obama's National Security Council. Today a spokesperson for the Pentagon, which also conducts drone operations in Yemen, declined to address the strikes directly.
"I can't speak to specific operations... but as you know we've got a very strong and collaborative relationship with the Yemeni government," Col. Steve Warren told reporters. "We work closely together with them on various initiatives in the counterterrorism realm, but I don't have any specifics to comment on."
The U.S. State Department, which would also only say the U.S. has a "strong, collaborative relationship with the Yemeni government," told reporters today that according to the Yemenis, "these individuals were planning to target civilian and military facilities."
The strikes came just days after al Qaeda's Yemen affiliate, al Qaeda in the Arabian Peninsula (AQAP), released a
highly-produced propaganda video
showing its leader, Nasir al-Wahishi, speaking before dozens of fighters, including other high-level AQAP targets.
An American official told ABC News then that such a large gathering was "atypical." A State Department spokesperson denied that the video was necessarily a show of strength by the terror group, but said, "We know they've been gaining strength."
Several U.S. officials said the timing of the recent air strikes in Yemen was prompted to counter planning for terror attacks inside Yemen and not the video of the large AQAP gathering.
Top U.S. officials have previously described AQAP as the most dangerous of the al Qaeda affiliates, moreso than the terror group's core cadre led by Ayman al-Zawahiri in southwest Asia.
Counted among AQAP's members is
Ibrahim al-Asiri
, a devious bombmaker who is suspected of constructing explosive devices hidden in printer cartridges for the failed cargo bomb plot of 2010.
In a statement released today, the Yemeni government said they are still in the process of determining the identities of those killed in the strikes.
Still, Albasha said, "AQAP will not vanish overnight. Threats of al Qaeda will not be eliminated with kinetic action. A holistic approach is needed."