Corporate press brazenly lies about bombshell audio tape
Paul Joseph Watson
Infowars.com
March 28, 2014
The mainstream media has spun, mischaracterized and outright lied about a shocking leaked audio tape in which top Turkish military and political officials brazenly plan to stage a false flag attack on their own country in order to create a pretext for war on Syria.
Shocking details of dialogue between top Turkish officials reveals clear evidence of them scheming to launch a staged provocation against Turkish interests that would be blamed on Syria as a justification for military invasion.
Turkish Prime Minister Recep Erdogan admitted the authenticity of the tape when he described the leaking of the audio as "villainous" and "immoral," before moving to ban YouTube.
"I'll make up a cause of war by ordering a missile attack on Turkey," states Hakan Fidan, the head of Turkish intelligence.
"It's a direct cause of war. I mean, what we're going to do is a direct cause of war," adds Deputy Chief of Military Staff Yasar Guler.
Plans to attack the Suleiman Shah Tomb, which is in Syria but considered Turkish territory and guarded by Turkish special forces, are also discussed, with Al-Qaeda terrorists playing the role of patsies.
"Prime Minister said that in current conjuncture, this attack (on Suleiman Shah Tomb) must be seen as an opportunity for us," states Ahmet Davutoglu, the Minister of Foreign Affairs.
"We can also prepare an attack on Suleiman Shah Tomb if necessary," responds Fidan.
"Listen, listen commander if it's a pretext we'll give you one. I'll send over four men and have them fire eight rockets on an empty lot. That's not the problem! Pretexts can be arranged," adds Fidan.
Ambassador Feridun Sinirlioglu responds by asserting that the staged attack will have "legitimacy" because it will be seen as a strike against Al-Qaeda and Turkey will have "the whole world backing us".
"If necessary, we'll mount an attack against that place (Suleiman Shah Tomb)," states Fidan, adding, "we'll do the attack up front."
To be clear, this confirmed audio tape represents 'caught red handed' concrete evidence of Turkish officials planning attacks on their own country to be blamed on Syria as a pretext for military invasion.
The officials also consider how the U.S. would react to the plan, fearing that it could backfire because Turkey may be perceived as weak due to its inability to protect its own interests.
Following yesterday's bombshell revelation of the false flag plot, the mainstream media reacted in unison by ignoring the shocking content of the actual dialogue and instead making the story about how Erdogan banned YouTube, without specifically explaining why it was banned.
Innumerable news outlets euphemistically described the tape as containing discussions about plans for Turkish "intervention" in Syria, mischaracterizing the context and censoring the fact that the tape was a brazen admission of high Turkish officials planning a staged provocation as a pretext to attack Syria.
Reuters even reported
that the conversation, "appeared to centre on a possible operation to secure the tomb of Suleyman Shah," when in reality
the conversation is about attacking the tomb, not securing it.
A
BBC News report
about the tape said it "relates to a discussion of possible military operations in Syria," completely omitting the fact that the tape is centered around Turkey attacking its own interests in a staged provocation.
A
CNN report
goes to great lengths in exploring how and why the audio tape was leaked while failing completely to mention its actual content.
An
L.A. Times report
states that the tape discusses "possible military intervention in Syria". Although the article quotes some portions of the tape, it completely omits key sections where Turkish officials admit they plan to launch false flag attacks.
Although a
Washington Post article
about the leaked tape prints the full transcript, the actual report mischaracterizes it by asserting, "The officials mull whether to strike — or even use ground troops — against the Islamic State of Iraq and Levant, a jihadist group rooted in Syria." The article fails to mention anything about Turkish officials planning to "make up a cause for war" by launching an attack against their own country.
None of these major publications dared to reveal the actual core of the story – that the tape contains bombshell revelations of Turkish military and political officials planning attacks on their own country as a casus belli for war on Syria.
Only
USA Today
somewhat accurately covered the story, reporting that the tape revealed, "that top Turkey officials were plotting to fake an attack against their own country as an excuse to wage war on Turkey."
Given Turkey's NATO membership and its close ties with the United States, this scandal is at least on a par with the Benghazi stand down yet has received minimal and almost universally distorted media coverage given its staggering importance.
News like this is why blogs are essential - mass media cannot be trusted with conveying the truth.....
Where have we seen media discussion of John Kerry's knowledge of Turkey's plotted false flag attack against itself ?
Friday, March 28, 2014 12:03 PM
Normally I stay far away from the rumor mill. Typically, most rumors turn out to be false.
However, actions in Turkey suggest at least some substance to this rumor. Moreover, it's entirely believable. First let's tune in to what Bloomberg reports (which I also commented on yesterday).
Please consider
Turkey Blocks YouTube After Syria Incursion Plans Leaked
Turkey defended its decision to block YouTube after a leaked recording of a meeting where top officials discussed a possible military incursion into Syria appeared on the site.

Foreign Minister Ahmet Davutoglu today equated the leak to an "attack on Turkey's borders" in an interview with NTV television. Davutoglu said he had chaired the meeting with the head of national intelligence and other military and diplomatic officials to discuss how to respond to threats by Islamist militants against an enclave of Turkish territory inside Syria. Some sections of the tape were "doctored," the foreign ministry said in a statement yesterday.

The leaked tape is the latest in a series of recordings posted anonymously on the Internet since December, some of them allegedly from a police investigation, which have embroiled Prime Minister Recep Tayyip Erdogan in a corruption scandal and led to the departure of four cabinet ministers. It comes before weekend local elections, where Erdogan is seeking a victory that he says will lay to rest the allegations of graft.

Under fire since the corruption investigation burst into the open in December, he has purged dozens of prosecutors and thousands of police, as well as imposing media curbs. Yesterday's YouTube shutdown follows similar measures against Twitter last week. The government says some of the recordings were assembled by montage.
What We Know
The above is what is claimed by Erdogan and discussed by Bloomberg. We do know that Erdogan tried to shut down Twitter (but failed), and he did shut down YouTube.
He also called the leak an act of treason and refused to let media even discuss the allegation. What follows is the rumor.
Turkey Transcript
Here is the alleged
Turkey Transcript
involving a plot to invade Syria.
Select Quotes
Hakan FİDAN: But hear me out, we know how to put two and to together. Now, we know that what happens there has no real strategic value for us, besides the political outward appearance and whatever. Now, if we are going to enter a war, let us plan this beforehand and do it. Now, I..

Yaşar GÜLER: That's what we've been saying since the beginning.

THE FIFTH SCREEN

Hakan FİDAN: Now, what I can't accept is this: we are accepting the risk of using weapons for the sake of the Tomb of Suleiman Shah. It's 10 acres of our country's land and we are accepting to risk a war for it, for the *thing* of our 22-28 soldiers over there, for God's sake, how many kilometers of this country's land lie on the Syrian border? And we don't risk a war for for thousands of kilometers of land and the lives of millions of people? That's not logical! If we are going to use weapons, let's do it from the beginning. If these guys pose a threat..

THE SIXTH SCREEN

Ahmet DAVUTOĞLU: Keep this between us, but the Prime Minister told me on the phone that in this conjuncture, we count this (the proposed false flag attack on the Tomb of Suleiman Shah) amongst our options.

Hakan FİDAN: Commander, if we really need a reason, I'll send 4 guys to the other side, I'll get them to launch 8 rockets at empty places. That's no problem! If we need a reason, we can produce it. The thing is to show a mutual will for that. We are exerting a will for war here, and nevertheless we are making the same mistake as we always do, the mistake of not being able to think properly.

Feridun SİNİRLİOĞLU: I'll tell you this, it's 10 acres of land. 10 acres of land is a very strong casus belli in the international jurisprudence, also for justification if we do this operation against the ISIL, we'll have the entire world behind us. Have no worries about that.

THE SEVENTH SCREEN

Feridun SİNİRLİOĞLU: We need justification, justification.

Hakan FİDAN: I told you, I can produce justification if need be. Justification is no problem.

THE EIGHTH SCREEN

Ahmet DAVUTOĞLU: Many a times I've had amicable conversations with Kerry, he asked me precisely about whether we've agreed on a final decision on this strike..
....
This is translated by Doğukan Piyale. I am probably putting my life at risk, but the State never runs out of assassins, so if I'm going to die, I'm going to die anyway. I just wanted to serve the international community and my people by letting everyone know about these warmongering bastards.
Entirely Believable
I do not know whether that is an accurate translation of a real tape or not. But the fact is, it is entirely believable.
Moreover, shutting down YouTube, and then banning media discussion of the tape, while calling its release an act of treason, lends further credence to the rumor.
True or not, that something of this nature could be so easily believable says a ton about the corrupt state of global politics.
Mike "Mish" Shedlock
Turkey says Syria security leak 'villainous' as YouTube blocked

TURKISH FOREIGN MINISTER AHMET DAVUTOĞLU SPEAKS AT A PRESS CONFERENCE ON THURSDAY. (PHOTO: CIHAN)

27 March 2014, Thursday /İSTANBUL, REUTERS

Turkish Prime Minister Recep Tayyip Erdoğan on Thursday denounced as "villainous" the leaking of a recording of top security officials discussing possible military action in Syria to the video-sharing site YouTube.




Turkish authorities ordered a shutdown of the site.

Erdoğan's foreign minister Ahmet Davutoğlu called the posting, an audio file with photographs of the officials involved, a "declaration of war" - an apparent reference to an escalating power struggle between Erdoğan and rivals.

The anonymous posting followed similar releases on social media in recent weeks that Erdoğan has cast as a plot by his political enemies, particularly a Turkish Islamic cleric based in the United States, to unseat him ahead of March 30 elections.

But it took the campaign to a higher level, impinging on a highly sensitive top-level meeting of security officials.

"They even leaked a national security meeting," Erdoğan said at a campaign rally. "This is villainous, this is dishonesty ... Who are you serving by doing audio surveillance of such an important meeting?"

Today's Zaman could not verify the authenticity of the recording.

The account posted what it presented as a recording of intelligence chief Hakan Fidan discussing possible military operations in Syria with Davutoğlu, Deputy Chief of military Staff Yaşar Güler and other top officials.

Speaking to reporters in Kutahya, Davutoğlu confirmed the meeting took place and said: "A cyber attack has been carried out against the Turkish Republic, our state and our valued nation. This is a clear declaration of war against the Turkish state and our nation."
Turkish authorities said they had taken an "administrative measure" to impose a block on YouTube, a week after they blocked access to microblogging site Twitter.

Erdoğan has been the target of a stream of anonymous internet postings suggesting his involvement in corruption. He denies the allegations and accuses a former ally, Islamic cleric Fethullah Gülen, of unleashing a campaign to undermine him ahead of Sunday's elections.
Gulen denies any involvement in the postings and in police graft investigations impinging on Erdoğan and his family. Erdoğan denies graft allegations.

The foreign ministry said the recording was of a crisis management meeting to discuss threats stemming from clashes in Syria and that elements of the recording had been manipulated. The leakers would face heavy punishment, it said.

"It is a wretched attack, an act of espionage and a very heavy crime to record and leak to the public a top secret meeting held in a place where the most delicate security issues of the state are discussed," it said in a statement.

The conversation appears to centre on a possible operation to secure the tomb of Suleyman Shah, grandfather of the founder of the Ottoman Empire, in an area of northern Syria largely controlled by militant Islamists.

Ankara regards the tomb as sovereign Turkish territory under a treaty signed with France in 1921, when Syria was under French rule. About two dozen Turkish special forces soldiers permanently guard it.


"National security issue"

Turkey threatened two weeks ago to retaliate for any attack on the tomb following clashes between militants of the Islamic State of Iraq and the Levant (ISIL), an al Qaeda breakaway group, and rival rebel groups in the area, east of Aleppo near the Turkish border.

"An operation against ISIL has international legitimacy. We will define it as al Qaeda. There are no issues on the al Qaeda framework. When it comes to the Suleyman Shah tomb, it's about the protection of national soil," a voice presented as that of foreign ministry undersecretary Feridun Sinirlioğlu says.

When the discussion turns to the need to justify such an operation, the voice purportedly of Fidan says: "Now look, my commander, if there is to be justification, the justification is, I send four men to the other side. I get them to fire eight missiles into empty land. That's not a problem. Justification can be created."

The foreign ministry said it was natural for state officials to discuss defending Turkish territory.

"In the meeting it was confirmed that Turkey would take necessary steps decisively to protect the security of our personnel at the Suleyman Shah tomb and Turkey's will to defend it in the face of an attack was reiterated," the statement said.

A source in Erdoğan's office said the video sharing service was blocked as a precaution after the voice recordings created a "national security issue" and said it may lift the ban if YouTube agreed to remove the content.

Google said it was looking into reports that some users in Turkey were unable to access its video-sharing site YouTube, saying there was no technical problem on its side.

The ban on Twitter had already sparked outrage in Turkey and drawn international condemnation. Shortly after the YouTube move, the hashtag #YoutubeBlockedinTurkey was trending globally, although some users defended the latest government decision given the sensitive nature of the recordings.




Turkish opposition reacts to leak on
alleged Syria incursion by Turkish
military
REPUBLICAN PEOPLE'S PARTY DEPUTY CHAIRMAN GÜRSEL TEKIN ANNOUNCED ON MONDAY THAT HE INTENDS TO RUN FOR MAYOR OF THE İSTANBUL METROPOLITAN MUNICIPALITY. (PHOTO: CIHAN)
27 March 2014, Thursday /ANKARA, TODAY'S ZAMAN
Opposition Nationalist Movement Party (MHP) Deputy Chairman Oktay Vural criticized the government over newly released audio that reveals a conversation, allegedly between Turkish Foreign Minister Ahmet Davutoğlu and some government officials, on whether or not Turkey should conduct a military incursion into Syria ahead of Sunday's elections.
"Turkey must never be a party to the conflict in Syria," Vural warned, stressing that the leaked audio shows that the ruling Justice and Development Party (AK Party) government looks at the Syrian situation from a political viewpoint rather than through a perspective of national security.

"An intervention into Syria based on tactical and political purposes does not comply with national interests," Vural said.

The audio, which was posted on YouTube around noon on Wednesday, reveals a top secret conversation allegedly between Davutoğlu, Foreign Ministry Undersecretary Feridun Sinirlioğlu, National Intelligence Organization (MİT) head Hakan Fidan and Deputy Chief of General Staff Gen. Yaşar Güler.

Today's Zaman could not independently verify the authenticity of the audio nor could it determine when and how it was recorded.

Main opposition Republican Peoples' Party (CHP) Deputy Chairman Gürsel Tekin said the government has been planning a "provocation" involving Syria and that this has been exposed via social media.

"Now they banned YouTube to prevent the world from learning about it. They know they would be war criminals," he said, adding that the government does not know what to do and is in panic mode.

The Turkish government announced on Thursday that it will block access to YouTube, citing national security concerns.

However, Turkish Prime Minister Recep Tayyip Erdoğan confirmed the meeting at a public rally in the city of Diyarbakır, saying that the wiretapping of his foreign minister's office is "immoral," an act of "cowardice," "dishonest" and "mean."

The conversation in the audio recording focuses on whether the Turkish military should enter Syria to protect the tomb of Suleiman Shah, the grandfather of Sultan Osman I, founder of the Ottoman Dynasty.

The tomb used to be located at Jaber Castle, a historic castle within Syria's borders and a highly sensitive location protected by a contingent of the Turkish army. It was later moved to another location after the castle was flooded due to dam construction.

According to the Treaty of Ankara, which was signed on Oct. 20, 1921 between the colonial power France and the Turkish Parliament, the compound housing the tomb of Suleiman Shah is considered Turkish territory.

The Turkish Foreign Ministry issued a statement regarding the audio, saying that the recording of the highly sensitive meeting attended by people who are responsible for the security of Turkey was leaked to social media and had been tampered with.

It said the senior officials were meeting to make a contingency plan in the case of an attack on the tomb of Suleiman Shah, and it reaffirmed Turkey's determination to defend the tomb.
The statement also said that eavesdropping on conversations in the foreign minister's own office is an attack on Turkey's national security, an act of espionage and a serious crime.
The Foreign Ministry vowed to find out who recorded and leaked the conversation.

In the recording, the alleged voice of Davutoğlu can be heard saying that the "Prime Minister said this [Jaber Castle] must be evaluated as an opportunity at this juncture."

Two weeks ago, clashes between opposition groups -- specifically, the Free Syrian Army (FSA) and the Islamic State of Iraq and the Levant (ISIL) -- reportedly intensified in the region around Jaber Castle. The news that the al-Qaeda-affiliated ISIL had taken control of a town near Jaber Castle prompted immediate reactions from Turkish officials.

When in the recording Fidan asked why they were being persistent on pushing an attack on the tomb of Suleiman Shah, Davutoğlu responded by saying that the pretext for an incursion must be acceptable by the international community.

The Turkish foreign minister also allegedly said, "Without a strong pretext, we cannot tell the US Secretary of State [John] Kerry that we need to take severe measures." Davutoğlu added that Kerry asked him whether Turkey was determined to strike Syria.

According to the audio files, which were also posted on the Cumhuriyet daily's web site, Fidan allegedly said, "If needed, I would dispatch four men to Syria. [Then] I would have them fire eight mortar shells at the Turkish side and create an excuse for war. We can also have them attack the tomb of Suleiman Shah as well."

Sinirlioğlu was also recorded as saying that Turkey's national security has turned into cheap material for domestic political consumption. Gen. Güler allegedly warned, "What we are going to do is a direct reason for war."

Immediately after the leaks, the Turkish media reported that the National Security Council (MGK) had arranged to have an emergency meeting to discuss the matter. However, Prime Ministry sources, talking to the ANKA news agency, denied reports of any such meeting.

Iran-backed terrorist cell infiltrated
Turkish gov't at highest level, leaks
show
DEPUTY PRIME MINISTER BEŞIR ATALAY SPEAKS WITH INTERIOR MINISTER EFKAN ALA IN PARLIAMENT. (PHOTO: TODAY'S ZAMAN)
27 March 2014, Thursday /ANKARA, TODAY'S ZAMAN
Ali Fuat Yılmazer, former chief of the İstanbul Police Department's intelligence unit, has claimed that Iran-linked notorious terrorist organization Tawhid-Salam has penetrated deep into the Turkish government in what amounts to international espionage.
"If details of this case file [on the probe into Tawhid-Salam] are revealed one day, we'll see how a foreign government can act comfortably in Turkey and how it was able to access many senior government officials," Yılmazer said.
"They [members of the Tawhid-Salam terrorist group] have been able to develop relations at the most senior level," the former intelligence chief added.
Details of an investigation into the organization, which Yılmazer described as "the stealthiest and most dangerous terrorist organization of recent times" that Turkey has ever faced, have been coming out as Twitter user @ACEMUSAKLARI uploads photographs and video footage from what appears to be the original investigation file onto online portals.
If the allegations are true, Interior Minister Efkan Ala, National Intelligence Organization (MİT) chief Hakan Fidan and Deputy Prime Minister Beşir Atalay are all involved with the Tawhid-Salam terrorist network.

Turkey's intel chief compromised
The most significant allegation raised by the whistleblower is that Iranian informant Hüseyin Avni Yazıcıoğlu has maintained close contact with Fidan, and that they met several times.
Yazıcıoğlu's wife, Kamile, has claimed that her husband has connections within MİT, the police and the government. And leaked documents indicate that he kept several passports at home as well as reports he wrote for Iranian intelligence services.
Whistleblower @ACEMUSAKLARI alleges that Fidan was recruited by Iran in the 1990s at Shiite study meet-ups in Ankara. And a court-authorized wiretap recorded on June 18, 2012 revealed shocking details on how Fidan was compromised by Iranian intelligence.
A wiretapped phone conversation shows Iran learned about a high-profile spat within Prime Minister Recep Tayyip Erdoğan's government before the Turkish public did. According to the leak, the intelligence chief was passing confidential information on Cabinet meetings to Quds Force commander Sayed Ali Akbar Mir Vekili, which is how Iran found out about a heated exchange between Erdoğan and Deputy Prime Minister Bülent Arınç during the Gezi Park protests of last year two days before the incident was leaked to the press.
Turkish media reported that Arınç had tendered his resignation and stormed out of a Cabinet meeting after a fight with Erdoğan, but was later convinced to withdraw his resignation. Arınç publicly denied the incident, however.
Hakkı Selçuk Şanlı, a suspected member of the network, allegedly helped set up the Quds Force operation in Turkey on orders from then-Revolutionary Guard commander Nasir Takipur in the 1990s. Şanlı was involved in attacks while he was working for Takipur in terrorist plots targeting US interests in Turkey. In police raids against the Tawhid-Salam terrorist network, Şanlı was arrested on May, 13, 2000, but Quds Force agent Takipur fled to Iran. After a trial, Şanlı was sentenced to 12 years in prison, but was freed in 2004 when the Erdoğan government passed an amnesty bill in Parliament reducing sentences for some convicts.
Reportedly, Şanlı kept a low profile for a while after his release -- until he was re-engaged by Iranian agents.
According to @ACEMUSAKLARI's leaked documents, police have since discovered that Şanlı regularly delivers Iranian hush money to the families of the murderers of Turkish intellectual Uğur Mumcu and others killed in the 1990s; that every month, on orders from Mir Vekili, he pays visits to convicts F.Ö., R.A., N.Y. and others; and that Mir Vekili controls a secret cell in Turkey whose membership includes Selçuk Şanlı, Fidan and others. In the 1990s, Şanlı and Mumcu's killer F.Ö. met regularly at a car dealership in Ankara that is owned by Faruk Koca, and Fidan, a noncommissioned officer in the Turkish military at the time, regularly attended the meetings, the leaks show. Koca, one of the founders of the ruling Justice and Development Party (AK party) and later a deputy for the party, is considered a suspect by police in the Tahwid-Salam terrorist investigation.
Koca is generally described as being pro-Iran, and even named his son Khomeini. He was also the landlord of a house Erdoğan rented in the early 2000s. A bug was later found there.
Koca has become wealthy under the Erdoğan government, while he has apparently kept in close contact with Quds Force general Mir Vekili. Koca owns S'LO Cafe, a prestigious coffee and restaurant establishment in Ankara's Çukurambar district, which is patronized by the new elite in Ankara. The investigation discovered that the top floor of the S'LO Cafe is reserved for special guests, and that Fidan had Turkish intelligence secure this location against possible eavesdropping. These special guests -- including Fidan, Koca, Mir Vekili and Şanlı, according to the leaks -- use the back door to access the top floor for meetings.
Mir Vekili is also alleged to maintain two safe houses in İstanbul's Ataköy neighborhood and report directly to Iranian Supreme Leader Ali Khamenei.
Interior minister implicated
Another allegation raised by @ACEMUSAKLARI is that the Salam network established contact with Interior Minister Ala when he was undersecretary for the prime minister. The case file says Iranian Naser Ghafari, a Quds Force operative in Turkey, controls different cells in Turkey. In one cell, Burhan Kavuncu was identified as an agent of influence who has allegedly maintained secret ties with Iran for 30 years. Court-authorized police wiretapping records revealed that Kavuncu frequently talked to Iranian agent Ghafari, who used payphones in Ankara and İstanbul to set up meetings. Police surveillance photographed both men when they met on several occasions.
Kavuncu is alleged to have a wide network in the Turkish government, including the then-prime minister's undersecretary and now interior minister, Ala, who was described as having huge sympathy for the Iranian revolution and Shiite ideology. During Erdoğan's visit to Tehran, where he met with Supreme Leader Khamenei in 2013, Ala reportedly was given Khamenei's prayer stone. Furkan Torlak, Kavuncu's son-in-law, is alleged to be among those who organized planting Iranian sympathizers/agents in the Turkish government. A wiretap audio file recorded on Jan. 4 reveals Kavuncu asking Ala to speed up security clearance for his son-in-law, Torlak, to start working as the prime minister's advisor.
Deputy PM Beşir Atalay named as pro-Iranian
The leak also alleges that Deputy Prime Minister Beşir Atalay has been a long-time Iranian sympathizer as his police background investigation revealed, which was added to the Salam terrorist network investigation case file. The leak claims that Atalay's family origins extend to Iran, even though his family settled in the Keskin district of Kırıkkale province, an hour's drive to the east from the Turkish capital Ankara. His family has been very active in the Shiite Bab-ı Ali (Ehl-i Beyt) İlim Vakfı foundation in the province. The contact address for this foundation in Kırıkkale is listed as the Çile Bookstore, whose owner Bahattin Atalay is the brother of Beşir Atalay.
The investigation file claims that Atalay was exposed to Iranian propaganda throughout his youth. He even went to Iran to attend annual celebrations of the Iranian revolution. A confidential police document dated Feb. 26, 1982, reveals that Atalay, a research assistant in the department of sociology at the Faculty of Management and Economy of Erzurum Atatürk University, went to Tehran to attend the third annual celebrations for the Iranian revolution. He was arrested on April 27, 1983, in Erzurum when police raided different cells as part of an investigation into an Iranian-linked network in the eastern province. Police found Iranian revolutionary documents and materials in Atalay's house. He told the police he had spent 12 days in Iran.
In 1984, police sent a confidential memo on Beşir Atalay to the rector's office at Erzurum University, detailing his activities, which included seminars in student houses praising the Iranian revolution and recruiting for an Iranian group in the university. He reportedly taught a doctrine that Turkey could also be saved with a similar revolution. The police also exposed Atalay's links to then-Iranian Consul M. Tahari at the Iranian Consulate in Erzurum. Atalay also served as the rector of Kırıkkale University between 1992 and 1997 and appointed pro-Iranian sympathizers to key positions at the university. The investigation file claims that he also established the Fifth Way group at Kırıkkale University, which was officially organized under the Fifth Season Association. Its members subscribe to radical Shiite doctrine and praise Shiite ideology as the fifth true school of thought in Islamic law that generally accepts the Maliki, Hanafi, Shafii and Hanbali schools as the leading Sunni schools of thought of Islamic jurisprudence.
Atalay was also believed to be the architect of Turkey's tilt toward Iran during the AK Party rule. He was identified as the key pro-Iranian official in helping Iran sympathizers move to senior positions in the Turkish government. Intelligence chief Fidan and Interior Minister Ala are among many of his protégés, according to Twitter user @ACEMUSAKLARI. He publicly admitted in 2012 that he was the one who helped Fidan make a name himself in the government.
Turkish gov't bans YouTube, steps up pressure on media ahead of elections
(PHOTO: TODAY'S ZAMAN)
27 March 2014, Thursday /İSTANBUL, TODAYSZAMAN
The embattled Justice and Development Party (AK Party) government, which has been the subject of graft allegations, on Thursday banned access to YouTube shortly after banning Twitter, canceling the nationwide broadcasting license of one station and issuing a record number of penalties to another.
The Telecommunications Directorate (TİB) on Thursday afternoon blocked access to popular video sharing platform YouTube hours after a leaked voice recording allegedly featuring the voices of Turkey's foreign minister, intelligence chief and a top army general discussing the developments in neighboring war-torn Syria was uploaded onto the site.

In the voice recording, Foreign Minister Ahmet Davutoğlu, National Intelligence Organization (MİT) Undersecretary Hakan Fidan, Foreign Ministry Undersecretary Feridun Sinirlioğlu and Deputy Chief of General Staff Gen. Yaşar Güler are heard discussing a possible intervention in Syria and potential reactions from the world.

The ban comes a week after Twitter was blocked by the TİB in a move widely seen as a response to leaked voice recordings posted on the micro-blogging site that seem to implicate Prime Minister Recep Tayyip Erdoğan, his close family members and some members of his government in large-scale corruption. However, Twitter's block might be lifted soon, according to Deputy Prime Minister Emrullah İşler.

The 15th Ankara Administrative Court on Wednesday issued an injunction on Turkey's Twitter ban, saying it runs "contrary to the principles of the rule of law." The ban had not been lifted as of Thursday, but İşler said in televised remarks: "To my knowledge, Twitter has carried out the demands of TİB and there are only a few remaining issues. When those issues are resolved, Twitter will be completely unblocked."

The YouTube ban comes only one day after the Radio and Television Supreme Council (RTÜK) canceled the nationwide broadcasting license of the Kanaltürk television station. Kanaltürk, owned by İpek Media, will now only be allowed to broadcast in the Marmara region. Reports said the five AK Party members of RTÜK voted for the cancellation, while Republican People's Party (CHP) members Ali Öztunç and Süleyman Demirkan and Nationalist Movement Party (MHP) member Esat Çıplak objected to the body's decision.
The RTÜK penalty came days after Prime Minister Recep Tayyip Erdoğan vowed to finish off the Hizmet movement -- inspired by Turkish Islamic scholar Fethullah Gülen -- and its associates, including Samanyolu Haber TV.

İpek Media Group head Fatih Karaca, who is also a former chairman of RTÜK, said the decision was against the law. "I have never spoken about any RTÜK action since I left as chairman of the board in July 2005, but I have to enlighten the public on this," he said on Kanaltürk's afternoon news program.

He said before Kanaltürk was bought by İpek Media in 2008, there was a lawsuit ongoing regarding Kanaltürk's nationwide broadcasting rights launched in 2007. In 2011, after changes to the RTÜK law, the new management of Kanaltürk went to court, winning decisions in its favor from the 2nd Administrative Court and later the Council of State. "The decision [to cancel the national license] is based on a trial from eight years ago based on a law that is no longer in force."

He said he hoped the decision was the result of a misunderstanding but also noted it had been taken without a statement in writing from the RTÜK Legal Undersecretariat and apparently in haste. "I was notified at 12:40 a.m. this morning," he said.

Karaca said the nationwide broadcast license only relates to analog land frequency broadcasts which account for less than 1 percent of the station's audience. He said the license does not concern digital, cable or satellite broadcasts but noted that there was an attempt to create a misunderstanding.

He said news stories that Kanaltürk can now only be accessed in the Marmara region were untrue, adding that an advertising agency had e-mailed companies this false information as well. He said the company, which he did not name, and the RTÜK board will be held legally responsible for any financial losses Kanaltürk might incur due to the wrong perception created by the decision.

Karaca also said Kanaltürk has filed an application for a review, and he believes the decision will be reversed after RTÜK reviews it.

The move to cancel Kanaltürk's license comes shortly after RTÜK issued 36 broadcast suspension penalties for several programs of the Samanyolu Haber TV news station.
Commenting on the recent developments, Nationalist Party Movement (MHP) Ankara deputy Özcan Yeniçeri said recent developments, such as the ban on Twitter and leaked recordings allegedly proving that Erdoğan dictated the headlines of the Habertürk daily through government press commissioner Fatih Saraç, clearly demonstrate the prime minister's attitude towards society's access to news.

Yeniçeri further noted: "RTÜK meting out a deluge of penalties to networks that are not part of the chorus that broadcasts all of the prime minister's speeches uninterruptedly is a sign of a one-man regime. The pressure and intimidation on some of the media is reminiscent of [Josip] Tito's Yugoslavia. He is trying to find excuses to disable the institutions that he cannot shut down."

"As the single-party and one-man mentality is out there, his allies and the bureaucrats that are helping Erdoğan are also responsible for what's going on. At a time when freedoms are under threat and the principles of democracy and human rights are being destroyed, it is impossible not to expect to step up pressure on the media. But with these actions Erdoğan and his accomplices are losing legitimacy."

Republican People's Party (CHP) Deputy Chairman Gürsel Tekin said the government is ready to risk a war with Syria in an attempt to minimize the corruption scandal.

"Unfortunately in this state of emergency they have started, the rule of law has been suspended. It is obvious that the AKP, which is enforcing its own laws, will prevent information from being disseminated to the public."

He said punishing networks that broadcast the news against "hired people who disseminate propaganda for Erdoğan" is an indication that a "one-man regime" is in place. "There is no legal basis or convincing reason for canceling the license of a national network," Tekin said.
CHP Konya deputy Atilla Kart, who is a member of the parliamentary Constitution Commission, said: "We are faced with an administration that is prepared to carry out any illegality to make sure that graft evidence doesn't make its way to the public. We are faced with a government that doesn't hesitate to manufacture evidence in order to prevent people from receiving information. All these illegal actions are being carried out for personal and political interests."

He said Kanal Türk is making an effort to ensure that the public is properly informed. "Intolerance towards publishing and broadcasting in line with the principles of journalism has become the motto of the government." He described the point Turkey has reached as "extremely worrying" in terms of societal and regional peace, claiming the government has shown it will not hesitate to go to war with Syria to protect its own interests.

Meanwhile, in a statement regarding the penalties, Samanyolu Media Group head Hidayet Karaca said, "These incredible penalties issued against our institution just ahead of elections which are taking place amidst graft and illegality scandals have a special meaning."

Thirty-six suspension penalties -- all related to broadcasting about the local elections -- is a record number of penalties in the history of Turkey's television broadcasting, according to a tweet from Samanyolu Haber TV Editor-in-Chief Metin Yıkar, who also noted that the news program at Samanyolu Haber TV -- whose broadcast has been suspended -- would be broadcasted on Samanyolu TV.

Hidayet Karaca said: "With this last decision, RTÜK has clearly shown the kind of instrument of pressure on the media it has turned into at the hands of the government. The purpose of the penalties is clearly understood by the people." He said the Samanyolu Media Group will continue broadcasting honest and impartial news but said those who are behind the illegal actions of today will be remembered as "dark stains" on the country's democracy.

MHP Deputy Chairwoman Ruhsar Demirel said the government was finding new ways of censorship. "The government, which is increasing pressure in every sphere, is doing all that it can to limit freedom to access news and information. It is demonstrating that it won't hesitate to resort to all kinds of illegal actions," she said.

She noted that the cancellation of licenses and suspensions not only violate fundamental rights, but also intervene in free trade. "Can these illegalities that local businesses are subjected to attract foreign investors? Erdoğan doesn't care about the league of countries that Turkey, isolated from the rest of the world to such an extent, has fallen into. He has other targets. People close to him are also complicit in this."

US expresses concerns over YouTube ban
Reacting to the YouTube ban in Turkey, US State Department spokeswoman Marie Harf in Washington said the United States opposes "any action that encroaches on the right of free speech or free expression."

Harf said US officials "continue to urge the Turkish government to unblock its citizens' access now to YouTube, but also still to Twitter."

"Well, we're having conversations to discuss the whole range of issues about freedom of expression in Turkey. As we said, our folks discussed Turkey's new internet law, the shutdown of Twitter, and they shared US positions on internet freedom, privacy, and internet governance. We've been conveying in these meetings and others on the ground with the ambassador our very serious concerns about what the Turkish Government has done in the internet law, with Twitter, now with YouTube, and very strongly saying that they need to stop doing this. So it's a constant conversation. The legal issue's not ours, but we're talking government to government about how Turkey can move forward," said Harf in response to a question.

US Senators condemn Turkey's ban on social media, introduce resolution
US Senator Chris Murphy (D-Conn.), Chairman of the Foreign Relations Subcommittee on European Affairs, and US Senator Ron Johnson (R-Wisc.) Ranking Member of the Foreign Relations Subcommittee on European Affairs, introduced a resolution condemning the government of Turkey for blocking social media sites like Twitter and YouTube, and restricting the free expression of the Turkish people, a press statement said.

"The touchstone of a modern and legitimate democracy is the freedom of expression enjoyed by its people. In 2014, a fundamental expression of that freedom is a people's access to social media sites that allow them to share information and contribute to a conversation about the world around them," said Murphy in the statement, published on his official website on Thursday. "By allowing sites like Twitter and YouTube to remain blocked, Prime Minister Erdo?an is defying an order from his very own courts. If the Turkish government wishes to move toward eventual integration into the European Union, they should reverse course and respect the right of the Turkish people to exercise their basic democratic freedoms."

"The Turkish government's attempt to control what its citizens learn about their leaders reminds us how crucial the freedom of speech is. It also reminds us how cautious we must be about any changes in the oversight of Internet governance. The ability of any private citizen to compete openly in offering information to others has made the Internet one of the greatest deregulatory success stories of all time. The Turkish shutdown of Twitter and YouTube for political purposes shows the danger of foreign governments gaining control over this incredible forum for liberty," Johnson said.

Full text of the resolution:

Condemning the actions of the Government of Turkey in restricting free expression and Internet freedom on social media.

Whereas an independent, unfettered media and freedom of expression, including on the Internet and social media sites, are essential elements of democratic, open societies;
Whereas infringement of press freedom in Turkey is a serious concern, with more journalists currently imprisoned in Turkey than in any other country;

Whereas millions of people in Turkey, including senior members of the Government of Turkey, use Twitter and other social media sites to communicate on a daily basis;
Whereas the Government of Turkey imposed a country-wide ban on access to Twitter on March 20, 2014, blocking the use of the communications platform to engage in political speech;

Whereas respected non-governmental organizations such as Amnesty International, Reporters Without Borders, and Freedom House have condemned the decision to block Twitter as an attack on internet freedom and freedom of expression in Turkey.
Whereas the President of Turkey, Abdullah Gul, defied the ban to send out a series of tweets questioning the government's actions;

Whereas the Turkish Bar Association argued that the ban is unconstitutional and in violation of Turkish and European human rights laws; and

Whereas, on March 26, 2014, the Turkish district court in Ankara blocked implementation of the ban due to the restriction on freedom of expression and communication that are protected by the Turkish Constitution and the European Convention of Human Rights; Now, therefore, be it

Resolved, That the Senate—

(1) condemns the Government of Turkey's restrictions on freedom of the press, freedom of expression, and internet freedom in Turkey;

(2) recognizes the critical role that technology and social media sites play in helping independent journalists and the general public to communicate and access information;

(3) reaffirms the centrality of internet freedom to efforts by the United States Government to support democracy and promote good governance around the world;

(4) calls on the Government of Turkey to immediately end its restrictions on press freedoms, including social media, and restore access to Twitter.

Source: http://www.murphy.senate.gov/newsroom/press-releases/murphy-johnson-resolution-condemns-turkish-government-for-blocking-twitter-stifling-free-speech

Censorship of social media platforms must stop in Turkey, says OSCE media freedom representative
By blocking access to social media platforms Turkey deliberately disregards the fundamental right to freedom of expression and freedom of the media, Dunja Mijatović, the OSCE Representative on Freedom of the Media said today.

"Within one week, access to Twitter and YouTube has been blocked in Turkey," Mijatović said. "A regulator exercising censorship by blocking is unacceptable in democracies, and it breaches numerous OSCE and other international standards that Turkey has committed to."
On 27 March Turkey's telecommunications authority (TIB) blocked YouTube in the country.
"I call on the authorities to preserve the free flow of information and media freedom both online and offline, and immediately restore access to YouTube. I also urge TIB to reinstate Twitter services without delay following yesterday's court decision annulling the ban on the website," Mijatović said.

The OSCE Representative on Freedom of the Media observes media developments in all 57 OSCE participating States. She provides early warning on violations of freedom of expression and media freedom and promotes full compliance with OSCE media freedom commitments.

HRW Statement:

Turkey: YouTube Block Violates Free Expression
Twitter Remains Restricted Despite Court Ruling
The Turkish government's decision to close down YouTube by administrative order is a disastrous move for freedom of expression and the right to access information in Turkey, Human Rights Watch said today. The government similarly closed down Twitter on March 21. The restrictions violate Turkey's obligations under international human rights law and domestic law.
The closure of YouTube by a decision of Turkey's Telecommunications Communication Directorate came shortly after two leaked conversations were posted on the site. The conversations purported to be the foreign minister, his undersecretary, the head of the National Intelligence Agency, and deputy chief of staff of the Turkish Armed Forces discussing Turkey's Syria policy.
"The decision to close down a whole website because of some content is arbitrary, disproportionate, and a flagrant violation of free speech and the right to access information online," said Emma Sinclair-Webb, senior researcher for Turkey at Human Rights Watch. "The order blocking YouTube should be reversed immediately, and access to Twitter restored without delay."
Twitter was blocked following three court rulings on particular content and accounts. While an Ankara administrative court ordered a stay of execution on the order on March 26, the Telecommunications Communication Directorate has yet to implement the court order by unblocking the site.
Users of both sites in Turkey have circumvented the blocking orders by means of proxy sites, although some proxy sites have also been blocked. The Twitter block has drawn widespread international criticism, including from the United Nations high commissioner for human rights, the European Union, and the United States government.
In February the Turkish government adopted changes to its already restrictive Internet law, giving the Telecommunications Directorate further power to block particular content.
On December 18, 2012, the European Court of Human Rights ruled, in the case of Ahmet Yıldırım v. Turkey, that blocking Google Sites in Turkey violated the right to freedom of expression. A Turkish court had ordered the complete blocking of Google Sites because of one person's post. The European Court found that Turkey's legal framework was inadequate and did not prevent abuses and arbitrary application of blocking measures. YouTube has also been blocked in Turkey in the past, in the period between 2007 and 2010.
"The European Court of Human Rights ruled in 2012 against Turkey's practice of blocking websites, but the government has completely ignored the court's judgment, choosing instead to impose greater restrictions on its citizens' access to the Internet," Sinclair-Webb said.
WRAP UP: Ankara on alert after spying on security meeting leaked
The fresh leak gives yet another headache to the government three days before crucial local polls.
The Turkish government was seriously rocked after an illegal recording of a key high-level security meeting on Syria was leaked through YouTube on March 27, and vowed to impose the "heaviest penalty" on the perpetrators of such "treachery."

"These gangs of treachery are the enemies of our state and people. The perpetrators of this attack targeting the security of our state and people will be found out in the shortest time and will be handed over to justice to be given the heaviest penalty. This treacherous attack targeting the Republic of Turkey will be disrupted," the Foreign Ministry said in a written statement late March 27.

Prime Minister Recep Tayyip Erdoğan also strongly criticized the leakage in an election campaign in Diyarbakır on Thursday, describing the move as "immorality, dishonorableness, and vileness." Erdoğan blamed the Fethullah Gülen community, or "Hizmet" movement, for the leak and reiterated his government's commitment to "walk into their den." Foregin Minister Ahmet Davutoğlu described the move as open declaration of war against the state and its people, in a statement late Thursday.

An Ankara prosecutor responsible for prosecuting crimes committed against the constitutional order immediately launched an investigation on spying charges into the leak. The prosecution will be carried out by Prosecutor Fethi Şimşek, former head of the Telecommunications Directorate (TİB).

'Hi-tech device' suspicion

In the recording, officials are heard discussing the security situation in Syria. According to the Foreign Ministry statement, the meeting was taking place at Foreign Minister Davutoğlu's office. There are also reports that the Foreign Ministry also launched an internal investigation after the leak and made searches of bugs inside its premises.

The voices of the illegal recording believed to belong to Davutoğlu, National Intelligence Organization (MİT) Hakan Fidan, Foreign Ministry Undersecretary Feridun Sinirlioğlu, and Deputy Chief of General Staff Gen. Yaşar Gürel. According to the information obtained from sources, the recording consists of a chat between four officials in Davutoğlu's office before the commencement of the official meeting with the participation of more civil and military bureaucrats in another room at the Foreign Ministry. The meeting is believed to be recorded by a hi-tech device that allows perpetrators to record a meeting within a few hundred meters distance. The recording is the latest in a series of leaks, which has become a huge headache for the government on the eve of the local polls on March 30.

Leakage angers Gül

President Abdullah Gül met with Sinirlioğlu on March 27, after the released wiretapping, but the meeting was scheduled beforehand, sources told Hürriyet Daily News. The illegal recording was discussed among other issues, according to sources. The HDN learned that President Gül "burst with anger" because of the news that a key security meeting was recorded and leaked to the public opinion. But rumors that he would call the National Security Council (MGK) for an extraordinary meeting were denied by the presidency and the MGK on March 27.

Leader of the main opposition Republican People's Party (CHP), Kemal Kılıçdaroğlu said the leakage was proving that the state was trodden because of the government's inability to run the country. "The state's most confidential data can easily be leaked. Why? Because you have never cared for the state and the citizens. The only thing you thought was to let Turkey enter into war with Syria," he told reporters late Thursday.

Content 'distorted'

The ministry statement confirmed the meeting, in which the situation regarding the Süleyman Shah Tomb was discussed, but said the leaked content was "distorted."

"It's only a natural exercise, and part of the duty of relevant institutions to make evaluations to defend a piece of the homeland under terrorist threat," it read, adding that the meeting confirmed Turkey's commitment to defend both the tomb and its soldiers deployed at the military outpost.

In the meantime, the Supreme Council of Radio and Television imposed media ban for the broadcast of the leakage of the illegal recording and of its content.

The Süleyman Shah Tomb, located 25 kilometers inside Syria, is officially Turkish land following bilateral and international agreements made the early 1920s. With the escalation of tension inside northern Syria, there have been claims that a number of terrorist groups threatened to attack the tomb unless Turkish troops left.

"The recording and leaking of such a top secret meeting in the foreign minister's office, where the state's most sensible security-related issues are being discussed, constitutes a nefarious attack against Turkey's national security, an act of espionage, and a very serious crime. This incident reveals the magnitude of cyber and electronic threats our country is facing," the Foreign Ministry statement added.

More scandal.......
Probe into Baykal's sex tape stalled with frequent prosecutor changes
FORMER CHP LEADER DENIZ BAYKAL (PHOTO: CIHAN)
27 March 2014, Thursday / AYŞENUR PARILDAK, ANKARA
A four-year-old investigation into finding the plotters of a 2010 scandal involving an extramarital affair between former main opposition Republican People's Party (CHP) leader Deniz Baykal and party deputy Nesrin Baytok has gone nowhere fast due to frequent changes of prosecutors.
The investigation into the sex tape conspiracy which forced Baykal to step down from his position has been brought onto the agenda after an audio recording was leaked purportedly of Prime Minister Recep Tayyip Erdoğan instructing to his aides to disseminate Baykal's videos on the Internet.
The investigation was the responsibility of the Ankara Chief Public Prosecutor's Office and was being carried out by specially authorized units within the office in accordance with Article 10 of the Counterterrorism Law. The prosecutors in charge of this investigation, however, have already been changed twice. With the recent abolishment of Article 10 due to a government-led change in the abovementioned law, the investigation has been left by the wayside, waiting for new magistrates' appointment. But given that every new prosecutor has had to start from scratch and pick up the threads of the investigation, progress on this has been moving at a snail's pace.
When the scandal erupted in May of 2010 with the dissemination of the tapes through a video sharing platform, Baykal's lawyers quickly applied to the Ankara Chief Public Prosecutor's Office, asking to block access and find out and punish the plotters. Public prosecutor for cybercrimes Bülent Yücetürk was appointed to the case. The investigation was conducted under Article 134 of the Turkish Penal Code (TCK) which deals with the violation of privacy, Article 135 about recording personal information and the first and second chapters of Article 125 relating to insult.
Yücetürk appealed to the Justice Ministry with a written request to seek judicial assistance from the US to pinpoint the IP data of the users who uploaded the videos onto the Internet. He was suddenly removed from the investigation before the information from the US arrived on the grounds that the incident had possible affiliations with crime organizations and hence had to be handled by the specially authorized deputy public prosecutor's office. Since then, little progress has been made in widening the investigation.

TİB: Responsibility belongs to public prosecutors
During the initial phase of the investigation, there were some debates that the Telecommunications Authority (TİB) should be blamed for puttering around and failing to intercept the videos before their dissemination. TİB shrugged off any responsibility, saying it had done everything in a timely and swift manner and accused the prosecution of not properly taking the necessary steps.
TİB issued a written statement at the time informing the public that the websites hosting the videos were located overseas and the prosecution had been provided with all the information concerning their locations and service providers. Baykal's tapes were accessible online through a number of video hosting platforms for nearly four days before they were finally removed.
In the recording of Prime Minister Erdoğan, which seems to be a collage of different speeches, the voice attributed to the prime minister instructs his men to capture Baykal in flagrante delicto and spread the footage through the media and Internet.
"Unfortunately, there are very indecent and immoral things. There has to be an intervention here. The CHP has gone completely off the rails," Erdoğan is allegedly heard telling the people in the room.
"We have such things in our hands, a document to be published. If I give it to you, how would you do it? … Are you passing them to websites?" says the voice, and after a pause, possibly a point in which parts of the original recording were edited out, he adds: "All right, let's do it like this, then. Let me first save it to a hard disk. But the recording is very bad. Will he [Baykal] say they are fake and this and that?"
Baykal harshly reacted to the audio leak implicating Erdoğan as the mastermind of the tape plot and made a statement on Wednesday calling on "Erdoğan and the state to provide an explanation" concerning the assertions. Erdoğan rejected the claims, labeling the recording a doctored tape and a "montage." He said he had ordered the transportation, maritime affairs and communications minister at the time to try everything to remove the content from the web.
"We are not so shameless as to commit such mischief as is prohibited by our beliefs," Erdoğan said in a public rally in Düzce on Wednesday. The prime minister had made this claim before, but Baykal's lawyers refuted it, saying they had struggled to block access to the video uploaded to the Internet through court orders but had received little or no help from the government. They also said the videos were accessible online for four days and were not blocked within half an hour as Erdoğan claims.
Baykal spoke to the press again on Thursday, saying he was not satisfied with Erdoğan's explanation. He said he is waiting for a "reasonable, convincing, comprehensive and serious investigation" by the prime minister. He will wait until the local elections are over and lend Erdoğan his ears one more time, adding he has noticed Erdoğan's attempt to brush away the claims. After this, he will do "what is necessary," implying he may take legal action.
The 2010 videos were first uploaded onto metacafe.com and after a short while, the pro-government daily Akit announced on its website the existence of the videos. Erdoğan did not hesitate to use the sex scandal in his election rallies during the 2011 general elections. He brushed off calls in the media for him to avoid mentioning the scandal since it relates to the private sphere. Erdoğan had yelled: "It is not private. It is public, public."

'PM involved in conspiracy against MHP as well'
Nationalist Movement Party (MHP) Deputy Chairman Oktay Vural also entered the fray, claiming Erdoğan was also involved in a plot to prepare and distribute sex tapes about a number of deputies in the MHP ahead of the last general elections in 2011.
Speaking at a press conference in his party building in İzmir, Vural called the recent audio recording evidence of Erdoğan working as a "tape organizer and distributor." Erdoğan had been behind the sex tapes of MHP deputies, he claimed, accusing the prime minister of lacking any moral, political, legal or democratic principles. He asked Erdoğan to prove where he had spoken those words if they are a montage as he claimed. Vural said Erdoğan's actions are in clear contradiction of even the most fundamental moral values.




'I saw Erdoğan watching that sex tape'
Republican People's Party (CHP) leader Kemal Kılıçdaroğlu has said he had seen a footage showing Turkish Prime Minister Tayyip Erdoğan watching a 2010 sex tape that forced the main opposition's then-leader Deniz Baykal to resign.

"I watched it. Those who made Prime Minister Erdoğan watch the footage [secretly] filmed him, too. The latest audio recording consists of their conversations," Kılıçdaroğlu told on Kanaltürk television March 27.

An audio recording released late on March 25 allegedly portrays Erdoğan speaking about the video regarding Baykal even before it was uploaded onto YouTube and giving orders for the release of the video. The tape was said to have shown Baykal allegedly having an affair with a female politician.

Kılıçdaroğlu had likened the situation to the Watergate scandal which occurred during the presidency of Richard Nixon in the United States, while Erdoğan had accused Kılıçdaroğlu of involvement in the leak.

"Erdoğan was filmed by the webcam of the computer that he used to watch the tape. I've never seen a man lying so scurvily. Mr. Baykal knows it and this is why he's now suing Erdoğan," Kılıçdaroğlu added on Kanaltürk.

When asked about why he waited until today to speak out, Kılıçdaroğlu answered: "I didn't have the recording as it was not given to me then. A screenshot from the film [showing Erdoğan watching the tape] is now leaked to the Internet, so, I'm revealing it."
and....
http://www.theguardian.com/world/2014/mar/27/turkish-pm-erdogan-divides-nation-local-elections
Turkish PM divides nation and neighbourhoods ahead of local elections
In one Istanbul district, armoured cars guard 'border' separating Erdogan loyalists and those backing the opposition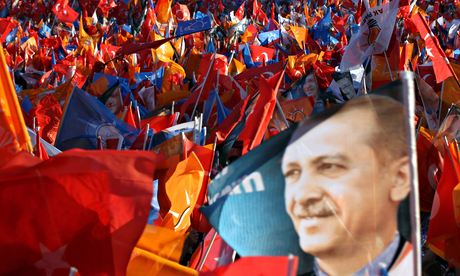 A 10-minute drive from the heart of Istanbul, armoured police cars guard the "border" separating a conservative government loyalist area from a neighbourhood backing the leftwing opposition.
Under the embattled prime minister, Recep Tayipp Erdogan, the district of Okmeydani is split down the middle ahead of nationwide local elections this weekend that will decide who gets to run Turkey's biggest city, as well its political capital, Ankara.
"Our neighbourhood is polarised," says Aslan, a 30-year-old textile worker. "The division is sharper than before because [Erdogan's governing] is all about one leader who dominates everything. All his ministers, everyone in their party listens to Erdogan. He is ready to risk anything just to stay in power."
The prime minister has faced multiple challenges to his 11-year-rule amid growing opposition to his authoritarian style. In response to allegations of mass corruption inside the government, Erdogan appears to have opted for a strategy of dividing the country into loyalists and traitors. He purged the police and judiciary of critics and passed laws that weakened constitutional checks and balances on the executive.
In the past week, in a further sign of crackdown on dissenters, Turkey's telecoms authority blocked access to Twitter and on Thursday announced that it was taking similar action against YouTube.
On Tuesday, the daily newspaper Hürriyet resorted to publishing an open letter to the prime minister after he rounded on its parent company, Dogan Media, for its criticism of the government.
"We expect you to not discriminate between citizens and institutions as the prime minister of 76 million people," the newspaper told Erdogan. "Whatever percentage of votes you get, it should be your and all of our duty after the elections to defuse the dangerous polarisation and the tension that has spread throughout the whole country."
The consequences of this divide-and-rule strategy are evident in Okmeydani, a neighbourhood in Istanbul's central Beyoglu district, that recently made headlines following the deaths of Berkin Elvan, a teenager who died after being hit in the head by a teargas canister during last summer's protests, and of Burakcan Karamanoglu, a 22-year-old who was shot in the head during clashes between opposing groups in the neighbourhood.
The youths lived on opposing sides of the riven community. In the upper part of Okmeydani, predominantly housing the Alevi minority, countless graffiti slogans show the dominance of radical leftist groups. "No entry to fascists" and "Berkin Elvan is immortal", they read.
On the other side of the "border", the flags of rightwing, Islamist and conservative parties prevail. Graffiti proclaims "Okmeydani will be a graveyard for communism" and "Martyrs never die". Almost all the shops on the lively high street display posters mourning Karamanoglu.
Despite public pleas by both youths' fathers not to exploit their son's deaths for political purposes, Erdogan repeatedly lauded Karamanoglu as a martyr during campaign rallies, while calling 15-year-old Elvan, who was killed by a teargas capsule while going to buy bread, a terrorist.
A local shop owner said he was alarmed by the prime minister's comments: "If you call one boy that was killed a terrorist, and another that was killed in the same neighbourhood a martyr, what do you think will happen?" Does he feel forced to take sides? The man shakes his head, but adds that he is uncomfortable with the rising tension. "There have not been any threats, but the psychological pressure is high. I have children, too, and I am afraid for them and their future."
Not everyone agrees. In a shop a few yards up the street, the 46-year-old owner brushes off the concerns. "I have lived here for over 30 years," he explains. "We get along fine. There have been some tragic events, but we will not let that come between us."
At a nearby election rally for Kadir Topbas, the mayoral candidate of the ruling Justice and Development party (AKP), hundreds of supporters brandish Turkish flags, AKP scarves and posters of Karamanoglu. It is early afternoon, and the crowd consists predominantly of women.
"We owe much to our prime minister," says a 42-year-old woman who wishes to remain anonymous. "I still remember when I was not allowed to wear my headscarf, when I was humiliated for it. I remember rubbish in the streets. We didn't have running water."
A textile worker, 49, agrees that life has improved under the Erdogan government. "Before there was crime, and the streets were dirty. There was nothing to buy in the store – no sugar, no cigarettes, nothing. Now we have everything in abundance. We also have peace, no more soldiers are dying." In his eyes, there is no viable alternative. "If the [opposition Republican People's party] CHP would produce a good leader, we would vote for him. But we can't see anyone."
In another part of town some men from Okmeydani have joined the rally of the CHP mayoral candidate Mustafa Sarigül. They say that they feel threatened by the government's increasingly anti-Alevi stance.
Hamdi, 45, a musician, cites a planned urban renewal project as his biggest fear: "If the AKP wins again, Okmeydani will be lost. It will simply disappear, with all the poor people in it. It will make way for big residences and the rich."
Referring to recent and repeated attacks on CHP election offices in the area, one man adds: "But they will not win votes by attacking us with knives and sticks. They use religion to divide us, but that will not work either."
One local craftsman suggests that Erdogan's style of governing has become untenable for the country: "In Turkey, we now have the situation that one half of the country loves the prime minister unconditionally whereas the other half not only does not vote for him, but truly hates him. One half of the country cannot stand to hear his voice, or see his face on posters, or on TV. How can you rule a country like that?"