Atlanta ice storm: mayor under fire as thousands stranded
City's mayor criticized for response to storm that has trapped hundreds of children in schools and created huge traffic jams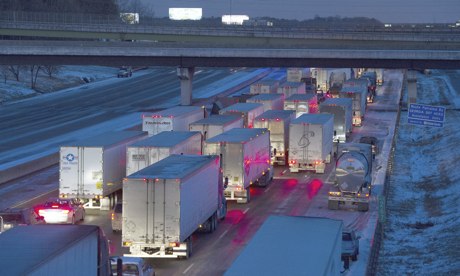 A rare ice storm has turned
Atlanta
into a slippery mess, stranding thousands for hours on frozen roadways and raising questions about how city leaders prepared for and handled the cold snap that slammed the US south.
The storm, which has killed at least seven people, on Wednesday swept over a region of about 60 million largely unaccustomed to ice and snow – stretching from Texas through Georgia and into the Carolinas – with forecasts of more freezing weather on Thursday.
Overnight temperatures in the Atlanta region are expected to remain well below freezing, with temperatures in the US south-east dropping into the teens Fahrenheit (-10C to -7C) on Thursday. That could hinder efforts to clear ice-covered roads and abandoned cars that litter the region.
Georgia officials said on Wednesday that the real progress in cleaning up the region would not come until after the icy roads begin to thaw, which could happen around midday on Thursday, meteorologists said.
The mayor of Atlanta, Kasim Reed, came under fire for his response to a storm that trapped hundreds of children in schools overnight, some without provisions, and created traffic jams stretching for miles on roads coated with 2in (5 cm) of snow.
"Folks are angry with the mayor of Atlanta, with the governor," said Flavia DiCesare, 54, who spent the night in her office at Cox Enterprises in Atlanta, about 30 miles from home.
The mayor said schools, businesses and government offices were partly to blame for sending all the workers home just as the storm was rolling in.
"During the day, we have a million to 1.2 million people in this city and all those people were out in very bad weather. It hampered our ability to get our equipment on the ground and to prepare our roads for that," Reed told a news conference.
"The error – and we have shared responsibility for the error – was letting everybody out at once," he said.
The governor of Georgia, Nathan Deal, said all of Atlanta's schoolchildren had been safely returned to their families by Wednesday evening, with help from the National Guard and state patrol.
Deal had earlier angered many – including local meteorologists – when he described the storm late on Tuesday as "unexpected".
The comments prompted a sharp reaction. In a blog published on Wednesday, the president of the American Meteorological Society, J Marshall Shepherd, defended local weather forecasters, declaring "the Atlanta forecast was very good".
The one-day snowfall of 2.6in (6.6cm) ranked as the 20th heaviest in Atlanta, which has recorded a daily snowfall of an inch or more 55 times since 1928, according to the National Weather Service.About 800 traffic accidents were reported in the city, but there were no serious injuries, officials said. At least five deaths in Alabama and two in Georgia were blamed on the weather.
Latasha Wade, 38, said she was awaiting word of her 31-year-old brother, last heard from Tuesday night after his car was stranded in Atlanta.
"I don't know if he's laying out in the snow or what," she said. "It's the most hurtful thing because I don't know anything that's going on with my brother."
The storm took a toll on air travel across the region, with more than 2,600 US flights cancelled and hundreds of others delayed, according to flight tracking website FlightAware.com.
Nicole Lynch, 22, a student at Kennesaw State University, was among the Atlanta motorists who found themselves stuck in frustrating traffic snarls.
"They should have at least warned any sort of road crew, or taken some precautions. They should have cancelled school a lot sooner than they did," Lynch said. "It's a lot of shoulda, coulda, wouldas."
A Facebook page called Stranded Motorists Help Jan 28, 2014, which has more than 10,000 members, amassed entries from frustrated drivers and volunteers trying to come to their aid after the day-long gridlock in the Atlanta metro area.
Rachel Richter, 30, said she finally abandoned her car after sitting in a traffic jam for six hours.
"It was more the frustration that it was just complete gridlock. Nothing was moving at all," she said. "You moved like an inch in two hours."
http://www.ajc.com/news/news/atlanta-weather-thursday-afternoon-warm-up-should-/nc6rK/
Atlanta weather | Thursday afternoon warm-up should melt snow, ice
Snow, ice send South's flagship city reeling
Email this Story
Jan 29, 7:11 PM (ET)
By DAVID CRARY and RAY HENRY
(AP) Richard Uzoma returns to his car after he lost control and abandoned it overnight along with other...


Full Image
ATLANTA (AP) - Thousands of Atlanta students stranded all night long in their schools were reunited with their parents Wednesday, while rescuers rushed to deliver blankets, food, gas and a ride home to countless shivering motorists stopped cold by a storm that paralyzed the business capital of the South with less than 3 inches of snow.
As National Guardsmen and state troopers fanned out, Mayor Kasim Reed and Georgia Gov. Nathan Deal found themselves on the defensive, acknowledging the storm preparations could have been better. But Deal also blamed forecasters, saying he was led to believe it wouldn't be so bad.
The icy weather wreaked similar havoc across much of the South, closing schools and highways, grounding flights and contributing to at least a dozen deaths from traffic accidents and a mobile home fire.
Yet it was Atlanta, home to major corporations and the world's busiest airport, that was Exhibit A for how a Southern city could be sent reeling by winter weather that, in the North, might be no more than an inconvenience.
(AP) Cody Carpp, left, and Michael Gane, both of Mobile, Ala., walk through Bienville Square as ice...


Full Image
The mayor admitted the city could have directed schools, businesses and government offices to stagger their closings on Tuesday afternoon, as the storm began, rather than dismissing everyone at the same time.
The result was gridlock on freeways that are jammed even on normal days. Countless vehicles were stranded and many of them abandoned. Officials said 239 children spent Tuesday night aboard school buses; thousands of others stayed overnight in their schools.
One woman's 12-mile commute home took 16 hours. Another woman gave birth while stuck in traffic; police arrived just in time to help. Drivers who gave up trying to get home took shelter at fire stations, churches and grocery stores.
One traffic death was reported in Atlanta - that of a man killed in a crash.
"I'm not thinking about a grade right now," the mayor said when asked about the city's response. "I'm thinking about getting people out of their cars."
(AP) Bridges are frozen and ice covers downtown Mobile, Ala., as temperatures remain below freezing on...


Full Image
National Guardsmen in Humvees, state troopers and transportation crews delivered food and other relief, and by Wednesday night, Deal said all Atlanta-area schoolchildren were back home with their parents.
Atlanta was crippled by an ice storm in 2011, and officials had vowed not to be caught unprepared again. But in this case, few closings or other measures were ordered ahead of time.
Deal, who is up for re-election in November, said warnings could have been posted along highways earlier and farther out Tuesday. But he also fended off criticism.
"I would have acted sooner, and I think we learn from that and then we will act sooner the next time," Deal told reporters.
"But we don't want to be accused of crying wolf. Because if we had been wrong, y'all would have all been in here saying, 'Do you know how many millions of dollars you cost the economies of the city of Atlanta and the state of Georgia by shutting down businesses all over this city and this state?'"
(AP) A truck blocks all east-bound lanes of Interstate 285 in Sandy Spring, Ga. after htting an icet...


Full Image
Deal faulted government forecasters, saying they warned that the storm would strike south of Atlanta and the city would get no more than a dusting of snow.
However, the National Weather Service explicitly cautioned on Monday that snow-covered roads "will make travel difficult or impossible." And around 3:30 a.m. Tuesday, the agency issued a winter storm warning for metro Atlanta and cautioned people not to travel except in an emergency.
Around the time the traffic jam started, Deal and Reed were at an award ceremony recognizing the mayor as the "2014 Georgian of the Year." Deal spokesman Brian Robinson said the governor left before 1:30 p.m. and was in constant contact with emergency officials.
Among the commuters trapped in the gridlock was Jessica Troy, who described her commute home to the suburb of Smyrna as a slow-motion obstacle course on sheets of ice.
"We literally would go 5 feet and sit for two hours," Troy said after she and a co-worker who rode with her finally made it home about 10:30 a.m. Wednesday. They spent more than 16 hours in the car, covering 12 miles.
The standstill gave Troy time to call her parents and send text messages to friends, letting them know she was OK. By 3 a.m. her car was stuck on a freeway entrance ramp. She put it in park, left the heat running and tried to get some sleep.
"I slept for an hour and it was not comfortable," Troy said. "Most people sat the entire night with no food, no water, no bathroom. We saw people who had children. It was a dire situation."
After daybreak, a few good Samaritans appeared, going car-to-car with bottles of water and cookies. Traffic started moving again about 8:30.
At Atlanta's Deerwood Elementary School, librarian Brian Ashley spent Tuesday night with a dozen of his colleagues and 35 children on cots in the gym.
The teachers and other staff members opened up the pantry in the cafeteria, making pizza and chicken nuggets with carrots and apples for dinner. Later, some police officers dropped off sandwiches, and parents living nearby brought food.
"The kids slept peacefully through the night," Ashley said. "They knew that there were people around them that cared about them."
However, Ashley said he was surprised officials allowed the schools to open Tuesday.
"They were forewarned about the weather, and they were ill-prepared," he said. "If schools were canceled yesterday, we would not have had the catastrophe we did last night and today."
About 1,000 arrivals and departures were canceled at Hartsfield-Jackson Atlanta International Airport.
But even amid the chaos, Atlanta officials insisted that downtown was open for business - at least for a huge meat- and poultry-industry exposition at the Georgia World Congress Center. Roughly 27,000 people from more than 100 countries were expected to attend between Monday and Friday.
City officials arranged for prompt scraping and ice-melting operations on roads around the center.
"Atlanta has a lot at stake with the convention business," said Charles Olentine, the expo's general manager. "It is mandatory that visitors to Atlanta feel welcome and attended to."
Temperatures in Atlanta were forecast to dip as low as 16 Wednesday night, then gradually rise to the mid-50s by Friday.
Elsewhere in the South:
- Alabama officials said rescuers and medics in helicopters were flying over hard-hit counties on search-and-rescue missions. State troopers said five people were killed in traffic accidents that may have been weather-related.
- Amid freezing temperatures in Mississippi, four people - including two small children - died in a mobile home fire blamed on a faulty space heater. The highway patrol said several abandoned vehicles on Interstate 59 near Hattiesburg were broken into.
- In South Carolina, the Highway Patrol responded to almost 820 collisions statewide between 4 p.m. Tuesday and 4 a.m. Wednesday.
- Schools across much of North Carolina were closed Wednesday, and some colleges canceled class, including North Carolina State University. The state highway patrol said the weather was a factor in traffic accidents that killed two people.
- The Virginia coast was blanketed in up to 10 inches of snow Wednesday morning. Tens of thousands of sailors were told to stay away from the region's Navy bases unless they were essential.
- Ice closed more 20 highways in Louisiana. Normally busy areas of New Orleans were quiet.
---
News, Photo/Video - January 29, 2014 1:33 pm
Three inches of snow, some ice and unimaginable mayhem in Atlanta
If there's one thing we've learned in the last day or so, it's that folks in the Deep South sure can't handle a little bit of snow and ice. A few inches of the powder have caused pure mayhem in Atlanta, icing over roads, creating treacherous traffic jams and forcing commuters to abandon their cars where they sat.
But in Atlanta, it's a much different story:
Knowing what we've been through in Chicago this winter, go ahead and enjoy these photos from Atlanta — and be happy you don't live there.