Reid: The president's free-trade fast-tracking request? Yeah, that's not happening.
POSTED AT 6:01 PM ON JANUARY 29, 2014 BY ERIKA JOHNSEN
But remember, ya'll — it's only ever the Republicans who are responsible for blocking every single one of President Obama's economic initiatives for purely political reasons.
Democrats wouldn't know
anything about those kinds of shenanigans, obviously.
Senate Majority Leader Harry Reid (D-Nev.) said Wednesday he is not inclined to put trade promotion authority on the floor, less than 24 hours after President Obama called for action on the legislation. …

"I'm against fast track," Reid said of the enhanced trade authority bill drafted by Finance Committee Chairman Max Baucus (D-Mont.) that would speed up congressional consideration of trade deals.

Reid said he might not even let the bill come to the floor.

"We'll see," he said. "Everyone would be well advised just to not push this right now."

"Everyone knows how I feel about this. Sen. Baucus knows. Sen. [Ron] Wyden [D-Ore.] knows," he said in reference to the incoming chairman of the powerful Finance panel.
"Everyone would be well advised just to not push this right now"? …Let me translate that: 'I would rather appease special interest groups like Big Labor, and incidentally court their campaign contributions, by putting their well-monied preferences over the health of the overall American economy and everyone involved in it.' Yup, sounds about right. The
WSJ
explains further:
The fast-track process, used to muscle prior trade deals through Congress, would allow the Obama administration to clinch overseas trade deals that lawmakers in turn consider with a yes-or-no vote, without making changes and with limited procedural hurdles. The process, which expired in 2007 and needs to be renewed, also allows Congress to set up nonbinding negotiating goals for the U.S. and stay informed of the negotiations.

Fast-track authority is seen as crucial to cementing the trade deals because of the reassurance it would provide negotiating partners in the final, politically-sensitive rounds of talks. Other nations are typically reluctant to make trading concessions unless the U.S. can offer assurances trading pacts won't be amended or rejected by Congress at the last minute.

"You can kiss any new trade deals goodbye," said Sen. John Cornyn (R., Texas.) "I think the majority leader's focus is on the November elections and he doesn't want to expose his vulnerable members to controversial votes."
Minus foreign-policy considerations, like enforcing economic sanctions against Iran, restrictions on free trade are rarely good for anything except blatant protectionism that benefits a particular niche interest at the expense of everyone else. Opening up our own economy to the wider competition of a global market is indeed a reliably solid method for inducing economic growth, and although he only selectively admits to that fact, this seems like one of President Obama's few economic ideas that isn't practically designed to end up doing more harm than good. After all, if you want to be allowed to export, you usually have to allow for
imports
, too — but Reid's resistance is going to put
two major trade deals
on which the United States is currently working with Asia in Europe in some serious jeopardy:
The Obama administration is seeking authority to smooth congressional passage of trade deals, including separate accords being negotiated with a group of 11 other Pacific-region governments and the 28-nation European Union. Those pacts would create the world's largest free-trade zones, linking regions with about $44 trillion in annual economic output.
Which makes it a damn shame that the White House
doesn't really seem willing
to push Democrats on getting on board. Because,
Republicans
! Wait…?
Obama made yet another pitch in State of the Union Address for his gimmies to multinationals known as the TransPacific Partnership and the TransAtlantic Trade and Investment Partnership. Today that idea went down in flames, at least as far as getting the deals done this year are concerned.
From Huffington Post
:
"I'm against fast track," [Harry] Reid told reporters Wednesday on Capitol Hill, before suggesting a fast-track bill introduced by Sen. Max Baucus (D-Mont.) may not get a vote.

"We'll see. Everyone knows how I feel about this. Senator Baucus knows, [potential backer] Sen. [Ron] Wyden knows. The White House knows."

Indeed, Reid cautioned the president and his allies to back off.

"I think everyone would be well advised just to not push this right now," the majority leader said.
Although Reid was known to be opposed to fast track, it's quite another matter for him as a Democratic Congressional leader to tell Obama to take a hike. I can't recall such frontal and public opposition to an important Administration initiative before. This is really humiliating.
Fast-track authority is seen as crucial to cementing a trade deal known as the Trans Pacific Partnership because of the reassurance it would provide negotiating partners in a last, tough round of talks. Other nations are typically reluctant to make trading concessions unless the U.S. can offer assurances that trading pacts won't be amended or rejected at the last minute….

"You can kiss any new trade deals goodbye," said Sen. John Cornyn (R., Texas.) "I think the majority leader's focus is on the November elections and he doesn't want to expose his vulnerable members to controversial votes."
Senate Majority Leader Harry Reid broke publicly with the White House Wednesday on trade policy, instantly imperiling two major international trade deals and punching a hole in one piece of the economic agenda the president outlined in his State of the Union address a day earlier.
And although it received much less media coverage, matters for Obama got even worse because Ron Wyden signaled he's not on board either. This matters because Wyden is taking over as the chairman of the Finance Services Committee when Max Bacus becomes Ambassador to China.
The Administration absurdly tried claiming it would continue to push for fast track, otherwise known as trade promotion authority. Really? Over Reid's dead body?
A blocked Senate leaves the Obama administration with two options: wait until after November's election and try its luck with a new Congress or push for passage of the Pacific Rim deal – which is likely to contain a host of contentious provisions – while insisting that lawmakers not change a word.
But my Congressional correspondents think another gambit is more likely: to make some cosmetic changes and try to get the bill passed during the lame duck session, on the assumption that some Democrats (particularly those who are leaving office) will use the cover and change positions.
However, that cheery view assumes that the situation is static, when opposition to these bills is becoming even more pronounced. Politico again:
Reid's comments come amid mounting Democratic opposition to the bill. On Monday, 550 labor, environmental and consumer advocacy groups – including the United Autoworkers, which has lent Obama critical backing on previous free trade pacts such as the South Korea deal – sent a letter to Congress urging them to reject the fast-track bill.
And the repudiation by Reid and the stiffening resistance to these bills won't go unnoticed overseas. The Wikileaks publication of drafts of two critical chapters showed a wide gap between the US positions and that of many of its supposed partners. Our reader Clive has also described how the Japanese media (and Japan is essential to the TPP being consummated)
is being uncharacteristically direct
in saying the US was not negotiating, and it would need to make significant concessions to reach an agreement. The TPP was already going pear shaped, and whatever sense of momentum the US had been able to create is now kaput.
Admittedly, the European trade deal is in much better shape, but the specter of a blunt rejection by Congressional leaders of the Administration's own party may strengthen the hands of opponents. Remember, much can change in a year in politics.
So NC readers should pat themselves on the back. Your calls and e-mails to your Representatives and Senators helped deal the Administration a visible, embarrassing, and thoroughly deserved defeat. If Obama can't deliver a deal that corporations lobbied for heavily, he's firmly in lame duck territory.
I also hope you'll thank your Congressmen for their opposition to these deals, and encourage them to keep up the good work. And be sure to thank Reid and Wyden. Good work!
http://the-japan-news.com/news/article/0000974717
Japan, U.S. confirm TPP accord efforts
Jiji Press
DAVOS, Switzerland (Jiji Press)— Economy, Trade and Industry Minister Toshimitsu Motegi and U.S. Trade Representative Michael Froman agreed Saturday that the two countries should continue to cooperate to conclude Trans-Pacific Partnership free trade talks as early as possible, Motegi told reporters after the meeting.
During the meeting, Motegi called on the United States to show flexibility to bring about an early conclusion to the trade talks among the 12 negotiating countries.
Froman responded by saying that both Washington and Tokyo should flex their muscles, according to Motegi.
The 12 countries failed to strike an accord at their ministerial meeting in Singapore last month, giving up their goal of concluding the negotiations by the end of last year.
The United States, which sticks to the TPP's principle of removing all tariffs, is at loggerheads with Japan, which hopes to retain tariffs in five key farm product categories—rice, wheat and barley, beef and pork, sugar and starch, and dairy products.
In addition, there still are issues that need to be resolved in the automobile trade, a key area of interest to the United States.
http://www.nzherald.co.nz/business/news/article.cfm?c_id=3&objectid=11187155
Exclusive: Critics say vaunted environmental chapter offers few gains to balance downsides of trade deal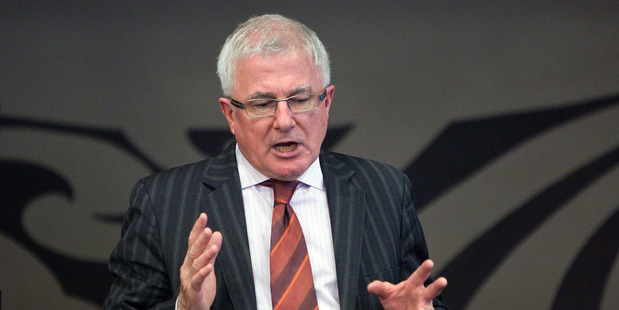 Trade Minister Tim Groser. Photo / APN
Another leak of documents from inside the secret US-Pacific trade negotiations indicates continued conflict between the 12 Trans-Pacific Partnership nations.
This includes the trade agreement's environment chapter, which has been promoted by the Obama Administration as an opportunity to address "some of the most pressing environmental challenges" and as a selling point for the agreement.
However critics say the environmental gains in the chapter turn out to be minimal compared with environmental harm other sections would cause. The US Sierra Club says the TPP would be devastating for the environment and climate, and Friends of the Earth describe it as "a huge danger to the planet".
The confidential trade documents were leaked to the whistle-blowing organisation WikiLeaks and released exclusively to the Herald and media in the US, Australia and Mexico.
The confidential draft chapter and an attached report, written by the Canadian delegation leader, are dated November 24, 2013, the final day of TPP negotiations in Salt Lake City.
The 23-page environment chapter has provisions on biodiversity, climate change, fisheries and illegal trade in endangered plants and animals.
However the leaked text just "recognises" and "acknowledges" some well-established environment treaties, such as on ozone protection and endangered species, and mostly doesn't take them any further. In a document called "TPP State of Play after Salt Lake City", one delegation complained that up until then "there had not been any perceivable substantial movement [from] the US".
It also described conflict at the negotiating meeting over the environment chapter. It said the environment working group meeting "was interrupted because we could not get past the second issue [on] the definition of environmental law".
The documents show New Zealand and the US agree on some issues, including about the need for sustainable fisheries manage-ment.
However even here there is ongoing disagreement about individual clauses and wording, only weeks from when the agreement is supposed to be concluded.
Julian Assange of WikiLeaks said the environment chapter was "meant to be the public friendly sweetener that would compensate for the harshness of the rest of the text" but the leaked text showed it to be a "toothless PR exercise".
There are no mandated environmental protections at all, he said.
Sustainability Council executive director Simon Terry said the agreement was being "sold as protecting the environment" but the leaked chapter showed "minimal real gains for nature".
These were far outweighed by the harm other sections of the agreement would cause.
A key chapter allowed foreign companies to sue the government in an overseas tribunal if it raised environmental standards in a way that hurt foreign investor profits.
The risk of million-dollar lawsuits would discourage governments from addressing environmental problems, with "serious environmental consequences", he said.
A spokeswoman for Trade Minister Tim Groser said the TPP environment chapter would "promote high standards of environmental protection, and enhance the capacity of TPP members to address trade-related environment issues".
Asked if the section would be beneficial for the New Zealand environment, she said that "trade and environmental policies can be and should be mutually supportive".

The deal
The Trans-Pacific Partnership is a trade deal under negotiation between 12 countries: New Zealand, US, Singapore, Chile, Brunei, Australia, Vietnam, Peru, Malaysia, Canada, Mexico and Japan.