Amazon playing ball with NSA ?
Programmer goes public four months after company failed to fix exploit
Paul Joseph Watson
Infowars.com
January 23, 2014
A whistleblower who privately informed Google four months ago that their Chrome browser had the ability to record conversations without the user's knowledge has gone public after the tech giant failed to fix the issue.
In the video above, the programmer explains how Google Chrome's speech recognition function remains operational even after the user has left the website on which they gave permission for the browser to record their voice.
"When you click the button to start or stop the speech recognition on the site, what you won't notice is that the site may have also opened another hidden pop under window. This window can wait until the main site is closed, and then start listening in without asking for permission. This can be done in a window that you never saw, never interacted with, and probably didn't even know was there,"
writes the whistleblower
.
The video shows a pop-under browser window recording and typing the programmer's words as she speaks. The window can be disguised as an advertising banner so the user has no indication that Chrome is listening to their voice, whether that be on the phone, talking to someone on Skype, or merely having a conversation with someone near the computer.
The exploit is a "serious security breach" that has compromised the privacy of millions of Google Chrome users, according to the programmer, who warns, "as long as Chrome is still running, nothing said next to your computer is private."
The exploit turns Google Chrome into an "espionage tool," adds the programmer, noting that the recording function can be activated by the use of sensitive keywords and be passed on "to your friends at the NSA."
The programmer reported the exploit to Google on September 19 last year and was met with assurances that it would be quickly fixed. However, despite apparently fixing the bug within two weeks, the update was never released to Chrome users, with Google telling the programmer, "Nothing is decided yet."
As far back as 2006
, we warned that computers would use in-built microphones to spy on users. We also revealed how digital cable boxes had embedded microphones that had the capability of recording conversations since the late 1990′s.
As we have
previously highlighted
, terms of agreement for both Android and iPhone apps now require users to agree to allow their microphone to be activated at any time without confirmation before they can download the app.
Facebook's term's of agreement
also allow the social network giant to record your phone calls, read your phone's call log and "read data about contacts stored on your phone, including the frequency with which you've called, emailed or communicated in other ways with specific individuals."
We are now fully ensconced in a world that even George Orwell would have laughed off as inconceivable.
Embedded microphones in everything
from Xbox Kinect consoles to high-tech street lights that can record private conversations in real time represent the final nail in the coffin of privacy.
http://www.blacklistednews.com/U.S._Military_on_Path_to_Become_Google%E2%80%99s_Single_Largest_Customer/31913/0/38/38/Y/M.html
Google CEO Larry Page has rapidly positioned Google to become an indispensable U.S. military contractor.

Google recently purchased Boston Dynamics, a robotics pioneer that produces amazing humanoid robots for the U.S. Defense Department.

This development invites attention to Google's broader military contracting ambitions — especially since Boston Dynamics is the eighth robotics company that Google has bought in the last six months.

Just like drones are the future of air warfare, humanoid robots and self-driving vehicles will be the future of ground warfare according to U.S. defense plans.

There are many other reasons why the U.S. military is on path to become Google's single largest customer. Likewise these reasons indicate Google has a closer working relationship with the NSA than it acknowledges publicly.

First, consider the military value of Google's research and development efforts and the military contracting pipeline revenue it could represent.

Page created Google X, which is Google's secretive research and development lab tasked with pursuing "moon-shot" technology breakthroughs. So far, Google X is best known for its earth-bound self-driving cars and Google Glass.

Tellingly, the purpose of the original "moon-shots" by the Soviet Union and America was military. The two Cold War superpowers were in a "space race" to publicly showcase the technological and military supremacy of their rival ideologies.

Simply, America's Cold War "moon-shot" was about winning the military space and arms race with the former Soviet Union.

Even more tellingly, the greatest application for most all of Google X's "moon-shot" technological efforts — are military. Like drones, self-driving vehicles, and robot soldiers could enhance military surveillance and payload delivery while reducing risks to military personnel.

Google Glass' advances in wearable augmented reality could offer American soldiers tactical advantages over enemy combatants. Google's Project Loon could quickly provide a supplemental battlefield bandwidth advantage in remote areas.

Second, Google's personnel hiring signals its aspirations for a closer Google-military relationship.

In 2012, Google hired Regina Dugan, the head of DOD's Defense Advanced Research Projects Agency (DARPA), DOD's in-house "moon-shot" idea factory. At the time a Google spokesperson said: "Regina is a technical pioneer who brought the future of technology to the military during her time at DARPA. She will be a real asset to Google."

Simply, few people could have a better insider knowledge of the U.S. military's future technology needs that Google could exploit than Ms. Dugan.

Third, Google has a long history of working for, and with, the NSA and the other U.S. intelligence services.

In 2004, Google purchased satellite mapping company Keyhole, which was strategically important enough to be funded by the CIA's investment fund In-Q-Tel.

Google turned the aptly-named "Keyhole" surveillance capability into the wildly popular Google Earth and Google Maps service used by over a billion people and over one million websites.

In 2008, the San Francisco Chronicle reported that U.S. spy agencies use "Google equipment as the backbone of Intellipedia, a network aimed at helping agents share intelligence." The article also reported that Google had a support contract with the NSA.

In 2010, the Washington Post reported that Google worked with the NSA to figure out how Chinese hackers broke into Google. The New York Times later reported that those Chinese hackers stole Google's entire password system called Gaia.

Fourth, Google has too many unique capabilities and metadata sets that are of strategic value to the NSA to believe Google's denials that it does not work closely with the NSA.

Snowden's NSA revelations have underscored the high value the NSA puts on collecting the metadata of who is communicating with whom, when, where, and how much.

Remember Google is metadata central. It is veritable surveillance catnip for the NSA.

In summation, the accumulating evidence indicates that the U.S. military is on path to become Google's single largest customer.

Page's strategic positioning of Google's biggest investments to strongly align with future U.S. military needs is no coincidence. It is likely tacit confirmation of a much stronger relationship than Google has acknowledged to date.


US Government is Facebook's largest requester of user information
The US Government request more information about Facebook users than any other entity in the world, 38,000 requests in just six months (NASDAQ:FB)
Today, Facebook revealed that the US government accounts for the vast majority of the requests for information it receives about its subscribers. The social network said that it was legally required to comply with 79 percent of the 12,000 requests it received from the US government about 21,000 individuals who have profiles on the website.
The US government is not the only guilty party though, as the UK government submitted about 2000 requests on over 2300 Facebook users, which it was obligated to turn over 68 percent of the requests. On the lower-end of the spectrum, Australia requested info on 601 users, of which 64 percent were granted. Facebook chose to release this information in an effort to be transparent after accusations of being close partners with the NSA in the infamous PRISM scandal.
In a blog post, Facebook's general counsel, Colin Stretch, wrote: "As we have made clear in recent weeks, we have stringent processes in place to handle all government data requests... We believe this process protects the data of the people who use our service, and requires governments to meet a very high legal bar with each individual request in order to receive any information about any of our users."
http://sfist.com/2013/12/12/google_execs_shamed_for_getting_gov.php
Google Execs Shamed For Getting Government Discount On Fuel For Private Jets
Brin and Page. AP Photo.
When Google founders Sergey Brin and Larry Page and chairman Eric Schmidt fire up their private jets for long weekends in Tahiti, they've been doing so with improperly discounted jet fuel via a NASA facility at Moffett Federal Airfield near Mountain View. The company that operates the jets for the Google execs, which is called H211 Inc., arranged a contract with NASA allowing them to pay the same price the federal government pays for fuel in exchange for free flights provided for NASA research purposes, as the
Wall Street Journal
reports.
Google's fleet includes seven jets and two helicopters, and since 2009 they've been paying, on average, $3.19 a gallon for jet fuel, which is about 25% less than the commercial market price. Also, they weren't paying sales tax on it.
An internal report by NASA called the deal more of a "misunderstanding" by NASA officials than anything else, because it was thought that H211 was not using the fuel for private flights, which it was. According to the report, NASA didn't lose any money in the deal, but Google was getting a financial benefit that it was not entitled to.
Senator Charles Grassley (R-Iowa) has been on top of the situation, and he's pushing NASA to get Google to repay the difference back for the benefit of taxpayers.
Curiously, NASA is not renewing the lease on hangar space for Google's fleet in 2014, which will need to leave Moffett Field and go to San Jose next year.
Infowars.com
January 20, 2014
From vehicle black boxes to smart meters, you are constantly surrounded by gizmos and gadgets snooping on you every day.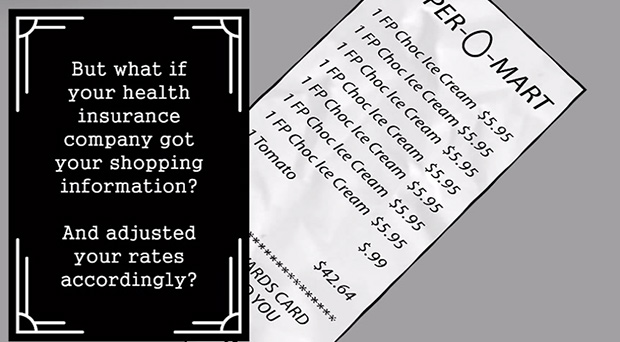 All of these "snoops" combined are building a profile of your personal life, complete with all of your daily habits and routines.
All the entries for the "We Will Resist TSA & NSA Tyranny" 10K Film Contest contest are in. Showcased videos are selected for general interest and their selection does not imply that they are finalists or have met all the contest requirements.
Keep checking out Infowars.com for more contest videos! All of the views expressed in the films are not necessarily endorsed by Infowars.
Officials in the legislative, judicial and executive branches of government all say that the mass surveillance on Americans is unnecessary:
A major new voice has just weighed in to agree: the Privacy and Civil Liberties Oversight Board, which Congress made an independent agency in 2007, and which only recently became fully operational.
An independent federal privacy watchdog has concluded that the National Security Agency's program to collect bulk phone call records has provided only "minimal" benefits in counterterrorism efforts, is illegal and should be shut down. The findings are laid out in a 238-page report, scheduled for release by Thursday and obtained by The New York Times ….

In its report, the board lays out what may be the most detailed critique of the government's once-secret legal theory behind the program: that a law known as Section 215 of the Patriot Act, which allows the F.B.I. to obtain business records deemed "relevant" to an investigation, can be legitimately interpreted as authorizing the N.S.A. to collect all calling records in the country.

The program "lacks a viable legal foundation under Section 215, implicates constitutional concerns under the First and Fourth Amendments, raises serious threats to privacy and civil liberties as a policy matter, and has shown only limited value," the report said. "As a result, the board recommends that the government end the program."

***

The report also … contains the first official acknowledgment that the Foreign Intelligence Surveillance Court produced no judicial opinion detailing its legal rationale for the program until last August, even though it had been issuing orders to phone companies for the records and to the N.S.A. for how it could handle them since May 2006.

***

The privacy board was unanimous in recommending a series of immediate changes to the program.

***

In 2006, the Bush administration persuaded the surveillance court to begin authorizing the program based on the Patriot Act under a theory the Obama administration would later embrace.

But the privacy board's report criticized that, saying that the legal theory was a"subversion" of the law's intent, and that the program also violated the Electronic Communications Privacy Act.

***

The report also scrutinizes in detail a handful of investigations in which the program was used, finding "no instance in which the program directly contributed to the discovery of a previously unknown terrorist plot or the disruption of a terrorist attack."