http://www.debka.com/article/23613/Would-be-bombers-may-already-be-inside-Russia-for-the-Sochi-Olympics
Russian security services were pulling out all the stops Tuesday, Jan. 21 in the hunt for the suspected Islamist bomber Ruzana Ibragimova, 22, known also as Salima or the White Widow, who was last seen on a street in Sochi ahead of the Feb. 7-23 Winter Olympic Games.
According to some Russian security sources, they are looking not for one but for three female suicide bombers, all known as "Black Widows," who are used by terrorists because female bombers blend in with their targets more easily than males.
The United States military has offered to make available air and naval assets, including two ships in the Black Sea, to support Russia's efforts to foil the plans of armed Islamist groups from just over the Caucasian mountains to disrupt the Games. American warships and planes will be on standby to evacuate citizens from Sochi in the event of a major terrorist attack.

This US-Russian counter-terror collaboration is unprecedented. After the bombings at last year's Boston Marathon by Caucasian Islamists, the counterterrorism agencies of the two governments agreed to work together against the common Islamist terror threat, especially for protecting large-scale sporting events which are hard to secure.
US forces are also working with Russian security units within a vast 2,400-kilometer security zone thrown up around the sporting sites of Sochi. This "ring of steel" is manned by 40,000 Russian police and security personnel and is the broadest security area ever provided for an Olympic event.
However, some malefactors may have already taken up forward positions inside the ring - like "Salima."
The statistics on incidents
DEBKA
file
's counterterrorism sources have compiled for December, 2013 are not reassuring, in view their frequency and the preponderance of civilians and security officers killed compared with the terrorists.
Security forces clashed with terrorists in 11 local firefights.
Shooting attacks accounted for the deaths of 10 Russian officials and security officers and 19 civilians.
Fifteen terrorists were killed in security forces' raids and clashes.
Altogether 14 explosive devices were disarmed in time.

The death toll shot up to 79 with the suicide bombings in Volgograd at the end of December which killed 34 people.

Then, on Jan. 8, six bodies shot in the head were found in parked cars in Stavropol, a town 300 km east of Sochi. Bomb traps surrounding the four vehicles holding the bodies exploded as security officers approached, but their caution saved them from harm.

This incident was treated by Russia's Counter-terror operations regime as a warning of the violence awaiting the Games. All the divisions responsible for ensuring the safety of guests and participants were put on combat alert.
Last month, International Olympic Committee members consulted Western and Middle Eastern terror experts for an independent, professional assessment of the risks the Sochi games faced of exposure to terrorist action.
Their assessments came in three parts:
1) The armed attacks thus far may be the first shots of a comprehensive Caucasian al Qaeda-related campaign of terror against Russian cities still to come.
2) Whereas the town of Sochi is fairly secure in view of the tight security ring enclosing it, transport routes between the town and the sporting events in the mountains are not sufficiently protected against terrorist attack. This is not due to Russian incompetence, but the great distances the sportsmen must travel between their lodgings and hotels in the town of Sochi and the sporting facilities. Bus and train routes wind through valleys and mountains which are extremely difficult to safeguard.
3) The experts reckon that the sportsmen and women taking part in the Games face the greatest threat, because the long snow-covered slopes on which they perform are exposed. Indigenous Caucasian terrorists are practiced in moving around at great speed on snow-clad slopes and are very hard to locate - even from the air.
http://abcnews.go.com/Blotter/terror-surprise-sochi-olympics-purported-suicide-bombers-threat/story?id=21589469
Terror 'Surprise' for Sochi Olympics? Purported Suicide Bombers' New Threat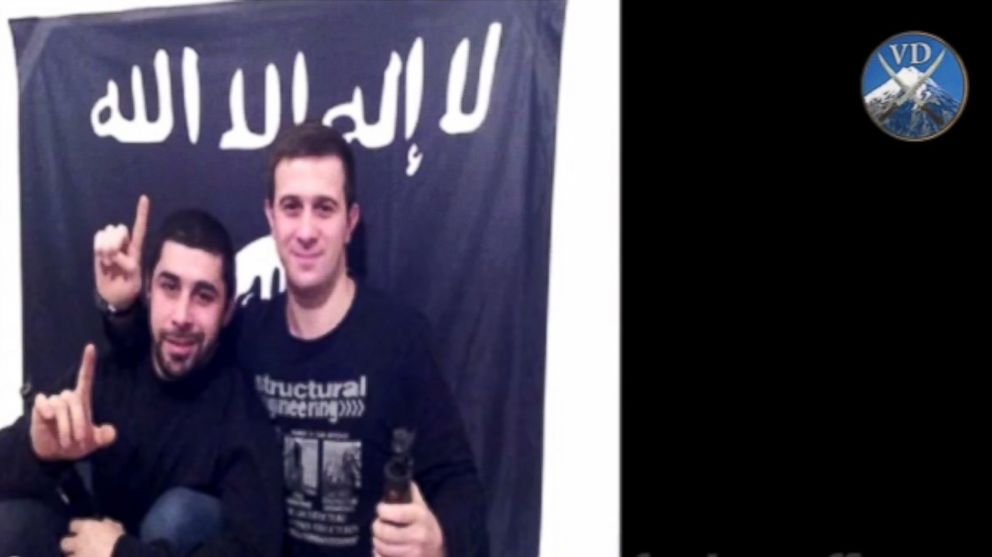 Citing a new "surprise package" for Russia and Olympic spectators, Islamist militants in the North Caucasus =Sunday launched a new threat to the Sochi Olympics with a purported "martyrdom" video by two suicide bombers who attacked a transit hub 400 miles away.
The video posted on a Chechen extremist site considered a credible platform for militant statements featured two unidentified men before the black flag of jihad and cradling AKMS rifles.
The duo -- dressed in street clothes and without the usual trappings of jihadis -- casually explained that Russians and those attending the Winter Games next month will not be safe as long as forces sent by President Vladimir Putin occupy the North Caucasus region near Sochi, Russia.
"We'll have a surprise package for you," one of the men said in the militants' video. "And those tourists that will come to you, for them, too, we have a surprise. If it happens [the Olympics], we'll have a surprise for you. This is for all the Muslim blood that is shed every day around the world, be it in Afghanistan, Somalia, Syria, all around the world. This will be our revenge."
The new video posted online overnight showed news and security camera footage of two suicide bomb blasts late last month at a busy train station and a commuter trolley in the city of Volgograd, which is a major transit hub in Russia.
U.S. officials said they are studying the video.
The video comes one day before the Olympic torch relay is scheduled to go through Volgograd Monday.
U.S. intelligence officials consider the threats from the Islamic terror groups against the Olympics to be very serious, which helped lead to the
unusually strong travel advisory
issued by the State Department this week for Americans who plan to travel to Sochi for the Olympics.
"I think the threats are real. [Islamist Chechen leader Doku] Umarov basically called for attacks on the Olympics," House Intelligence Committee Chairman Rep. Mike McCaul, R-Texas, told ABC News' "This Week" today. "I think you're going to see attempts to do that. I think it's more likely that the attacks will happen outside the perimeter, more soft targets, transportation nodes."
A secret contingency operation is underway by the U.S. government to prepare for responding to a terrorist attack in Sochi and evacuating athletes and dignitaries, ABC News intelligence sources said.
U.S. officials continue to say the Russians are not fully cooperating with American security forces, at least as much as the Americans would like.
There will be small armed teams of U.S. security personnel allowed to be in Sochi, but the Russians are very much running their own show, in their own way, and apparently don't see any need to let U.S. security personnel in on every plan or piece of intelligence. U.S. officials said they are concerned that if they complain too much, the Russians could restrict even more the number of armed U.S. personnel allowed to be in the country.
http://www.zerohedge.com/news/2014-01-18/russian-police-hunt-alleged-suicide-bomber-loose-sochi
Russian Police Hunt For Alleged Suicide Bomber On The Loose in Sochi
Submitted by Tyler Durden on 01/18/2014 12:46 -0500
Up until now, most terrorist provocations surrounding the Sochi winter olympics set to begin on February 7, had been in the surrounding cities (here is
dramatic video footage
of the recent suicide bombing in Sochi) while the actual venue has been largely left untouched. Perhaps this is due to the security gauntlet that has wrapped the city under the constant supervision of countless
eyes in the sky
and about 70,000 police and soldiers. This tenuous peace, however, was disturbed this morning when as Bloomberg reported, Russian police were searching for an alleged terrorist Razmena Ibragimova, according to a wanted poster on display at a security checkpoint in Sochi's airport. Ibragimova, 22, is "currently located on Sochi territory" and may attempt a suicide bombing, according to the poster. According to information from BlogSochi she was spotted on the street outside the foreign ministry building in Sochi.
And while so far Sochi has not seen an actual act of terrorism, it seems ticket demand for the games is inversely proportional with the build up in security for what is set to be the most expensive winter olympics in history with over a $51 billion price tag, of which over $3 billion will be spent on security.
Bloomberg reports
that listings of tickets put up for resale on a "fan to fan" website have soared almost 50 percent over the past week, with more than 3,100 offers now posted. Most offers include multiple tickets, up to a maximum eight per offer. "The U.S. website of CoSport, the exclusive ticket agent for North America and most of Western Europe, still lists seats available for some sought-after events such as the gold-medal match in men's ice hockey. The Sochi 2014 website, the official sales outlet for residents of Russia and many other countries, has tickets available for more than 100 events."
The growing inventory on the fan-to-fan site suggests that "availability is far greater than demand," says Marlies Hoedemaker, secretary of the EU Secondary Ticketing Association, an Amsterdam-based trade group for ticket-resale companies. Some buyers may have changed their minds about going, she says, while others may have bet—unsuccessfully—that if they bought tickets early they could resell them at a profit later when supplies ran low. People who resell on the Sochi-authorized fan-to-fan site can recoup only the ticket's face value.




CoSport, for example, is offering a pair of tickets to the men's bronze- and gold-medal hockey matches for $3,666 per person. Three nights in a Sochi hotel would cost another $1,584. The cheapest roundtrip airfare to Sochi from New York City during the games, according to several travel search engines, is more than $1,600 and requires long layovers in Istanbul or Moscow. Flights with more-convenient connections cost more than $4,000.




Commercial ticket brokers aren't selling many Winter Games tickets, as the organizing committee designated only a handful of authorized sales outlets and threatened stiff penalties against Russians who tried to resell tickets outside official channels. "My members have been offered a lot of tickets. I personally receive an e-mail each week with a spreadsheet full of inventory," says Graham Burns, chairman of the London-based Association of Secondary Ticket Agents. But, he says, "the brokers don't want to get involved."
Of course, should a deadly terrorist attack take place, nosediving ticket sales will be the least of Putin's concern, or of Russia, which is still riding high on the reputational gains achieved after the various diplomatic victories in 2013. Which is why security at the games is indeed unprecedented.
http://www.upi.com/Top_News/World-News/2014/01/18/Seven-militants-killed-in-Russias-North-Caucus/UPI-63171390069792/
MAKHACHKALA, Russia, Jan. 18 (UPI) --
Russian security forces killed seven militants Saturday in the North Caucasus republic of Dagestan, authorities said.
The militants -- six men and one woman -- were killed during a siege in the Dagestani capital of Makhachkala, RIA Novosti reported.
One of those killed was local militant leader, said a statement from Russia's Anti-Terrorism Committee.
The incident followed a grenade launcher attack and car bombing at a restaurant in Makhachkala Friday.
Violence is an almost daily occurrence in the North Caucasus, with many attacks linked to Islamist fighters who have been spreading across the region.
Russia: Islamic jihadists wound nine with car bomb at restaurant in Dagestan
Even if Umarov is dead, the jihad against Russia over the Olympics continues. "Nine wounded by car bomb in Russia's Dagestan," from PTI, January 18 (thanks to Lookmann):
Makhachkala: Police say nine people have been wounded in a bombing in Russia's southern province of Dagestan.




Fatima Ubaidatova, a spokeswoman for the local police in Dagestan, said unidentified attackers today fired a rocket-propelled grenade at a restaurant in the provincial capital, Makhachkala. No one was hurt, but when police arrived at the spot, a bomb placed in a car parked nearby went off. The explosion wounded nine people, including two police officers.

Dagestan has become the centre of an Islamist insurgency that has spread across the Caucasus region after two separatist wars in Chechnya. The shootings and bombings of police and other officials have become a daily occurrence in the region, which is located about 500 kilometres east of Sochi, the venue of the Winter Olympics.
Doku Umarov, Muslim leader who threatened Olympics, could be dead
But he has been dead before: "Umarov, a bearded fighter who has headed militants in Chechnya since 2006, has been the subject of numerous death reports in the past."
"Islamist rebel who threatened Olympics claimed dead," from AFP, January 17 (thanks to Lookmann):
Moscow: A Chechen rebel leader who vowed to disrupt the Sochi Winter Olympics is dead, Chechen strongman Ramzan Kadyrov said on Friday although Russian security services did not confirm the claim.




Doku Umarov, who styles himself the "Caucasus Emir", was killed in a security operation, Kadyrov said in a statement published Friday on the Chechen government's website.

"We are 99.9 per cent sure of this," Kadyrov said.

"I said before that he was no longer alive, but now we have received a recording of a conversation of so-called 'emirs' where they announce his death, condole with each other and discuss candidates to replace him as emir."

Umarov, a bearded fighter who has headed militants in Chechnya since 2006, has been the subject of numerous death reports in the past.

"We cannot confirm the death of Doku Umarov. We do not have any such information," a source in Russian security services told the Interfax news agency.

Lawmaker and former security agency chief Nikolai Kovalyov told RIA Novosti news agency that rebels often spread false information of deaths in order to evade pursuit.

"I am sure the Chechen president has reliable information in order to make such claims. He has evidence of his death. But of course this information must be double-checked," he added.

If proved correct, Umarov's death would be a huge morale boost for the Russian government ahead of the Sochi Olympics.

Umarov vowed in July that his fighters would use "any means possible" to keep Putin from staging the Games.

Russia has enforced drastic security measures in and around the host city Sochi in a bid to prevent major attacks by insurgents after bombings in the southern city of Volgograd last month killed 34.