Italy.........
Italian parliament erupts amid vote on central bank capital
Opposition MPs storm government benches after speaker cuts short debate on measure to boost commercial banks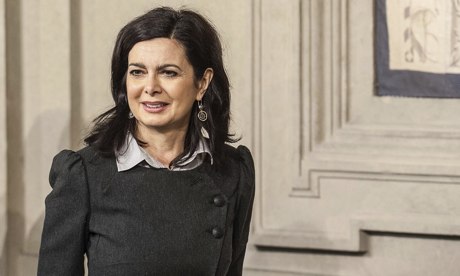 There have been chaotic and at times violent scenes
in the Italian parliament
after the lower house speaker made unprecedented use of her powers to cut short a filibuster by deputies of Beppe Grillo's Five Star Movement (M5S).
Late on Wednesday, M5S MPs stormed the government benches, put on symbolic gags and kept up a barrage of whistling after the speaker, Laura Boldrini, cut short the debate and ordered a vote on a complicated and intensely controversial measure to square
Italy
's public accounts. One of Grillo's followers said an MP from the governing majority
had slapped her
during the disorder.
Opposition MPs claim that the measure would hand more than €7bn (£5.8bn) of taxpayers' money to the banks.
Members of the far-right opposition Brothers of Italy party showered chocolate coins on the government's representatives in the chamber and unfurled an Italian flag. After the vote was taken, Boldrini's party colleagues in the radical Left Ecology and Freedom (SEL) party broke into a chorus of the old partisan song Bella Ciao, prompting the M5S to respond with a rendition of the national anthem.
It is the first time since the foundation of the Italian republic after the second world war that a speaker has used the power to cut short a debate in this way. If she had not intervened, the decree at the centre of the dispute would have lapsed at midnight and Italian homeowners would have been landed with a bill for €2.2bn.
Enrico Letta's left-right coalition government won the vote by 236 to 209.
The decree was the latest stage in the government's tortuous efforts to fulfil an election pledge by Silvio Berlusconi to scrap an unpopular tax on first homes – and to do so without increasing Italy's already vast, €2tn public debt. Part of the cost is being passed to banks.
But the decree included provisions for an increase in the capital of Italy's central bank – a move that will swell the balance sheets of the commercial banks that are shareholders in the Bank of Italy. Since the central bank is to use its statutory reserves for the increase, the M5S argued that it amounted to a gift of more than €7bn to the banks.
Berlusconi and his party withdrew their backing for the government last year. But the Democratic party (PD), to which Letta belongs, needs the media tycoon's support to pass a new electoral law and a constitutional reform due next year.
Spain.....
Thursday, January 30, 2014 11:10 AM
When you are about to miss budget targets, the easy thing to do is lower the bar, again and again until you can hit them. Spain did just that, and still missed.
Via translation from Libre Mercaado, please consider
Spain Misses Budget Deficit Target for 2013
.
Treasury announced a deficit of 5.44% of GDP in November, but official data elevate that number to 5.96%. Taking a December shortfall estimate into consideration, the deficit estimate is around 6.9% for 2013.

Economy Minister Luis de Guindos, chose his words are very careful in this regard. Guindos said yesterday that the 2013 deficit would "converge towards the target of 6.5%", through improved tax collection and lower cost of debt (interest payments).

The defict is not the only accounting chicanery. Tax data used to estimate GDP has little or nothing to do with reality.

Accurately stated, the deficit would be around 5.96% of GDP to November, instead of the 5.44% announced by the Treasury, which is a deviation of 0.52% of GDP.

Also remember that until last June, the general government deficit target for 2013 was 4.5% of GDP and not 6.5%. The Government of Mariano Rajoy managed to smooth the path of fiscal consolidation after pressing insistently to Brussels.

In any case, the final deficit figure will not be known, quite possibly until the end of 2014, after the successive and traditional budget and GDP revisions specific to the Spanish authorities, as usual.
For grins, let's take a look at a progression of events in 2013.
March 12, 2013
- Mish:
Spain's Budget Deficit Grew by 35.4% in January to 1.2% of GDP; Spain's Tax Revenue Drops 20% in Face of VAT Hikes
Summary



Spain's budget deficit for the month of January was 0.89% not counting regional deficits.
The target for the entire year is 3.8% of GDP.
On that basis, Spain went through 23.42% of its annual budget in a single month.
Spain's deficit target including regions and transfer payment is 4.5% of GDP.
The deficit including regions and transfer payments was 1.2% of GDP.
On that basis, Spain blew 26.67 % of its budget in a single month.
Territorial government revenues declined 29.1%
Income Tax revenue (corporate + personal) fell 18.2%
Social Security payments grew by 40.2%
Overall transfer payments increased 23.3%


Odds of Success Zero Percent

Odds Spain hits its budget target of 4.5% in 2013 is precisely 0.00%.
In June, after begging Brussels for relief, the target was revised to 6.5% of GDP.
September 16, 2013
- New York Times: Spain's economy minister, Luis de Guindos, said
Spain on Track to Meet Budget
.
"Spain is on track to meet the 2013 budget deficit target it agreed on with its European Union partners and should emerge from recession before the end of the year," the economy minister said on Monday.

After the financial crisis burst Spain's construction bubble in 2008, "no doubt 2014 will be the first year when Spain will have some recovery," the minister said.
September 18, 2013
- Mish (commenting on the NYT article):
Spain on Track to Meet Budget Targets Says Economy Minister; Data Strongly Suggests Otherwise
How many lies and distortions can one man present in a few short paragraphs?

If by some miracle Spain meets this year's target, it is only because the target changed 4 times in the past two years.

Yet, I still have to ask: how likely is that?
December 5, 2013
- Mish:
Spain Raids Social Security Reserve Fund to Meet Deficit Targets
Monetary magic of borrowing money from trust funds allegedly helps Spain come closer to meeting its budget deficit targets reports Eurointelligence.

If Spain meets it budget deficit target this year, it will likely do so by some sort of accounting gimmickry or purposeful under-reporting of regional debt.

Expect the same thing multiple times in 2014, because Spain will have to not only catch up with its 2013 revised deficit shortfalls, but also comply with new rules that likely take away some sleight of hand budget gimmickry.

By the way, it's important to note that 97% of what's left of the reserve fund is invested in Spanish government debt. Think that investment won't ever take a haircut?
And so here we are, with yet another miss of a four times watered down budget deficit target.
Mike "Mish" Shedlock
Foreign Investment In France Crashes 77% In 2013 (Most On Record) To 26 Year Lows
Submitted by Tyler Durden on 01/30/2014 15:04 -0500
When your manufacturing industry unions kidnap their business leaders, taxes reach extremes of duress, industrial production limps lower and unemployment hits record highs; it is hardly surprising that the world is a little nervous of piling its hard-printed cash into your country. But in the case of France, data reported by the UN shows the biggest collapse in foreign direct investment ever. Figaro reports that FDI fell to EUR 5.7 billion - a drop of over 75% year-over-year - and the lowest since 1987. Ironically, Spain's FDI rose 37% and Germany's quadrupled... Is France an Emerging Market now?
Data: Bloomberg and Figaro
Friday, January 31, 2014 11:41 AM
How long can secret ECB meetings stay secret? Allowing time to write a story, the answer is something like 3 days, if that. The Wall Street Journal today reports on a secret meeting that took place Monday evening regarding Greece finances.
Please consider
Greece Creditors, France, Germany Held Secret Meeting Monday
.
Top officials peeled away from colleagues after a euro-zone finance ministers meeting in Brussels Monday evening for a secret meeting to discuss mounting concerns over Greece's bailout.

Greek Finance Minister Yiannis Stournaras, who was briefing the press in a building across the street at the time, wasn't invited.

High-level officials from the International Monetary Fund, the European Commission, the European Central Bank, senior euro-zone officials and the German and French finance ministers were present, according to people with direct knowledge of the situation. They spoke on condition of anonymity because they aren't authorized to talk to the press.

They were trying to figure out how to tackle two issues threatening to unsettle the fragile economic recovery in Greece and the broader euro zone.

They discussed how to press the Greek government to forge ahead with unpopular structural reforms; and second, how to scramble together extra cash to cover a shortfall in the country's financing for the second half of the year, estimated at €5 billion-€6 billion ($6.81 billion-$8.17 billion).

The meeting was inconclusive, the people familiar with the situation said.
Creditors Worried
Clearly, creditors are worried over Greece's ability to pay back bailout money (loans). They should be worried because there is no possible way Greece can ever pay back those loans.
The best time to be worried about getting paid back is before stupid loans are made, not now. It's far too late to be worried now about loans already made. There is still time to not compound the mistake of making further loans (something they have done several times already).
Politics
Support for Prime Minister Antonis Samaras' New Democracy coalition has crumbled to pieces. If an election were held today, opposition party SYRIZA would win without a doubt.
Moreover, SYRIZA leader Alexis Tsipras, who opposes the austerity measures and said his party wouldn't repay the $325 billion in loans granted by the Troika of the European Union-International Monetary Fund-European Central Bank (EU-IMF-ECB) has predicted the Leftists will come to power.
For details, please see
SYRIZA Surges in Greek Polls, Would Win Election if Held Today; Message People Want to Hear; Contagion Guarantee
.
Tsipras has since backed off on some of his harsh threats, but I suspect only for the purpose of increasing his election chances.
Repeating what I have stated before ...
Default Coming One Way or Another
Whether done properly, or with promises that cannot be met, Greece is going to default on that debt. When that happens, German citizens will discover that Chancellor Angela Merkel's promise that German taxpayers won't be impacted is as hollow as most chocolate Easter bunnies.
Calculating taxpayer responsibility percentages of various countries is simple enough.
Eurozone Financial Stability Contribution Weights
| Country | Guarantee Commitments (EUR) Millions | Percentage |
| --- | --- | --- |
| Austria | € 21,639.19 | 2.78% |
| Belgium | € 27,031.99 | 3.47% |
| Cyprus | € 1,525.68 | 0.20% |
| Estonia | € 1,994.86 | 0.26% |
| Finland | € 13,974.03 | 1.79% |
| France | € 158,487.53 | 20.32% |
| Germany | € 211,045.90 | 27.06% |
| Greece | € 21,897.74 | 2.81% |
| Ireland | € 12,378.15 | 1.59% |
| Italy | € 139,267.81 | 17.86% |
| Luxembourg | € 1,946.94 | 0.25% |
| Malta | € 704.33 | 0.09% |
| Netherlands | € 44,446.32 | 5.70% |
| Portugal | € 19,507.26 | 2.50% |
| Slovakia | € 7,727.57 | 0.99% |
| Slovenia | € 3,664.30 | 0.47% |
| Spain | € 92,543.56 | 11.87% |
| Eurozone 17 | € 779,783.14 | 100% |
The above table from
European Financial Stability Facility
Note that Greece is responsible for 2.81% of Greek defaults. How is that going to work?
It doesn't. So take that percentage and spread it around according by revised weight. And what is Spain supposed to do with it's 12% of €325 billion of defaults?
Contagion Guarantee
Thank the economic illiterates at Troika for this setup.
Greece could have defaulted in 2009 with perhaps a €40-50 billion mess to cleanup. In a foolish attempt to prevent contagion, the nannycrats turned a relatively small mess into major €325 billion problem, virtually assuring the contagion they set out to prevent.
Expect to see much use of the word "contagion" in the coming months.
Here is a question I asked in
Prisoner's Dilemma Game in Greece; Contagion-Spread Eurozone Breakup More Likely Now; How will Greece NOT pay back €320 billion?
So Angela Merkel, when are you going to admit this setup, and what are you going to do about it?
Results "Inconclusive"
Clearly she doesn't know. Results of the meeting were "inconclusive".
If the Troika wants to hold secret meetings on something realistic, they should include Greece, and discuss how best contain the damage when Greece does default. Instead they focus on the delusional zero percent idea they can somehow prevent default or further writedowns.
Mike "Mish" Shedlock
Greece bailout: MEPs land in Athens to investigate effect of troika's loans
Inquiry comes amid mounting criticism of the wreckage austerity has left since Greece accepted emergency loans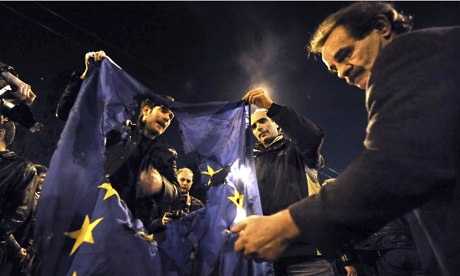 An inquiry into whether international creditors have inflicted more harm than good on
Greece
– the most problematic of the four countries bailed out since the onset of
Europe
's debt crisis – intensified on Wednesday with the arrival in Athens of MEPs conducting the investigation.
In a reversal of roles, the seven-strong team of MEPs began an on-the-ground examination of the tough cost-cutting policies that Athens' "troika" of lenders – the EU,
European Central Bank
and International Monetry Fund – has prescribed as a cure for the nation's financial woes.
The two-day visit comes amid mounting criticism of the wreckage
austerity
has left in its wake since Greece, locked out of capital markets, was forced to resort to emergency loans to avert default.
Ottmar Karas, the conservative Austrian European Parliament vice-president leading the inquiry, admitted mistakes had been made. "The troika … prevented the bankruptcy of several countries. Without it, the situation today would be much worse," he told the Greek daily Kathimerini ahead of the fact-finding mission.
"But that does not mean that every single decision and the decision procedures have been perfect … nobody, no country, no institution was prepared for such a situation."
The adjustment programme enforced on Greece as the price of more than €240bn in aid has been blamed for record levels of unemployment, the loss of more than a quarter of GDP, prolonged recession and a sharp increase in the country's already monumental debt load, even though it has also achieved the biggest fiscal consolidation in modern times.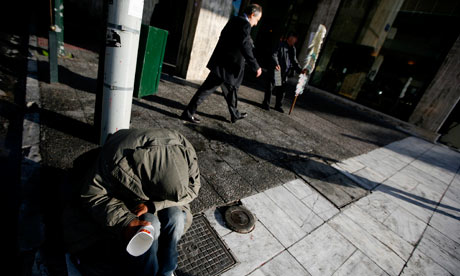 According to figures released by the European Parliament, Greek public debt jumped from 148 % of national output in 2010, when Athens signed up to the international rescue, to more than 176% of GDP at the end of 2013. Under the twice-bailed out nation's latest loan agreement, it will need to fall to around 120% by 2020 to become anywhere near sustainable – a target widely seen as high nigh impossible.
But likening the crisis to a storm, Karas insisted that Greece, Ireland, Spain, Portugal and Cyprus had ultimately been saved. "We had to repair the boat during the storm," he said. "The storm is not yet over. But we have saved the boat – that is what everybody has to acknowledge. But now we have to ask what can be done in a better way, in similar situations in the future."
The delegation, which has visited Ireland, Portugal and Cyprus, will be meeting officials from the Greek government and anti-austerity opposition for a report it is expected to publish in April.
The team has already indicated that the troika may become a thing of the past as it looks at ways of reorganising the body.
The IMF has increasingly been at loggerheads with other lenders over rescue policies, not least those imposed on Greece where it insists that debt relief must now be made a priority if the crisis-plagued country is ever to recover economically.
Germany – the biggest provider of assistance so far, bankrolling around 27% of the emergency loans to date – has fiercely rejected the proposal, arguing that fiscal progress will only be improved when Athens forges ahead with long overdue structural reforms and the sale of state assets. Creditors promised to discuss the possibility of a debt write-down when Greece achieved a primary budget surplus which it is on course to do.
Karas conceded that as part of the soul-searching the creation of a European Monetary Fund – carved out of the emergency European stability mechanism – was among the options now being considered. "The help of the IMF was indispensable. At the beginning of the crisis, the EU did not have the expertise the IMF had," he said, referring to the Washington-based organisation's long history of overseeing financial assistance programmes for ailing states.
"But it is also true that the share of IMF money in the [European] programmes [has] decreased from a third at the beginning to less than 10% now."
and.....



MEPs herald end to troika, look to debt restructuring


Members of a European Parliament committee investigating the role of the troika and the impact of its policies in Greece on Thursday heralded the end of an "interim" institution, to be replaced by a "more democratically accountable and transparent" inspection process, and underlined the need for debt relief if Greece is to emerge from a spiral of austerity.

Wrapping up a two-day fact-finding visit to Athens, where they met with government and opposition officials, the seven MEPs said the troika had been "necessary and right" for Greece at the outset but that "irresponsible decisions" were taken in the process with painful social repercussions.

"We need more transparency, more democratic legitimacy," Othmar Karas, the conservative Austrian MEP leading the inquiry, told a press conference. "All instruments of the EU must be based on community law," he added.

Another delegate, French Socialist MEP Liem Hoang Ngoc, was more categorical, declaring that there was "no legal basis for the actions of the troika." "The time of the troika is over," he said. Hoang Ngoc added that the ratio of Greece's debt to its gross domestic product has grown, meaning a debt restructuring was all but inevitable. "Without a debt restructuring, Greece won't have the room to maneuver for less austerity," he said, noting that a restructuring could take the form of extended maturities or lower interest rates on loans.
The French MEP also contradicted comments in Parliament on Wednesday by his colleague Karas, according to which leftist SYRIZA leader Alexis Tsipras had failed to come up with any substantial proposals during a meeting in Strasbourg in December. Hoang Ngoc said Tsipras "provided us with a detailed economic and social analysis, as well as policy proposals," adding that he welcomed "the collaboration of Mr Tsipras."
SYRIZA called on Karas to make a public apology and, during the press conference, the Austrian MEP appeared to pull back from his earlier remarks. "I'm not investigating Tsipras, I'm investigating the troika," he said.
Greece faces new black hole in finances amid rising tensions with creditors
Greek finance minister Yannis Stournaras prepares for dressing down in Brussels over evidence of resistance to reforms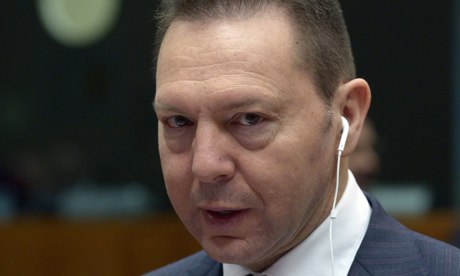 European finance ministers meeting in Brussels on Monday are due to express disquiet over the resistance Athens is displaying to adopting reforms, as the Greek government weighs up the cost of a court ruling reversing wage cuts for security forces agreed under the country's bailout.
The Greek economy minister, Yannis Stournaras, was steeling himself for a dressing down – even though he is chairing the session in
Greece
's capacity as current EU president – amid evidence of spiralling tensions between the debt-crippled nation and its international creditors.
The EU, European Central Bank and International Monetary Fund, which have already postponed completing their latest review of the economy, signalled that rescue funds will not be forthcoming if Greece fails to implement improved competition rules. Prime minister Antonis Samaras's increasingly beleaguered administration has indicated it will be unable to enforce all of the reforms, going so far as to propose alternatives at the weekend.
The stand-off comes as Greece's highest legal body, the court of state, challenged the country's fragile
economic recovery
by demanding that the military and police be reimbursed for cuts dictated when Athens signed up to a second EU-IMF rescue programme in 2012.
The ruling, which was leaked before being officially announced, described the austerity measures as unconstitutional.
If enforced, the court decision will throw a wrench in the fiscal progress Greece has made since narrowly avoiding bankruptcy by adding a burden of anywhere between €500m and €1bn on to the government's extremely tight budget.
That, say officials, would in effect wipe out the €800m primary budget surplus – before debt repayments – the government had hoped to post in 2013, its first in years. The data, which is not expected to be officially available until April, had been hailed as a major victory at a time when the unprecedented fiscal consolidation Greece has achieved is having an ever greater toll on society at large. Athens' fragile two-party coalition had promised that at least 70% of the surplus would be used to redress cuts and benefit losses imposed on pensioners and other Greeks worst hit by the crisis.
"The government has very little room for manoeuvre and the verdict poses one more problem," said Paschos Mandravelis, a political commentator. "Things are so tight, the situation is still so critical that if this now meant more measures it could easily fall."
On Sunday night, as officials scrambled to locate the extra monies, the court signalled it was considering appeals from social security funds and other civil servants on similar salary regimes to the armed forces, including university professors.
"If that is the case and it is extended to other public sector employees it will be hugely significant," Giorgos Stathakis, shadow development minister with the main opposition radical left Syriza party told the Guardian.
"At this point in time the funds could only come from the primary surplus but Greece is also facing a fiscal gap in 2014 and that makes things more difficult still.
"The 2014 budget is based on the assumption the economy will grow and so a great deal will depend on the recession."
With Samaras desperate to avoid implementing further belt-tightening, insiders said the government could draw funds from bribes and bank accounts confiscated from corrupt officials.
Kickbacks from arms deals, believed to be in excess of €80m, could also used.
Tensions spawned by the court verdict have been further exacerbated by suggestions made by the EU monetary affairs commissioner Olli Rehn that Athens will have to wait until the summer for debt relief talks to begin. Greece had hoped to initiate the talks in the spring when it had official confirmation of its primary budget surplus.