http://www.blacklistednews.com/Indiana_guardsman_stopped_for_speeding_had_48_bombs%2C_blueprints_for_a_Navy_SEAL_training_facility/31837/0/0/0/Y/M.html
An Indiana National Guardsman was arrested outside Columbus on New Year's Day after a state trooper found nearly 50 bombs and the blueprints for a Navy SEAL training facility inside his car, the Madison County prosecutor said yesterday.
Andrew Scott Boguslawski, 43, also had a remote-control device to detonate the bombs, Madison County Prosecutor Stephen Pronai said. Boguslawski's civilian job is as a groundskeeper at the Muscatatuck Urban Training Center in south-central Indiana. Prosecutors could not say definitively yesterday whether the blueprints in his car were for the facility where he worked.
Boguslawski also had a bulletproof vest in his car, Pronai said.
Lt. Col. Cathy Van Bree, a spokeswoman for the Indiana National Guard, said Boguslawski is a specialist in the guard who does
intelligence analysis and has top-secret clearance.
http://beforeitsnews.com/protests-demonstrations/2014/01/viral-checkpoint-refusal-video-very-surprising-reaction-from-cop-at-checkpoint-2452618.html
Have border patrol officers patrolling areas near the US border been given lessons on the US Constitution in recent weeks? The interesting video below might cause one to wonder what is going on in the US government recently. Has the govt remembered who they're here to serve? The video below has gotten over 20,000 hits in the 5 hours since it was released on Live Leak.The cops reaction is priceless and symbolically is a good sign for Liberty and the US Constitution as the year 2014 begins.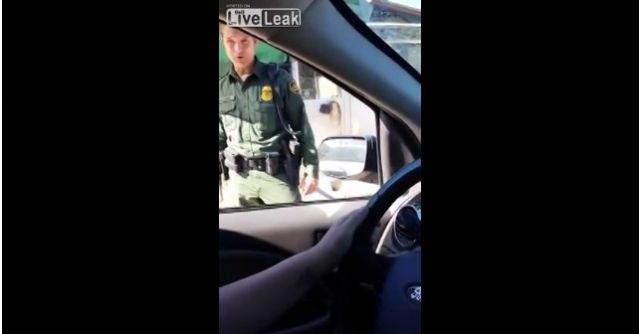 http://www.blacklistednews.com/We%E2%80%99ve_Known_for_Some_Time_that_the_NSA_Is_Spying_On_Congress/31830/0/0/0/Y/M.html
WHAT IT REALLY MEANS
It's not the first time. David Sirota
notes
:
When I asked U.S. Rep. Alan Grayson (D-Fla.) if the NSA was keeping files on his colleagues, he recounted a meeting between NSA officials and lawmakers in the lead-up to a

closely contested House vote

to better regulate the agency:

"One of my colleagues asked the NSA point blank will you give me a copy of my own record and the NSA said no, we won't. They didn't say no we don't have one. They said no we won't. So that's possible."

Grayson is right: presumably, if the NSA wasn't tracking lawmakers, it would have flatly denied it. Instead, those officials merely denied lawmakers access to whatever files the agency might have. That suggests one of two realities: 1) the NSA is keeping files on lawmakers 2) the NSA isn't keeping files on lawmakers, but answered vaguely in order to stoke fear among legislators that it is.
Sirota notes the danger of even the threat of spying on the legislature:
Regardless of which of these realities happens to be the case, the mere existence of legitimate fears of congressional surveillance by an executive-branch agency is a serious legal and separation-of-powers problem. Why? Because whether or not the surveillance is actually happening, the very real possibility that it even could be happening orhas happened can unduly intimidate the legislative branch into abrogating its constitutional oversight responsibilities. In this particular case, it can scare congressional lawmakers away from voting to better regulate the NSA.
Access to that telephone metadata would be extremely useful for manipulating the legislature.

***

Should anyone doubt how much mischief could come from spying on even one member of Congress, let's look back at the story of former Democratic Representative Jane Harman and what happened when the NSA intercepted and transcribed one of her telephone calls. That's right: There's a known instance in which a legislator's private communications were captured by the NSA, though it's a complicated story….

The story begins with the NSA surveilling two Israeli nationals suspected of being spies. Unbeknownst to them, their phone calls were being recorded by the NSA–and one day, a conversation with Harman got swept up in the ongoing wiretap. No one on the call knew it was being recorded.

"One of the leading House Democrats on intelligence matters was overheard on telephone calls intercepted by the

National Security Agency

agreeing to seek lenient treatment from the Bush administration for two pro-Israel lobbyists who were under investigation for espionage," the New York Times

reported

on April 20, 2009, following up on a story broken by Congressional Quarterly's Jeff Stein.

***

Congressional Quarterly reported that a criminal case against Harman was dropped because she was a useful ally to the Bush Administration:

Justice Department attorneys in the intelligence and public corruption units who read the transcripts decided that Harman had committed a "completed crime," a legal term meaning that there was evidence that she had attempted to complete it, three former officials said. And they were prepared to open a case on her, which would include electronic surveillance approved by the so-called FISA Court …

First, however, they needed the certification of top intelligence officials that Harman's wiretapped conversations justified a national security investigation … But that's when, according to knowledgeable officials, Attorney General Gonzales intervened. According to two officials privy to the events, Gonzales said he "needed Jane" to help support the administration's warrantless wiretapping program, which was about to be exposed by the New York Times.

Harman, he told Goss, had helped persuade the newspaper to hold the wiretap story before, on the eve of the 2004 elections. And although it was too late to stop the Times from publishing now, she could be counted on again to help defend the program.

He was right.

On Dec. 21, 2005, in the midst of a firestorm of criticism about the wiretaps, Harman issued a statement defending the operation and slamming the Times, saying, "I believe it essential to U.S. national security, and that its disclosure has damaged critical intelligence capabilities."
We
noted last month
that the NSA has previously spied on congress members for improper purposes:
They targeted Sen. Frank Church and Sen. Howard Baker. It could mean they were trying to get information or dirt on senators involved in the Church committee and Watergate committee investigations respectively — either to learn something about their investigations or to discredit them.

***

We still need more information about what happened then. But more critically, we need more information about what's happening now. These revelations raise the obvious question:If the NSA was targeting people like Sen. Frank Church, who were in a position to oversee the NSA — is that happening now? That is, are people like intelligence committee chairs Sen. Dianne Feinstein (D-Calif.), Rep. Mike Rogers (R-Mich.) and other congressional leaders — who are supposed to be providing oversight themselves — compromised in some way by the NSA? If so, as seems quite certain from the recent Edward Snowden revelations, then how can they conduct genuine oversight of the NSA with their committees?"

***

If I were a member of congress, I would be terrified that NSA would do to them what J. Edgar Hoover did to members back during his time.

Sound paranoid?

The NSA has been tracking people's porn in order to discredit them. The New York Times reports that this type of behavior has been going on for a long time: "J. Edgar Hoover compiled secret dossiers on the sexual peccadillos and private misbehavior of those he labeled as enemies — really dangerous people like … President John F. Kennedy, for example".

Another very high-level NSA whistleblower – the head of the NSA's global intelligence gathering operation – says that the NSA targeted CIA chief Petraeus
Indeed, because the NSA's raw information is shared with Israel, it is possible that the Israeli government is blackmailing our congress members. The Guardian
reported
in September:
The National Security Agency routinely shares raw intelligence data with Israel without first sifting it to remove information about US citizens, a top-secret document provided to the Guardian by whistleblower Edward Snowden reveals.

***

According to the agreement, the intelligence being shared would not be filtered in advance by NSA analysts to remove US communications. "NSA routinely sends ISNU [the Israeli Sigint National Unit] minimized and unminimized raw collection", it says.

***

A much stricter rule was set for US government communications found in the raw intelligence. The Israelis were required to "destroy upon recognition" any communication "that is either to or from an official of the US government". Such communications included those of "officials of the executive branch (including the White House, cabinet departments, and independent agencies), the US House of Representatives and Senate (member and staff) and the US federal court system (including, but not limited to, the supreme court)".
And it's not just the NSA.
Last year, Eric Holder
refused to say
whether the Department of Justice was spying on Congress.
Ford Exec: 'We Know Everyone Who Breaks The Law' Thanks To Our GPS In Your Car
FJan 08 05:00PM
15.55

Change

+0.17

% Change

+1.11%
Ford's Global VP/Marketing and Sales, Jim Farley, said something both sinister and obvious
during a panel discussion
about data privacy today at CES, the big electronics trade show in Las Vegas.
Because of the GPS units installed in Ford vehicles, Ford knows when its drivers are speeding, and where they are while they're doing it.
Farley was trying to describe how much data Ford has on its customers, and illustrate the fact that the company uses very little of it in order to avoid raising privacy concerns: "We know everyone who breaks the law, we know when you're doing it. We have GPS in your car, so we know what you're doing. By the way, we don't supply that data to anyone," he told attendees.
Rather, he said, he imagined a day when the data might be used anonymously and in aggregate to help other marketers with traffic related problems. Suppose a stadium is holding an event; knowing how much traffic is making its way toward the arena might help the venue change its parking lot resources accordingly, he said.
http://beforeitsnews.com/alternative/2014/01/terminated-machines-might-fight-us-2868680.html
The human race faces a real danger from machines that get too smart, said a New York University professor in a network TV appearance. And he's not talking about sci-fi movies.
"It's likely that machines will be smarter than us before the end of the century – not just at chess or trivia questions, but at just about everything, from mathematics and engineering to science and medicine," Gary Marcus
told his New Yorker readership
.
Marcus appeared recently on "CBS This Morning" with James Barrat, author of "Our Final Invention: Artificial Intelligence and the End of the Human Era":
While some artificial intelligence already is ubiquitous – the iPhone's Siri and Google Search – incredible changes are envisioned in the few decades.
Marcus warned that the changes will happen and that people need to be making preparations now.
"There's the potential of machines that might fight us for resources," he said. "It's not guaranteed … you see the kind of 'Terminator' scenario, and people laugh at it because that's science fiction. But we don't actually have a guarantee that it won't happen."
Marcus added, "I think its really important to start thinking now to keep us from having that kind of scenario. Nobody has the perfect solution that will guarantee that machines do what we want them to do. [There's] already the problem of machines doing what we tell them to do rather than what we really want them to do."
Official_911_story_crumbles_as_Washington_blames_Saudis
With the official story in free fall, Americans are wondering just who did this heinous deed. With the US Government itself the prime suspect, many are asking if the US Government had help from an outside nation, one with a long track record of world-changing dirty tricks.
As people start to seriously examine the plethora of evidence regarding Israel's numerous perfidies it comes as no surprise that recently we have seen Israel's "useful idiots" launch a propaganda campaign to claim that Saudi Arabia was behind the 9-11 attacks, based on a lawsuit brought against Saudi Arabia by the families of the victims. But anyone can bring a lawsuit against anyone for anything. That does not mean the lawsuit allegations are true. Nonsense lawsuits are a reality of the modern US court system, as are lawsuits staged primarily as political and propaganda stunts, which is what this appears to be. At the very least this propaganda is intended to deflect interest away from Israel. At worst, it is the start of the campaign to justify military invasion of that country, just as Saddam's nuclear weapons were the excuse to invade Iraq, and the more recently (and thankfully failed) attempt to justify invasion of Syria by claiming Syria's government was gassing their own people.
As I have mentioned before, the best way to tell if you are being lied to is to look for what should be there but isn't. In the case of the claim that Saudi Arabia was behind 9-11, what should be there and isn't is a motive for Saudi Arabia to do something like that.
Saudi Arabia does not have a history of dirty tricks, nor a demonstrated ability to carry out such deceptions. More to the point, Saudi Arabia has no motive to attack the United States. The Saudi princes have grown very rich indeed through the Petrodollar arrangement. Saudi Arabia buys many American products and weapons ($61 billion in 2011), and unlike Israel, the American taxpayer does not have to give them the money first with which to buy those weapons. Whereas Israel constantly takes money out of the US, the Saudis pour it in! Private Saudi investment in the US economy is over $400 billion. Saudi Arabia is a major creditor to the US Government. Exact figures are hard to find but Saudi Arabia has loaned the US Government hundreds of billions of dollars.
Saudi Arabia is not going to risk an attack on the US because all that wealth would vanish. The Saudi wealth inside the US would be frozen or seized, and the outstanding loans to the US would never be repaid. The "useful idiots" trying to save Israel by blaming 9-11 on Saudi Arabia have yet to come up with a motive for the Saudis to do something like 9-11 that risks losing all that cash.
Remember that Saudi Arabia was being framed for 9-11 right from the start. One of the accused hijackers, a Saudi Pilot named Saeed Al-Ghamdi, was still alive after 9-11 and sued the US Government for defaming him.
And finally, here is some common sense that totally undermines the attempt to frame Saudi Arabia for 9-11. If Saudi Arabia really wanted to hurt the United States, they don't need to fly airplanes into skyscrapers to do it. All they have to do is ask for their money back, all at once. The resulting damage to the US financial system would make 9-11 look like a minor inconvenience in comparison.
And it would be perfectly legal for Saudi Arabia to ask for their money back.
Which is why we know that the claim that Saudi Arabia was behind 9-11 has no more basis in fact than the claim that Saddam had nuclear weapons or that Assad gassed his own people right in front of the UN chemical weapons inspectors.
As the media tries to blame Saudi Arabia for 9-11, it is worth recalling that the Bush administration initially claimed that Iraq was behind 9-11 to sell the 2003 invasion, then later admitted Iraq had actually been innocent. So there is a pattern of the US simply using 9-11 as a "one size fits all" excuse to invade yet another oil rich nation.