For the next ObamaCare speech perhaps ......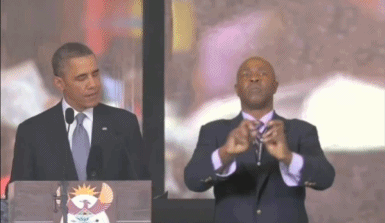 WSJ: About those Healthcare.gov fixes …
Insurers and federal officials sifting through insurance applications under the health-care law have identified a raft of errors, including missing customers and inaccurate eligibility determinations that mean people may be enrolled in the wrong coverage. …

In some cases described by a state official with knowledge of the matter, legal immigrants who aren't yet eligible for Medicaid in Illinois—it takes five years of residence to join the state-run programs for low-income people—were nevertheless told they would be enrolled.

The risk that consumers could remain in limbo as the health law's coverage expansion begins in January has been a continual political threat to the Obama administration, which has addressed flaws—ranging from a malfunctioning website to the cancellation of health policies that don't meet the law's requirements—with a patchwork of last-minute fixes.
But insurance-industry executives warn that some of these data problems will only emerge once customers begin seeking care in January at physicians' offices, pharmacies and hospitals. The result could be bureaucratic chaos as doctors and patients storm insurers' phone banks and federal officials work to clean up the inaccuracies.

There will be "eligibles lost in the ether," said Mark Bertolini, chief executive of

Aetna

Inc.,in an interview. In some cases, children who are meant to be enrolled in their parents plans aren't listed there, he said.
The Healthcare.gov web portal apparently chokes on family coverage, despite that being a decades-long industry practice. A "glitch" in the system somehow splits them off from their parents' households and treats them like adults with no income, pushing them into Medicaid.
The news is just as bad if you were an early adopter. You may not know it until you try to use your benefits, but you have to delete your account and start over if you enrolled before December 1:
Administration officials urged customers to contact the companies they believe will cover them to verify their enrollment, or call state Medicaid agencies to confirm that they are in fact eligible for those programs. People who believe they have received inaccurate eligibility determinations can appeal the decisions, HHS officials have said.

To correct inaccuracies, some people may have to delete accounts and start over now that some glitches have been repaired, people familiar with the matter said.
December 13th.......
Report: Insurers fear they'll have a net loss in enrollments for the year on December 31
Insurers privately tell Bob Laszewski that they think more people will have lost insurance by January 1 than the number who have signed up for Obamacare by January 1.

"I was out making some client calls this week with a number of different carriers and they know exactly how many policies they canceled and how many who reupped. And they know how many people have come in through the exchange," says Laszewski. "And I didn't find one of them who thought they were going to be net ahead on January 1. They all think they're going to net behind on January 1. That's where it's trending so far."

So far, at least 4.8 million Americans have received insurance cancellations notices, but Laszewski predicts that the total Obamacare enrollment will be less than half that number on January 1.

"My guess is that we'll have somewhere around a million and a half people signed up for Obamacare on January 1 in the states and in helathcare.gov," he says. The big question then, he adds, is "why have we gone through this whole dislocation of the American health insurance system if only a million and a half to two million buy health insurance?"



She and the other individual familiar with the system said that some of the 50,000 to 60,000 applications have not been completed because consumers did not provide all the required information, and workers from the outside company, Serco, have been unable to reach them by phone to fill in the blanks.

In other instances, paper applications were placed on hold until last week because parts of the online system needed to answer eligibility questions were not working well enough.

In still other cases, Serco workers ran into one of various computer errors when they tried to process a paper application, and that error has not been corrected.

Besides the applications in the backlog, there are roughly 100,000 paper applications that have been processed, but the consumer was not told of the results until recently. The applicants are supposed to be mailed notification letters, but none went out until recently and the vast majority still have not.
Chaos: HHS "asks" insurers to extend multiple ObamaCare deadlines
Among the guidance the HHS announced:

– It is requiring insurers to accept payments until Dec. 31 for coverage starting on Jan. 1. It is also "urging" insurers to give individuals more time beyond that to pay for coverage. In other words, if somebody pays for coverage in the middle of January, HHS is asking insurers to retroactively make that person's coverage effective as of Jan. 1. HHS is also asking insurers to cover individuals who offer a "down payment," even if that payment only covers part of the first month's premiums.

– In a press release, HHS said it was also "strongly encouraging insurers to treat out-of-network providers as in-network to ensure continuity of care for acute episodes or if the provider was listed in their plan's provider directory as of the date of an enrollee's enrollment."

– HHS is also "strongly encouraging insurers to refill prescriptions covered under previous plans during January."…

Of course, for insurers who have spent years designing plans to comply with the law, this would present huge and unreasonable logistical hurdles.



To put it slightly differently:
December 12th....
http://hotair.com/archives/2013/12/12/surprise-insurers-begin-granting-grace-periods-to-pay-first-month-of-premiums-on-new-obamacare-plans/
Surprise: Insurers begin granting grace periods to pay first month of premiums on new ObamaCare plans
And this will mitigate it. A little.
As a deadline approaches for people to sign up for medical insurance under President Barack Obama's healthcare law, some insurers and state-run online marketplaces are giving shoppers an extra week to pay their first premiums.

The shift to early January from the end of December provides a short grace period for insurers and shoppers to work through any errors in the new policies caused by technology problems dogging enrollment since it opened on October 1…

Aetna Inc, which is selling health insurance on exchanges, or marketplaces, in more than a dozen states, will allow consumers to pay premiums as late as January 8. The Connecticut exchange, Access Health CT, said some shoppers can pay as late as January 7. The Vermont exchange and Covered California have announced similar extensions while Maryland requires payment by January 15.

Cristine Vogel, a Navigant Consulting associate director who has health insurers and providers as clients, said that the grace period is a way for insurers to keep their members at a time when confusion about coverage is expected.
As of this week, the 834 transaction error rates (enrollments sent from the government to the health plans) are better than they were in October and early November but are still running in the 5% to 10% range––a place they have been for a number of weeks now.

The Obama administration has still not built the reconciliation computer system needed to clean up the remaining enrollment data issues between HealthCare.gov and the health plans. The health plans have been told to expect an electronic file in the next few days, containing what the feds think are the health plan's enrollments through November. The plans will then have to figure out how to reconcile the two lists and then fix the problems. Many plans will have thousands of enrollments to reconcile. There will be another such file coming in January for the December enrollments with likely tens of thousands of more names to reconcile.That means that any December errors will have to be fixed before people can be covered, thereby creating additional customer service issues until the files can be cleaned up.
http://www.truthrevolt.org/news/hhs-pressure-insurers-provide-coverage-receiving-payment#.Uqo6MN9M2k4.twitter
Obama Admin Pressures Insurers to Provide Coverage Before Getting Paid
HHS "urging issuers to give consumers additional time to pay their first month's premium and still have coverage beginning January 1, 2014."
12.12.2013
On Thursday, Lauren Aronson, Director of the Office of Legislation for the Centers for Medicare and Medicaid Services, announced a
set of policies
designed to pressure insurance companies to take measures to fill the gaps left by Obamacare.
More specifically, the Department of Health and Human Services will now pressure health insurers to retroactively accept payment for coverage that was supposed to begin on January 1, even if no payments have been made and no coverage has been formally granted. Furthermore, HHS wants insurers to pay out-of-network providers as though they were in-network "to ensure continuity of care for acute episodes," and to pay for refill prescriptions under previous plans."
In other words, if you applied for Obamacare, have not been enrolled, have not paid a dime, and get sick on January 1, the Obama administration now wants insurance companies to pay for your care before you ever pay a dime. Furthermore, they want you to get care for which you will not be approved under your insurance plan.
Rory Cooper, communications director for House Majority Leader Eric Cantor, stated, "It's clear the administration knows Obamacare's problems are only going to get worse, and patients will be the ones who suffer. What's not clear is whether they understand the confusion and chaos they continue to cause."
December 11th......
Capitol Hill Staffers Warned "Do Not Rely" On Obamacare Website
http://hotair.com/archives/2013/12/11/bob-laszewski-the-demographic-mix-in-some-obamacare-risk-pools-right-now-is-very-very-bad/
Bob Laszewski: The demographic mix in some ObamaCare risk pools right now is "very, very bad"
The answer to each question in turn: Not enough people have signed up, and per Laszewski, not enough of the ones who have are the healthy youngsters insurers desperately need.
Older clients, aged above 40, comprise 60 percent of the new Obamacare customers at one of his client health-care companies, Laszewski told The Daily Caller.

The skew is "very, very bad," said Laszewski, who is president of Health Policy and Strategy Associates, Inc…

Precise predictions are impossible because the Obamacare system is so new, and executives do expect a surge of people to join in the next two weeks, Laszewski said.

But the apparent lack of young people "is a very poor omen," Laszewski said.
About one-fourth of the people who have entered their income information on their applications were deemed eligible for subsidies on the exchanges (about 900,000 out of about 3.6 million), which is lower than the number we saw in October alone and remains really far from what was projected. The CBO projected that just 1 million out of the 7 million people to enroll in the exchanges in the first year would be ineligible for subsidies,so the ratio is way off from what was expected (15–75 vs. 75–25). I had some thoughts on that surprising fact a month ago, and I'll add a couple now: Unsubsidized customers (basically, those above the national median income) are generally savvier and more likely to have the resources to enroll and make their payments ahead of time, so maybe this is understandable and doesn't say anything about who will eventually enroll. On the other hand, it may demonstrate that the people to whom insurance was supposed to be expanded — the uninsured, who tend to be low-income and not well educated — aren't getting to the exchanges at all, and covering them will be a much longer term project.
http://www.zerohedge.com/news/2013-12-09/no-way-tell-how-many-people-who-have-signed-obamacare-actually-have
"No Way To Tell How Many People Who Have Signed Up For Obamacare Actually Have"