New and views - first my prior thread.......
Items for Sunday
http://www.zerohedge.com/news/2013-12-08/bitcoin-derivatives-market-has-arrived
The Bitcoin Derivatives Market Has Arrived
Submitted by Tyler Durden on 12/08/2013 13:25 -0500
Having discussed the
advantages and disadvantages
of the crypto-currency and noted the
extreme volatility
of the last few weeks, it seemed only a matter of time before some ambitious entrepreneur tried to monetize the volatility. What better way to "manage the risk" of your virtual currency horde than buying (or selling) options (in a more levered way).
Predictious
, the Dublin-based prediction market, this week unveiled
Bitcoin Option Spreads enabling both long- and short-positions
to be constructed on the already extremely volatile 'asset'.
Regulatory clamp-down in 3..2..1...
The basic mechanism is the same as every option spread market - a fixed payoff for getting the "bet" correct, in this case 10.
In the case below, the bet was that Bitcoin will (or will not) close at $1400 on Wednesday January 1st at 12:00am,
if you believe it will (close at or above $1400) you "buy" the contract at 3.49 (and should you be proven correct you are paid 10 - thus gaining 6.51, similar to buying a call option)...
if you believe it will not reach $1400, you "sell" the contract at 0.55 (and should you be proven correct you pocket the 0.55 and pay out 0.00 - just like writing a call option)
Quite a skew has developed already...
As Predictious notes,
Predictious is now bringing this to the next level by offering a new type of derivative contract: option spreads on the price of Bitcoin. In the past couple of weeks, Bitcoin has been extremely volatile, and it is important for traders to be able to reduce risk, and hedge their Bitcoin position. They can now do so in an easy and cost efficient way by using option spreads.




Option spreads are very versatile, while still offering limited risks. A bullish investor can use a vertical spread to benefit from Bitcoin gains, while limiting risks if the price crashes.




On the other hand, bearish investors can use them to short Bitcoin. Predictious is currently one of the most reliable way to do so. Since losses are limited with option spreads, investors are not exposed to counterparty risks, like they would be when trading futures on competing services.




Aside from Bitcoin traders, miners can also use spreads on the Bitcoin difficulty to reduce risks associated with investing in mining hardware.




...




To date, Predictious users have deposited over $300,000 in Bitcoin on the website.




"Traders are obviously very interested in Bitcoin derivatives, but the number of businesses accepting payments in Bitcoin has surged in the past few months", said Flavien Charlon, Founder of Pixode, "those businesses have expenses in US Dollar, or Euro, andneed to hedge their Bitcoin position. The type of derivatives we are offering will be very useful to them as well".
The bottom-line is that while we can see the 'use' of such a market to enabling some lower cost hedging of any wealth one might have gathered in Bitcoin, we suspect - just as in the case of many other assets - that the underlying asset will see its volatility rise as the derivative (and levered) markets becomes the tail that wags the dog.
Items for Saturday....
The most important news of the week was from China - First the Chinese Central Bank banned financial forms from using BitCoin , then Baidu temporarily suspended the use of BitCoin. These two moves , the first of which occurred on Wednesday , with the latter move occurring on Friday , have made BitCoin even more volatile than usual ! The two day chart captures the carnage from just the past two days , however , back on December 5 , 2013 ( before the PBOC news ) , BitCoin was over 1200 USD ! Today we have seen another breath - taking waterfall move downward - this time to as low as 576 ! The spark as mentioned was chinese moves against BitCoin - with a fall over several days from over 1200 to 576 USD , how long will it be before the BOJ , ECB or the Fed also move to ban or otherwise regulate BitCoin usage by Banks or for use in commercial transactions ? And how must individuals and firms feel this more about using BitCoin for transactions ( not knowing what the value of BitCoin will be from day to day ( if not literally hour to hour ) ? Another item of note - the charts from China's BTC does not seem to capture the moves of today.... is the USD to yuan BitCoin Arb over ( at the low for today BTC would have a value of about 800 in USD as compared with the crash low for BitCoin at Mt Gox of 576 USD ) ?
India next up to warn on BitCoin ?
http://economictimes.indiatimes.com/news/economy/policy/bitcoin-puzzles-regulators-advisory-likely-to-warn-of-risks/articleshow/27082204.cms
NEW DELHI: As regulatory glare increases on Bitcoin globally and its exchange rates become extremely volatile, Indian authorities may soon issue a public advisory to warn against potential risks associated with this new digital currency concept.

While authorities and experts are becoming more worried about its potential money laundering risks, there are also concerns about this new phenomenon snowballing into an 'e-ponzi' or an electronic version of investor fraud, given the growing promotion of bitcoin as an investment product without any enabling regulations for them.

"At least a public advisory may be issued soon to warn against possible risks associated with bitcoins," a senior official said, while adding that the pressure has increased on regulatory and enforcement agencies in India after latest moves by China and France on this front.

"The fact remains that regulators are scrambling for ways to regulate this entire gamut of digital currency, as it is a totally new concept in India and even the jurisdiction is not clear as yet on who should regulate them," he said.
While US has declared that all prevailing money laundering laws would apply to bitcoins, China has asked its banks and other financial institutions not to deal in bitcoins and the public has been asked to do so at their own risk. Besides, France last week warned its banks about risks related to bitcoins.
At the same time, the experts are also raising concerns about cyber security issues, given the huge scope of money laundering and other illegal activities through use of an unregulated digital currency concept.

"The real fear is that Bitcoin can be used to help money laundering," said V Rajendran, advocate and President, Cyber Society of India.

"The concept of a digital currency, unregulated by any monetary authority, is a recipe for disaster. The RBI must step in and regulate this immediately. Lured by so-called appreciation in bitcoin value, people may invest in this and risk losing everything," he added.
After a phenomenal surge in the exchange rate for Bitcoin from little over USD 200 to well past USD 1,000 during November, the rates have seen an extreme volatility over the past few days -- falling suddenly to near USD 800 amid China's move and then soaring past USD 1,200 level.
"Bitcoins have no backing of any government which means in the event of a liquidity crisis, nobody is bound by law to help," said S N Ravichandran, an anti-cyber crime expert who helps police and other authorities regularly.

"The source of traditional hard currency converted into Bitcoin is unknown, no records are being kept. So, Bitcoin can very well be used to finance terror.

****
http://techcrunch.com/2013/12/06/bitcoin-value-loses-its-mind-as-trading-lags-on-the-mt-gox-exchange/
Bitcoin Value Loses Its Mind As Trading Lags On The Mt.Gox Exchange
Next Story
Bitcoin is acting up at the moment. Following a steep decline that saw the currency trade at prices not seen since late November, trading of Bitcoin on the Mt.Gox exchange has
gone crackerdog
.
It has fallen into a pattern of
very rapid rises and falls
that end and begin in a very tight, specific trading range. The following is a chart using one-minute ticks to track the price of Bitcoin on the Mt.Gox exchange for today:
Trading on Mt.Gox is also seeing massive delays, with the current lag listed as almost 40 minutes. So, I doubt that anyone has an idea about what is going on.
Other Bitcoin exchanges, such as
Btc-e
are displaying similar prices for the currency, so the trading price on Mt.Gox isn't itself too batty. Instead, current trading patterns themselves are inscrutable, unless we presume some sort of algorithmic allergic reaction to current trading lag. In the meantime, if you can get your trades through, there is likely a decent arbitrage possibility at play, though trading lag times could make any such activity incredibly risky.
Coinbase has Bitcoin at $848, and Btc-e at $865. The currency was
over the $1,000 mark
yesterday. Bitcoin: Still not that mature.
China
While Bitcoin works through whatever bug or issue is causing its current trading pattern, we need to keep in mind the broader context of the current market position of the currency. A recent decision by the Chinese government to
ban financial institutions
from trading in the currency cut at its potential to become a global repository for value outside of the control of nation states.
Today, news that Baidu has
ceased to accept Bitcoin
is pushing the currency's value down. To lose a company like Baidu at once lowers the inherent utility of Bitcoin, and also directly contravenes the narrative that Bitcoin was starting to find wide integration into the world of e-commerce, thus granting it legitimacy, and perhaps improved stability.
Chinese demand has been a key supplier of recently robust demand for Bitcoin, comprising an increasing percentage of Bitcoin's trading volume. If that driver slips, so too could the value, and market interest in Bitcoin.
Bitcoin has fallen from over $1,200 since the Chinese news cycle broke. That's a steep decline — about 30 percent — in a few days. The question now becomes what will bring upside back to Bitcoin?
http://www.valuewalk.com/2013/12/bitcoins-fraud/?utm_source=mailchimp&utm_medium=email&utm_campaign=EMAIL_DAILY
Bitcoins May Be Letting Fraud Run Rampant
http://www.marketoracle.co.uk/Article43454.html
Bitcoin Price Crash Towards Zero? The Ponzi Scheme Bubble Plays Out as Designed Currencies / BitcoinDec 07, 2013 - 02:27 PM GMT

The Bitcoin price last traded at USD 790 (this morning) which represents a 37% price crash against its trading high of 1242, vaporising the wild dreams of just a few days ago where some reported that the virtual money could be destined to go as high as 1 million! Whilst never realising the difference between what is virtual and what is real, instead in large part bitcoin pumper's remain in denial as many have been seduced by the golden coin image to imagine that bitcoins and gold are the same or similar when the reality is the exact opposite. Bitcoins is fairy dust, it is perceived as being very valuable but a small gust of reality is enough to make it disappear.
Bitcoins is DESIGNED to play out as a ponzi scheme bubble to enrich those that created it as they mined over a million bitcoins (current 12.1mln bitcoins) relatively easily (initially low processing power required), with future supply increasingly limited as much greater processing power is required to mine more blocks which coupled with the media frenzy has helped push up the price which the designers and early adopters can offload into and onto unsuspecting fools. This is a ponzi scheme where only the designers and initial miners win hugely, that I suspect will lead to criminal prosecutions.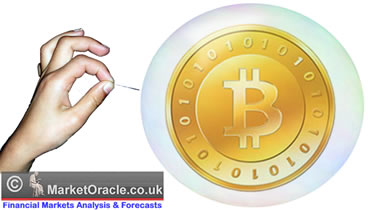 Meanwhile, over the past 24 hours the blogosfear, mainstream press and the sales men have been busy writing reams of commentary on the bitcoin crash AFTER the event, AFTER the bitcoin crash, and many can be seen floundering like fish out of water as to what direction bitcoins are likely to take going forward as they delve into double speak i.e. implying that the price could continue falling or then again might be a great opportunity to buy, the broadcast news is full of such double speak by the media whores that populate the likes of CNBC, you know who they are!
So whilst the media was painting a picture of bitcoins soaring into the stratosphere, I made it clear in my article of just over a week ago as the bitcoin price homed in on its 1242 high as to why bitcoins were a ponzi scheme destined to collapse and what bitcoin holders should do IMMEDIATLEY.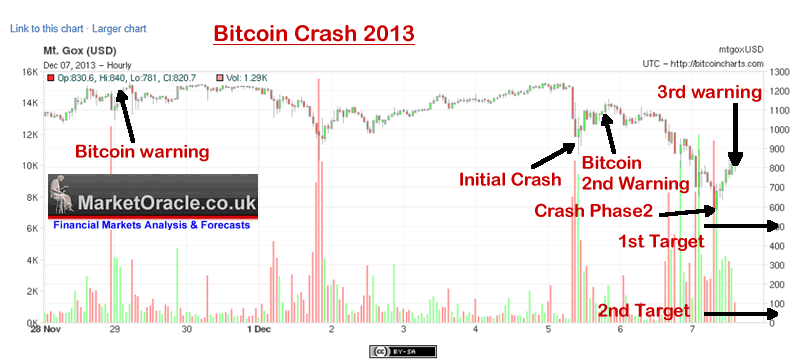 As was the case for the original Tulip Mania, following the bursting of the bubble Bitcoins will soon be forgotten and so will the craze for all peer to peer i-currencies, as the bottom line is that bitcoins never matched the hype for transactions are NOT anonymous and it IS heavily manipulated by a handful of mining pools so is not decentralised as today ordinary people cannot muster the processing power required to mine for bitcoins.
The bottom line is that bitcoins are a pyramid ponzi scheme where those who got in early win, whilst everyone else loses. If you own bitcoins then you should get out IMMEDIATELY!
Here are some mainstream media excerpts of the bitcoin craziness in the run up to the crash.
If you want to buy drugs or guns anonymously online, virtual currency Bitcoin is better than hard cash. Canny speculators have been hoarding it like digital gold. Now the world's leading bankers are even talking about as a rival for real money.
People keep describing this price behavior as "crazy" and "insane," but it's actually not that surprising. Earlier this spring, when Bitcoin was trading at about $90, I "raised my Bitcoin target" to $400. This was an inside joke that referenced an old price target of mine. I don't actually have a Bitcoin target. But I was getting at a more profound point: $400 is a perfectly reasonable target for Bitcoin. As is $1,000. As is $10,000 or $100,000 or $1 million.
In January of 2009, Satoshi started mining the first crop of bitcoin, creating what is known as the "genesis block." By year-end, over 32,000 blocks had been added to this original block, producing a total of 1,624,250 bitcoins. Since all transactions are public on the blockchain, we know that only a quarter of those bitcoins have ever changed hands, which means Satoshi is believed to be sitting on a stash of roughly one million bitcoins. With Bitcoin surging past $1000, that stash is worth about $1.1 billion.
Wednesdays price crash was followed early Thursday with my next article that laid out a forecast of how the bitcoin crash would play out over the coming days as the price at the time had recovered strongly from its initial crash to 900 to stand at 1074 at the time.
What's Next for Bitcoins
A quick technical review of the charts implies that a double top pattern is being formed which is a warning that the bounce from the neckline is not something that bitcoin holders should put much hope into for the price is likely to reverse within days to break the neckline and retrace all the way down to at least 500 (current 1074), which is more than a 50% drop of the last price and a 60% drop from the high.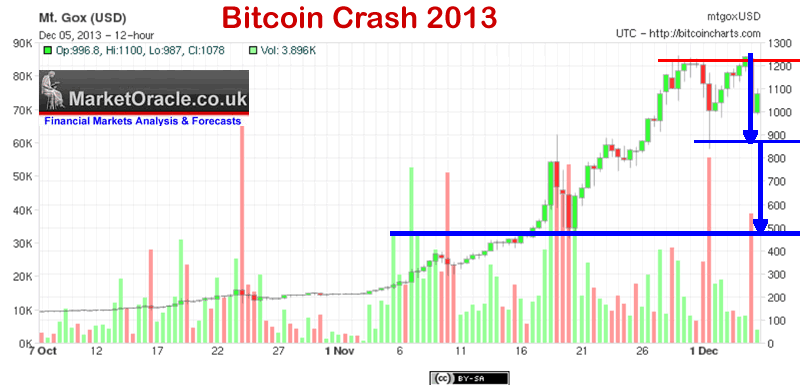 Longer term my view remains that bitcoins could lose as much as 99% of their value, so following a 60% crash, don't be seduced into the buying opportunity sales pitch that you will hear much about, no matter how hard the price bounces following the crash it will as the bitcoin longer term history illustrates just mark the initial phase of a prolonged price collapse towards 1/99th of its trading high or about 15, at which point even I would consider a speculative buy.
The bitcoin stepped crash with much volatility continues to play out not just towards my technical target of 500 but eventually towards virtually zero as represented by my longer-term objective of just 15, that is 1/99th of its trading high. So understand this that the nightmare for those who continue to hold onto bitcoins is only just beginning, yes the price has crashed by 37%, but it is still stands 37% above its technical target of 500 and has the potential for a 96% loss of its current value should the target of 15 be realised, so this is NOT the time to hold on hopes of recovering back towards the highs as the loss of value sustained could literally be TOTAL! A lesson that all market traders have to learn else they will go bankrupt holding on for price recoveries that always become more distant with each stomach churning lurch to the downside.
For more analysis of why bitcoins is crashing do read my two recent articles on bitcoins
Charts courtesy of http://bitcoincharts.com
Nadeem Walayat
http://www.zerohedge.com/news/2013-12-07/bitcoin-crashes-loses-half-its-value-two-days
Bitcoin Crashes, Loses Half Of Its Value In Two Days
Submitted by Tyler Durden on 12/07/2013 09:27 -0500
It was inevitable that a few short days after Wall Street lovingly embraced Bitcoin as their own, with analysts from Bank of America, Citigroupand others, not to mention the clueless momentum-chasing, peanut gallery vocally flip-flopping on the "currency" after hating it at $200 only to love it at $1200 that Bitcoin...would promptly crash. And crash it did: overnight, following previously reported news that China's Baidu would follow the PBOC in halting acceptance of Bitcoin payment, Bitcoin tumbled from a recent high of $1155 to an almost electronically destined "half-off" touching $576 hours ago, exactly 50% lower, on very heave volume, before a dead cat bounce levitated the currency back to the $800 range, where it may or may not stay much longer, especially if all those who jumped on the bandwagon at over $1000 on "get rich quick" hopes and dreams, only to see massive losses in their P&Ls decide they have had enough.
Which incidentally, like gold, is to be expected when one treats what is explicitly as a currency on its own merits in a world of dying fiat - with the appropriate much required patience - instead of as an asset, with delusions of grandure that some greater fool will pay more for it tomorrow than it is worth today. Sadly, in a world of HFT trading, patience is perhaps the most valuable commodity.
As for Bitcoin, while the bubble may or may not have burst, and is for now kept together with the help of the Winklevoss bros bid, all it would take is for another very vocal institutional rejection be it in China or domestically, where its "honeypot" features are no longer of use to the Fed or other authorities, for the euphoria to disappear as quickly as it came...
Two day chart, showing the epic move from $1155 to $576 in hours:
And longer term chart showing the overnight action in its full glory:
http://www.businessinsider.com/bitcoin-crashes-to-576-2013-12
MELTDOWN: BITCOIN CRASHES TO $576
Bitcoin fell from a high of $1,079 to a low of $576 today. This is according to data from Mt. Gox. Also, this represents a breathtaking 46% crash.
Currently, Bitcoin is back to the $700 level. This is still down a whopping 35%.
The sharp moves come in the wake of China's clampdown on the controversial digital currency.
Due to the recent fluctuations in the price of Bitcoin larger unable to protect the interests of users, in response to the risk of state-controlled bitcoin spirit Baidu music accelerate decision to suspend with immediate effect from accepting bitcoin buy accelerate music services.
Horrific price volatility has been one of the biggest criticisms.
"We believe Bitcoin can become a major means of payment for e-commerce and may emerge as a serious competitor to traditional money transfer providers," wrote Woo in a 14-page note to clients. "As a medium of exchange, Bitcoin has clear potential for growth, in our view."
http://www.bloomberg.com/news/2013-12-06/bitcoin-meets-tesla-in-california-dealership-model-s-transaction.html
( I'm sure this dealer is glad today he sold a Tesla rather than a Lamboorghini is BitCoin .. )
Bitcoin Meets Tesla With Lamborghini Dealership's Model S Sale
By Craig Trudell - Dec 7, 2013 12:00 AM ET
Bitcoin, the virtual money former Federal Reserve Chairman Alan Greenspan called "a bubble," was accepted as payment in the purchase of a Tesla Motors Inc. (TSLA) Model S electric car at a California Lamborghini dealership.
Lamborghini Newport Beach sold the car for about $103,000, or 91.4 Bitcoins, in a transaction handled by payment processor BitPay, said Cedric Davy, marketing director for the Costa Mesa, California-based dealership. The sale cleared yesterday and the Model S will be delivered to its Florida-based buyer, who asked not to be identified, Davy said by telephone.
"We're a dealership -- we're not in the business of doing any speculation," he said. "For us, it was just important that the money could be transferred into U.S. dollars."
While Bitcoin has been embraced by some as a way to pay for goods using smartphone applications, the money has had a harder time winning acceptance from governments and banks. This week China's central bank barred financial institutions from handling Bitcoin transactions. Baidu Inc. (BIDU), the owner of that nation's largest Internet search engine, yesterday halted acceptance of payments using Bitcoins for its website-acceleration service.
Bitcoins exist as software and aren't regulated by any country or banking authority. They had climbed more than 80-fold this year before trading at $865, down 16 percent, at 5:36 p.m. New York time yesterday on Bitstamp, is one of the more active online exchanges where the digital money is traded for dollars and other currencies.
"Some people want to get out before they get burnt, I feel, so this is probably why we're going to see some sales in the very near future" of more cars using Bitcoins, Davy said.
Intrinsic Value
Bitcoin "has to have intrinsic value," Greenspan said Dec. 4 in a Bloomberg TV interview. "You have to really stretch your imagination to infer what the intrinsic value of Bitcoin is. I haven't been able to do it. Maybe somebody else can."
The dealership doesn't know if it is one of the first and possibly only dealerships to sell a car in exchange for Bitcoins, Davy said. Charles Cyrill, a spokesman for the National Automobile Dealers Association, which represents almost 16,000 new-car dealers, said he couldn't immediately comment.
Davy said he's heard from "a couple" other dealers who were interested in how the Model S transaction worked after Lamborghini Newport Beach posted about it on its blog.
"It doesn't seem like it's hit the car world as much as it hit probably the finance or the tech world," he said of interest in Bitcoin.
Turned Down
Blogs including MotorAuthority and Zero Hedge and the Orange County Business Journalreported on the Model S transaction earlier this week. The dealership has taken about 10 phone calls from potential customers interested in buying cars with Bitcoins, and it's open to doing more such sales, Davy said. The Model S buyer had been turned down by other dealers who didn't want to accept Bitcoins, he said.
"I've heard about Bitcoins before, but I was not very familiar with what it is," Davy said. "It's still a little abstract to me, to be honest."
Bitcoin has received other endorsements, including from analysts at Bank of America Corp.'s Merrill Lynch unit. Bitcoins should have a maximum market value of about $1,300, assuming they become a major e-commerce instrument and a significant "store of value" that's similar to silver, David Woo, a foreign exchange strategist, and other analysts at Merrill Lynch wrote in a report Dec. 5.
The People's Bank of China also said this week that the public is free to participate in Internet transactions provided they take on risk themselves.
Tesla's stock has had its own roller coaster ride as U.S. regulators investigate the Model S for a possible recall after at least three accidents that ended in fires, and fourth-quarter earnings guidance that trailed some analysts' estimates.
While the Palo Alto, California-based company's shares have risen more than fourfold this year, the stock fell 2.2 percent yesterday to $137.36, and is down from a closing peak of $193.37 on Sept. 30.
Liz Jarvis-Shean, a Tesla spokeswoman, declined to comment on the Bitcoin sale.
Nice discussion of BitCoin and LiteCoin - Yanis Varoufakis.....
Yves here. Yanis makes a couple of observations which won't sit well with digital currency enthusiasts.

Other items of note......