http://www.wired.com/dangerroom/2013/04/syria-red-line/
Obama Unveils New 'Red Line' for Syria's Chemical Weapons
Blink and you'll miss it, but President Obama just revised and extended his "red line" for stopping Bashar Assad from using chemical weapons against Syrian civilians.
The statement gives the president wiggle room — something Obama has wanted to preserve throughout the two-year Syrian civil war. Combined with Obama's call for to investigate and substantiate the assessment of the chemical use, Obama has now implied it would take a widespread use of the chemicals to prompt the U.S. to involve itself more deeply in the rebel effort to overthrow Assad, which is the stated objective of U.S. Syria policy.
Foreign Policy
managing editor Blake Hounshell suspected yesterday that it would take a
much larger use of chemical weapons by Assad
to spur a U.S. military response. But even "systematic" use of chemical weapons begs the question of how much sarin and other deadly gasses Assad can use before Obama feels compelled to stop him.
It's not clear when exactly the U.S. intelligence community came to believe Assad used his chemical arsenal. Britain, France and Israel have come to that conclusion. All a U.S. intelligence official would tell Danger Room — on background, is that "we recently came to the conclusion that Syria had likely used chemical weapons in the past." The White House sent its Thursday letter in response to a
Wednesday letter from eight senators
inquiring about the allied intelligence assessment.
"The intelligence community has been working that target very hard, and has been doing our best," said Lt. Gen. Michael Flynn, the director of the Defense Intelligence Agency, at a conference today. "The threshold of reliability, confidence and believability is definitely high, as it should be, because we do not want to– we have what we have in military force, but it's not something we want to commit if we don't have to."
Unlike hawkish members of Congress, who are call for unspecified U.S. military action in Syria's grinding civil war, the White House is reacting cautiously. Former officials like Steven Simon, who until December served as Mideast policy director on Obama's National Security Council, told Danger Room that White House messaging has sought to convey to Assad that he dare not use his chemical stockpile without locking Obama into any set military action. "
There's no automaticity to any response
," he said.
Simon said Obama has options short of war. One is urging the International Criminal Court to indict Assad as a war criminal. Another is to increase aid to the Syrian opposition. "Apart from those two options there's not a whole lot short of intervention," Simon said, "but I don't think they're close to military intervention at this point."
Among the administration's concerns is that it's far, far easier to involve the U.S. in Syria's war than it is to extricate itself from it. There is nearly no appetite within the Pentagon for a third war in the Mideast and South Asia in 12 years. Military officials, like Gen. Martin Dempsey, the Chairman of the Joint Chiefs of Staff, have talked vaguely about planning options for direct U.S. military action. But no one within either the administration or the military has explained how to overthrow Assad; secure his chemical stocks; install a non-extremist successor government; secure the country; and leave. The chaos of Iraq and Afghanistan hint at another complication: U.S. involvement in the war does not guarantee the security of the chemical stocks; and runs the risk of getting U.S. soldiers and marines gassed.
"The idea that U.S. military action will prevent the spreading or damage from chemical weapons, it could be the opposite," says Greg Thielmann, a former State Department intelligence analyst. You can't just blow up sarin stockpiles, after all — not without risking some rather toxic results. "What other kinds of actions are being proposed here?"
There are good reasons not to go to war in Syria: mainly, the dubious U.S. national interests implicated. Obama is reluctant to spend blood and treasure there, and as much as hawkish rivals like Sen. John McCain (R-Ariz.) call Obama's reluctance "
shameful
," hawks have not provided a credible military plan of action.
But when Obama calls the use of the chemicals a red line, he boxes himself into some kind of response when the line is crossed. Moving the line — or, depending on your point of view, clarifying it — by talking about a "systemic" use of the weapons neither solves the dilemma nor sends Assad a clear message deterring the Syrian dictator from gassing his enemies. Much as Obama wants time and leeway, by talking about a red line at all, even to preserve the international consensus against chemical weapons use, Obama risks forcing his own hand for a war he does not want.
"I understand how Obama has boxed himself in with this bright red line, but I don't understand those who argue for immediate action now, but the Syrian govt may have stepped over the red line, and how does this work?" Thielmann, now at the Arms Control Association, added. "I'm not sure Obama was as careful as he should have been when he warned Assad about it. … One should not get in the position we seem to be in, with a less-than-high-confidence assessment of CW use leaving us, according to John McCain and others, no alternative to intervene massively on the side of the rebels."
http://www.debka.com/article/22924/White-House-to-Congress-Assad-has-used-chemical-weapons-Israeli-jets-down-Hizballah-drone-opposite-Haifa
White House to Congress: Assad has used chemical weapons. Israeli jets down Hizballah drone opposite Haifa
DEBKAfile
Special Report
April 25, 2013, 6:56 PM (GMT+02:00)
In a remarkable reversal, Defense Secretary Chuck Hagel said in Abdu Dhabi Thursday afternoon, April 25, that the US intelligence community believes the Syrian government has used chemical weapons against its own people, determining with "varying degrees of confidence" that Syrian President Bashar Assad's forces have used the nerve agent sarin against civilians and forces fighting to remove Assad from power.
The White House is informing Congress about the chemical weapons use now, Hagel said, hours after he voiced reservations about the assessment Tuesday by senior Israeli military intelligence officer Brig. Gen. Itai Brun that the Assad regime had begun to practice chemical warfare.
Earlier Thursday, Israel Air Force F-16 warplanes downed a Hizballah drone 8 kilometers out at sea from the big port of Haifa. It flew south from the direction of Lebanon. Witnesses on Haifa's Mt. Carmel watched the smoke trails of the Israeli jets and heard exploding rockets.
Israeli Navy ships are out searching for debris in the Mediterranean Sea.
The Israeli army spokesman issued a statement: An attempt by an unmanned aerial vehicle to enter Israel's air space was thwarted. The UAV was identified flying from the north past the coast of southern Lebanon and continuing south. It was tracked continuously until it was downed by Israeli fighter planes and attack helicopters.
They went into action after the drone was identified as not coming from a friendly source. The Air Force gave the order to shoot it down."
Prime Minister Binyamin Netanyahu said: "We take an extremely grave view of this attempt to violate our borders and will continue to guard them and keep our citizens safe." He added, "We are watching events in Syria and Lebanon with extreme concern. Syria is breaking up and Lebanon is unstable. Both places pose not inconsiderable perils to Israel – two emanating directly from Syria. The first is the possible transfer of sophisticated weaponry to terrorist organizations and the second, attempts by terrorists to break through our borders and attack our towns and villages. Israel stands ready to counteract any threats from Syria or Lebanon by sea, air and land."
DEBKA
file
adds: The drone, which was launched from the Lebanese coast of Sidon towards the Israeli coast, was but the first move in a larger plan. Just as the Syrian civil war is already spilling over into Lebanon and threatens to crash through another border into Jordan, there are plans afoot to spread the violence into Israel.
The Hizballah's UAV intrusion thwarted by the Israeli Air Force and the repeated shooting attacks from the Syrian side of the Golan were omens of more to come. Syria's Bashar Assad, Hizballah and Iran will not put up with any intervention in the Syrian conflict by the US, Israel, Jordan or Turkey – even though foreign intervention is already present in the form of 3,000 Hizballah commandoes fighting with Assad's army in Qusayr and Damascus sectors.
http://www.guardian.co.uk/world/2013/apr/25/us-intelligence-confidence-syria-sarin-gas
US says Syria may have used sarin gas in chemical weapons
White House sends nuanced letter to Congress saying it has 'various amounts of confidence' in reliability of evidence
US intelligence has found evidence that sarin gas, a chemical weapon, has been used in
Syria
on a small scale, the White House has said .
However, in a
letter to Congress
the administration made it clear that it did not believe that the evidence was conclusive, saying it only had "varying amounts of confidence" in its reliability. Nor did the evidence prove beyond any doubt that the Syrian government had been responsible for using sarin, though this was "very likely" to be the case.
Later, the US secretary of state, John Kerry, said that chemical weapons were believed to have been used in two separate attacks.
If the evidence was confirmed, the White House warned, "the
United States
and the international community have a number of responses available, and no option is off the table".
"Our intelligence community does assess with varying degrees of confidence that the Syrian regime has used chemical weapons on a small scale in Syria, specifically the chemical agent sarin," the White House letter to Senators John McCain and Carl Levin said. "This assessment is based in part on physiological samples. Our standard of evidence must build on these intelligence assessments as we seek to establish credible and corroborated facts."
The letter said that the "chain of custody" by which the samples were thought to have made their way from Syria to the west, was "not clear, so we cannot confirm how the exposure occurred and under what conditions".
"We do believe that any use of chemical weapons in Syria would very likely have originated with the Assad regime. Thus far, we believe that the Assad regime maintains custody of these weapons, and has demonstrated a willingness to escalate its horrific use of violence against the Syrian people" the letter said. It was signed by Miguel Rodriguez, an assistant to the president charged with managing relations with Congress.
Chuck Hagel said "it [using a chemical weapon] violates every convention of warfare".
The US defence secretary, in Abu Dhabi
while on a tour of the Middle East, added that the US administration had reached its conclusion over the past 24 hours. "As I've said, this is serious business – we need all the facts," he said.
Senator McCain, who has long advocated US-led military intervention in Syria, said the letter showed that the 'red line' had been crossed. The wording of the letter suggested the administration was not ready to make that assessment. It did however bring US assessments more in line with UK, French and Israeli claims after several days of mixed messages from the western allies. The careful use of language and the phrase "varying degrees of confidence" suggests that there remain disagreements among the various US intelligence agencies over the strength of the evidence and that the administration was seeking to keep its options open on whether and how to respond.
Barack Obama has said the Assad's regime use of chemical weapons would be a "game changer" that could trigger a US military response, and Wednesday's letter restated that position.
"However, precisely because the president takes this issue so seriously, we have an obligation to fully investigate any and all evidence of chemical weapons use within Syria," the White House letter said, repeating western calls for a UN investigation to "credibly evaluate the evidence and establish what took place".
For the time being however, American and European officials appear ready to wait for the results of a UN inquiry into claims and counter-claims by both the Syrian opposition and the government that the other had used such weapons. UN investigators are due to visit survivors of alleged chemical weapon attacks in refugee camps, and analyse soil sample taken by western intelligence agencies.
US officials had been disparaging on Wednesday about the evidence for the use of chemical weapons in the Syrian conflict. British government officials had insisted that the intelligence agencies of both countries shared the same analysis of the evidence, but that it had taken longer for it to filter through to official pronouncements from Washington.
"There was just a longer lag in the US, but as far as I know we are absolutely on the same page on this," a British official said.
A Foreign Office spokesperson said: "We have limited but persuasive information from various sources showing chemical weapon use in Syria, including sarin. This is extremely concerning. Use of chemical weapons is a war crime. We have briefed our allies, partners and the UN on this information and we are working actively to get more and better information.
"Assad must cooperate with the international community and prove that his regime has not committed this horrific crime, allowing unrestricted access for the UN and OPCW to investigate on the ground in Syria."
British and French officials believe that Assad's forces have calibrated their use of sarin and possibly other chemical weapons to try to demoralise his opponents while stopping short of triggering a full-scale western response.
"This is a public relations tightrope for the White House," said Aram Nerguizian of the Center for Strategic and International Studies in Washington. "They are working hard to try to craft a message but it's an unenviable position to be in. The administration has to clarify what it means by 'red lines'. It really depends on the quality of the intelligence... I am sceptical that this is enough to jump on. You could set fire to the Syrian facilities with specialist ordinance designed to destroy chemical weapons but you still wouldn't affect the course of the war."
http://thecable.foreignpolicy.com/posts/2013/04/25/white_house_we_don_t_know_if_syria_red_line_has_been_crossed
Posted By Josh Rogin

Thursday, April 25, 2013 - 2:05 PM

Share
Despite a new U.S. intelligence community assessment that the Syrian regime likely used chemical weapons on its own people, the White House is still waiting for more evidence before deciding whether Bashar al-Assad has crossed President Barack Obama's "red line."
The White House scrambled Thursday to set up a conference call with reporters following Thursday morning's news that the U.S. intelligence community has concluded with varying levels of confidence that there has been small-scale use of sarin, a deadly nerve gas, inside Syria, most likely by the Syrian regime. Secretary of State John Kerry told lawmakers Thursday that the assessment referenced two instances of chemical weapons use in Syria.
A senior White House official said on the conference call that the intelligence community's assessment was not enough to determine that President Obama's red line regarding U.S. intervention in Syria has been crossed.
"We are continuing to do further work to establish a definitive judgment as to whether or not the red line has been crossed and to inform our decision-making about what to do next," the official said. "If we reach a definitive determination that this red line has been crossed, based on credible, corroborated information, what we will be doing is consulting closely with our friends and allies and the international community more broadly, as well as the Syrian opposition, to determine what the best course of action is."
The official indirectly referenced the flawed intelligence assessments about Saddam Hussein's programs of weapons of mass destruction in the lead up to the Iraq war as justification for caution.
"I'd say that given our own history with intelligence assessments, including intelligence assessments related to weapons of mass destruction, it's very important that we are able to establish this with certainty and that we are able to present information that is airtight in a public and credible fashion to underpin all of our decision-making. That is, I think, the threshold that is demanded given how serious this issue is," the official said. "But again, I think nobody should have any mistake about what our red line is... It is absolutely the case that the president's red line is the use of chemical weapons or the transfer of chemical weapons to terrorist groups."
The Obama administration is keeping all options on the table, but the official declined to say what options might be considered if and when it is confirmed that the president's red line has been crossed. The official also declined to identify the locations or dates of the two alleged uses of chemical weapons in Syria, but acknowledged that a March incident in Aleppo had spurred the United States to press for a fuller investigation.
"We will constantly have prepared contingency planning for different scenarios within Syria," the official said. "What the Assad regime needs to know is that we are watching this incredibly closely."
The White House's conclusion that not enough evidence exists to confirm that the Syrian regime has crossed Obama's red line was contradicted Thursday by Democratic Sen. Dianne Feinstein(D-CA), the chairwoman of the Senate Select Committee on Intelligence.
"It is clear that 'red lines' have been crossed and action must be taken to prevent larger scale use," she said in a statement. "Syria has the ability to kill tens of thousands with its chemical weapons. The world must come together to prevent this by unified action which results in the secure containment of Syria's significant stockpile of chemical weapons."
The original announcement about the new intelligence community assessment on Syrian chemical weapons came in statements Thursday from Defense Secretary Chuck Hagel and in a letter from the White House to several senators delivered Thursday morning during an otherwise classified briefing.
"Our intelligence community does asses with varying degrees of confidence that the Syrian regime has used chemical weapons on a small scale in Syria, specifically the chemical agent Sarin,"Miguel Rodriguez, the director of the White House office of legislative affairs, wrote in the letter.




http://www.infowars.com/hagel-ignores-fsa-chemical-weapon-use-claims-syrian-regime-may-have-used-sarin/
Infowars.com
April 25, 2013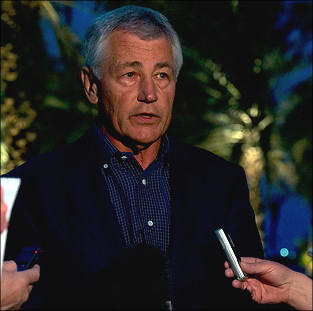 Secretary of Defense Chuck Hagel dubiously stated Thursday that the U.S. has found "evidence" of Syria's use of chemical weapons, prompting war-monger politicians to inquire as to whether the "red line" established by Obama for military intervention had yet been crossed; however, numerous reports have indicated the Free Syrian Army, or the US-funded rebel insurgency attempting to topple secular President Bashar Al-Assad's regime, are just as apt, if not more likely, to resort to chemical weapons use.
For instance, in December we reported the release of a ghastly video shot by Syrian rebels which showed them testing chemical weapons on lab rabbits before making threats to use them against Syria's pro-Assad Alawite population.
But in a letter to senators Carl Levin and John McCain, special assistant to the President Miguel E. Rodriguez would have us believe "with varying degrees of confidence that the Syrian regime had used chemical weapons on a small scale in Syria, specifically the chemical agent sarin."
For over a year now, reports have been attempting to portray Assad as a brutal leader who would use chemical weapons on his own people, creating the illusion of a dire need for an invasion of Syria.
However, the Syrian government has repeatedly denied the allegations, and in December wrote to the UN warning that it believed the US may be attempting to frame it by alleging it had used such weapons on so-called "rebels," as well as innocent civilians.
"The U.S. administration has consistently worked over the past year to launch a campaign of allegations on the possibility that Syria could use chemical weapons during the current crisis," a letter penned to U.N. Secretary-General Ban Ki-moon by the Syrian Foreign Ministry stated.
But despite these reported and well documented atrocities, the US has consistently justified aiding Syrian opposition forces, giving more than $100 million in "support," including providing food and medical support, with some of the funds being funneled directly to armed rebels, and has continued alleging the Assad regime's use of chemical weapons.
Given the numerous barbarities perpetrated by the US-backed and Al-Qaeda affiliated FSA Syrian opposition group, it is rather disturbing the US still refuses to acknowledge the various war crimes being committed by the very insurgents they are intent on arming and funding.
Last month, evidence emerged suggesting FSA insurgents had used chemical weapons on anti-FSA civilians and Syrian troops.

In January 2013, hacked email exchanges between members of British defense contractor Britam Defence indicated an upcoming chemical weapon attack "approved by Washington" in the works, which would then be blamed on the Syrian government.
* * *