Judicial Council Blasts Mursi Statement as 'Frail'
by Jason Ditz, November 26, 2012
A five hour negotiation between Egyptian President Mohamed Mursi and the nation's top judges
has failed
, with the president's office issuing a statement reiterating his claims of immunity from judicial review, while maintaining that the power is "temporary."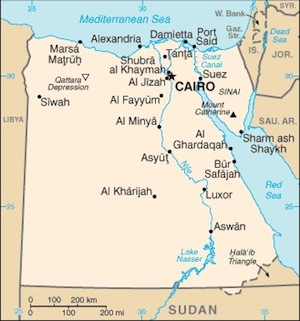 The failure was a surprise, as Justice Minister Ahmed Mekki had suggested the two sides were almost certain to come to a
compromise
, with hints that the two sides would agree Mursi's power would only cover "sovereign" matters.
Mursi has insisted the edict was meant to protect the constitutional committee, but the judicial council issued a statement blasting today's statement as a "frail" attempt at justification, and reiterating their own opposition.
In the meantime protests are expected to continue, while the Egyptian military
remains
the x-factor in the situation, so far avoiding any role in the dispute but having previously had designs of their own of uncheckable power.
http://www.aljazeera.com/news/middleeast/2012/11/2012112520126225396.html
Egypt's Morsi to meet judges over new powers
President repeats assurances that judicial measures are temporary as protests swell in Tahrir Square and Nile Delta.
Last Modified:

26 Nov 2012 10:11
Egyptian President Mohamed Morsi is set to meet senior judges on Monday to try to ease a crisis over his new powers which has set off protests reminiscent of the revolution last year that brought him to power.
Activists on Sunday were camped in Cairo's Tahrir Square for a third day, blocking traffic with makeshift barricades to protest against what they said was a power-grab by Morsi. Nearby, riot police and protesters clashed intermittently.
One Muslim Brotherhood member was killed and 60 people were injured late on Sunday in an attack on the main office of the movement in the Nile Delta town of Damanhour, the website of the Brotherhood's Freedom and Justice Party said.


More than 500 people have been injured in clashes between police and protesters worried Morsi's Muslim Brotherhood is trying to consolidate power.
The country's highest judicial authority hinted at compromise to avert a further escalation, though Morsi's opponents want nothing less than the complete cancellation of a decree they see as a danger to democracy.
The Supreme Judicial Council said Morsi's decree should apply only to "sovereign matters", suggesting it did not reject the declaration outright, and called on judges and prosecutors, some of whom began a strike on Sunday, to return to work.
Morsi will meet the council on Monday, state media said.
Temporary measures
Morsi's office repeated assurances that the measures would be temporary, and said he wanted dialogue with political groups to find "common ground" over what should go in Egypt's constitution, one of the issues at the heart of the crisis.
Hassan Nafaa, a professor of political science at Cairo University, saw an effort by the presidency and judiciary to resolve the crisis, but added their statements were "vague".
"The situation is heading towards more trouble," he said.
Sunday's stock market fall of nearly 10 per cent - halted only by automatic curbs - was the worst since the uprising that toppled former President Hosni Mubarak in February, 2011.
Morsi's supporters and opponents planned big demonstrations for Tuesday that could be a trigger for more street violence.
"We are back to square one, politically, socially," said Mohamed Radwan of Pharos Securities, an Egyptian brokerage firm.
Morsi's decree marks an effort to consolidate his influence after he successfully sidelined Mubarak-era generals in August, and reflects his suspicions of a judiciary little reformed since the fall of his predecessor.
Issued just a day after Morsi received glowing tributes from Washington for his work brokering a deal to end eight days of Israeli attacks on Gaza, the decree drew warnings from the West to uphold democracy.


'Protect the revolution'
The Morsi administration has defended his decree as an effort to speed up reforms that will complete Egypt's democratic transformation.
Yet leftists, liberals, socialists and others say it has exposed the autocratic impulses of a man once jailed by Mubarak.
"There is no room for dialogue when a dictator imposes the most oppressive, abhorrent measures and then says 'let us split the difference'," prominent opposition leader Mohamed ElBaradei said on Saturday.
Morsi framed his decisions on Thursday as necessary to protect the revolution that toppled Mubarak nearly two years ago and to cement the nation's transition to democratic rule.

Morsi also ordered the retrial of Mubarak and top aides on charges of killing protesters during the uprising.

"He had to act to save the country and protect the course of the revolution,'' Pakinam al-Sharqawi, one of Morsi's aides, said.

"It is a major stage in the process of completing the January 25th revolution,'' she said, alluding to the starting day of last year's uprising against Mubarak.

He also created a new "protection of the revolution'' judicial body to swiftly carry out the prosecutions.

http://www.juancole.com/2012/11/egypt-constitutional-crisis-morsi-to-meet-judges-as-weekend-clashes-leave-two-dead-hundreds-wounded.html
Posted on 11/26/2012 by Juan
Egypt is on the knife edge between plunging into Algeria-style faction-fighting between secularists and Muslim fundamentalists, and finding a graceful way for its elected president to climb down from his more extreme assertions of power and privilege vis-a-vis the other branches of government.
Morsi's decree, limiting the power of the courts to intervene in the Constituent Assembly that is writing the new constitution, or in the decisions of the president and the upper house of parliament, continued to be poorly received by key organizations.
Six further members of the originally 100-member constitution-drafting body resigned over the weekend,
citing opposition to the presidential executive order. Altogether, of an original 100 members, 22 have resigned and another 7 reserve members have stepped down. The assembly has lost the participation of the liberal Ghad (Tomorrow) Party, of the leftist April 6 movement, and of a number of other left-liberal or Christian members. Many complained of being excluded by the Muslim Brotherhood members from key subcommittees. Constituent Assembly chair Hossam al-Ghariany insists that the body will finish its work by the end of the year, predicting that this completion of their task will restore social peace (seems to me that depends on what is in the final constitution).
Even the chairman of the Egyptian senate or Shura Council, Ahmad Fahmi, has spoken out against Morsi's decree. The protest came as a surprise, since Fahmi is a member of the Freedom and Justice Party that Morsi represents, and is a relative of the president. This development seems to me positive, since perhaps Fahmi and the Shura Council can meet with Morsi and get him to back down on some of the extravagant language in his decree.