http://www.guardian.co.uk/environment/2012/aug/13/us-federal-aid-farmers-food-prices
Obama announces federal aid for drought-stricken agriculture industry
Pressure for action intensified last week as the department of agriculture warned food prices may be set to soar worldwide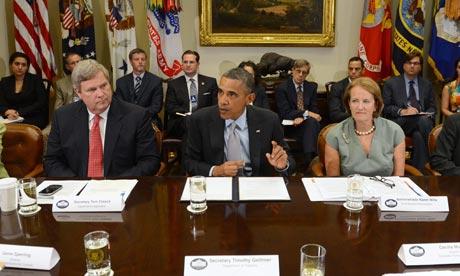 President
Barack Obama
moved to stem the impact of the worst
drought
in 50 years as he directed the department of
agriculture
to buy up to $170m of pork, lamb, chicken and catfish.
The move comes as the
G20
group of countries are reportedly planning their response to drought and soaring food prices around the world. The US is the world's largest exporter of corn, soybeans and wheat and the drought has already sent prices to record levels.
Obama made the announcement on Monday at the start of his three-day trip to
Iowa
, a swing state the Democrats hope to win in this November's election. The state that has been hit hard by a drought that last week drove US corn prices to an all-time high.
The
farming
crisis is emerging as a key battleground in the 2012 election. The president is trying to pass a farm bill through Congress that he claims will aid farmers but has been stalled by Republicans over what they see as excessive costs.
Pressure for action intensified last week as the US department of agriculture (USDA) warned food prices were set to soar. USDA said the worst drought in 50 years had forced farmers to abandon corn fields covering an area larger area than Belgium and Luxembourg combined. The department slashed its forecasts for key crops including corn and soybeans and lowered production forecast for eggs, milk and pork. Blaming "extreme and dryness" in the Central Plains and the Corn Belt, the USDA said it now expects this year's corn harvest to be the lowest since 1995-1996.
The food Obama intends the purchase will go toward "food nutrition assistance" programmes, like food banks. Obama also intends to push the department of defense to speed up purchases and said it was a good time to buy "while prices are low, and freeze it for later".
"Right now folks here in Iowa and across the heartland are suffering from one of the worst droughts in 50 years," he said. "Farmers and ranchers depend on a good crop season to pay the bills and put a roof over their heads, and I know that things are tough right now."
Obama is under pressure to drop laws that mandate the amount of corn ethanol that must be produced each year. This year 13.2bn gallons of corn ethanol will be mixed with gasoline to meet the federal renewable-fuel standards. Its production will require about 40% of this year's crop.
Livestock farmers blame the mandate for driving up corn prices. Governors in Maryland and Delaware, two poultry-growing states, have called on Obama to ease the size of the mandate.
Last week the United Nations released a report that said world food prices had increased by 6% in July, driven up by a 23% spike in corn prices. Oxfam called for urgent action and said the price rise threatened a return to the crisis of 2008 when similar price hikes triggered riots around the world as the United Nations said a billion people were going hungry.
"This drought, combined with bad policies like ethanol mandates, has put the world's poor on a collision course with a food crisis," said Eric Munoz, senior policy advisor for Oxfam America.
The impact of the world's poor and on the fragile global economy are likely to be major topics under discussion by the G20 later this month. G20 officials plan to hold a conference at the end of August and set a meeting for late September or early October, according to the Financial Times.
In a report to investors Fidelity warned that the rise in agricultural commodity prices "could not be occurring at a worse time for the global economy with the eurozone sovereign debt crisis still in full flow, China slowing down and the US outlook looking increasingly uncertain. The biggest direct negative effect of higher food prices is on consumers, particularly in emerging markets. As consumers are forced to spend more on food items, discretionary spending is reduced in other areas, creating negative knock-on demand effects for other industries."
and.....
http://beforeitsnews.com/alternative/2012/08/food-prices-set-to-soar-as-worst-u-s-drought-for-half-a-century-forces-corn-farmers-to-abandon-fields-the-size-of-belgium-and-luxembourg-2451254.html
Food prices set to soar as worst U.S. drought for half a century forces corn farmers to abandon fields the size of Belgium and Luxembourg
Drought has destroyed one-sixth of U.S. expected corn crop

Soyabean harvest expected to be the worst for five years

Food manufacturers warn they will pass on price rises to consumers
|
Food prices are expected to surge after the worst drought in the U.S. for half a century destroyed one-sixth of the country's expected corn crop over the past month.
The hottest July in U.S. history has caused irreparable damage to crops, forcing corn farmers to abandon fields greater in area than Belgium and Luxembourg.
Soyabeans, which are used for animal feed and to make vegetable oil, have also been affected, with this harvest likely to be the worst for five years.
Damaged: The worst drought for half a century in the U.S. has destroyed one-sixth of the country's expected corn crop
The crisis has prompted the US Department of Agriculture (USDA) to forecast record-breaking price rises, and some of the world's largest food manufacturers, including Kraft, Tyson and Nestle, have already indicated that they will pass on the increase to consumers.
USDA now expects 10.8billion bushels of corn to be produced this year - 2.2billion bushels less than the projection it made last month.
USDA chief economist Joseph Glauber told the Financial Times: 'We're going to see very high prices.'
The problem could have far-reaching consequences internationally.
In 2007-08, high food costs led to riots in more than 30 countries, but Jose Graziano da Silva, the director general of the UN's Food and Agriculture Organisation, said the current crisis was not as severe.
'We do not have the demand pressure from China and India as five years ago.'
Poor corn: The US Department of Agriculture has significantly reduced its forecasts for crop harvests
The situation has worsened since the week ending July 29, when USDA found that 48 per cent of the nation's corn crop was either poor or very poor.
The department said 47 per cent of the soybean crop was in very poor or poor condition.
They were the worst ratings since the drought of 1988, which cut production by 20 per cent and cost the economy tens of billions of dollars.
With grazing pastures also parched and feed prices at record highs, many ranchers are sending their animals to slaughter early because it is too costly to keep them until full size.
President Barack Obama's administration has opened up protected US land to help farmers and ranchers and has encouraged crop insurance companies to forgo charging interest.
It has also provided emergency low-interest loans to farmers in 31 states, where disaster areas have been declared due to the drought.
Help for farmers: The US Agriculture Department has unveiled new help for frustrated, cash-strapped farmers and crop insurers have agreed to provide farmers with a 30 day grace period on premiums
Crisis: Disaster areas have been declared in 31 U.S. states after the worst drought for decades


and keep an eye on Russia which will limit exports and a ban has not been ruled out after 2012 calendar year....
http://www.brecorder.com/agriculture-a-allied/183/1227653/
Russian wheat wins the first Egyptian state tender
The victory of Russian wheat at the first Egyptian state tender in the new marketing season at the weekend has set the market higher for domestic prices, leading Russian grain analysts said on Monday. Egypt's General Authority for Supply Commodities (GASC) agreed to buy 60,000 tonnes of Russian wheat from Glencore at $316.47 per tonne with freight costs of $10.90 per tonne and 60,000 tonnes of Russian wheat from Soyuz at $316.47 per tonne with freight costs of $10.73 per tonne.

This victory "opens new opportunities for Russian wheat on the Middle Eastern markets and confirms new FOB (a free on board) Black Sea price levels of $312-316 per tonne", Dmitry Rylko, head of the Institute for Agricultural Market Studies (IKAR), said in a note on Monday.

IKAR said prices for export wheat prices were estimated at $313 per tonne last week, up from $307 per tonne, free-on-board (FOB) at the Black Sea port of Novorossiisk. SovEcon consultancy pegged last week's FOB levels at $310-315 per tonne. Global wheat prices have dropped for the last three weeks but are up more than 40 percent since mid-June. Russia's wheat prices also rose but more slowly - by about 30 percent - making them more competitive on world markets and spurring Russian exportS, adding to concerns about possible export limits, SovEcon said.

"The maximum levels of export allowed by Russia's supply demand balance could be reached much sooner than expected based on official forecasts for the harvest and exports," SovEcon added. "In this case, very interesting developments are possible for Russian market participants."

Russia's exportable surplus is officially forecast to fall to 10-12 million tonnes of grain in the current marketing year, when producers across the country have been plagued by episodic drought, after record total exports of 28 million tonnes in the previous season. Analysts have forecasts for August exports in a 2.5-3.5 million tonne range, up from 2.1 million tonnes in July.

Russian Deputy Prime Minister Arkady Dvorkovich said last week that Russia had no grounds to ban grain exports but did not rule out protective export tariffs after the end of the 2012 calendar year. The Russian government also may sell a part of its 5-million tonnes grain intervention stocks to cool down high domestic prices, which were down for a fist week after ten weeks of gain.

Russia's average domestic EXW (ex-silo) price for third-grade milling wheat declined by 50 roubles to 8,325 roubles ($260) per tonne, while the fourth-grade price lost 25 roubles to 8,275 roubles per tonne, the SovEcon consultancy said in a note on Monday. The price of fourth-grade milling wheat in deep-water ports last week was stable at 9,600-9,800 roubles per tonne on a carriage-paid-to (CPT) basis, according to SovEcon.

Demand in Russia's shallow water ports was poor because of the Islamic holy month of Ramadan and forced price decrease to $272 per tonne from $275 per tonne, IKAR said. SovEcon pegged it at 8,700-8,850 roubles ($270-280) per tonne. Sugar prices in southern Russia decreased to 24,300 roubles per tonne from 25,200 roubles, which in dollars was a fall to $772 from $776, IKAR added.
http://www.zerohedge.com/news/deep-fried-black-swan-lands-china-admits-it-has-food-inflation-problem-releases-corn-rice-reser
Deep Fried Black Swan Lands As China Admits It Has A Food Inflation Problem, Releases Corn, Rice From Reserves
Submitted by Tyler Durden on 08/13/2012 17:11 -0400
Last week we
wrote an article
that to many was anathema: namely an explanation why everyone is deluding themselves in their expectation that the PBOC would ease, soft, hard, or just right landing notwithstanding. The reason? The threat that food inflation is about to read its ugly head which is "
Why The Fate Of The Global Equity Rally May Rest In The Hands Of Soybeans
." This was merely a continuation of our observations from a month ago that as a result of the Black Swan being "deep fried" in 2012, that the threat of food inflation will keep key BRIC central banks in check for a long time. As of today the threat has become fact, because as
China Daily reports
"China will release corn and rice from state reserves to help tame inflation and reduce imports as the worst US drought in half a century pushes corn prices to global records, creating fears of a world food crisis...The release may prompt Chinese importers to cancel shipments in the near term and take some pressure off international corn prices, which set a new all-time high on Friday as the US government slashed its estimate of the size of the crop in the world's top grain exporter." Sure, as every other short-termist measure the world over, it may help with prices in the short-term, but will merely expose China, and thus everyone, to the threat of a much greater price spike in the future. Because just as the strategic petroleum reserve release did nothing to help gas prices, nor the short selling ban in the US and Europe did anything to help the underlying broken financial system, so this will merely force the local population to scramble and ration whatever food they can get asap, now that the government has admitted there is, indeed, a food inflationary problem.
Bottom line - rationing is in full force, and given the continually declining state of the US corn crop, more will be needed," said Christopher Narayanan, head of agricultural commodities research at Societe Generale.




China's State Administration of Grain did not specify the volume of corn or rice to be released from reserves. The Grain Reserves Corp will be responsible for selling the crops, but no details were given on the timing.




Some traders estimated the government might sell around 2 million tons to help stabilize prices ahead of the harvest, when supply is usually tight.




Beijing will probably need to replenish reserves towards the end of the year, and therefore the release will have only a limited impact on prices.




"It can help stabilize the market somewhat, but the volume is too small compared with the 10 million to 15 million tons of monthly consumption nationwide," said Xu Wenjie, an analyst with Zheshang Futures Co.




...




"With USDA raising its Chinese corn production estimate ... it certainly makes sense to release some corn from reserves," Narayanan said, noting that the USDA also cut its estimate of Chinese corn imports by 3 million tons to 2 million.

One thing is now certain: with China openly admitting it is scared about the impact of food price inflation, one can forget not only PBOC cutting rates but engaging in far less effective RRR cuts. In fact reverse repos will be the only form of easing for a long time.

Which brings us to our conclusion from

last week

:

Barring some last minute miracle, with Soy prices set to surge on a Y/Y basis, and drag Chinese food inflation with them, will the PBOC ease, and add to incremental food demand, just as supply considerations are about to send Chinese food inflation soaring?




Of course not (naturally, this assumes the wheels of the global economy do not come completely unglued, in which case all bets are off).




So there you have it: a PBOC whose hands are tied, an ECB whose hands are tied, and a Fed whose hands are also tied (there is of course the BOJ but nobody cares about the BOJ any more).




And still the market keeps hoping and praying that despite, or maybe due to, collapsing corporate revenues, and lower corporate earnings guidance, that central banks will come in and save the day.

Alas, by now it is more than clear that any discount capacity the market may have once had, is now as gone as trading volume, the VIX, and bank trading profits.