Anti War ......
Sanctions Would Target Kurdish, Turkish Middlemen
by Jason Ditz, October 23, 2014
Speaking at the Carnegie Endowment for International Peace, Undersecretary of the Treasury David Cohen has threatened to impose
sanctions
on any people could buying oil from ISIS.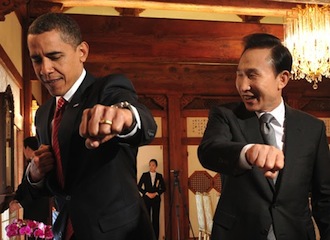 In taking large portions of Syria's oil-producing east and several oil fields in Iraq, ISIS has carved out a de facto state with a lot of oil wealth, and in addition to refining it for domestic use, they've reportedly been bankrolling their ongoing expansion by selling it at substantially below market values to middlemen.
The US air war, particularly in Syria, has focused on blowing up oil refineries and grain silos, trying to damage the internal ISIS economy. Yet ISIS territory also contains many millions of civilians, and oil exports are their economic lifeline as well. Preventing commerce may harm ISIS, but it is the sort of inexact warfare that stands to damage many others as well.
Intel Officials Say Problem Was Policy, Not Intelligence
by Jason Ditz, October 23, 2014
The lack of intelligence on ISIS, both in failing to predict the various ISIS advances in both Syria and Iraq, and in lack of information on the organization's current operations,
is a major concern
, particularly as the US continues to escalate an open-ended war against them.
Yet the official response so far is a broad exercise in blame-shifting, as administration officials point their fingers at the intelligence community for "underestimating" ISIS.
Yet the intelligence officials have a different story entirely, saying they provided all sorts of intelligence on the ISIS expansion, and that policy-makers chose to ignore that because they were focused on al-Qaeda and other groups deemed "more pressing."
Exactly how much the intelligence community knew of the ISIS expansions before they happened remains in dispute, but what is undeniable is that the administration has little to no intelligence on where ISIS targets on the ground actually are, and with airstrikes continuing to escalate, that's going to be a long-term problem.
Morek, Key Town on Aleppo-Damascus Highway, Under Military Control
by Jason Ditz, October 23, 2014
With the US air war and fighting with Kurds more or less keeping ISIS occupied, the Syrian military is moving apace in the central Hama Province, where they ousted al-Qaeda
and its allies from the key town of Morek
.
Rebel mouthpiece the Syrian Observatory for Human Rights reported that Morek has more or less entirely fallen, and that it is under the control of the military. Syrian state media's most recent report merely said they held the majority of the town.
Morek, like many of the otherwise nondescript small towns in central Syria, is important almost exclusively because of its location, in close proximity to the Damascus-Aleppo highway, the most important road in all of Syria.
With the Assad government having secured virtually all of Metro Damascus, they are clearly looking to take back lost territory in the north, and Aleppo, being the nation's most important city (at least before years of war turned it into a huge no-man's land), would be an obvious goal for them.
ISIS Hired Gang to Try to Kidnap Top Commander
by Jason Ditz, October 23, 2014
The US troops stationed in Turkey seem to be at growing risk, not just from the possibility of the Syrian Civil War spreading across the border, but of ISIS bringing the fight directly to them.
An
attempted kidnapping
of a Turkish commander earlier this week underscores ISIS ability to extend its influence across the border, with a promise of $500,000 convincing a Turkish gang to try to capture the commander, who was shot but escaped.
Officials are refusing to say if they're taking additional precautions, but it seems likely that US troops, when they are off base, could become an easy, and potentially very politically valuable, target for ISIS, and such an attempt is likely only a matter of time.
Evening tweets....
IS still extracting & selling oil in Syria & has adapted its trading techniques despite US-led coalition's strikes, oil executives & traders
Morning Tweets.....