Anti War.....
Group Could Attack 'Very, Very Soon'
by Jason Ditz, October 05, 2014
In comments on today's "60 Minutes" program, FBI Director James Comey warned that the Khorasan group is "serious people, bent of destruction" who plan to
attack the US "very, very soon
."
Comey insisted the US had to act as if the Khorasan strike was "coming tomorrow," but conceded that they don't know whether they plan to attack "tomorrow or three weeks or three months from now."
Khorasan,
as a distinct faction, doesn't actually exist
, and analysts say the term was almost certainly invented by the United States. The term appears to be a way for the US to strike al-Qaeda's Jabhat al-Nusra, a close ally to its "moderate" rebels, without officially saying they're attacking them.
The US claimed Khorasan to be a faction of about 50 fighters, and also believes it
killed 30 of them
when it began the air war in northern Syria. The slain were al-Nusra members, which fueled considerable anger amongst the rebels, who accused the US war of being primarily to the benefit of the Assad government.
The US assessments of Khorasan as an imminent threat, given they are actually referring to al-Qaeda, undercuts their claims of having made major gains against al-Qaeda worldwide.
Hezbollah Clashes With Syrian Rebels Along Border
by Jason Ditz, October 05, 2014
The tiny town in the hills outside of Baalbek saw hours of fighting, with Hezbollah reporting five of its fighters slain, and dozens of the Nusra killed in the process. Locals reported large numbers of wounded on both sides.
Al-Nusra has pushed into Lebanon from Syria several times in the past few weeks, but mostly targeting the town of Arsal, further to the north.
A brief exchange of fire
between Nusra and the Lebanese military was reported again today in Arsal, though no casualties were reported.
Hezbollah has sent fighters into Syria to fight alongside the government against the rebels, which has fueled multiple attempts at retaliation, mostly by al-Qaeda and ISIS. So far, this has been limited to border towns, but has also fueled sectarian tensions between the Sunni and Shi'ite portions of the population.
Attacker Was Commander of Female YPG Unit
by Jason Ditz, October 05, 2014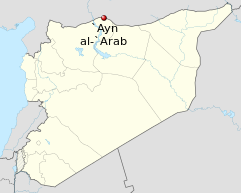 According to the Syrian Observatory for Human Rights, the attack killed a
number of ISIS fighters
, though exactly how many remains unclear. The attacker was a commander in an all-female YPG unit.
Weeks of fighting for Ayn al-Arab have put ISIS on the outskirts of the key Kurdish border town, and have the Kurds increasingly desperate in trying to turn to the tide.
The YPG militias have dominated the Syrian Kurdish territories throughout the civil war, fighting against ISIS along the frontier. It is unclear if this new suicide bombing represents a shift in tactics or is an isolated incident.
Mish.....
http://globaleconomicanalysis.blogspot.com/2014/10/air-strikes-on-isis-not-working-whats.html
Sunday, October 05, 2014 9:27 PM
****
Tweets.....
EMERGENCY!! Asya Abdullah: "If the coalition has intend of supporting
#

Kobanê
, they must take action immediately."
source in
#

kobane
: 'ISIS has 1000s fighters attacking city. Many nationalities. Chechens, Uzbecks. We hear Russian on their walkie talkies
For those asking about coalition airstrikes: No strikes whatsoever today. There are even no planes in sky above
#

kobane
.
@

akhbar