http://en.itar-tass.com/world/749156
September 11, 21:13
UTC+4
Thr EU has made its choice against the process of peace settlement of the intra-Ukrainian crisis, the Russian Foreign Ministry says
MOSCOW, September 11. /ITAR-TASS/. New anti-Russian sanctions will not be left without proper reaction from Moscow, the Russian Foreign Ministry said in a statement on Thursday after the EU adopted a new package of anti-Russian sanctions.
The European Union seems to have made its choice against peace settlement for the crisis in Ukraine, the Russian Foreign Ministry said. The EU actions are totally devoid of any logic and common sense, it said. A course at deteriorating the already tense relations with Russia that has been taken by certain forces in the EU is taking shape now, the ministry noted.
"In connection with the statement of European Council President Herman Van Rompuy of September 11 on introduction of a new package of anti-Russian sanctions, we state the following," the ministry said.
"Making this step, the EU actually made its choice against the process of peace settlement of the intra-Ukrainian crisis, support for which is expected from all responsible forces in Europe," the statement said.
"Today, Brussels and heads of EU member states should give a clear answer to EU citizens why they are subjected to the risks of confrontation, economic stagnation and loss of jobs," the ministry said. "Give people a chance for peace at last," it said.




















































http://en.itar-tass.com/economy/749180
September 11, 23:37
UTC+4
"These actions of the Russian Federation are an indicator of its unreliability as a gas supplier," Yatsenyuk said at a meeting with Estonia's president
KIEV, September 11. /ITAR-TASS/. Ukraine's Prime Minister Arseny Yatsenyuk has called on the European Union to start checks into Russia's actions on cutting supplies of gas to the EU member states.
"These actions of the Russian Federation are an indicator of its unreliability as a gas supplier," Yatsenyuk said at a meeting with Estonia's president Toomas Hendrik Ilves, the press service of the Ukrainian government quoted him as saying on Thursday.
"It is a matter of national security for us," Yatsenyuk said.
On Wednesday reports said that the Polish energy company PGNIG and the Slovak company SPP supposedly registered a decline in volumes of Russian gas supplies.
Itar-Tass reported on Thursday that the spokesman for the Russian major gas company Gazprom, Sergey Kupriyanov, said "the export of Russian gas to Poland goes on a schedule, in the volumes of a previous day," and the "volume of gas delivered to the Slovak company SPP in September remains 12 million cubic meters a day every day."
Meanwhile, the press service of the OMV energy company, the Austrian importer of Russian gas, told Itar-Tass on Thursday that Russian gas was delivered to Austria in routine amounts.
The situation with gas supplies to Austria was normal, a source said.


















































http://en.ria.ru/world/20140911/192855353/Obama-US-Imposes-New-Sanctions-Against-Russia.html
US President Barack Obama speaks to reporters at the White House in Washington.
© REUTERS/ Kevin Lamarque
WASHINGTON, September 11 (RIA Novosti) – The United States is introducing new sanctions targeting Russia's finance, energy and defense industries, US President Barack Obama announced Thursday.
"We are implementing these new measures in light of Russia's actions to further destabilize Ukraine over the last month, including through the presence of heavily armed Russian forces in eastern Ukraine," Obama said in a statement.
"We will deepen and broaden sanctions in Russia's financial, energy, and defense sectors. These measures will increase Russia's political isolation as well as the economic costs to Russia, especially in areas of importance to President Putin and those close to him," the US President stressed.
The details of the new measures are to be unveiled on Friday.
According to an EC statement, the strengthened sanctions will affect Russia's energy, finance and defense sectors, as well as 24 individuals allegedly "involved in actions against Ukraine's territorial integrity," including several Russian decision-makers and oligarchs.




Zero Hedge ....


Poland Says Russian Gas Deliveries Tumble By 45% As Europe Warns New Sanctions To Launch On Friday
Submitted by Tyler Durden on 09/11/2014 08:14 -0400
Yesterday, when Gazprom was supposedly "troubleshooting its systems", we reported that in what was the first salvo of Europe's latest cold (
quite literally
, with winter just around the corner) war, Poland complained that up to 25% of its usual gas deliveries from Russia had been cut. Russia indirectly hinted that this was also a result of Ukraine using "reverse flow" to meet its demands, with Europe allowing Kiev to syphon off whatever gas it needs without paying Gazprome for it. It also led Poland to promptly admit it would halt reverse flow to the civil-war ridden country. Fast forward to today when Polish financial website
Biznes reports
that things are going from bad to worse in Russia's energy retaliation war, after
Poland claimed a 45% shortfall in Russian natgas imports as of Wednesday.
Not surprisingly, Gazprom has said that is not the case, which leaves two options: either someone is lying, or the Ukraine is quietly, and illegally syphoning off gas destined for Europe.
More:
Poland's listed natural gas group PGNiG noted Wednesday natural gas deliveries from the east 45% below the ordered level, the firm said in a Thursday press statement. Wednesday marks the third straight day when Poland claims to have received less gas than ordered from Russia's Gazprom. Poland claims that shortfall forced a shutdown of re-export to gas-strapped Ukraine and an increase in imports from other directions to compensate the loss.




"Under the Yamal contract, PGNiG has the right to collect volumes lower or in line with the maximal daily amounts contracted for particular entry points," PGNiG said. "Volumes ordered by PGNiG were below the maximal level - that is line with the contract. Nevertheless, they have not been realized by OOO Gazprom Export."




In order to make up for the missing volumes from the east, PGNiG claims to have launched supplementary gas deliveries via Lasow at the German border and via Cieszyn at the Czech border, the firm noted in its statement.




Additionally, on Thursday PGNiG launched natgas supply through the Mallnow point at the Yamal pipeline on the German border, PGNiG said.




A spokesperson for PGNiG, Dorota Gajewska, refused to indicate if the level of Russian deliveries constituted a reduction from any prior periods, reiterating only that delivered volumes are below the contractually requested level, she said in an interview for broadcaster TVN24.




On Wednesday PGNiG claimed that deliveries had fallen 20% short of order on Monday and 24% short of order on Tuesday.




The firm said it was "investigating" the reasons behind the delivery shortfall, in particular whether it is of technical or commercial nature, and said it was compensating for the volumes with imports from other directions.




On Wednesday PGNiG still hasn't received any explanation from Gazprom, the firm said.




Deliveries to PGNiG's clients are being carried out without disruption, and there is no need to tap undergroung gas storage facilities, filled to 100% of their capacity (around 2.6 bcm).




PGNiG's long-term Yamal contract with OOO Gazprom Export, dating back to 1996 and renegotiated in 2010, provides for annual natural gas imports of 10.24 bcm, drawn at Drozdowicze, Wysokoje & Polish points along the Yamal pipeline. The contract is based 85% on a take-or-pay formula. PGNiG will seek a gas price reduction during a renegotiation window that opens in November 2014.
So as the new balance of power is suddenly dawning on Europe, as is the realization that Putin does have all the leverage (as otherwise Gazprom would never suicide itself in a way as to show it can proactively cut European gas supplies, even if the recipient is a country that has been so vocally beligirent toward Russia as Poland), the Europeans have decided there is no point in waiting any longer, and as was blasted moments ago:
BERLIN - EU DIPLOMAT SAYS NEW SANCTIONS AGAINST RUSSIA TO COME INTO FORCE ON FRIDAY
More from Reuters:
European leaders spoke early on Thursday and agreed to push ahead with a package of sanctions against Russia by the end of the week, due to its aggression towards Ukraine, the spokesman for British Prime Minister David Cameron said.




"This morning the prime minister took part in a joint call with several fellow European leaders; president (Herman) Van Rompuy, Chancellor (Angela) Merkel, president (Francois) Hollande and prime minister (Matteo) Renzi," the spokesman said.




"(They spoke) to discuss the subject of sanctions against Russia in the context of Ukraine and agreement to proceed with the implementation of the sanction package that was agreed earlier in the week."
Which means that the gloves are now fully off and Russia is content that it will be cold enough soon enough to give Putin even more of a first mover advantage, and thus negotiating leverage while the part of Europe, and all of Ukraine, shivers in the cold.
Sure enough:
RUSSIA WAITS FOR SANCTION DETAILS TO DECIDE HOW TO RETALIATE
RUSSIA WILL RESPOND TO NEW EU SANCTIONS: LUKASHEVICH
RUSSIA SAYS READY TO RESPOND TO NEW U.S. SANCTIONS
In other words, Russia's staggered gas reduction, which we predicted last weekend would happen momentarily, as it has, is not a retaliation but merely a side-effect. One wonders just how bad things will escalate to if in addition to its gas Europe loses, for example, access to Russian airspace, or worse...
Tweets.....
Further EU restrictive measures against
#

Russia
will enter into force on Friday 12 September 2014. My full statement:
http://
ow.ly/BnjA0
#

Lukashevich
: We intend to send the 2nd humanitarian convoy in accordance with agreement between Putin and Poroshenko
Separatist Leader Rejects President Poroshenko's Offer For Autonomy In Eastern Ukraine
http://
bit.ly/1CVDXxO
HROISMAN SAYS UKRAINE IS LACKING 5BCM OF GAS FOR HEATING SEASON: BBG.
RUSSIA SAYS READY TO RESPOND TO NEW U.S. SANCTIONS
RUSSIA SAYS RESPONSE TO U.S. DEPENDS ON DEPTH OF SANCTIONS
Poland saying Gazprom supplied 45% less gas than it asked for on Wednesday - IFX
BERLIN - EU DIPLOMAT SAYS NEW SANCTIONS AGAINST RUSSIA TO COME INTO FORCE ON FRIDAY
Russian rouble touches new historic low against dollar
EU Seeking More Info on Reduced Gas to Poland From Gazprom:BBG
#

BREAKING
Kiev says rebels extend control of east Ukraine border south to Azov Sea
Anti War.....
Poroshenko Claims Thousands of Russian Troops Leave
by Jason Ditz, September 10, 2014
The eastern Ukrainian ceasefire continues to hold, nearly a week in, and President Petro Poroshenko is now promising to make good on proposals
for increased autonomy
for the eastern region if the rebels agree to an end to the rebellion.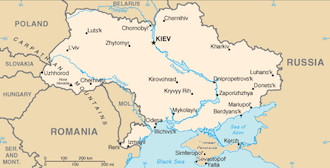 The rebels appear divided on whether or not to trust this offer, and
some
are still pushing to secede outright. Though dubbed "secessionist" rebels, many only wanted increased autonomy in the first place, and it is unlikely that enough will continue to push for secession to keep the war going.
The clearest sign that Ukraine is moving toward the end of the war is the change in their fanciful narrative
about the "thousands" of Russian troops
milling about the rebel east, which they continue to insist are at every battle but mysteriously have never been photographed or even seen by media outlets.
Poroshenko now
insists the Russian troops are leaving
as mysteriously and as invisibly as they arrived. Their departure, as with their arrival and literally everything else they supposedly did, could not be confirmed.
http://en.itar-tass.com/economy/748971
September 11, 0:44
UTC+4
Moscow offered a $100 discount off the price of $485 for 178 months on condition that Kiev pays a part of its debt for pervious gas supplies
MOSCOW, September 10. /ITAR-TASS/. The date of a new round of trilateral gas talks between Russia, Ukraine and the European Union has not yet been determined, the Russian Energy Ministry said on Wednesday.
The previous round took place in Brussels on September 6.
Naftogaz of Ukraine has suggested setting the price of gas for Ukraine in the range of $325 /in summer/ to $385 /in winter/ per 1,000 cubic metres pending the examination of mutual lawsuits by the Stockholm court of arbitration.
Moscow offered a $100 discount off the price of $485 for 178 months on condition that Kiev pays a part of its debt for pervious gas supplies.
In 2013, the average price of Russian gas was $380 per 1,000 cubic metres for Western Europe and $272 per 1,000 cubic metres for CIS and Baltic states.
In 2014, Gazprom set the price of gas for foreign countries at $372 per 1,000 cubic metres /4% off the 2013 price/.
The company regularly revises gas prices on a case-by-case basis. In May 2014, Lithuania signed an agreement allowing it to buy Russian gas at a price of $370 per 1,000 cubic metres from July 1 (20% off the previous price).
In 2014, Germany has been buying Russian gas at a price of $387 per 1,000 cubic metres and Greece at $398-399.5.
Speaking of the gas price acceptable to Ukraine, Russian Energy Minister Alexander Novak said one could judge about it from media reports. "As far as I understand, it's 320-380 U.S. dollars, depending on the time of year. This is what has been mentioned in the press. The contract does not allow us to set two prices. It's not possible even physically. But, most important, we have to go back to the payment of the debt in the first place because we keep talking about the price of gas but not about the debt as if we have already forgiven it. In fact, this is the main issue," Novak said.
He said Russia's position had not changed. "We think the proposals we put forth in the spring were comfortable and quite flexible," the minister said, adding that Russia had offered a 100 U.S. dollar discount to Kiev.
Novak said the discount could be offered if Ukraine paid at least a part of its debt to Russia.
However, Ukrainian Energy and Coal Industry Minister Yuri Prodan snapped back by saying, "We can again hear the price of $385 resulting from a so-called $100 discount on the price of $485. Russia apparently believes that $485 is a fair and market price. We believe that this is a discriminatory price," Prodan said.
He repeated Kiev's earlier proposal that the price of gas should be calculated on the basis of prices at the European gas hubs, reduced by the cost of gas transportation from the Russian border to the European Union.
Prodan said earlier that Kiev's position on the payment of its debt to Russia had not changed: "we will pay it immediately as soon as we come to agreement on the price".
"If no agreement is reached, the Stockholm Arbitration [Institute] will have the final say," he added.
But Novak said gas talks with Ukraine might resume only after Naftogaz of Ukraine had paid the debt for previous gas supplies and suggested returning to the 2010 agreement under the current contract effective until 2019, which will set the price at 385 U.S. dollars per 1,000 cubic metres.
Under the contract between Naftogaz of Ukraine and Gazprom, the price of gas supplied to Ukraine is determined by the formula that is pegged to the price of oil. "This formula is used everywhere in the world for pipeline gas supplies," Novak said.
However, Prodan said an acceptable gas price for Ukraine could be within the range of 268.5 to 385 U.S. dollars.
Following the failure of the gas talks, Gazprom switched to prepayment mode in trade with Ukraine and filed a lawsuit in Stockholm, seeking to collect a debt of 4.5 billion U.S. dollars.
Naftogaz of Ukraine, in turn, presented its own lawsuit on the same day, seeking to revise the current gas contract with Gazprom and demanding that the Russian company return 6 billion U.S. dollars overpaid by Ukraine for gas since 2010.
Tripartite consultations, involving Novak, Prodan, and EU Energy Commissioner Guenther Oettinger, started on May 2 and ended on June 16 with no result achieved. After that Gazprom and Naftogaz of Ukraine filed lawsuits against each other at the Stockholm arbitration court.
Ukraine is hoping to get the Stockholm arbitration court ruling on its gas dispute with Russia by the end of the current year, Justice Minister Pavel Petrenko said.
The lawsuits filed by Naftogaz of Ukraine and Russia's Gazprom have been combined into one case. Kiev is demanding that "a fair and market" price be set for Russian gas and that Gazprom be obligated to return $6 billion "overpaid" by Kiev for the gas supplied by Russia since 2010.
Gazprom sued Naftogaz of Ukraine for its failure to pay a debt of 4.5 billion U.S. dollars for the gas that was delivered but not paid for.
http://en.itar-tass.com/economy/748972
September 11, 0:14
UTC+4
Supplies have been restricted in the period of 14:00 hours September 10
KIEV, September 10. /ITAR-TASS/. Polish company Gaz System SA, the operator transit gas pipelines, has notified Ukraine's oil and gas monopoly Naftogaz Ukrainy on a temporary suspension of reverse-flow deliveries of gas via the Germanowiczy transfer station, Naftogaz said in a press release Wednesday.
Supplies have been restricted in the period of 14:00 hours September 10 though to 08:00 hours September 12.
Naftogaz said it was holding consultations with the Polish company and with suppliers of gas regarding the schedule for a resumption of reverse-flow supplies, as well as prompt reacting to similar situations in the future.
Earlier in the day, Polskie Gornictwo Naftowe i Gazownictwo /PGNiG/ reported a reduction of Russian natural gas deliveries via Ukraine and Belarus likewise. The fall of deliveries against the standard parameter totaled 20% on September 8 and 24% on September 9.
Slovak company Slovensky Plynarensky Priemysel /SPP/ also said it had received 10% less gas pumped across the Ukrainian territory.
"We confirm officially that our company registered a 10% decrease in gas deliveries," SPP press secretary Peter Bernar said.
He indicated that there had been a reduction of deliveries for precisely his company, not for the entire country.
RIA Novosti.....
MOSCOW, September 10 (RIA Novosti) - EU delayed the implementation of
sanctions against Russia
, hoping that long-term ceasefire in eastern Ukraine will be maintained, a EU diplomatic source told RIA Novosti.
"Of course, we know that much attention was paid to the fact that we decided to delay implementation of new sanctions. We want to give Russia a chance to show its willingness to be honest and to show that it aims for de-escalation of situation in Ukraine. We want the ceasefire to be real and long-term," the source said.
Earlier, Reuters reported that the ambassadors to the
European Union
countries have failed to reach a decision whether to implement new sanctions against Russia, and will continue discussions on Thursday.
According to the agency, Germany was pushing for sanctions to be implemented, while several other EU countries wanted to postpone the decision as the ceasefire in eastern Ukraine is holding.
If the EU countries agree on implementation of new sanctions tomorrow, they could be published in the Official Journal of the European Union on Friday.
On Monday, the
European Union
officially adopted a new round of sanctions against
Russia
over its alleged role in the Ukrainian crisis. The new sanctions list reportedly includes Russia's Rosneft, Gazpromneft and Transneft energy firms, as well as state-run companies with a turnover of more than $27 billion annually.
Over the past few months, the United States and the European Union introduced several rounds of targeted sanctions against the Russian economy, unjustifiably blaming Moscow for meddling in Ukraine's internal affairs.
As the
Ukrainian crisis
escalated, the United States persuaded its allies to add Russian individuals and entities to their own blacklists.
http://rt.com/news/eastern-ukraine-army-operation-680/
Wednesday, September 10
21:48 GMT:
The European Commission suspended compensation to producers of fruits and vegetables affected by the Russian sanctions, due to the large amount of claims authorities received, a source in one of the European institutions told Itar-tass.
"Providing assistance is temporarily suspended due to the overestimated number and volume of requests," said the source. According to him, the Commission received requests in excess of 100 million euros from Poland alone, while the entire amount of aid offered under the August 18 package is 125 million euros. According to the estimates of the European Commission, restricting exports to Russia will cost EU farmers € 5 billion.
20:34 GMT:
UN Secretary General Ban Ki-moon has held a telephone conversation with Ukrainian President Petro Poroshenko, during which the sides discussed issues of human rights and ways to find solutions for humanitarian problems in eastern Ukraine.
The secretary general stressed "the importance of proper monitoring and verification" of the ceasefire in the south-east of Ukraine, the website of the Ukrainian leader reports.
Ban also said that "the UN is working with the OSCE in order to strengthen this monitoring," adding that "diplomatic steps are essential for the establishment of peace" in Ukraine.
Poroshenko, for his part, stressed the need to increase the numbers of the OSCE monitoring mission.
In addition, the Ukrainian president stressed that early parliamentary and local elections will provide the basis for a "political process that will ensure a sustainable peace process in the Donetsk and Lugansk regions of Ukraine."
18:21 GMT:
Around 1,500 foreign volunteers have joined the self-defense militia in the Donetsk region, according to Boris Litvinov, chairman of the Supreme Council of the self-proclaimed Donetsk People's Republic.
"According to my information, there are about 10-15 per cent of them [foreign volunteers] there,"Litvinov told reporters in Donetsk. He said that the majority came from Russia, but there were also volunteers from Germany, France and Israel.
A total "about 3,000 to 4,000" volunteers fought alongside the militia during the months of the conflict, but "many of them have left," Litvinov said.
16:29 GMT:
Ukrainian president, Petro Poroshenko, will address a joint meeting of the US Congress, the congressional leaders said.

Speaker of the House of Representatives, John Boehner, invited Poroshenko to Washington on September 18 for the get together of the House and the Senate.

"Having President Poroshenko address Congress is another signal of our steadfast commitment to the aspirations of his people," Boehner said in a statement. "It will be an honor and a privilege to welcome him to the United States Capitol."
11:55 GMT:
Ukrainian border control personnel have started erecting "a wall" at the border with Russia, the press service of Kiev's military operation announced on its official Facebook account. Known as 'the Wall Project', is meant to equip a reinforced barrier between the two neighbors.

Security forces are planning to arrange a total of 1,500km of trenches and tunnels, over 8,000 trenches for equipment, 4, 000 of bunkers and 60km fence.
08:40 GMT:
Kiev will not acknowledge any kind of independence of the self-proclaimed Donetsk and Lugansk People's Republics, Ukrainian President Petro Poroshenko told the government. The draft law, which would give a special status for Donetsk and Lugansk Regions as part of the ceasefire agreement, states that they will remain parts of a unitary Ukraine, the president said.
"Everything goes back to Ukraine. There's no talk about a federalization," Poroshenko told the ministers.
Meanwhile the regions insist on independence from Kiev.
"Whatever laws Ukraine adopts is Ukraine's internal business," First Deputy Prime Minister of the Donetsk People's Republic Andrey Purgin told RIA Novosti. "We are a sovereign state that hopes to have friendly relations with Ukraine."