Published time: September 28, 2014 06:08
Edited time: September 28, 2014 07:09
Over 30 people are feared dead near the erupting Ontake volcano in central Japan, police reported. The volcano started erupting on Saturday, sending ash clouds down the mountain's slope for more than 3 kilometers.
The people were found by police officers in a state of "cardiopulmonary arrest" near the top of the volcano, NHK national news reported.
"We have confirmed that more than 30 individuals in cardiac arrest have been found near the summit,"a spokesman for Nagano prefecture police told AFP.
Hundreds of people, including children, were left stranded near the top of the volcano, police told NHK. Most of them made their way down Saturday evening.
Japan's Cabinet Office said that about 230 people on the mountain had managed to make their way to safety by Saturday evening.
At least 550 police officers, firefighters and self-defense force personnel were taking part in the rescue mission on Sunday.
According to Japanese authorities, the victims were not breathing and their hearts appeared to have stopped beating. Police doctors are due to arrive to examine the victims.
The volcano continued erupting on Sunday, sending huge amounts of ash into the air. The ash has been found on cars up to 80 kilometers (50 miles) away.
52-year-old Satoshi Saito, a hiker, told Reuters that before the volcano erupted, the weather was good, and there was no warning of a possible eruption. He added that he climbs Mt Ontake several times a year.
"There were no earthquakes or strange smells on the mountain when I was there," said Saito, who climbed Ontake on Saturday and descended an hour before the volcano started erupting.
"But a man who runs a hotel near the mountain told me that the number of small earthquakes had risen these past two months, and everyone thought it was weird," he added.
A video recorded by NHK showed windows in a mountain lodge darkening and people screaming as heavy objects were bombarding the roof of the building.
"All of a sudden ash piled up so quickly that we couldn't even open the door," said Shuichi Mukai, who works in the lodge just below the volcano.
The Ontake volcano, on the border of Nagano and Gifu prefectures, 200 kilometers west of Tokyo, started erupting at about 11:53 local time (02:53 GMT) on Saturday.
On Saturday, Japan's Meteorological Agency declared a level 3 volcano alert on a 1 to 5 scale, which means people are advised to stay away from the mountain. The agency warned that the debris from the volcano could fall as far as 4 kilometers away.
At 3,067 meters above sea level, the Ontake volcano is the second highest in Japan. It is also a popular destination for religious pilgrimages.
The volcano was inactive until 1979, but then it underwent a series of eruptions. The latest was in 2007.
Japanese volcano: at least 30 feared dead after being trapped by eruption
Victims reported to have suffered heart attacks after being trapped in ash clouds on 3,067m-high Mount Ontake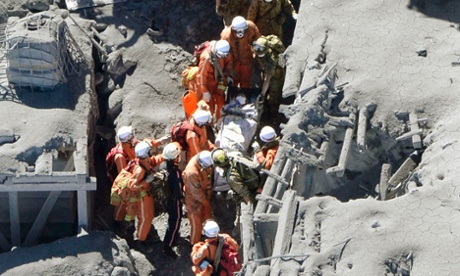 More than 30 people are feared to have died after a volcano erupted in Japan, spewing ash and rocks and trapping scores of hikers on the hillside.
The victims, who were trapped overnight after Mount Ontake erupted without warning on Saturday, have been described as not breathing and their hearts stopped. That is the customary way for Japanese authorities to describe a body until police doctors can examine it.
"We have confirmed that more than 30 individuals in cardiac arrest have been found near the summit," a Nagano prefecture police spokesman told AFP without elaborating further.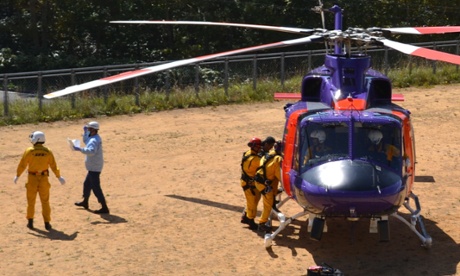 The 3,067m-high mountain, a popular location for walkers and climbers, erupted shortly before noon Saturday, spewing large white plumes of gas, ash and rocks into the sky and blanketing the surrounding area.
About 250 people were initially trapped on the slopes, but most made their way down by Saturday night.
More than 500 Japanese military and police used helicopters to search for survivors on Sunday.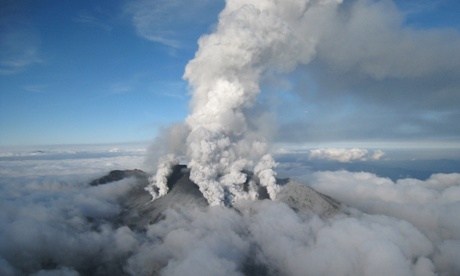 Video footage
showed huge grey clouds boiling towards climbers at the peak and people scrambling to descend as blackness enveloped them.
"All of a sudden ash piled up so quickly that we couldn't even open the door," Shuichi Mukai, who worked in a mountain hut just below the peak, told Reuters. The hut quickly filled with hikers taking refuge.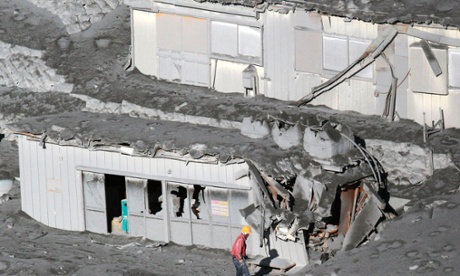 "We were really packed in here, maybe 150 people. There were some children crying, but most people were calm. We waited there in hard hats until they told us it was safe to come down."
The mountain, some 200km west of Tokyo, is a popular site to view autumn foliage, currently at its best.
Flights at Tokyo's Haneda airport suffered delays as planes changed routes to avoid the peak, which straddles Nagano and Gifu prefectures, but were mostly back to normal by Sunday, an airport spokeswoman said.
Volcanoes erupt periodically in Japan, one of the world's most seismically active nations, but there have been no fatalities since 1991, when 43 people died in a pyroclastic flow, a superheated current of gas and rock, at Mount Unzen in southwestern Japan.
An official at the volcano division of the Japan Meteorological Agency said that, while there had been a rising number of small earthquakes detected at Ontake since 10 September, the eruption could not have been predicted easily.
"There were no other signs of an imminent eruption, such as earth movements or changes on the mountain's surface," the official told Reuters. "With only the earthquakes, we couldn't really say this would lead to an eruption."
Ex SKF...
SATURDAY, SEPTEMBER 27, 2014
(UPDATE-4) Another word that the government agencies and mainstream news outlets are at great pains, for some unknown reason, to avoid is "
pyroclastic flow
". Government officials are busy denying that's what happened in Mt. Ontake. Volcanologists on Japanese Twitter are laughing at them, though.
----------------------------------
(UPDATE-3)
Asahi
(9/28/2014) special alert quotes Nagano Prefectural Police saying there are over
30 people on the summit who are "in a state of cardiopulmonary arrest" (i.e. most likely dead)
.
----------------------------------
(UPDATE-2) NHK today (9/28/2014) is saying there are more than 10 people on the summit who are "not moving" and "in a state of cardiopulmonary arrest". Not moving, not breathing, heart not beating, but NHK and other mass media are so afraid for some reason to say the word "dead", so as not to hurt the feeling of the family members of the "not moving, not breathing, heart not beating" climbers lying in the volcanic ashes, supposedly.
(I'd call it "TEPCOization" of news reporting. Remember those unfortunate workers who dropped dead for whatever reason within the Fukushima I NPP compound, and declared by TEPCO later that they suffered cardiopulmonary arrest and were taken to the hospital several hours later, where the doctors pronounced the patient dead. As far as TEPCO is concerned, the workers died at the hospital, not at the plant.)
----------------------------------
(UPDATE)
Kyodo News
quotes Nagano Prefectural Police saying 8 people have been seriously injured, and 7 of them are unconscious. There may be deaths.
==================================
Still shot of the video taken by
Asahi Shinbun
; eruption is from multiple locations:
The mountain lodge is marked by the red circle:

Jiji Tsushin
(9/27/2014) reports that
8 people were injured
with one person severely injured, and that there are about
250 people trapped near the mountain top
. Jiji also mentions an unconfirmed report that 4 people are buried in the ashes, and one has been rescued.
There has been a series of small earthquakes in Nagano Prefecture in the past week.
I find it interesting that Jiji's news is under the "Great Eastern Japan Disaster" (March 11, 2011 earthquake and tsunami) section. No doubt in relation to Sendai Nuclear Power Plant in Kyushu, which has been cleared to resume operation despite a huge volcanic eruption risk nearby.