http://www.zerohedge.com/news/2014-08-07/martin-armstrong-warns-italys-recession-means-end-democracy
Martin Armstrong Warns Italy's Recession Means "The End Of Democracy"
Submitted by Tyler Durden on 08/07/2014 19:05 -0400
Italy has entered that phase of zero-point growth. Italy's people have been beaten by Europe and no longer expect recovery. But then, yesterday, the Statistical Office of the economic data for the second quarter of 2014 released economic numbers that ??froze a dumb look even on the faces of the hardcore pessimists. For the second time this year, Italy experienced a slump of its gross domestic product by 0.3% year on year. The economic data is so bad to the point it has not been seen for 14 years, that everyone no matter what side of the political fence is whispering or shouting the same world – "Recession!"
The advantage of Italy and its legendary corruption has been its equally inefficient government that has allowed the people to just ignore it and get along with life in the real world of the underground economy. When you look at the numbers at the gross level, one cannot imagine how Italy has functioned economically. However, looking closer one sees the vibrant underground economy that has allowed the people to make their own living and still prices, taxes and debt per capita are much lower than everywhere else in Europe, Italy's real problem – it joined the Euro which did not benefit the Italians and only increased their national debt in "real terms" as the Euro rallied to excessively high levels in this wave of deflation.
The solution for Italy? The politician's dream. Brussels want to take away the right of the Italian people to vote on anything meaningful. Prime Minister Matteo Renzi has hoped to celebrate his "epochal success" in the parliamentary reform in practice. The Senate in Italy was rather unique. All legislation had to go through the Senate which was elected by the people and had the power to dismiss the government. This was actually a very good idea. However, it prevents tyranny from Brussels and this is the real problem. Renzi has succeed against the resistance of the deputies. The Senate, the second chamber of Parliament, today or at the latest on Friday decide to self-disempowerment. Weeks hardest struggle – to physical violence – come to an end.
Renzi and his outwardly so youthful Parliament Minister, Maria Elena Boschi (33), have been hard enough to push through the reforms that will end democratic processes in Italy. Not since Benito Mussolini has Italy lost such power of the people. Dissidents from their own social democratic ranks threatened to burst the tyranny being brought to Italy by Brussels backed Renzi and Boschi, they have perhaps bribed way too many people to sell out the country to Brussels for any dissidents to mount a legal challenge. They even succeeded in breaking up the Berlusconi camp, which Brussels covertly organized a behind the curtain coup to drive him from office when it was intending to take Italy out of the Euro.
In future, the Senate is only 100 instead of 315 members under the pretense that this will save a lot of money and the real objective to hand Italy to Brussels. Renzi claims his reforms are copied from the German Bundesrat, but he only perseveres marginally the pretense of the relationship between the state and regions. The Senators are not elected by the people but are to be appointed by the state parliaments from among the local politicians and the mayor thereby eliminating the people in the very same manner as the EU Commission that nobody votes for and cannot be removed without revolution.
Italy is where the Republic was born in 509BC that sparked a contagion that spread with the overthrow of monarchy giving birth to Democracy in Athens in 508BC. The land that had inspired the American Revolution against monarchy is now itself surrendering the last vestige of democratic process yield to the growing tyranny of Brussels under the pretense of saving the Euro.
"Stop Putin" Coalition Cracking: Greece Laments "Blind Obedience To Cold War Strategies Of Brussels And Washington"
Submitted by Tyler Durden on 08/07/2014 11:03 -0400
It was all fun and games while the grand western "
Pariah Putin is evil
" alliance was calling the shots, lobbing one sanctions after another, and Russia was quietly sitting there and taking it all. But once Europe realized that suddenly its food exporters are about to see their revenues plunge (and ostensibly lead to even more domestic deflation as all the excess produce floods domestic markets) and lead to gaping trade deficits, suddenly cries that Putin's retaliation is "unfair" have filled the air. What's worse, the moment Russia retaliated, the grand alliance started to crack.
Enter Greece which has hundreds of millions in food exports to Russia, and which was the first country to hint that it may splinter from the western "pro-sanctions" alliance.
According to Bloomberg, earlier today the Greek foreign minister and former PM said that "we are in continuous deliberations in order to have the smallest possible consequences, and if possible no significant impact whatsoever." He added that Greece is trying to protect agricultural production, keep friendly relations with all countries, and fulfill its EU obligations. The problem is that it can't satisfy everyone, and certainly not its food exporters if it wants to remain on friendly terms with the same artificial union that has kept it on life support for the past 4+ years.
Bloomberg adds that Greece will set up a task force to monitor exports of Greek products to Russia, according to e-mailed statement from country's Foreign Ministry. The task force will be comprised of representatives of Greek exporters and government officials, and its role will be to examine ways to expand markets for Greek, fruits and vegetables, in response to Russia's decision to ban most food exports from EU countries. Greek Foreign Ministry has taken action to ensure smooth access of agricultural products to Russian market. The problem is that Putin has clearly rejected any such "action", and the moment when largely agricultural Greece will where its allegiances lie, is coming.
And making it very clear that this will be a major political issue was a statement by the main opposition party Syriza which today said that the Greek government's "blind obedience to the Cold War strategies of Brussels and Washington will be disastrous for country's agriculture." In a moment of surprising clarity, Syriza asked govt to immediately lift all sanctions to Russia, as they don't contribute to a solution of the Ukrainian crisis, and "instead fuel an economic and trade war, in which Greece has unfortunately become involved." Syriza concluded that the government hasn't weighted Greece's special interests and bilateral relations with Russia.
It's not only Greece, however. That other country which recently spat in the general direction of Brussels and instead aligned itself with Russia and the South Stream gas pipeline, Austria, also made it very clear that the sanctions approach won't stand. Exports to Russia developed better than average in recent years, Austrian Agriculture Minister Andrae Rupprechter says in e-mailed statement.
Austria exported €238 million of agricultural products, edibles to Russia last year; Russia is Austria's 3rd biggest export destination for such products outside of the EU. These exports have grown in all but 2 years since 2006, with Austria last year mainly exporting prepared foods, meat, animal feed, coffee, tee, spices, milk.
The implication there is quite clear too: sanctions are fine and all, but the second Russia retaliates, all bets are off.
And where things get really interesting is that Germany itself, that biggest wildcard in the grand Eurasian "counter USD" alliance, said moments ago that the Russian ban on imports of meat, fish, dairy products, fruits and vegetables from EU and U.S. will have "noticeable" impact, German Agriculture Minister Christian Schmidt says in e-mailed statement.
"I very much regret that Russia has taken this clearly politically-motivated step" Schmidt said, adding that "This action by Russia undoubtedly puts the previously constructive cooperation between the Russian and the German government on the export of agricultural goods to a tough test."
It would appear that Herr Schmidt, too, is shocked that Putin didn't merely crawl back into his cave but decided that the logical response would be its own round of sanctions. His anger is palpable: "This Russian decree isn't suitable as a means of political pressure. Russia's boycott decision will not only have a profound impact on the German and European economy, but will also directly affect Russian consumers."
Sure, but more importantly, it will first affect German agricultural exporters, and they, unlike Russian consumers, get to vote in German elections. They also happen to be very vocal when they see their top-lines get crushed due to idiotic propaganda policies.
But the coup de grace, and what assures that things are only about to get much worse (before they get even worse) is the following:
RUSSIA PREPARING RETALIATORY MEASURES AGAINST INDUSTRY: IFX
In other words, the moment of truth for Europe is almost here, and very soon the insolvent continent will have to decide: blind allegiance to the world's (fading) reserve currency, i.e., the US (which is so friendly to its allies, it was just exposed in the biggest spying scandal with Germany in recent history), or the country which provides it with nearly a half of its energy needs and which just showed it can and will cause far more pain to Europe than vice versa.
Europe Furious That Putin Dares To Retaliate To Sanctions, Blames Economic Slide On Kremlin
Submitted by Tyler Durden on 08/07/2014 10:14 -0400
Either Europe is run by a bunch of unelected idiots, or... well, that's about it.
After blindly doing the US' bidding over all propaganda matters Ukraine-related, and following just as blindly into round after round of US-inspired sanctions, sanctions to whose retaliation Europe would be on the frontline unlike the largely insulated US, Europe appears to be absolutely shocked and is apoplectic that after several rounds of sanction escalations, Russia finally unleashed its own round of sanctions and yesterday announced a 1 year ban on all European food imports, something which will further push Europe into a triple-dip recession as already hinted by Italy yesterday.
In fact, Europe is so stunned by this unexpected "politically-motivated" retaliation by Russia, it
issued a press release
.
Statement by Commission spokesman on the announcement of measures by the Russian Federation




The European Union regrets the announcement by the Russian Federation of measures which will target imports of food and agricultural products. This announcement is clearly politically motivated. The Commission will assess the measures in question as soon as we have more information as to their full content and extent. We underline that the European Union's restrictive measures are directly linked with the illegal annexation of Crimea and destabilisation of Ukraine. The European Union remains committed to de-escalating the situation in Ukraine. All should join in this effort. Following full assessment by the Commission of the Russian Federation's measures, we reserve the right to take action as appropriate.
Surely, Putin is waiting for the European Commission to also issue a #hashtag before he starts shaking in his boots.
For an indication of just how clueless Europe is, we also read that it is ready to appeal to the World Trade Organization to have the Russian agriculture import bans lifted, a European diplomatic
source told ITAR-TASS
.
"Politically motivated large-scale trade restrictions are a direct violation of WTO rules, which Russia pledged to comply with," the diplomat said. "These measures will be thoroughly analyzed, and then relevant claims will be submitted with the WTO."




The source added that the European Commission would start analyzing Russia's ban on imports from EU states as soon as the official list of banned goods would be published.




The EU Council may convene an urgent meeting in connection with Russia's response to European sanctions.




It is early to say whether the EU will take measures in response to the Russian ban on imports of food products from Europe, source told.




"First, it is necessary to see and analyze the official list of product that Moscow intends to ban. After that, decisions will be made both at the European and the national level," the source stressed.
The punchline: "The Russian ban on agricultural imports from the European Union is an "irresponsible measure" that can lead to losses of billions of euro for European as well as Russian consumers, the source told ITAR-TASS."
In other words, Europe actually thought it would keep escalating without Russia retaliation. If confused, see the first sentence of this article again.
In the meantime, Europe counter-retaliating to Russia's retaliation to European sanction aggression is sure to make the already bad trade war, worse. A trade war so bad in fact,
that what snow was to Q1, "evil Putin" will be to Q3.
From Bloomberg
:
The crisis in eastern Europe is showing signs of disrupting Mario Draghi's economic outlook.




Evidence is building that the conflict in Ukraine and European Union sanctions against Vladimir Putin's Russia are undermining a euro-area recovery that the European Central Bank president already describes as weak. With the ECB expected to keep interest rates on hold near zero today and refrain from any new policy measures, Draghi is likely to face questions on how he plans to keep the economy on track.




The ECB may have few tools left to mitigate the impact of political turmoil that European companies from Anheuser-Busch InBev NV (ABI) to Siemens AG (SIE) say is hurting their business. A volley of measures introduced in June will take time to work, and policy makers have so far shied away from wheeling out a full-scale asset-purchase program.




"The euro-zone recovery is very fragile and the macro situation fluid," said Andrew Bosomworth, managing director at Pacific Investment Management Co. in Munich. "Expect Draghi to elaborate on spillover risks from the Russia-Ukraine crisis."
Ironic, because this is just as we said would happen when we predicted that Putin will soon become Draghi's best friend and as a result of Putin "aggression" Draghi will have "no choice" but to boost Europe's monetary insanity, which recently crossed into the NIRP twilight zone, even beyond the rabbit hole.
U.S. and European Union sanctions against Russia threaten to hasten a move away from the dollar that's been stirring since the global financial crisis.




One place the shift has become evident is Hong Kong, where dollar selling has led the central bank to buy more than $9.5 billion since July 1 to prevent its currency from rallying as the sanctions stoked speculation of an influx of Russian cash. OAO MegaFon, Russia's second-largest wireless operator, shifted some cash holdings into the city's dollar. Trading of the Chinese yuan versus the Russian ruble rose to the highest on July 31 since the end of 2010, according to the Moscow Exchange.




While no one's suggesting the dollar will lose its status as the main currency of business any time soon, its dominance is ebbing. The greenback's share of global reserves has already shrunk to under 61 percent from more than 72 percent in 2001. The drumbeat has only gotten louder since the financial crisis in 2008, an event that began in the U.S. when subprime-mortgage loans soured, and the largest emerging-market nations including Russia have vowed to conduct more business in their currencies.
"No one is suggesting"? We are!
Albania Central Bank Employees Steal $7 Million In Cash
Submitted by Tyler Durden on 08/07/2014 10:05 -0400
Considering all central bank money is created out of thin air, without actual collateral (unlike money created by commercial banks) and just has the backing of the (diluted) "full faith and credit" of the issuer, the only real use for such money is to be "embezzled" either legally - by banks where it ends up as reserves and is then used to push risk assets higher and make the merely uber richer uberest rich... or illegally. It is the latter shortcut that numerous employees of the central bank of Albania decided to pursue when the central bank discovered that around 713 million lek, or $6.7 million, in cash had been stolen two weeks ago.
What is most peculiar however, is that the bank has since been engaged in a damage limitation exercise involving state prosecutors, the removal of two executives, and calls for governor Ardian Fullani to resign from protesters outside the central bank. Strange because in the US nobody would even bother with a $7 million POMO: central bank theft in the world's most advanced country only takes place in billion + increments. And naturally, nobody is ever prosecuted because those who do the robbing are the de facto owners of the money printing institution.
The Bank of Albania has sacked and replaced all employees charged with stealing cash from the central bank, and implemented a thorough internal inquiry – but yesterday denied reports that the governor Ardian Fullani had himself been sacked.




The bank discovered the theft of around 713 million lek ($6.7 million) two weeks ago, and has since been engaged in a damage limitation exercise involving state prosecutors, the removal of two executives, and calls for Fullani to resign from protesters outside the central bank.




According to a statement published on the Bank of Albania's website, two former employees have been charged with theft, and the head of banknote issuance and the head of the security department have been replaced. Moreover, three working groups have been set up, to conduct a complete inventory of banknotes held by the bank; to verify if there has been any leak of secret information; and to ascertain whether employees dealing with cash acted in compliance with the rules.




The Bank of Albania supervisory board has said that if the regulatory framework had been implemented properly, the theft would have been detected and prevented. The board said it has observed flouting of the rules and procedures around the storing of banknotes.




In a separate statement today, the central bank said claims made on television channel Vision Plus, that Fullani has been removed from office, are not true. The supervisory board said it has made "no proposal ... for the dismissal of the governor of the Bank of Albania".
What is the New Normal coming to when taking the only product a central bank produces - in fact the only source of "growth" for the past 6 years - is a punishable offense?
Antisemitism on rise across Europe 'in worst times since the Nazis'
Experts say attacks go beyond Israel-Palestinian conflict as hate crimes strike fear into Jewish communities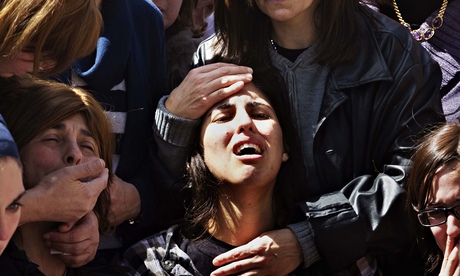 In the space of just one week last month, according to Crif, the umbrella group for France's Jewish organisations, eight synagogues were attacked. One, in the Paris suburb of Sarcelles, was firebombed by a 400-strong mob. A kosher supermarket and pharmacy were smashed and looted; the crowd's chants and banners included "Death to Jews" and "Slit Jews' throats". That same weekend, in the Barbes neighbourhood of the capital, stone-throwing protesters burned Israeli flags: "Israhell", read one banner.
In
Germany
last month, molotov cocktails were lobbed into the Bergische synagogue in Wuppertal – previously destroyed on Kristallnacht – and a Berlin imam, Abu Bilal Ismail, called on Allah to "destroy the Zionist Jews … Count them and kill them, to the very last one." Bottles were thrown through the window of an antisemitism campaigner in Frankfurt; an elderly Jewish man was beaten up at a pro-
Israel
rally in Hamburg; an Orthodox Jewish teenager punched in the face in Berlin. In several cities, chants at pro-Palestinian protests compared Israel's actions to the Holocaust; other notable slogans included: "Jew, coward pig, come out and fight alone," and "
Hamas
, Hamas, Jews to the gas."
Across
Europe
, the conflict in Gaza is breathing new life into some very old, and very ugly, demons. This is not unusual; police and Jewish civil rights organisations have long observed a noticeable spike in antisemitic incidents each time the Israeli-Palestinian conflict flares. During the three weeks of Israel's Operation Cast Lead in late 2008 and early 2009, France recorded 66 antisemitic incidents, including attacks on Jewish-owned restaurants and synagogues and a sharp increase in anti-Jewish graffiti.But according to academics and Jewish leaders, this time it is different. More than simply a reaction to the conflict, they say, the threats, hate speech and violent attacks feel like the expression of a much deeper and more widespread antisemitism, fuelled by a wide range of factors, that has been growing now for more than a decade.
"These are the worst times since the Nazi era," Dieter Graumann, president of Germany's Central Council of Jews, told the Guardian. "On the streets, you hear things like 'the Jews should be gassed', 'the Jews should be burned' – we haven't had that in Germany for decades. Anyone saying those slogans isn't criticising Israeli politics, it's just pure hatred against Jews: nothing else. And it's not just a German phenomenon. It's an outbreak of hatred against Jews so intense that it's very clear indeed."
*****
El Pais.....
"There is no plan B," Mas tells press on independence vote
Catalan premier says that "everything is in place" for November plebiscite on secession from Spain
The Catalan regional premier, Artur Mas, appeared before the press on Tuesday to insist that his plan to hold a plebiscite on independence for the northeastern region will be going ahead in November. "We have everything ready to go," he told reporters, adding that the vote would be held "in a legal manner." There was, he continued, "no plan B: the plan is to vote."
Mas offered an assessment of the political year, and was keen to clear up any doubts as to his plans after the summer vacation is over. "Everything is set for the vote," he explained. "We will carry it out according to a Catalan law because the laws of the Spanish state do not give us room to do so."
He also explained that the regional government will observe three principles in terms of the vote: "The consultation must be carried out according to three major parameters, which are democracy, laws and dialogue – not just the laws and the dialogue that the [central] government is talking about."
The Catalan regional government will now be hoping that it will be given the space to hold the vote, which is strongly opposed by the central administration of Popular Party Prime Minister Mariano Rajoy on the grounds that it is unconstitutional. Mas insisted, however, that the aim of the plebiscite is "not to declare independence. I have always said that the consultation will be legal. I hope that [the government] will not try to impede Catalan law nor sink it."
But Mas admitted that,
after meeting with Rajoy last week
, he had no indication that this would not happen. "Rajoy told me that the consultation could not take place because it was illegal," he said. "It will not be illegal if they do not transform it into something illegal. In any case, the consultation will be carried out according to the law."
***
Argentina sues USA to The Hague by the failure of the bond debt
The court will review the case if the Obama administration accepts that jurisdiction
Argentina is determined to resist the final judgment of the justice of the United States that the funds ordered to pay
vulture
and other creditors
who rejected the debt restructuring in 2005 and 2010
and who were left unpaid bonds since the collapse of the South American country 2001 Eight days later he could not afford a refinanced maturing liabilities, given the judicial lock that requires funds to pay first
vulture
, the Government of Cristina Fernandez de Kirchner began the process to appeal the decision to the International Court in The It has, according to the agency confirmed Thursday.
But the Netherlands-based court has clarified that only analyze the fault if the Obama administration agrees. Demand for Argentina points against the USA for alleged violation of its sovereignty and judicial immunity blockade that prevented keep paying the restructured debt will repay it as claimed by hedge funds, claims totaling 1,300 million euros.
Argentina points against the USA for alleged violation of its sovereignty and immunity from the judicial lock
For its part, the American judge Thomas Grisea responsible judgment against Argentina, has convened a new view for litigation for Friday at 15:00 local time (21 hours in mainland Spain), the Court said Thursday New York. This hearing, which has not been made public what issues will deal has been called after Argentina filed suit against the United States.
Some jurists believe that the United States rejects the jurisdiction of The Hague.
One is Luis Moreno Ocampo, former prosecutor of the International Criminal Court, a body that never wanted to undergo superpower.
"I see no chance (option). For Argentina may have a case there, the USA should accept jurisdiction and does not think it will happen. The place (to appeal) would be the World Trade Organization (WTO), but neither can act without the consent of the United States and in cases like this, where there is already a judge to intervene, "Moreno referred to Judge Griesa.
****


Zero Hedge......
"Bail In Regime" Sees UK Banking System Downgraded To "Negative"
Submitted by GoldCore on 08/07/2014 20:00 -0400
UK Banking System Downgraded To Negative Due To "Bail In Regime"
Bank of England plans to make bondholders and depositors bear the cost of bailing out failing banks has led Moody's to downgrade its outlook on the UK banking sector.

The rating agency said that it had changed its outlook for the UK financial system from "stable" to "negative", citing the developing global "bail in regime" of creditor and depositor bail-in.


Depositors in some Cyprus banks saw 50% or more of their life savings confiscated overnight.
Central banks claim that it is an attempt to ensure that taxpayers do not pick up the bill in the event of a bank getting into trouble again. However, it appears to be the case that the stealth global bail-in regimes brought in by the Federal Reserve, Bank of England and ECB are again protecting certain banks at the expense of creditors including depositors and potentially the wider economy.
There is a real risk that individual savers and companies will be forced to bail out profligate banks and have their savings and capital confiscated as happened in Cyprus. There has been little information provided and little debate about the risks and ramifications of
bail ins
.
In the financial crisis of 2008, UK taxpayers were forced to provide more than £60 billion in direct support to HBOS and Royal Bank of Scotland as they came close to collapse, as well as hundreds of billions of pounds in taxpayer-guaranteed loans and loss insurance.
Under the incoming credit bail-in regime, bondholders would be the first in line, after shareholders, to take any losses - then depositors.
Officials led by Mark Carney, the Bank of England governor, are attempting to bridge sharp differences among leading G20 countries as they prepare a landmark set of proposals aimed at ensuring bail-in legislation is adopted in G20 nations, the Financial Times reported two weeks ago.
Talks under the auspices of the global Financial Stability Board (FSB) over the summer are approaching a key stage as officials aim to clinch an agreement on bail-ins and the bailing in of creditors including depositors of banks.
Japan is one of the countries with problems with bail-in plans amid concerns that they are not easily compatible with the structure of its banking system. Its banks are heavily deposit-funded, and officials are uncomfortable about the idea of bail-ins.
Japanese banks are already vulnerable and bail-ins could hurt consumer sentiment in the already struggling Japanese economy. Concerns in Tokyo are said to be sufficiently profound for it to push its case right up to the summit itself.
China is also sceptical about the notion of private sector bail-ins given its banks are state-owned. "There are some very entrenched positions," one official told the FT. Russia is likely to oppose the coming bail-in regime as well as many other large creditor nations.
The BOE's Carney, who also chairs the FSB, said in March he wanted to "break the back" of the issue this year.
Moody's said the reforms meant that its assumption of government support for UK banks would decline and that, despite improvements in the financial stability and profitability of Britain's biggest lenders, it had a long-term "negative outlook" for the sector.
Carlos Suarez Duarte, a senior analyst at Moody's, said that the "key driver of the change in outlook is that the UK government is now able to finalise the secondary legislation to implement the structural reforms relating to the UK resolution and bail-in regime and the related ring-fencing framework."
Moodys largely ignored, as did much of the media coverage of their report, the real risk that bail-ins pose to people's life savings and companies capital, the likely negative impact of this on consumer sentiment and employment in already fragile economies.
Depositors and those who have worked hard and been prudent and put capital aside or saved for a rainy day look set to be penalised again.