Tweet....
I sense that the journey from Sloviansk to Donetsk isn't going to be easy. Someone has blown up this railway bridge.
Anti War......
Both Sides Trade Blame for Bridge Blasts
by Jason Ditz, July 07, 2014
With the loss of Slovyansk, large numbers of east Ukrainian rebels are falling back to Donetsk, digging in at their de facto capital and
preparing to barricade the streets
against a military invasion.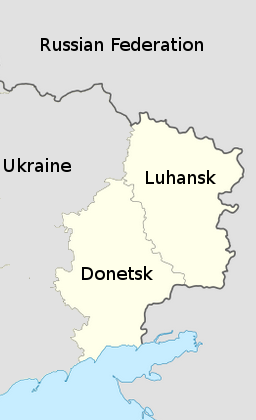 The route from Slovyansk to Donetsk isn't an easy one today, as three bridges on
primary routes to Donetsk were blown up today
. Both sides are trading blame for the bombings.
The military claimed to have seen rebels blow them up, aiming to slow the military advance, while the rebels say that pro-government "saboteurs" blew them up trying to break the rebels' supply lines.
Either way, the military insists their strategy is not to launch an immediate invasion of Donetsk or Luhansk, but rather for the military to impose a full-scale "blockade" on those cities until the rebels surrender.
Russia Today....
Ukraine gas debt exceeds $5bn, no June payments made - Gazprom
Published time: July 08, 2014 09:51
Edited time: July 08, 2014 10:45
Ukraine's gas bill has risen another $838 million, after Kiev failed to make a payment for 1.7 billion cubic meters of Russian gas supplied in the first half of June.
"The deadline for paying June bills
expired
yesterday; we again didn't receive the money from Naftogaz Ukraine. As a result Ukraine's debt to Gazprom for the 1.7 billion cubic meters supplied from June 1 through June 16 rose to $5.296 billion,"
Gazprom CEO Aleksey Miller said on Tuesday.
Miller added that Ukraine needs to pay for 11.535 billion cubic meters of Russian gas, which is a "gigantic" volume, comparable to the total supplied to Poland.
"Ukraine's principle unwillingness to pay for Russian gas is becoming chronic, and once again shows the transition to a
prepayment system
, included in the contract, was the only correct decision,"
Miller added.
The new bill is calculated on a price of
$485
per thousand cubic meters that came into effect in April.
Ukraine has insisted it would pay the debt if it was charged $326, saying the new Gazprom price was unfair and politically motivated.
On June 16, when Ukraine's gas debt stood at $4.458 billion, Gazprom moved Ukraine to a prepayment system, which meant Kiev had to pay in advance for any new supplies of Russian gas.
Ukraine has recently increased its effort to find alternative sources of gas to substitute Russian supplies. On Friday Ukraine's Finance Ministry put forward an eight point plan to escape Russian gas dependence, through developing its own production as well as looking for other suppliers.
The new plan included switching from boiler heating to biofuels, as well as getting more out of coal, and building sea terminals for liquefied natural gas (LNG).
Ukraine also says it could get up to 20 billion cubic meters in reverse flow from neighboring Slovakia, Poland and Hungary, which it expects to compensate for part of the "lost" Russian gas. However Gazprom and RT experts doubt that even having the equipment to reverse the gas flow, the scheme would be legal.
Russian President Vladimir Putin called such supplies
artificial
saying there's no way one pipe could be used to supply gas in both directions.
The President said that Russia "sees everything"; however the country is not responding, only because it doesn't want the situation to worsen.
​US 'kidnaps' Russian MP's son to 'exchange him for Snowden'
Published time: July 08, 2014 10:39
The US "kidnapped" the son of a Russian MP, possibly to exchange him for Edward Snowden, the father charged. The man was indicted with computer-related crimes by a Washington DC court and snatched from the Maldives.
Roman Seleznyov was detained on Saturday at Male international airport as he was returning to Russia, the Russian foreign ministry said on Tuesday in a statement. He was forced by agents of the US Secret Service to board a private plane to Guam to be later arrested, a move which the ministry called "a de-facto kidnapping."
"We consider this incident as a new hostile move by Washington," the statement said, accusing the American authorities of ignoring proper procedure in dealing with foreign nationals suspected of crimes.
"The same happened to Viktor Bout and Konstantin Yaroshenko, who were forced to go to the US from third countries and convicted on dubious charges,"
the ministry said.
The notion was seconded by Valery Seleznyov, Roman's father and a Russian lawmaker, who told RT that he considers the situation as an illegal act.
"For all I know they may be demanding a ransom tomorrow. Or try to exchange him for [NSA whistleblower Edward] Snowden or somebody. One can only wonder," he said.
He added that he could not contact his son and that the American authorities had denied him his phone call.
"They took him to Guam because the American laws are not fully applicable there," the lawmaker explained.
The MP said that his son has scant computer skills and could not be involved in any sort of hacking.
Earlier on Monday, the US Secret Service and the Department of Justice announced the arrest of Roman Seleznyov, who is facing trial in Washington DC on charges including identity theft, bank fraud, illegally accessing information on protected computers and trafficking in unauthorized access devices.
The US says between 2009 and 2011 the man was involved in stealing and selling credit card data of American citizens. The Secret Service
called
Seleznyov one of the world's most prolific traffickers of stolen financial information.
Roman Seleznyov earlier made headlines in 2011, when he was among the victims of a bombing attack in Morocco.
The US has a record of taking drastic steps when it wants people held in custody. The methods may vary from the widely-criticized practice of "extraordinary rendition," or the blatant kidnappings of terror suspects during the Bush era to putting pressure on foreign governments to allow American agents a free hand on their soil.
http://rt.com/news/eastern-ukraine-army-operation-680/
Following the end of a shaky ceasefire last week, Kiev's army on Saturday recaptured the self-defense forces' strongholds of Slavyansk and Kramatorsk. The military operation in Eastern Ukraine continues, causing new casualties among civilians.
Tuesday, July 8
11:55 GMT:
Several dozen armed people have seized the ground floor of a large hospital in Donetsk Region, the local administration said on its website. It was not immediately clear who those people were and what they wanted.
07:39 GMT:
Kiev will not declare a new ceasefire in eastern Ukraine unless militias lay down all arms, new Ukrainian Defense Minister Valeriy Geletey said.
"The president of Ukraine stated it in definitive terms. Now any negotiation is only possible after the militants lay down all arms," he said.
07:30 GMT:
A passenger bus in the eastern Ukrainian city of Lugansk has been hit by artillery fire, reported the press service of Lugansk city council. Two people reportedly died in the attack.
03:15 GMT:
Ukrainian President Petro Poroshenko confirmed the plan to "liberate" the eastern cities of Lugansk and Donetsk, currently under the control of self-defense forces, UNIAN news agency cited Deputy Secretary of the National Security Council Mikhail Koval as saying.
02:09 GMT:
US President Barack Obama and his French counterpart Francois Hollande agreed that Europe should adopt further costly sanctions against Russia if Moscow does not introduce measures to de-escalate tensions in eastern Ukraine, the White House said in a statement. The two leaders said Russia must stop its "destabilizing activities," according to the statement.
Monday, July 7
17:23 GMT:
European Union ambassadors agreed in principle on Monday to put more people on the bloc's Russia sanctions list over the crisis in Ukraine, an EU diplomat said.
The names of the people who will be targeted with asset freezes and travel bans will be worked out at another meeting of EU ambassadors on Wednesday, the diplomat said. (Reuters)
15:31 GMT:
Kiev's military has again shelled the city of Lugansk in eastern Ukraine, using Grad multiple rocket launchers, causing casualties and damaging several buildings, Itar-Tass reports, citing the self-defense headquarters of the Lugansk People's Republic.
At least 30 rockets were fired at Lugansk, the source said, adding that one of them hit a vehicle, killing several people who were inside it.
Within an hour after the bombing started, the self-defense forces responded with mortar shelling, following which the military stopped their offensive, Lugansk People's Republic representatives said.
14:14 GMT:
The Ukrainian military are attempting to encircle the cities of Donetsk and Lugansk to block access for the self-defense forces to get supplies, Andrey Lysenko, the speaker for the Ukrainian National Security and Defense Council, told journalists. He added that residents of the two East Ukrainian cities won't be blocked.
"For local residents, that means that they are free to leave these towns, pass through checkpoints and be provided with aid," Lysenko said, Itar-Tass reported.
14:10 GMT:
There can be no excuses or pretexts for postponing the ceasefire in Ukraine, as civilians are suffering as a result of the confrontation, the number of refugees is increasing and the civilian infrastructure is being destroyed, Russian Foreign Minister Sergey Lavrov said at a news conference in Sofia, Bulgaria.
"We really want this goal [the ceasefire] to be obvious to all states that influence the sides [of the Ukrainian conflict] in one way or another – primarily to the EU. We believe that leading European states do realize their responsibility for what is happening, and we really want the US to understand that responsibility as well," Lavrov said.
13:23 GMT:
Belgrade supports all the initiatives on the settlement of the Ukrainian crisis put forward by President Vladimir Putin, Serbian Prime Minister Aleksandr Vucic said during a meeting in Moscow with his Russian counterpart, Dmitry Medvedev.
Tweets.....