Libya Herald....




Sawan demands government state position on Hafter and Operation Dignity
By Libya Herald staff.
Tripoli, 5 July 2014:
Mohamed Sawan, the leader of the Justice and Construction Party, has said that the government must make clear where its stands on Operation Dignity, being conducted by forces in Benghazi under the control of General Khalifa Hafter.
On Thursday evening, following a meeting with party leaders, Sarwan issued a statement condemning what he described as the government's silence on the operation.
"It has to make it clear where it stands in relation to Operation Dignity," Husam Al-Naili, the party's head of media, told the Libya Herald. "There has been nothing clear-cut from it about Hafter forces. We've said all the time that the war against terrorism has to be under the government's control."
His party, he said was looking to create a law on action against terrorism and was planning to meet with other parties and groups to discus it.
Sawan's demand came immediately after Thursday's
handover
of Sidra and Ras Lanuf oil terminals which was the result of April's agreement between the government and Ibrahim Jadhran. There are suggestions in Tripoli that although the government has condemned the retired general and his action in Benghazi on
several
occasions, seeing him as a threat to its legitimacy, it may do a similar deal with him, thereby legitimising the campaign against Ansar Al-Sharia, which it has condemned as a
terrorist
organisation.
56 Benghazi residents currently held by kidnappers: Saiqa
By Noora Ibrahim and Aymen Amzein
Benghazi, 5 July 2014:
Fifty-six individuals including military personnel, members of the security forces and civilians are currently being held following kidnappings in Benghazi.
The figure of 56 is a significant increase on the 43 reported by Saiqa Special Forces
one week ago
.
The new figure includes a woman and five girls of between 16 and 17 years of age.
Head of Saiqa Special Forces Investigations Unit Fadel Al-Hassi told the Libya Herald that of those kidnapped eight were members of Saiqa, four were policemen and two members of the intelligence services. Additionally 39 civilians have been abducted, including two Egyptians and a Palestinian.
Fassi added that security officials were doing all within their power to discover the whereabouts of those of the victims but that Saiqa and its partners faced an uphill struggle given the city's security situation.
News Day.....
Libya to announce elections results on July 20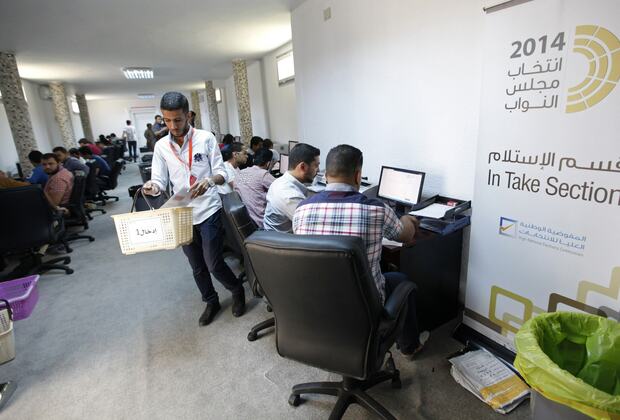 TRIPOLI (Reuters) - Libya will announce results of last month's parliamentary elections on July 20, the head of the elections commission said on Sunday, pushing back the results another week.
Fewer than half of registered Libyans voted, reflecting disillusionment with the chaos prevailing since Gaddafi's overthrow. The government and outgoing parliament have failed to produce security and curb militias who helped oust Gaddafi but now defy state authority.
The North African oil producer elected on June 25 a new assembly in a vote marred by a low turnout and violence, opening a new chapter in Libya's bumpy transition toward democracy since the 2011 fall of Muammar Gaddafi to an armed uprising.
Emad Sayeh, head of the High National Election Commission, said final results would be announced on July 20. Partial results from some cities have been published but Sayeh said the commission needed more time to produce accurate results.
Results from 24 polling stations are being withheld because of some "illegal acts", he said, adding that out of 1,751 candidates 41 had been disqualified under a law banning former officials in the Gaddafi regime from taking a public office.
Sayeh also said the commission was still waiting for the old assembly to organize a new vote in constituencies where polling stations remained closed on election day due for security reasons.
Reuters.....
UPDATE 2-Libya to restart oil exports from major eastern ports