Vineyard of the Saker...
SATURDAY, JULY 5, 2014
July 5th IRAQ SITREP by Mindfriedo
4th July: Iraqi and US security personnel are warning of rebel sleeper cells within Baghdad numbering 1500 in Western Baghdad and 1000 on the outskirts that are waiting for "zero hour." Their plan would be to attack and hold sections within the city in anticipation of a rebel push from without. Sunni residents of Baghdad are complaining of atrocities being committed by Shia militias such as the Asahb Ahl al Haq under cover of rooting out collaborators.

4th July: Sistani's representative in Karbala reads out Sistani's sermon calling the failure to form government an "unfortunate failure."

5th July: Osama Al Nujaifi withdraws his candidacy for the post of speaker and proposes that Maliki do the same.

5th July: Maliki "I will not never give up my nomination for the post of prime minister." He argued further that his coalition had received, by far, the largest number of votes and had the right to decide on government formation.

5th July: Tunisia has withdrawn its diplomatic staff from Iraq. It has left one member back to manage its mission till things return to normal.

5th July: the Kurds are finding it financially and politically difficult to declare independence. They are finding it higher to sell the crude oil they have and lacking refining capacity, have to depend on Baghdad to supply petroleum products. One of their tankers is sitting off the coast of Morocco filled with crude but without buyers. Their border countries, Turkey, Iran, Syria, and Iraq are against an independent Kurdistan and the US has asked the Kurdish leadership to remain within Iraq.

5th July: Iraqi tribesmen have killed a senior Daash fighter, Nasir Sabet, in clashes in Hawija. He was killed on Friday.

5th July: Iranian pilot, Colonel Shoja'at Alamdari Mourjani, is killed in Iraq. Iranian media reported him killed while defending the Shia shrine in Samarra but did not specify if he was killed in his role as a pilot or as an infantryman.

5th July: The UK treasury has frozen the assets of British jihadists who appeared in a recruitment video earlier in June.

5th July: The fatwa by Shia Marja Sistani is being seen as the primary reason for Baghdad surviving the rebel advance in Iraq. Sunni politicians have however called it Ill timed and divisive.

5th July: Daash posts multiple images on twitter of it destroying Shia shrines and mosques in Tal Afar, north Iraq

5th July: Daash militants destroy a Sunni shrine, the tomb of the grandson of the second Caliph Ummar ibn Khattab, in Mosul

5th July: Reinforcements have been sent to Baiji refinery

5th July: Skirmishes have taken place between security personnel aided by pro government militias and militants in Babil, south of Baghdad. The government side targeted rebel positions with mortar fire.

5th July: four civilians are injured in Sadr city when an IED was detonated

5th July: A Major with the Peshmeragas is killed by a rebel sniper in the north east of Baqouba, Diyala province

5th July: Two civilians are killed and four injured when an IED explodes near a shop in the village of Qara Tiba, north east of Baqouba, Diyala province. Mortar fire kills two civilians and injures four in Sa'adiya district district
of Baqouba. The injured include an old woman and a child.

Related news:

4th July: Bahrain sees protests between security services and Shia youth on the death of Abdul Aziz al-Abbar, in the west of Manama.

5th July: Six men including two security personnel and a suicide bomber are killed in Saudi Arabia near the Yemenis border.

5th July: The Syrian army claims to be in complete control of the industrial zone outside Aleppo
Tweets of note - FWIW !
Big police/SWAT presence in Najaf after bombings in
#

Basra
. Whole street where I'm staying is blocked off now, pedestrian only.
#

Iraq
Probably the first
#

Iran
|ian jet and pilot both downed and killed in
#

Iraq
since 1988.. Long live the Iraqis..
#

ISIS
Newspaper next?! Amazing how
#

ISIS
is concentrating on
#

media
: Presenting: Dabiq (Magazine) Issue #1
#

Iraq
#

Syria
Anti War......
Denying 'Mission Creep,' US Escalation Creeps Along
by Jason Ditz, July 04, 2014
US officials continue to loudly protest against concerns of "mission creep" in Iraq, but with the rate of the military buildup in the nation it no longer appears at all credible to deny that the administration is moving toward direct involvement in the latest Iraqi War.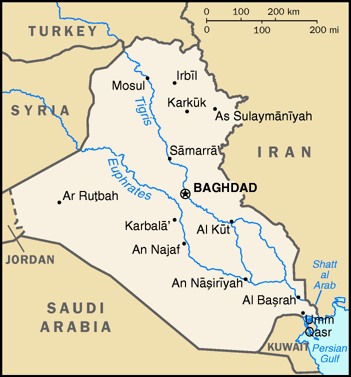 Last week saw deployments of growing numbers of ground troops, with claims Obama's promises of no boots on the ground only covered "combat troops." Monday of this week,
the first combat troops came
, with the promise now shifting to a "
no combat missions
" one.
Even that seems absurd, as the Pentagon
sends Apache attack helicopters
into Iraq for the combat troops to use in these "non-combat" missions. The administration appears to recognize the unpopularity of a new Iraq War, but seems determined to escalate quietly until it is no longer a potential move to warn against, but a simple reality.
Though US operations center around Baghdad, the first special forces troops have also been sent northward into Irbil
to set up a second
Joint Operations Center for the fight against ISIS.
Even the denials of America's war-footing in Iraq
are getting mighty slim
, with Joint Chiefs of Staff Chairman Gen. Martin Dempsey saying of direct US military involvement only "we're not there yet," while confirming the
US assessment that Iraq can't retake
any of their lost cities without foreign involvement on their behalf.
Promises of no more than 300 US troops have now led to nearly 1,000 troops on the ground, with more coming in all the time, and no signs that the escalation is stopping.
Iraq's New Soviet Warplanes Used in Latest Raids
by Jason Ditz, July 04, 2014
Iraqi troops continue to attack the ISIS-held city of Tikrit, and while they have made some claims of success in the surrounding area, the city itself has
withstood a solid week
of strikes without much success.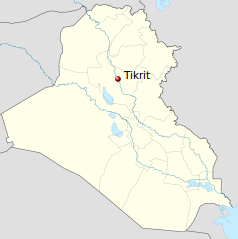 Still, Iraqi state media broadcast new images of the battle of Tikrit, showing that the nation is using its newly-acquired Soviet Su-25s, bought from Russia, and reporting that
Iraqi pilots were flying them
in the raids on Tikrit.
Prime Minister Nouri al-Maliki claimed Awja has been "totally cleansed" of rebels, killing 30, though local police claimed only three rebels were killed in the fighting over the relatively strategically inconsequential village.
Sistani Dubs Lack of New Govt 'Regrettable Failure'
by Jason Ditz, July 04, 2014
The rate at which Prime Minister Nouri al-Maliki is losing allies has slowed, but that's only because he has so few left. Everybody wants Maliki out, and even his own party has engaged in the talks to pick his replacement.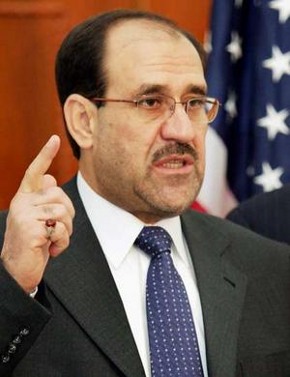 Maliki was vastly unpopular with Sunnis and Kurds after reneging on a previous power sharing deal, and many Shi'ites now view him as a failure for losing so much of the country to ISIS. Despite this, Maliki
continues to insist he's in the running for PM
, and will
never step down
.
Shi'ite religious leader Grand Ayatollah Ali Sistani, also pushing for a quick deal to replace Maliki, criticized parliament for the failed meeting this week, dubbing it a "
regrettable failure
" and reiterating his call for a new unity government.
Tweets.....
Official from Sadrist Movement and a member of Higher Islamic Shiite Council confirms their refusal to Maliki's third term in office.
So Baghdadi schedules a sermon in a mosque in Mosul, then holds said sermon at designated time. And no one can catch him...
First official footage of
#

IS
leader 'Abū Bakr al-Ḩussaynī al-Qurayshī al-Baghdādī at Mosul's grand mosque yesterday:
Another key point to make re Baggdadi appearance is the way he's dressed is supposed to look like Abbaside caliphs. Connotations obvious.
Again, to restate the point, even bin Laden msgs were delivered via courier from secure location. This is a hugely significant stunt by
#

IS
Obama admin spent years claiming AQ ldrship hiding in caves in Pakistan, now post-AQ Baghdādī gives a speech under the noses of US 24h
Seeing this pic, Jihadists worldwide must be asking themselves when the last time Zawahiri led a mosque prayer in a city he just conquered.
Reports
#

IS
ldr 'Abū Bakr al-Baghdādī injured in ISF raid in western Anbar almost certainly false, since he was in Mosul only yesterday.
The leader of ISIS Abu bakir Al-baghdadi has been wounded in an airstrike in western Anbar according to Iraqi Counter Terrorism Bureau.
Kurdistani Parliament is scheduled to hold an immediate meeting on Monday to discuss the petri crisis in Southern
#

Kurdistan
w Ashti Hawrami
1500 Sunni sleeper cell members inside
#

Baghdad
& 1,000 outside capital could rise up at any given time — high level Iraqi security official
http://english.alarabiya.net/en/News/middle-east/2014/07/05/Suicide-bomber-kills-15-in-attack-on-Iraq-forces.html
Suicide bomber kills 15 in attack on Iraq forces
AFP, Baghdad
Saturday, 5 July 2014
A suicide bomber detonated an explosives-rigged vehicle at a security forces position north of Baghdad on Friday, killing 15 people, police and a doctor said.
The attack south of the sensitive shrine city of Samarra in Salaheddin province, where militants have overrun the state capital and a swathe of other territory, also wounded 25 people.

Samarra, 15 kilometres (nine miles) north of where the attack took place, is home to the revered Shiite Al-Askari shrine, which was bombed in February 2006, sparking a bloody Sunni-Shiite sectarian war.

The position was occupied by a mix of Iraqi soldiers and civilians who have volunteered to fight a major jihadist-led militant offensive that has overrun chunks of five provinces.

Security forces folded under the weight of the initial onslaught, in some cases shedding uniforms and abandoning vehicles to flee, prompting the government to announce it would arm and equip people who volunteered.

While government forces have since performed better, they are still struggling to carry out effective offensive operations against the militants.
http://english.alarabiya.net/en/views/news/middle-east/2014/07/05/The-political-implications-of-ISIS-s-Caliphate-.html
The political implications of ISIS's Caliphate
Saturday, 5 July 2014
The declaration by the Islamic State of Iraq and Syria (ISIS) of the establishment of an Islamic caliphate in Iraq should not go unremarked. Such a development should not be considered in terms of the presence, or lack thereof, of the elements necessary for the establishment of such a caliphate, or the timing of this, but rather in light of the general circumstances surrounding this announcement.
To start with, even those who are monitoring the affairs of the region and regional jihadism are not clear about ISIS's real weight, and whether this is sufficient to allow it to even make such a declaration. Even when ISIS launched its ongoing assault on western and northern parts of Iraq, claiming responsibility for all military operations there, tribal and Sunni voices warned that some quarters were deliberately seeking to discredit and incite against the popular uprising against Prime Minister Nouri Al-Maliki—by portraying it as ISIS-led in an obvious bid to crush it.
Tehran's ambitions in the Arab Gulf are longstanding; however, the way in which it is now dealing with the 'Fertile Crescent' entities is unprecedented.

Eyad Abu Shakra
A bloody conflict between ISIS and other ideologically similar groups, such as the Syrian-based Al-Qaeda-affiliated Al-Nusra Front, is raging already in the region. This is not to mention the major differences between ISIS and less-extremist Islamist groups, which are also seeking power via different routes.
In addition to this, there are some exceptional, geopolitical elements that are currently casting their shadows on the Middle East as a whole. Tehran's ambitions in the Arab Gulf are longstanding; however, the way in which it is now dealing with the "Fertile Crescent" entities is unprecedented. Tehran is, in practice, ruling Iraq, Syria and Lebanon by proxy. Tehran is indeed controlling armed groups that had essentially transcended the borders set by the Sykes-Picot Agreement before ISIS declared an Islamic caliphate. It also has active hands in the Arabian Peninsula and strategic alliances in the Gulf, Yemen and North Africa.
Maliki's call for support
At this point we should consider Washington's speedy reaction to Maliki's call for help and support compared to its "timid"—or even "conspiratorial"—position on the suffering of the Syrian people at the hands of the regime of Syrian President Bashar Al-Assad for more than three years during which hundreds of thousands of people have been killed and millions more displaced. This perhaps highlights the true US strategic perspective on the region, which cannot be concealed anymore by misguided and sugar-coated words.
We should remember that US Vice President Joe Biden had previously suggested, when still a Senator in 2006, the partition of Iraq. Biden was of the view that Iraq should be partitioned into three entities: Sunni, Shi'ite and Kurdish. Before Biden, the Republic "neocons" who dominated US foreign policy in the Middle East during the era of former US President George W. Bush incessantly talked about their plans for a "New Middle East." Despite the ambiguous nature of the "New Middle East," at least for Arabs, nobody can deny that the invasion of Iraq, the toppling of the Saddam Hussein regime, the eradication of Iraq's state institutions, including the police force and military, and the complete disregard of the sectarian, religious and ethnic conflicts boiling in the country paved the way for an "alternative Iraq" that is completely different from the pre-2003 incarnation of the country. This new state of affairs in Iraq, in the minds of US policymakers, complements a new regional system whose features are becoming increasingly clear. In this new system the Assad regime played the role assigned to it, namely, the creation and exploitation of Sunni fundamentalists, both inside and outside Syria.
The Assad regime was tasked with recruiting extremist fighters and sending them to fight in Iraq in a bid to unsettle US invading forces, thus forcing an early military pullout from the region. Among those the Damascus regime used to do this recruiting was Mahmoud Qul-Aghassi aka Abu Al-Qaqaa. This is exactly what Tehran had planned. After pushing the US to do their "dirty job" for them—i.e. getting rid of Saddam and Sunni dominance—the smart Iranians were keen to avoid direct confrontation with the US forces and the high cost of shedding American blood. Sure enough, Tehran's plan proved a resounding success as the US administration eventually became convinced that the price of remaining in Iraq was unbearable. However, when Washington hurriedly pulled out of Iraq, it left the country under a de facto Iranian political and security control, with Sunni-majority areas left to the mercy of extremist jihadists. This remained the case until Sunni tribes could no longer put up with it, launched the Sahawat(Awakening) movements and succeeded in driving the jihadists out.
End Sunni dominance
In Lebanon the aim was to end the Sunni dominance represented by former Prime Minister Rafik Hariri, by far the country's leading Sunni politician. However, those entrusted with planning and executing his assassination miscalculated the ensuing public reaction. Despite this, the Tehran–Damascus axis soon retook the initiative and began working to eliminate Hariri's legacy, which is Lebanon's moderate Sunni leadership—a leadership that has been acceptable to both the Arab world and the wider international community. To achieve this, the Iran–Syria alliance resorted to creating extremist Sunni figureheads who strived to undermine the credibility of Hariri's populist and service-oriented Future Movement which, in my view, has always lacked political "instinct" as well as firm ideological foundations. In effect the Iran–Syria alliance was trying to pull the rug from under the Future Movement by means of inventing firebrand competitors, and promoting their radical ultra-populist slogans.
Facilitating the access of Fatah Al-Islam to the Nahr Al-Bared Palestinian refugee camp north of Tripoli in northern Lebanon—a Sunni stronghold—was just the tip of the iceberg. The scenario of Iraq's Awakening movements was repeated in Nahr Al-Bared where Fatah Al-Islam's attempts to overtake the camp were thwarted by the mostly Sunni martyrs from the Lebanese army.
Iranian and Syrian leaders also tried to destroy from within the Future Movement-led March 14 Alliance, which was formed on the back of the anti-Tehran public momentum. They embraced Michel Aoun—an extremist Maronite leader— and went on to "rehabilitate" and use him as a means to drive a wedge between the ranks of the democratic, liberal and progressive forces in Lebanon. Aoun has thus far carried out his assignment to the last detail. Also—in coordination and mutual understanding with Hezbollah—Aoun has repeatedly blocked the election of a new president for Lebanon, and has recently proposed an initiative to electorally divide the country along sectarian lines in stark violation of the constitution and showing total disregard to the dangers of potential political and security vacuums, while Hezbollah is happily strengthening its position as a state within a state, capitalizing on the present political vacuum in Lebanon.
Last but by no means least, we can all see what Assad has done to Syria, redrawing the country's geographical map through bloodshed and displacement and partitioning the country along sectarian and ethnic lines. Like Iraq, Syria today is different from Syria in early 2011.
The region faces the threat of being partitioned and parceled out in the name of containing ISIS's declaration of a caliphate, which, had it not been announced, would have been fabricated to create just such a response.
http://english.alarabiya.net/en/News/middle-east/2014/07/04/Maliki-I-will-never-give-up-my-candidacy.html
Iraqi PM Maliki: 'I will never give up my candidacy'
Staff Writer, Al Arabiya News
Friday, 4 July 2014
Embattled Iraqi Prime Minister Nouri al-Maliki on Friday refused to drop his bid for a third term in power, defying growing demands from inside and outside the country for his replacement.
"I will never give up my candidacy for the post of prime minister," Maliki said in a statement read out on state TV by an announcer. "I will remain a soldier, defending the interests of Iraq and its people."
Maliki has come under mounting pressure since Sunni militants took control of major areas north of Baghdad.
Iraq's most powerful Shi'ite cleric, Grand Ayatollah Ali al-Sistani, earlier said the parliament's inability to agree on a new government in its first session was a "regrettable failure."
Sistani intervened a week ago in Iraq's political crisis by urging lawmakers at their opening session to put aside disputes and form a new government to tackle an insurgency spearheaded by an Al-Qaeda splinter group that could fracture the country.
Sistani on Friday reiterated his call for the new government to have "broad national acceptance," a formulation many officials have interpreted as a signal that Maliki should step aside.
His refusal to do so could complicate the struggle to form a new government to unite the ethnically and religiously divided country.
The political deadlock is all the more dangerous because of the pressing threat to Iraq's territorial integrity.
Accused by his critics of exacerbating the country's sectarian split, Maliki has come under immense pressure to step down from his Sunni Arab and Kurdish political foes, and even from some in his own Shi'ite camp.
The president of Iraq's autonomous Kurdistan region, Massoud Barzani, on Thursday asked the Kurdish parliament to set a date for a referendum on independence, and blamed Maliki for the crisis in Iraq.
"We warned Maliki six months ago about what's happening, but he didn't listen and these are the consequences," Barzani told Kurdish MPs. "What we see today on the ground is due to the failure of Maliki's policy in Iraq."