Anti War.....
Weeks of Fighting Ends With Military Defeat
by Jason Ditz, July 16, 2014
Nearly three solid weeks of reports of Iraq's Army either
defeating
the rebels to reclaim Tikrit or being on the cusp of defeating the rebels and regaining control over Tikrit, the military has withdrawn outright, leaving the city in ISIS hands.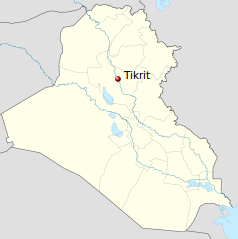 Tikrit is one of several "contested" cities in the area due north of Baghdad, but after weeks of fighting
there was a remarkable sense of calm today,
as daily sorties from nearby Awja by Iraqi troops came to an end.
Iraq had been pouring troops into Tikrit in hopes of making it a high-profile victory in their counter-offensive against ISIS, but has been meeting heavy resistance in the Sunni-dominated city.
It's unclear whether today's withdrawal by military forces back to Awja means an end to the attempts to retake the city for now or was simply a one-off calm before the storm, but it does seem that is in other cities, Iraq's military is not nearly up to the task of "routing" ISIS as they had promised.
http://www.democracynow.org/2014/7/16/iraq_has_already_disintegrated_isis_expands
****
HANNAH

ALLAM

:
Sure. Hi. Well, for a country on the verge of collapse, the capital feels deceptively calm. People are going out. They're going about their business. The restaurants are packed at night. Families are out. You can't even find a space at the parking mall. That's not to say people aren't terrified. They are. They're not immune to the violence that we already are hearing about—assassinations, car bombings, a massacre just the other day in a compound of several women. So, you know, Iraqis are aware of these things. Baghdadi residents hear these things. But, unfortunately, they've become so, I guess, acceptant or resigned to such a level of violence that it hasn't yet spiraled into the kind of bloodshed that would keep most Iraqis indoors. Unfortunately, they don't doubt that that moment will come, and they see it as a slow escalation that could explode at any moment. So, there's just really the sense of unpredictability, and people are terrified.
Then you have this parallel reality, sort of, of the political process, where, you know, the Parliament has been delayed two or three times now before meeting yesterday to decide on a speaker. And, you know, Iraqis throw their hands up and say, "Yeah, sure, what's the rush when you've got the country on the verge of collapse?" And we've got the Kurds in the north moving toward greater independence. We have, you know, the Sunni militants of the Islamic State having seized up to half of the country. And people are really concerned about this sort of glacial pace of government formation. Yesterday was a sign that there was some movement towards easing the political deadlock, but there's still a long way to go, especially about the future of Prime Minister Nouri al-Maliki.
AMY

GOODMAN

:
Can you talk about who Jabouri is?
Tweets......









#

Kirkuk
governor Najmaldin Karim causes stir inside PUK by submitting his name for Iraqi presidency w/o party's consent.
#

TwitterKurds
Unnamed gunmen kill 33 people, including 29 women in Zayounah neighbourhood, Baghdad. Locals point towards Shia...
http://
fb.me/2kvdrrNnH
Only IA Aviation helicopter providing air support for Tikrīt assault ran out of fuel, huge losses in Shi'a militia and volunteer units.