Vineyard of the Saker......
WEDNESDAY, JULY 16, 2014
Thank you everyone, Saker in particular, and open minded Sunni commentators who were open about my "sectarian" post and only sought to guide me in their replies. I will try to keep religion out till the next library burns. But I have answered some of the issues raised in this SITREP.

Quote of the day: I am a Muslim, neither Shia nor Sunni, and I go to Shia Mosques as well as Sunni
Thought of the Day: Is the answer that simple?

16th July: Iraqi troops and allied militias have taken a beating in Tikrit and withdrawn in the face of heavy mortar and sniper fire.

16th July: Iran congratulates Salim Al Jabouri on being elected to the post of Speaker. The post of the speaker has to be held by a Sunni. The EU has also congratulated Al Jabouri. Maliki has also congratulated Al Jabouri.

16th July: Dick Cheney, close friend of Mass Murderer Tony Blair, calls Obama as the worst President in US history and blames Maliki for the failure of the Iraqi state. In his view, the continued presence of US troops would have averted the resurgence of Daash.

16th July: Jailed Kurdish leader Abdullah Ocalan has sent a message to Jalal Talibani (PUK) and Massoud Barzani (KDP) to unite in facing attacks by Daash militants. The Kurdish regions in Syria have been facing serious attacks (kidnappings included) by Daash militants in an effort by the latter to increase the boundaries of the DI of Daash.
16th July: The Iraqi speaker Al Jabouri accepts nominations for different ministries

16th July: The Mayor of Baqouba, Abdullah Hamid Al Hayali, has provided evidence that the 44 prisoners killed in a government jail were in fact executed by Shia Militias. He has in his possession photographs and death certificates of the deceased. He is also fearful for his life. The militias allegedly shot some at point blank range, fired machine guns into some cells, and threw grenades. The nephew of the mayor was one of those executed.

16th July: The 21+ women shot to death in Baghdad were killed in a Shia neighbourhood.

16th July: Daash is reportedly making a lot of money through oil sales. Estimates put the daily revenue of Daash at USD 1 million.

16th July: 14 Civilians are killed and injured in a car bomb attack in Western Ramadi

16th July: The inhabitants of Mosul are growing weary of Daash and its harsh and oppressive policies. The majority of the people supporting Daash are those that settled in Mosul over the last three decades.
One advantage, in a manner of speaking, of the open rebellion has been that sleeper cells, involved in planting bombs and causing disturbances, came out to openly in support of the rebellion and identified themselves to the authorities.

16th July: Kurdish farmers in Sulaimaniyeh stopped Exxon Mobil from oil drilling in the area. The farmers were afraid for their crops and livestock. Past activities of Exxon Mobil have been shown to cause harm to the natural environment.

16th July: Over 350000 Turkoman Shias are refugees from Tal Afar

16th July: Bad news for Turkey-The UN is asking for economic sanctions on Daash

16th July: Six Daash rebels are arrested in Najaf. They entered the city as Shia refugees from the north

16th July: The Hujja Shia mosque is destroyed by Daash militants in Tawakul village, Diyala

16th July: The death toll from yesterday's twin bombing in Sadr City has increased to 59

16th July: Atta's/Government's claim for the day:

Government Air Strikes target a Daash/Rebel parade in Mosul killing 14, including Abdul Aziz al-Maytoni, a militant believed to be behind assassinations

Daash/rebel fighters are killed outside Baiji refinery in Government air strikes

The Iraqi army acts on intelligence reports and raids a militant compound where IEDs are prepared in Samarra.

Khamiss Mohsen Farhan, a former Iraqi Army Colonel and currently a commander within the Daash forces in Baiji, is killed by Security Forces

Related:

16th July: Assad is sworn in as Syria's President. He promises that Western and Arab states involved in the carnage in Syria will pay.

16th July: The Government in Bahrain has increased its alert levels after shots were reportedly fired at a police station

16th July: Syrian Jihadist fire rockets into Eastern Lebanon

16th July: The Lebanese border town of Ersal that had backed Jihadist rebels has slipped further into complete lawlessness with daily assassinations, murder, and kidnappings.

16th July: Indian news media reports of Indian Sunni Jihadist that are travelling to Iraq disguised as Shia pilgrims







News from Kurdistan....
New Iraqi parliament speaker calls for new president
BasNews, Baghdad
Iraq's new Speaker Salim al-Juburi called on all eligible Iraqis to run for president within three days, and the Iraqi parliament session will be held on 23 July to discuss the state budget and presidency.
In a joint press conference with his two deputies, Al-Juburi called on all Iraqis to apply for the presidency before the parliament session takes place.
A parliamentary session will then be held to choose the president, he said. According to a power-sharing agreement set out at Iraq's liberation in 2003, in which the three highest posts must be shared by a Sunni, a Shia and a Kurd, the soon-to-be president must be a Kurd.
Iraq has been without a president since Kurdish leader Jalal Talabani suffered a stroke two years ago.
The Kurds are divided over the presidency post; some prefer former Kurdish Prime Minister Barham Salih, while others opt for the current Kirkuk governor Najmadin Karim.
The Iraqi parliament on Tuesday elected Al-Juburi, a Sunni, and his two deputies Haydar al-Abadi, the candidate of the Shi'i National Alliance of the Dawa party, and Aram Shaykh Muhammad, the candidate of the Kurdish blocs, affiliated to the Change list (Gorran).
PYD: Kobane could end Sykes-Picot agreement
Hemin Khoshnaw
BasNews, Erbil
Abdul-Salam Ahmed, the co-chair of PYD People's Council of Syrian Kurdistan to the west, said that there won't be man-made borders between Syrian and Turkish Kurdistan.
Kobane (pronounced ko-BA-nee) is a key city in Syrian Kurdistan currently under heavy fire from ISIS, and according to Ahmed, "could be the end of the Sykes-Picot agreement."
Hundreds of Kurdish fighters from Turkey have crossed over to Syrian Kurdistan to fight Jihadist militants. A senior official from Syria's largest Kurdish party, the Democratic Union Party (PYD), has said that Turkey has opened its doors for the Islamic State in Iraq and Sham to fight the Kurds bent on protecting their territory.
"Man-made borders between North Kurdistan (Turkey) and Western Kurdistan (Syria) won't prevent Kurds from coming and going. Kobane is now the factor behind the collapse of Sykes-Picot," Ahmed told BasNews. He suggests that the agreement, made between France and the United Kingdom in 1916 splitting the Middle East, is meaningless in the wake of the land's current crisis; "borders" are ignored as peoples and cultures disperse and men are killed.
After ISIS took control of Mosul and other areas in northern Iraq, they moved on to attack Kurdish cities in Syria, notably Kobane, which stands as a critical link for the Kurdish autonomous region that they can't afford to lose.
PYD leader Salih Muslim explained that Kobane has been under threat from ISIS insurgents since April, who has been using the heavy weaponry they attained in Mosul against the Kurds that have come to defend the city.
Abdul-Salam Ahmed also accused Turkey of helping ISIS militants against the Kurds. "Turkish land has become an open road for them [ISIS militants]," he concluded.
The Sykes-Picot Agreement of 1916 was originally a secret pact among Great Britain, France, detailing their plans to partition the Ottoman Empire, and thus most of Kurdistan, at the end of World War I.
KRG: Kurdish oil revenue bank account finalized in Turkey
Hawar Abdulrazaq
BasNews, Erbil
A Kurdistan Regional spokesman said earlier this week that a Kurdish oil revenue bank account has been finalized at Turkey's HalkBank and that only three Kurdish officials have the authority to withdraw money from it.
KRG spokesman Safeen Dizayi updated the government's official website with information that last week a Kurdish delegation met with Turkish government officials and talked about improving energy relations with the Kurdistan Region.
The Kurdish delegation was headed by Qubad Talabani, KRG Deputy Prime Minister, and also included Ashti Hawrami, Kurdistan Natural Resource Minister and Rebaz Mohammad, Minister for Finance and Economy. Earlier this week, they visited Ankara to finalize the bank account that will hold the revenue from KRG oil sales.
Dizayi also revealed that his government told Turkish delegates in Ankara about its aims to increase Kurdish oil exports via independent pipelines to Turkey, hoping to up the amount to 400,000 barrels per day.
The KRG currently sends 120,000 barrels of oil per day to Turkey via pipelines, according to Dizayi.
Furthermore, the KRG spokesman said that Talabani, Hawrami and Mohammad, the officials that made up the delegation to negotiate with the Turkish government, were the only three who had signing authority and access to the bank account.
Taner Yildiz, Turkey's Energy Minister previously announced that around US $93 million has been deposited at HalkBank to date from the sale of KRG oil.
http://news.antiwar.com/2014/07/15/isis-captured-52-us-made-howitzers-could-shell-iraq-cities/
Also Believed to Have Captured 1,500 Armored Humvees
by Jason Ditz, July 15, 2014
Much was made of the US-made weapons ISIS took when it swept into the major Iraqi city of Mosul. Yet the reports today suggest their equipment gains were far greater than previously reported.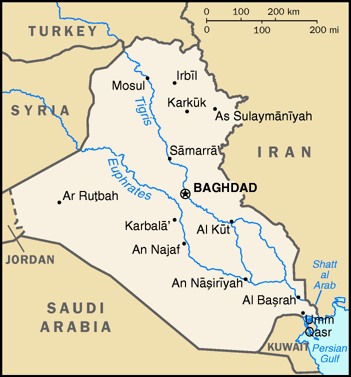 The latest reports say
ISIS captured 52 M198 howitzers, capable of firing 155 mm
shells 20 miles with precision GPS aiming mechanisms. Though experts expressed doubts over whether ISIS could quickly figure out how to use the GPS systems, the artillery could still do massive damage to Iraqi cities near their territory.
ISIS has some possessions in the Anbar Province that put them on the outskirts of being able to take shots into Baghdad, particularly into the western area near the international airport. Other holdings further south could allow them to easily shell Karbala, a Shi'ite holy city.
The shelling could hugely escalate the violence in Iraq, as well as sectarian tensions, though ISIS may be reluctant to put such pricey weapons on the front lines and risk getting them destroyed.
ISIS also captured 1,500 armored Humvees
in the fall of Mosul, and has been making good use of them in both Iraq and Syria.
http://news.antiwar.com/2014/07/15/former-mosul-commander-blames-internal-tensions-for-citys-fall/
Kurdish Brigadier Says Govt Undermined His Command
by Jason Ditz, July 15, 2014
Brigadier Hidayat Abdulkarim, the former head of Iraq's Third Brigade, by extension the defense of Mosul, says that internal ethnic and sectarian divisions in the military were the primary reason for the city's fall.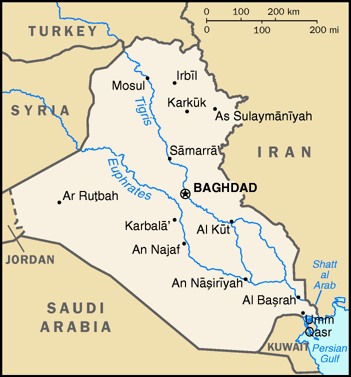 Abdulkarim, a Kurd,
says he didn't even learn about the fall of the city until the following morning,
and that despite being nominally the brigade leader, he was effectively only in control of about one and a half regiments, with the Shi'ite majority largely ignoring orders.
Abdulkarim reported Sunni Arab troops deserted over a week before ISIS arrived, apparently tipped off to the fight, and that the Maliki government undermined his command by refusing to give his unit equipment.
How much of this is real and how much is after-the-fact excuses is unclear, though it seems plausible given the sectarian and ethnic tensions in Iraq. Abdulkarim says he was only given the promotion because of backing by President Talabani, and since being sought for court-martial has been living in Kurdistan.
http://original.antiwar.com/updates/2014/07/15/iraq-lawmakers-select-speaker-but-carnage-continues-233-killed-185-wounded/
Iraq Lawmakers Select Speaker, But Carnage Continues: 233 Killed, 185 Wounded